A nation enriched by diversity, Malaysia is a gem that boasts the harmonious coexistence of various ethnicities, traditions, and landscapes. Talented photographer and storyteller, Abdul Shakir also known as Belalang, takes us on an artistic journey through the heart of Malaysia, discovering the essence of Rukun Negara — Malaysia's national principles — through his latest digital art piece, Atma Kirana.
Abdul Shakir is one of Malaysia's most recognised new media artists, noted for his inventive exploration of digital and interactive aspects to create immersive art experiences — and this new piece is no different.
The name Atma Kirana translates to 'beautiful soul' and this profound visual journey unveils the beautiful soul of Malaysia through an intrinsic connection between Rukun Negara and the nation's rich and diverse cultural tapestry.
The installation is made up of 100 suspended LED panels that are precisely coordinated and suspended in mid-air. Atma Kirana comes to life in a harmonic blend of colours, lighting, and form, blossoming into a bright spectacle that invites visitors to explore and contemplate the artwork's many perspectives. Constantly interchanging between various motifs.
The power of flowers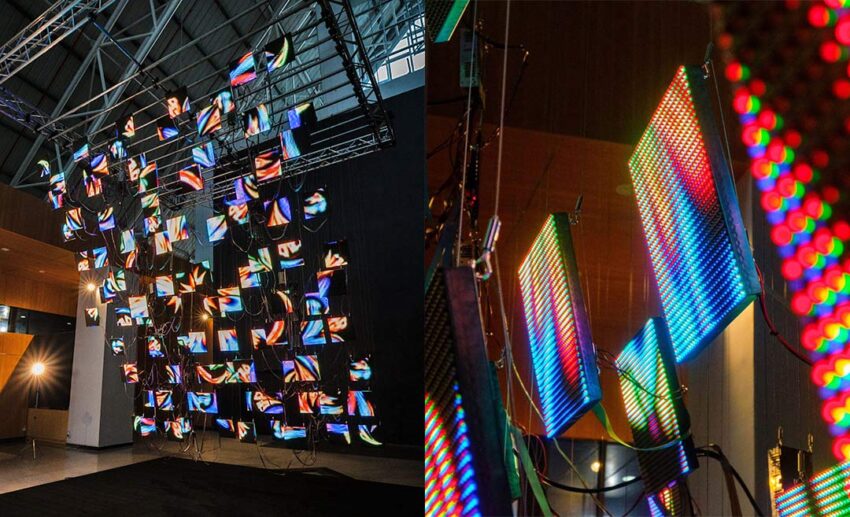 The digital art installation is composed of five various floral motifs, each of which reflects the essence and spirit of the guiding principles, namely Faith (Percaya), Loyalty (Setia), Good Governance (Luhur), Rules of Law (Adil), and Kindness (Baik).
But why the use of flowers? "For their delicacy," the artist muses. "Anything to do with national pride is a delicate matter." Percaya is represented by a blossoming lotus, symbolising dedication. Meanwhile, the bunga keledek represents good governance while justice is underscored by a turmeric flower motif and a luffa flower motif highlights loyalty. Finally, kindness is seen in the grace and humanity of the orchid flower.
In case you're wondering why there's no hibiscus — Malaysia's national flower — we too were curious as to the absence of the bunga raya. "There are five petals on the bunga raya. And each of these digital motifs or Rukun Negara is represented in those petals. So the bunga raya is like the flower that encompasses this entire thing. There actually is a bunga raya motif in between — you just need to spot it," says Abdul Shakir.
It all comes full circle and we're certainly chuffed about the Easter egg.
The makings of Atma Kirana
Abdul Shakir's project goes beyond landscapes and cultural celebrations. Atma Kirana is fashioned out of recycled LED panels that were previously components of roadside billboards that once decorated Kuala Lumpur's skyline. The art display underscores the goal of incorporating sustainable design practices, weaving environmental concerns throughout the story.
To increase your interaction with the artwork, a variety of complementing public programming, such as artist-sharing sessions and workshops, will be held. so do look out for them!
The ATMA KIRANA exhibition is free to see and will feature in the grand foyer of Balai Seni Negara (National Art Gallery) until 30 October. This site-specific work is the latest addition to the ongoing Single (Hanya Satu) showcase in the gallery's entry hall.
But where's it headed to next? "This artwork evolves. And I own the panels. It's headed to Singapore next, but how it looks will depend on the space. We'll set it up depending on how much space we have, so we'll see," says the artist.
And that's the magic of digital art. It's ever-evolving with time and space. So, we'll see indeed. Wherever you spot Atma Kirana, it'll be a different experience, but the message remains the same.