The time has finally come — we're revenge travelling, going on long holiday breaks, or perhaps have finally taken that leap of faith to work or study away from home. Whatever your reason for travelling, when you're away long enough, you'll always start to miss a taste of home. And if you're like us, nothing beats Malaysia's amazing food, and we always crave and miss it while on the go.
Thankfully, there are dishes simple enough for you to prepare for the family or yourself whenever the hankering for local fare strikes. Especially if you're staying in a service apartment or Airbnb with a kitchenette. Heck, it doesn't take much to cook while camping in the great outdoors either!
In celebration of its 130th anniversary, Ayam Brand released a culinary endeavour — the 130-Years of Homely Goodness recipe e-book. This cookbook is a tribute to the flavours of home that have been made by generations of Malaysians utilising Ayam Brand's large line of food goods, and it features 130 original recipes provided by local celebrity chefs and fellow Malaysians.
Here are four that you can easily whip up on your travels. All you need is to bring a few tins along.
COCONUT SARDINES LEMPENG WITH SAMBAL BAKED BEANS
by Dato' Fazley Yaakob
Ingredients
For Coconut Sardines Lempeng:
1 can of Ayam Brand Sardines in Tomato Sauce, roughly chopped
1/2 cup of all-purpose flour
1/2 cup of corn flour
1/2 cup of shredded coconut
1 egg
1/2 cup of water
1 tie of coriander (finely chopped)
A pinch of salt
For Sambal Baked Beans:
1 can of Ayam Brand Baked Beans in Tomato Sauce
5 shallots
1 onion
5 cloves of garlic
1/2 inch of shrimp paste
4 green chillies
2 red chillies
50g of chilli paste
1 onion (sliced)
2 Calamansi (Kasturi) Lime
Preparation steps
For Coconut Lempeng:
Combine all ingredients and mix well.
On a heated non-stick pan, cook the pancake till golden brown.
For Sambal Baked Beans:
Blend the shallots, onion, garlic and shrimp paste with the green and red chillies.
Stir-fry the blended ingredients.
Add in chilli paste and sliced onion. Mix well.
Once fragrant, add the Ayam Brand Baked Beans.
Let it cook and simmer on low heat.
Once cooked, add freshly squeezed Calamansi (Kasturi) lime juice.
SABA TOMATO BRUSCHETTA WITH CHEESE
by Tyra Kamal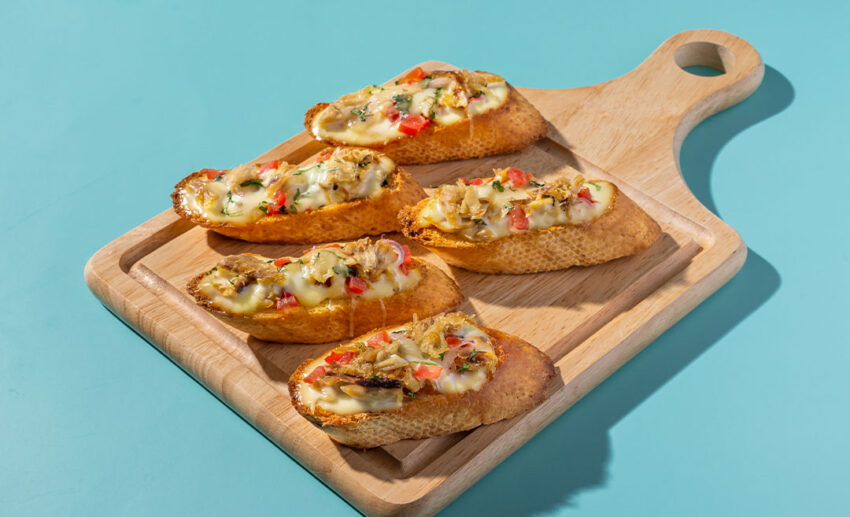 Ingredients
1 can of Ayam Brand Saba Flakes in Olive Oil
3 tomatoes, seeded and diced
2 stalks of fresh coriander, finely chopped
Mozarella cheese
50g of shallots, chopped
Salt
Baguette
Preparation steps
Slice a baguette into 1/2 inch rounds.
Mix the Ayam Brand Saba in Olive Oil, diced tomatoes, and chopped coriander together.
Season to taste and serve the mixture on the sliced baguette.
Add slices of mozzarella cheese on top.
Cook in the air fryer for about 4-5 minutes.
CHILLI TUNA PASTA
by Danish Harraz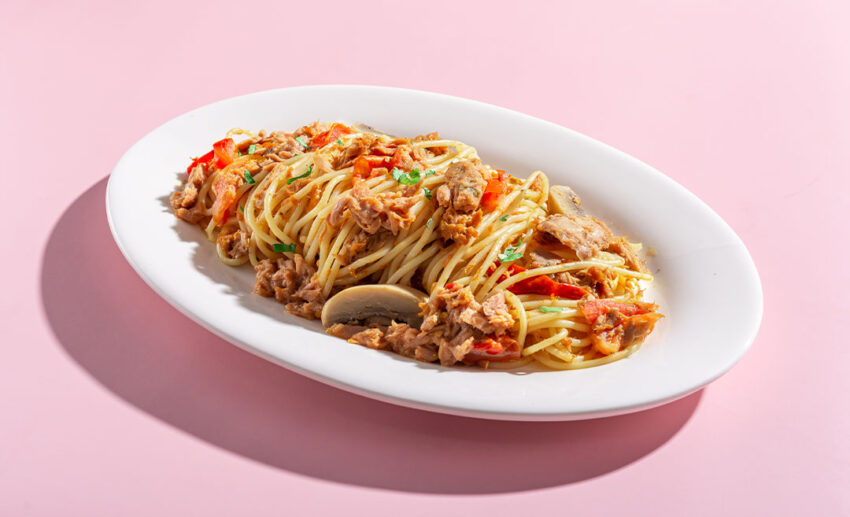 Ingredients
1 can of Ayam Brand Chilli Tuna
1 can of Ayam Brand Whole Mushrooms, sliced
250g of pasta spaghetti or linguine
3 cloves of garlic, chopped
3 tomato seeds, diced
3 tbsp of olive oil
Fine salt to taste
Small slices of parsley leaves as garnish
Preparation steps
Boil the pasta in the boiling water which is slightly salted.
Heat the pan over low heat and add the olive oil.
Sauté the chopped garlic until it becomes fragrant.
Add the tomatoes and cook until it caramelises.
Then, add the Ayam Brand Whole Mushrooms slices and let it cook.
Add the Ayam Brand Chilli Tuna and stir it well.
Add some salt.
Add the cooked pasta and stir it well together.
Finally, sprinkle some small slices of parsley leaves as garnish and serve the dish.
PINEAPPLE AND COCONUT PIE
by Ili Sulaiman
Ingredients
350ml of Ayam Brand Coconut Milk
2 cans of Ayam Brand Pineapple Chunks in Syrup 425g, drained
120g of dessicated coconut
100g of sugar
95g of self rising flour
60g of salted butter, melted
2 large eggs
1 tsp of vanilla essence
Vanilla ice cream for serving
Preparation steps
Preheat the oven to 180 ̊C.
Spray a deep oven pie dish (12 inches) with cooking oil or brush vegetable oil all around the base.
Drain the Ayam Brand Pineapple Chunks from the syrup, you can even blitz it in a food processor for ease. Do not over-blend the mixture.
In a large bowl, combine the Ayam Brand Coconut Milk, sugar, flour, melted butter, eggs and vanilla essence in a medium-sized mixing bowl. Mix until well combines, then add the pineapple chunks and grated coconut.
Pour into the prepared oven dish and bake for 45 minutes to 1 hour or until the center of the pie is set. Remove the dish from the oven and leave to cool and set completely.
Serve with vanilla ice cream.
Visit this link to their e-book to peruse all the recipes in the 130-Years of Homely Goodness for more delectable ideas.
*All images courtesy of Ayam Brand.