We're at the end of Veganuary, a movement that's been steadily growing over the years. Taking place every January, the month is all about giving veganism a go — even if it's for one day a week. While a world free from animal farms and slaughterhouses is the end game for Veganuary, there are other benefits to going green with your diet. From a lower carbon footprint to just being healthier overall, whatever your reasons are for going vegan (or attempting to go vegan) this month, doing so in Malaysia isn't exactly easy. So thank goodness for women like Elliz Azhar.
Based on the sunny Malaysian island of Langkawi, Elliz is the woman behind The Kampung Vegan — a YouTube channel and Instagram feed that does what its name suggests — recreate known and loved Malay cuisine in a vegan-friendly way.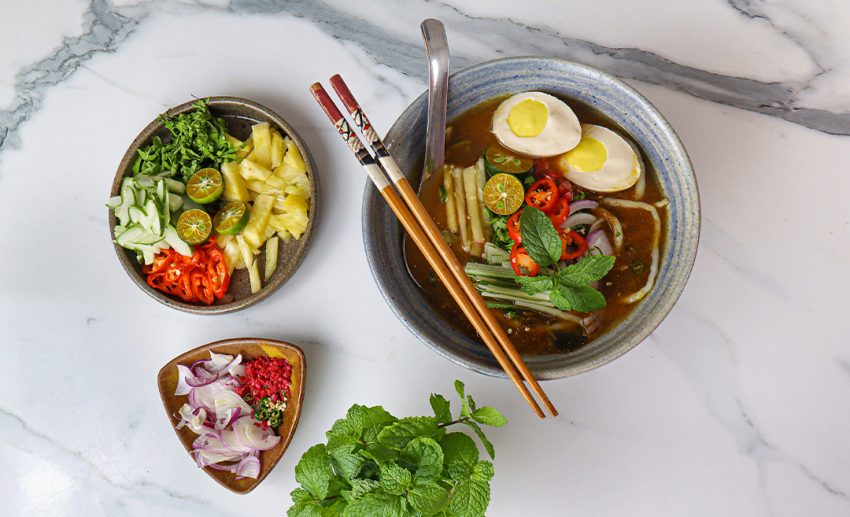 While it's so easy to find vegan-friendly recipes online, it's certainly a challenge to find local alternatives. After all, Malaysian fare is complex and chock full of ingredients, and not the first thing that'll come to mind when attempting to go vegan. This is why Elliz decided to start The Kampung Vegan. It's a space where she freely creates vegan-friendly versions of her grandmother's tried and true recipes. So think of her channel this way: masak tok, but make it vegan.
We have a chat with her to find out how we can go green with Malaysian cuisine.
What would you say is the trickiest ingredient to replace when going vegan? Especially in local cooking.
Funny enough, the trickiest ingredient to replicate is the simplest thing you could ever cook — a good old sunny side up! Back then I liked it kampung style. No frills, bubbly, and crunchy on the edges; almost deep-fried with a drizzling of kicap.
Is there anything you miss that's non-vegan?
Clearly a fried egg, haha! Jokes aside, I do miss fried chicken. Or rather, I miss the idea of fried chicken. That craving is easily sorted with a good oyster mushroom fried chicken, though!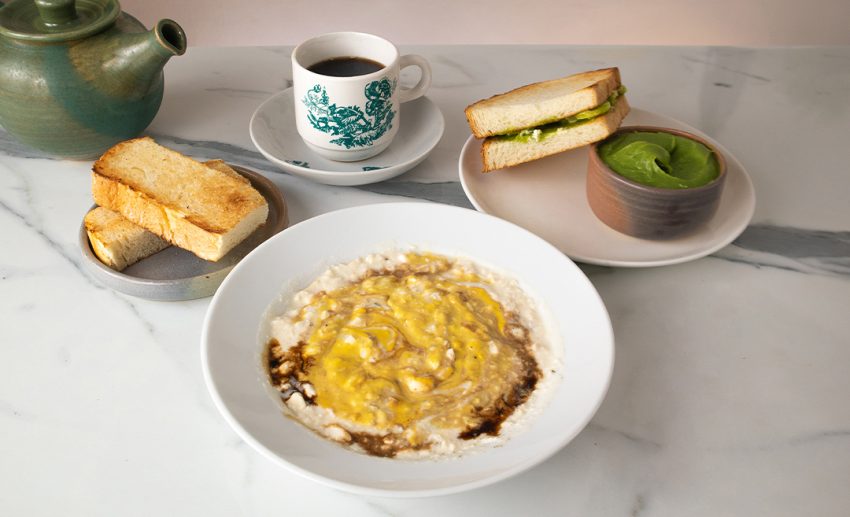 Where's your fave place for vegan fare on Langkawi?
Langkawi doesn't have many vegan spots, but some restaurants offer vegan options or are quite happy to veganise something for you. I rarely eat out as I much prefer to cook at home. But when I do, The Beach Grill at the beautiful Ritz-Carlton Langkawi is one of my favourites. They have plenty of plant-based options, and they're always open to whipping something up on the spot!
What are some pantry staples you need to cook local vegan food?
Mushroom seasoning, without question! It gives vegan dishes a layer of depth and umami. It's also a fantastic substitute for MSG. For times I feel like cooking something seafood-related, seaweed is also handy to impart that oceany taste. When you combine seaweed with some fermented soybeans or taucu you essentially get a similar flavour profile to belacan. Since a lot of Malaysian dishes include belacan as an ingredient, I'd say taucu is definitely a key pantry staple as well!
What are your three favourite local vegan recipes and how did you come up with them?
Vegan Penang Asam Laksa
This dish was highly requested by so many of my followers on Instagram. I had a lot of fun experimenting while testing the recipe! Whenever I veganise something, I try my very best not just to replicate the flavour, but also the texture and mouthfeel of a dish. The flaked fish element in laksa was tricky but really made me think outside the box.
I ended up creating a sort of fishy tofu leather that I flaked to mimic the body of the non-vegan broth. Super happy with how it turned out! My non-vegan mum gushed that it tasted even better than the fish version of asam laksa. But I obviously can't compare it for myself!
Vegan Soft Boiled Eggs
Let me let you in on a little secret — I've never been a fan of soft boiled eggs. Something about their half-cooked, semi-raw nature freaked me out. Especially when you get a blob of uncooked, translucent egg white.
When I finalised this recipe, I managed to recreate the texture so accurately I almost couldn't eat it. One of my favourite parts of this recipe was when I sprinkled tapioca starch on the 'egg whites' and let it sit for a minute. This sort of curdled the mix a bit and resulted in some clear blobs much like uncooked egg whites.
Once I mentally got over the fact that they weren't actually half-cooked eggs, I really enjoyed this dish!
Homemade Tempeh
In a plant-based diet, tempeh is one of the most important superfoods you can add to your repertoire. It's full of nutrients and boasts 19g of protein per 100g, which is similar to what you get from chicken breast.
I've been making tempeh at home for so many years now, and this is my tried and true recipe for it. The process of making it is quite fascinating, it's almost like a science experiment. It's really fun to watch the white fuzz (mycelium) grow on your soybeans. Definitely a good weekend project. Once you taste the homemade stuff though, I'm afraid you won't be able to go back to store-bought tempeh!