The Mid-Autumn Festival and with it, the time to enjoy mooncakes, is around the corner! Of course, being the foodies we are, we believe it's never too early to start stocking up on your favourite baked sweet and savoury pastries — especially because the best mooncakes sell out so fast.
We've also seen in years past that mooncakes are often available in myriad exciting iterations from the unconventional to the traditional. but whether you'd like to keep things traditional this year or go for a treat that's healthier and guilt-free, then we've got you covered.
The treat to beat
This year, Shangri-La Kuala Lumpur's 'Over the Moon' exquisite Mooncake Collection welcomes a cornucopia of new flavours, classics that hold loyal to tradition, and favourites that are back by popular demand.
Also, these mooncakes come in fashionable gift boxes that are undeniably appealing to the eye. From now until 10 September 2022, when you buy four baked mooncakes, you get a free Deluxe Gift Box for delivery or takeout. Of course, you can cop them individually too for RM37.
Classic baked mooncakes: Look forward to selections like the Premium Summer Black Truffle Lotus Seed Paste, the classic with a new spin Malaysian Hibiscus White Lotus Seed Paste, Shangri-La Tie Guan Yin Tea Lotus Seed Paste with Single Yolk. Traditional baked alternatives include Assorted Nuts & Sun-Dried Fruits, Red Bean Paste with 30-year-old Dried Tangerine Skin, Lotus Seed Paste with Double Yolk and the classic White Lotus Seed Paste.
Ping Pei mooncakes: If you're a fan of the King of Fruits, durian, you'll appreciate the luxuriously smooth Ping Pei Premium Musang King from Shangri-La. These non-baked mooncakes, also known as Snow Skin Mooncakes, are soft and chewy with current flavours that will undoubtedly surprise your taste buds. For those who want a dash of spiciness, try the Ping Pei Raspberry and Chili Padi Ping Pei Green Apple and Wasabi. Ping Pei's Black Sesame and Nutella, Ping Pei Coconut, and Ping Pei Strawberry and Yogurt are all great options for those with a sweet tooth. Ping Pei flavours are available only for takeout. The price for a single purchase begins at RM28.
Gift boxes: The Master Chef gift box consists of eight pieces of Premium White Lotus Baked Mooncake with 10-year-old Korean Red Ginseng and Sabah Bird's Nest, priced at RM428 while the King of Mooncake Gift Box comprises six pieces of luxurious Shangri-La's Ping Pei Premium Musang King priced at RM388.
The Treasure Gift box contains eight pieces, two of each flavour: Red Bean Paste with 30-year-old Dried Tangerine Skin, Premium Summer Black Truffle Lotus Seed Paste with Single Yolk, Signature Malaysian Hibiscus White Lotus Seed Paste, and Signature Shangri-La Tie Guan Yin Tea Lotus Seed Paste with Single Yolk, all for RM 388.
DIY mooncakes: One for the little ones! The Shangri-La DIY Mooncake Gift Box is excellent for kids to celebrate. Priced at RM255, this set of nine custard mooncakes comes with an outer box for colouring, two varieties of mooncake moulds, nine pieces of trays, mooncake skin (260g) and filling (260g), and a cooking instructions card.
Shop for them all here. Shangri-La Circle Members can use code [SLC20OFF] to enjoy 20% off their first order in every location and double points on Shangri-La Boutique until 31 August 2022.
*All images above courtesy of Shangri-La Hotel Kuala Lumpur unless stated otherwise.
Taking the healthy route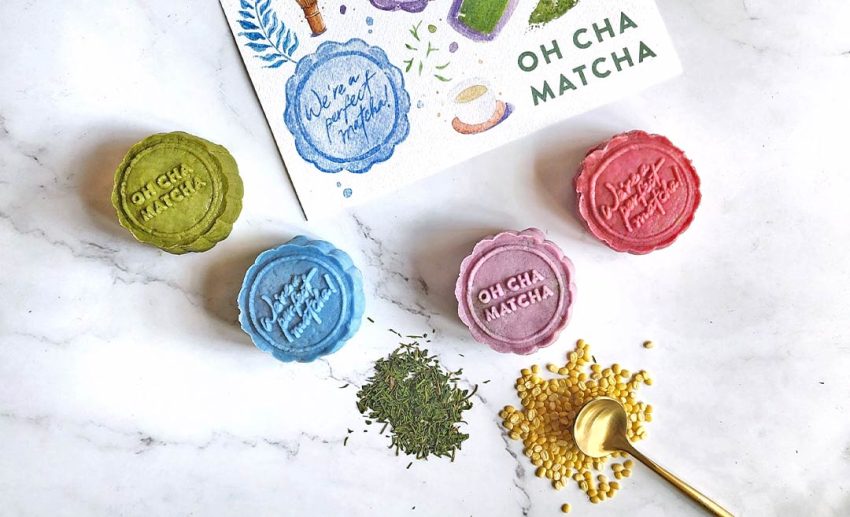 Meanwhile, if you're looking for some healthy mooncakes, check out this selection of low-calorie mooncakes from Oh Cha Matcha's Snow Skin Mooncake series with the addition of a brand new flavour!
Classic flavours such as Matcha Mung Bean (Matcha Snow Skin), Genmaicha Mung Bean (Blue Spirulina Snow Skin), and Hojicha Mung Bean (Purple Sweet Potato Snow Skin) are back, and we're absolutely loving their latest addition — the Gyokuro Mung Bean (Beetroot Snow Skin).
These mooncakes, which come in a batch of four, are vegan-friendly! But most importantly, we've tried it ourselves, and they're hella delicious despite being guilt-free. The mooncakes are completely created with natural, plant-based stevia and no chemical colouring or syrup, resulting in a dairy-free, sugar-free, and guilt-free mooncake experience. Mooncakes contain gluten and are limited owing to handcrafted tiny batches.
In honour of the upcoming Mid-Autumn Festival, Oh Cha Matcha is running a limited-time promotion where the first one hundred boxes purchased will come with a free surprise gift valued at RM35.
The box set, which costs RM69.90 per box, may be pre-ordered online for self-collection only at Oh Cha Matcha's TTDI store. Customers can pick up their pre-ordered box set every Friday, Saturday, and Sunday until 11 September 2022.