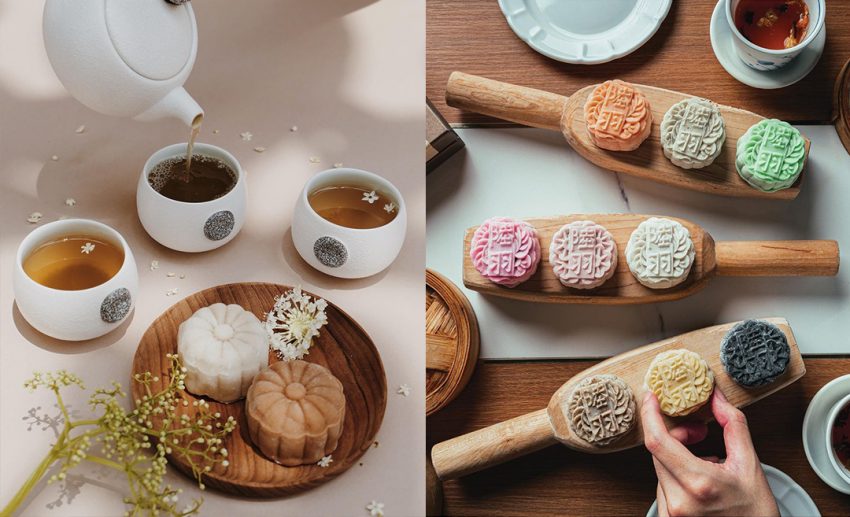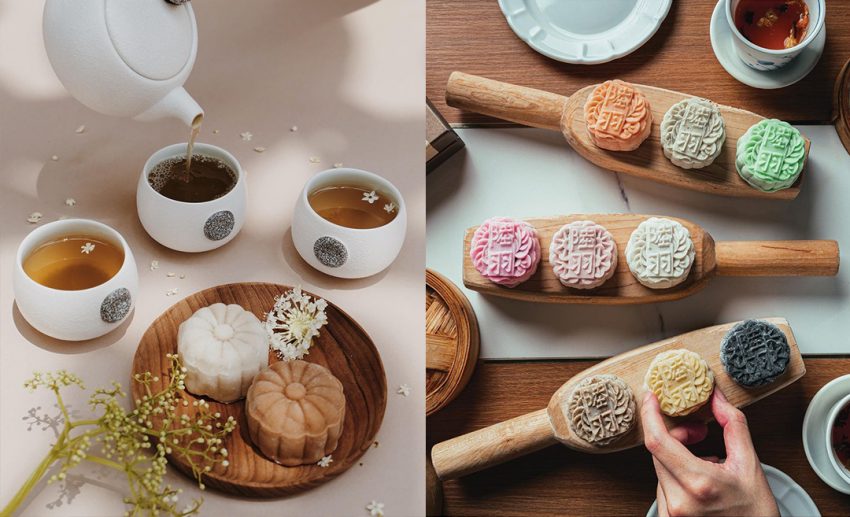 Subscribe to our new

Telegram

channel for the latest updates.
Let's be real, what's the Mid-Autumn Festival or Mooncake Festival without the sweet delicacy bearing the same nomenclature? Since they're seasonal, this is the only time of year to indulge in the delicious Eastern Asian cultural icon known as mooncakes. And, as it turns out, there are different types of mooncakes to enjoy.
Originating from different regions in China — from Beijing's thin-crusted shell to Chaoshan's swirly flaky exterior — there's something for every palate and preference. However, the traditionally baked Cantonese mooncake and the trendy snowskin version from Hong Kong have dominated our local scene. Just so you know, the latter is actually the former's younger sister, but with a non-baked, mochi-like outer layer.
On top of that, creative experimentation has led to an unexpected range of exciting new flavours and aesthetics that are raved about in our modern Insta-foodie era. Jumping right into it, here's a list of 15 places to get the most trendy, prettiest, and unusual mooncakes:
Eat Cake Today
Thanks to Eat Cake Today, you can savour the best of both worlds with the imaginative amalgamation of Indonesian kek lapis and Chinese snow skin mooncakes in the 3D Baked Kek Lapis Mooncake. Fusing both cultures, this inventive bake essentially involves thin layered cakes wrapped with a snow skin shell. Incorporating minimal sugar, four flavours including mocha coffee and Belgian chocolate are included in the set.
The Line Kitchen
Jumping off the success of last year's pastel-hued batch, The Line Kitchen has released this year's iteration with exciting new flavours to complement the assigned colour palette. Aside from the cherry blossom (sakura) and reverse ondeh-ondeh (naturally coloured with blue pea and filled with pandan, gula Melaka, and shredded coconut), we can't get over the savoury pumpkin snowskin filled with lotus, chicken floss, and dried chilli shrimp!
Eat The Rainbow
Undoubtedly a feast for the eyes, the whimsical homemade snowskin mooncakes by Eat The Rainbow are one-of-a-kind. With five sets available (including a Merdeka-themed one), expect life-like yet playful designs such as ripe durians, pastel flowers, and ivory bunnies. Defying even more conventions, flavours like Dragon Fruit and Honeydew to Royal Milk Tea and Cendol are injected into these halal mooncakes.
Yikou by Sumi Selections
With winsome individual names such as Midnight Serenade and Eastern Charm, six ebony and golden bite-sized Cantonese mooncakes have been produced by Yikou by Sumi Selections. Design-wise, these halal tasties have been formed with geometrical patterns and floral moulds. Apart from the Peranakan combination of pandan and coconut with salted egg yolk, our highlight is definitely the Lunar Reflection that's made with aromatic coffee paste and a Lotus Biscoff core.
KAMI
Somewhat reminiscent of the traditional kuih bahulu is the simple yet elegant "A Day in Autumn" snowskin mooncake set by KAMI. Naturally dyed, anticipate biting into intriguing flavours such as Chocolate Mango, Chrysanthemum & Red Dates, Uji Matcha, Strawberry & White Sesame, Pu Er Tea & Purple Sweet Potato along with the Classic Lotus. Did we mention that it also comes in an eco-friendly, chic 3D flower origami box?
The Alphabet Press x Kooky Cream
With the help of The Alphabet Press, the clever creatives at Kooky Cream have whipped up the gorgeous Moon Gazing Gift Sets to send to your loved ones (or keep to yourself). Taste the indulgent combinations of Earl Grey Caramelised Pecan, Genmaicha Macadamia, Matcha Taro, and Hojicha Biscoff. Together with illustrated coasters, each kit comes with a letterpress introduction to moon gazing card that doubles as a personalised message note.
Luk Yu Tea House
Carefully arranged in a box of either six or nine, Luk Yu Tea House's artisanal snowskin mooncakes are to-die-for. Sporting pastel tones, this large collection mostly includes unexpected flavours including Belgian Chocolate and Orange Zest, Durian Puree, Jasmine Pearl Tea, European Cheese along with Tiramisu and Almond Bits. Consider us enthralled! You can order them here.
Tatami Bakery
Have you ever seen a mooncake in the shape of an owl or a crab? Courtesy of Tatami Bakery, the odds of that happening are certainly in your favour. Allotting three miniature pieces of each per box, savour bite-sized pieces of Pandan Lotus, Green Tea, and Durian wrapped in golden crusted pastry. Aside from a sweet blessing card, the package comes with a packet of tea of either pu'er, tieguanyin, black oolong, or green to further give you a taste of China.
RED Chinese Cuisine, Pullman KL
At RED Chinese Cuisine, the variety of mooncake options are simply endless. Take your pick in the 4-in-1 Classic or Peony Treasures Mooncake Set that is divided into three categories: Halal, Snowskin, and Homemade (includes a cool alcoholic one saturated with rum and raisin). On top of that, there is a Musang King Durian Snowskin Mooncake for self-professed addicts of this nationally beloved fruit. Enjoy it at home when you order from Klook. 
Tao Chinese Cuisine, Intercontinental Kuala Lumpur
Curated by Tao Chinese Cuisine's in-house master dim sum chef, you're bound to be spoilt for choice with their 'To The Moon' range. What's great is that you needn't go all the way to town to get your fix. Order it right from Klook and have it delivered straight to you!
Enjoy dual textures with both baked and snowskin mooncakes and lavish flavours such as Durian with Custard and Salted Egg Cream, Bamboo Charcoal with Milk Tea, as well as Butterfly Pea Flower with Bird's Nest. Better yet, it comes in two luxurious box packaging: cherry blossom-inspired 'Longevity & Opulence' and leather-bound 'The Legacy'. Ooh-la-la!
Inside Scoop
Probably snatching the top spot for offering the most offbeat mooncake collection on the list is none other than the ultra cool Inside Scoop. So, what flavours are in the line-up for these handcrafted ice cream mooncakes?
Available in sets of two or four, treat yo'self to Durian with Chocolate Ganache Yolk, Peanut with Black Sesame Yolk, Chocolate Orange with Popping Candy as well as Raspberry Yoghurt and Blue Pea with Raspberry Jelly Yolk.
Bake Creation
Resembling opulent jade stones, the snow skin mooncakes made by Bake Creations are truly exquisite. Circling around the concept of tea, six distinct yet beloved variations have been injected into these beauties: Jasmine Tea, Oolong Tea, Uji Matcha, Roasted Hojicha, Earl Grey, and Assam Black.
Yum Cha
Matcha fanatics rejoice as the Japanese-inspired Kingyu Mooncake set by Yum Cha is a tea-licious dream come true. Bundled inside a wooden box with premium Furoshiki wrapping (or a Fukubukoro drawstring bag) are koi fish-moulded mooncakes: two Ube along with four infused with different Niko Neko Matcha powders. Further injecting fruity and nutty notes, the matcha-based ones consist of Ajisai Matcha Pistachio, Houjicha Cranberry, Genmaicha Goma, and Yuri Matcha Anko.
With several collaborations in the works (from YEW YEW's kombucha and YUE.Coffee's cold brew to The Whisky Notes's mini alcoholic trio), the beverages paired vary on the type of set. Regardless, they all come with a handwritten greeting card — talk about a generous care package!
The St Regis KL
Looking to splurge as you indulge? Then you won't need to look further than the Mooncake Trunks by The St Regis KL. Drawing inspiration from their founder's love of travel, the luxury hotel partnered with Swarovski to create a special encasement made of faux leather and rose gold embellishments. What sets it apart is that the first-of-its-kind in Southeast Asia trunk is imbued with 307 Silk and Shimmer Swarovski Crystals and called the Limited Edition Swarovski Super Mooncake Trunk.
It's the perfect union of deliciousness and beauty as it houses a 6.5-inch Prosperity White Lotus Mooncake with eight yolks or White Lotus Seed Paste Mooncakes with Single Yolk.
Piccoli Lotti
Personally find ice cream too rich and prefer the gooey stickiness of gelato? well, you're in luck, because the good people of Piccoli Lotti have come up with a delectable foursome of artisanal gelato-filled mooncakes freshly crafted from natural ingredients. We personally can't get enough of the Chocolate & Mint Raspberry iteration that features a charcoal chocolate shell with a refreshing mint core that's swirled with a delightful raspberry coulis. Delish!