Standing in front of the dressing room mirror, ticking off all the parts of our body that we can't hide in this skin-tight lycra – flabby arms, muffin top, thunder thighs. Sigh. Shopping for the right bathing suit can be frustrating regardless of the body size you're blessed with.
In my case, the tiny changing rooms and fluorescent lighting so common in Bangkok malls just emphasize that my go-to string bikini may not be a good idea after one too many airplane meals. I'm not alone. Style blogger Stasia from Thrift Me Pretty remembers a trip to Thailand over ten years ago:
"I didn't have a bathing suit when we arrived in Phuket, and I knew I needed one, so I went shopping… Almost immediately a Thai woman approached me and said, 'We no have something for you. You too fat.' 
She didn't just say I was too fat once, she said it over and over and over again, and then she pointed at my butt and used expressive hand motions to emphasize the point.
'Too fat.'
I left the store in tears."
As a longish term resident of Bangkok with a (wonderfully) curvy frame, I've had a few similar encounters with realistic shopkeepers. Thai street vendors, especially bathing suits stalls at the beach, don't carry a variety of sizes. Instead, they label everything 'free size' which I like to call 'Thai Tiny'.  
Luckily for us, Stasia shared four great tips for making bathing suit shopping less painful and more fun:
1. Don't go shopping for a bathing suit, go on a freedom expedition
Stasia suggests reframing your bathing suit experience so it makes more sense. Instead of asking how much you're willing to budget for a two-piece, ask yourself this: How much would I pay a fairy godmother for the freedom to run, swim, and play on the beach without feeling self-conscious of my body?
Stasia was willing to pay at least $500 for an entire summer's worth of that freedom and fun.
With this mindset, you'll realise that you're actually putting in good money for something for more than a bathing suit. You are buying confidence and the feel-good factor you deserve.
2. Dress up for yourself 
Get yourself a mani-pedi, wax your legs, put on a beautiful dress, wear your favourite accessories and beach flip flops. Walking into the store feeling good will give you confidence when you're naked in front of the full-length dressing room mirror.  
3. Narrow down stores that have the best styles for your body type
How do you want to feel in your bathing suit? Sexy? Athletic? Playful? Before setting foot out of the house, go online to narrow down stores that have styles tailored for your body type.
Stasia knew she wanted something that would make her feel strong, capable, confident, slender and playful. "Most of the suits at J.Crew were too itty bitty, sleek and sexy for me, but the suits at Athleta had more coverage and a sporty look. In the end, I narrowed down my search to Athleta and Patagonia."
Trust us, you'll wish you've done your research when you're in Victoria's Secret trying on the 13th piece of bathing suit that looked sexier on the hanger than on your body. 
4. Go in with a good attitude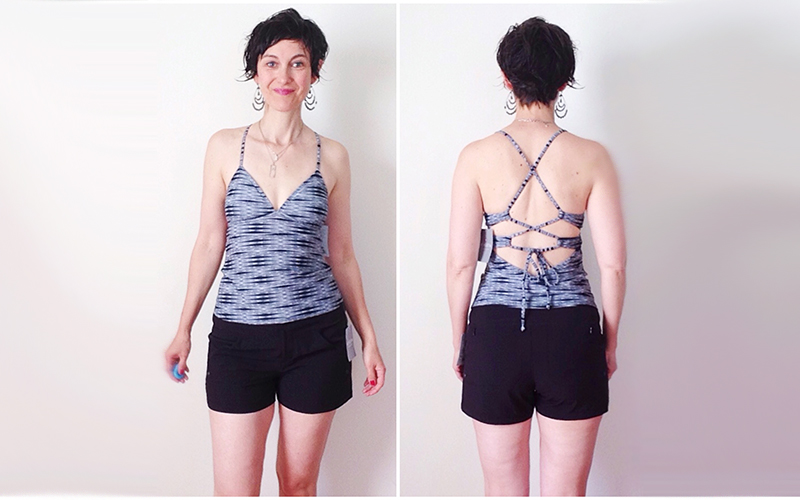 Don't beat yourself up if that itsy-bitsy teenie-weenie yellow polka dot bikini does not fit you. Sometimes, an M-size might be too small for you, but some XS-sizes might be too big as well. It's not your body, it's the cutting. Ask the shop assistant for help and try on the next one. 
You will try suits that look horrible on you, but you will also find that one suit that unleashes the strong, confident woman that you are. 
And when you've found the perfect bathing suit, treat yourself to an ice cream. Because after all that hard work, you and your body deserve it. 
For those of you planning on visiting Thailand's beaches, I'll add one quick additional recommendation: Buy a bathing suit in your home country to save yourself size troubles. Alternatively, head to a department store in Bangkok and pay a little more for better variety. 
Check out Stasia's story on how she found the perfect bathing suit here. 

Read next:
| | | |
| --- | --- | --- |
| | | |
| | 13 Distinctively Well-Travelled Women Show Us Their Travel Essentials | |