Aguilt-free getaway isn't just a way of avoiding the post-holiday blues, it can be seriously fun, and fitness-conscious travellers are opting for active holidays more than ever before. We asked the experts how you can have your cocktail and drink it too, scoured the world for the healthiest holidays and even found fitness you can fit in your suitcase. Bon voyage!
If you're… relaxing on the beach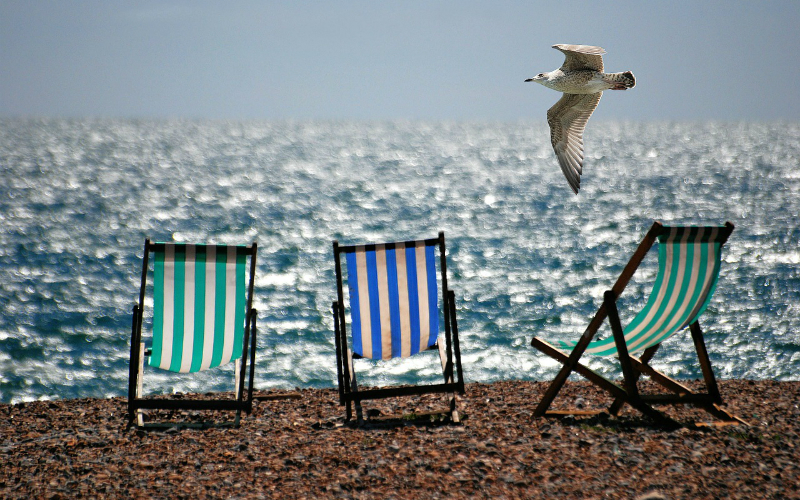 We get it. You're busy with that trashy novel and tropical cocktail; the thought of exercising is ruining the whole vibe. Thing is, the beach holiday is practically made for sneaky ways to keep your fitness levels up without even stepping foot into a hotel gym – or putting on shoes. To start with, walking or running on soft sand burns up to 30 per cent more kilojoules than when you're pounding the pavement, so make a sunset stroll part of your daily routine (or lack thereof). Stepping away from the sun lounger might also mean you pack in more fun times.
"Try taking a watersports lesson for a laugh, like surfing or windsurfing," suggests fitness expert Ellen Barrett. "Or just head to a watersports park – even without kids you'll get a great workout!" Overdone it at the breakfast buffet? Personal trainer Blake Worrall-Thompson recommends a beach-based workout: "Start at the base of the water and swim 50 strokes out, 50 strokes back. Run to the top of the beach, turn around and head back to the water for 40 strokes out and 40 strokes back. Gradually work your way down to 10 strokes out, 10 strokes back with a run up the beach in between." Now you've really earned that extra cocktail (or three).
If you're… seeing the city sights
"Walk everywhere," personal trainer Lucy Birss tells clients going on an urban escape. "It's easy, costs nothing, allows you to see the place that you're on vacation in a completely different light, and you can wear any shoes to do it." And it makes stopping at that little boulangerie you find completely guilt-free. If you're a runner, log onto Global Running Tours to find a tour guide (and workout buddy) who will literally run you through the sights, history and unofficial landmarks of the city you're visiting. Or try tracking down the local gym, suggests Worrall-Thompson, for the kind of group fitness class that you'll never find back home. Just consider it part of your cultural duty.
If you're… headed to the country
It's all about the climb: take advantage of rough landscapes and rolling hills by conquering them. Find a mountain to climb, a bush trail to hike or a lookout point to walk to. "There's nothing better for the body than challenging it with new exercises," Worrall-Thompson points out. "Despite the fact that 'hiking' sounds relatively easy, it'll be challenging on the body because it isn't used to it." If you're staying in a small town, take advantage of the quiet roads. "Rent a bike and vow to leave the car in the driveway as much as possible," Barrett encourages. And don't miss out on the fresh produce that's readily available. "Try to eat at restaurants that emphasise a farm-to-table approach. Eating in-season, fresh ingredients is all part of staying fit and healthy," she adds.
This story was originally published on www.marieclaire.com.my
Zafigo republished this story in full with permission from the publisher to hopefully bring the story and Marie Claire Malaysia to a larger audience, simply because good authors and stories should be read by as many people as possible! If you are keen on Zafigo republishing your stories that will be of interest and useful to women travellers especially in Asia and the Middle East, please get in touch with us at info@zafigo.com.