The truth is, Malaysia is full of secrets. Secret places that many of us, even as Malaysians, are not aware of. I've encountered many travel articles about Malaysia comparing Kundasang to New Zealand, some of our beaches to Maldives, or even our own unique rainforest to those in other countries.
I'd say it's normal for people to take for granted the beauty that's right in their own backyards. As a Malaysian, I too am guilty of not appreciating my country well enough that I feel the need to compare it just to acknowledge what we have. Since I started Stand Up Paddle (SUP), all that's changed.
It's been five years since I started SUP, and it's required a lot of time spent outdoors. Sometimes, I even fail to have a paddling session because I spend too much time on the road, exploring my surroundings and the local culture while on the way to a paddle spot. Sometimes, that's the whole point.
Adventures on the road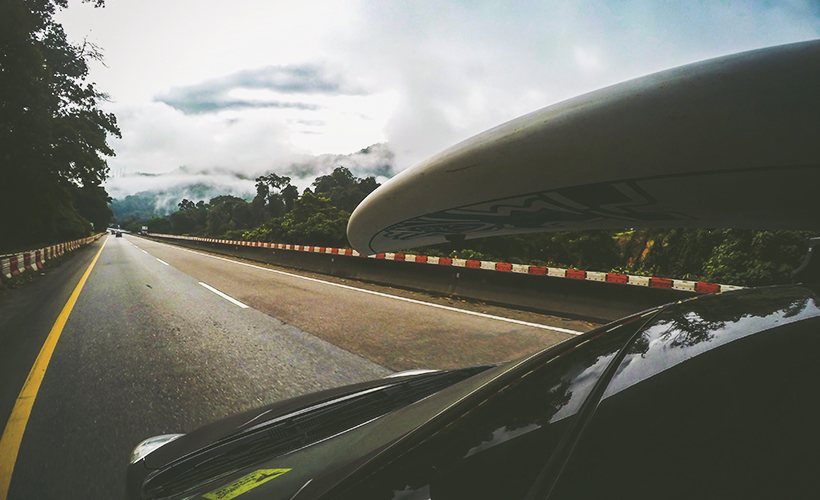 When people talk about watersports, they may think about an island holiday by a beach that would require two things – first, for you to take some days off to travel, and second, to pay for a session in the water through holiday rentals. You might be surprised that this isn't necessarily so. If, like me, you're a Malaysian living in Kuala Lumpur, you don't need to go inter-state or book accommodations for an adventure. Some of the places I paddle at on the weekends are around Klang Valley. For instance, there's Putrajaya Lake that runs at 12 kilometres for a full course. Other places worth visiting are Bagan Lalang, D Island in Puchong and Biru Lake in Kundang.
However, there are perks to visiting other states. Paddling needn't be just about exploring waterways, but part of the incredible experience is the fun of being on the road, driving around exploring places less travelled, stumbling upon amazing views and ending the journey with a paddle session.
Personally, I don't always have the time and money for dreamy vacations, so I pick a weekend a month to visit other states to paddle at. This usually involves waking up at 5am on a Saturday or Sunday to get in my tiny station wagon – aka my 'adventure mobile' – and head out on a little adventure around the country. Life on the road and out of the city is pure bliss.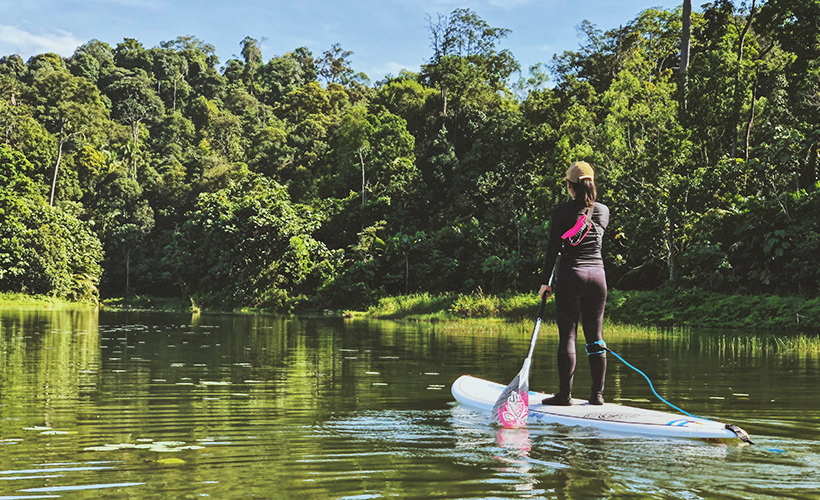 One time, a friend and I made a trip to Cherating in Pahang hoping for choppy conditions, but instead, the water was calm and the weather was perfect. While looking for a spot to unload my gear, I took a random turn in to a kampung (village), where we ended up having a lovely picnic. Turns out the water was perfect too! While we paddled, a school of fish swam past our boards, and started jumping in and out of the water. So we decided to also turn what was a paddle trip into a freediving experience.
Being on the road also affords one the opportunity to reconnect with nature — a therapeutic experience. The country and coastal side has so much to offer, like hidden spots away from a main beach and a weekend crowd for some alone time. Besides paddling, you can even walk, run, jog, surf or do yoga amid nature.
Kuantan, in the state of Pahang, is my go-to and favourite spot to paddle. One of my most memorable SUP trips is with a childhood friend of mine, when I brought him to Balok Beach to teach him to SUP. We paddled through the breakers, towards a small rocky island about two kilometres away from the shore, and climbed up the rocks to get a good view of the waves smashing onto the big rocks. Just sitting there for hours allowed us to reconnect with nature, and with each other, as we reminisced childhood memories.
A woman's perspective
Stand up paddling can be life changing. Not only for its fitness benefits, but for the thrill of adventure that it brings. Paddling teaches women self-confidence, and how to be brave and continuously challenge ourselves. It also motivates you to be wise and cautious with your surroundings.
Women who are looking out for new challenges can learn a lot from SUP. It's a fast-growing sport for women around the world, and is changing lives as well. The ability to paddle almost anywhere also makes it an easy sport any woman to enjoy, whether you get your fun from the adrenaline rush of a big wave or prefer a quiet scenic paddle on a lake.
Being a fitness enthusiast, it goes without saying that SUP is an excellent way to cross-train. My fitness levels have increased tremendously, though I don't always realise it as I'm busy having so much fun.
Taking precautions
There are some safety precautions that need to be practiced all the time, and one of the most important tools when it comes to safety is a leash. I never enter the water without it. Whether you're an excellent swimmer or an elite paddler, this small piece of equipment could be the difference between life and death. It connects you to your board, which is your personal floatation device that can float away from you within seconds whenever you fall into the water.
Second is the personal floatation device (PFD), more commonly known as a life jacket. Depending on the water's condition when you paddle, having to chase after you board when it floats away from you can cause exhaustion, therefore a PFD provides maximum buoyancy.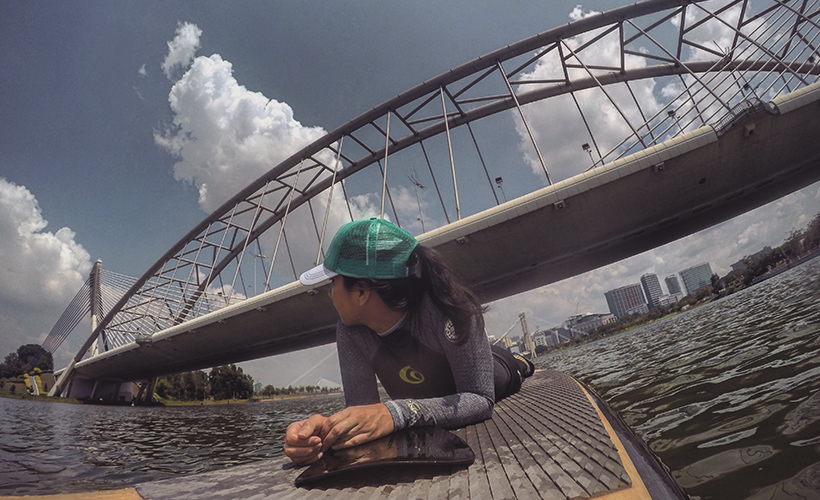 While paddling in the water can look fun and effortless to some, it's a sport that demands an awareness of danger and the conditions of nature. One of the most important conditions to note is the wind. Higher winds create choppier water conditions which may be quite dangerous to inexperienced paddlers and you may find it difficult to control your board. Therefore, it's vital to check the weather forecast before you paddle out. A basic understanding of the tides is also important for you to navigate on your paddleboard as it prepares you to plan your route and avoid exhaustion. Even if you are confident enough to paddle into the ocean, you should never underestimate the power of waves, which sometimes requires more physical strength to overcome than you are normally accustomed to.
With all these in mind, what are you waiting for? It's time to start exploring.
All photos courtesy of Muni Mustaffa.
Get all the latest travel stories from Zafigo. Follow us on Facebook, Twitter, and Instagram.