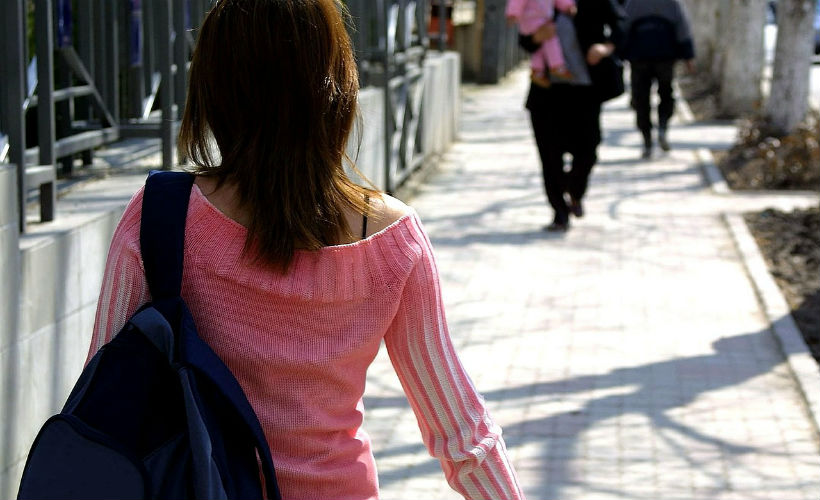 Valentine's Day: Love it or hate it, you can't avoid it. Like elsewhere in the world, Delhi see its share of haters and more than its fair share of those who want to use the day to feel special. A bit nauseating, if you're uncoupled on the big, bad day of love? No problem. You can let Cupid do his thing, while you use our guide on making the most of your day in Delhi if you are flying solo. There are things to do, places to shop, treats to eat and drinks to drink. Now if that's not special enough, we don't know what is!
DO
Turn up the heat and head toward adventure, especially if you're blue about being solo on V-Day. Distraction is the best tactic.
Skydiving
There's nothing like jumping out of a plane to get your pulse racing. A company called Skyhigh can make all the arrangements for you, and give you the training you need before jumping. It could even be an activity done in a group! Get more details here.
Ski India
This massive, two-floor snow park bang in the middle of the city provides an escape and a really cool one at that. Pick between skating, skiing and tobogganing or do them all. Get more details here.
 Rock Climbing
Need a reminder of why you don't need extra baggage? Head to the Indian Mountaineering Foundation for a couple of hours of climbing. They've got faux walls, instructors and equipment. You just need to show up. Get more details here.
EXPLORE
Nehru Planetarium
How does stargazing, but without clammy hand-holding, sound? Spent an hour or two at the Nehru Planetarium, sitting in the dark and taking in 3D sky-watching shows. It's a quintessential Delhi activity: Low-key but entertaining. Check out the space museum while you're there. Get more details here.
Haveli Dharampura
Here's how to feel like royalty, without that significant other. A 100-year-old Mughal site, Haveli Dharampura is a beautiful heritage property (with a hotel and restaurant) that overlooks the chaotic, but striking markets of Old Delhi. It's worth a visit to get a taste of Indian history, not to mention a decadent and traditional meal. Where: 2293, Bazar Gulian Rd, Gali Guliyan, Dharampura, New Delhi Tel: 011 2326 1000
Tibet House
Celebrate having an afternoon of culture without having to convince an other half to come along. Spend time going through relics from Tibet. A country rich with culture, but fraught with war, this museum started by Dalai Lama has art, books, artifacts and more. An enriching afternoon awaits you. Get more details here. Where: 1 Institutional Area, Lodhi Road, New Delhi
Taj Mahal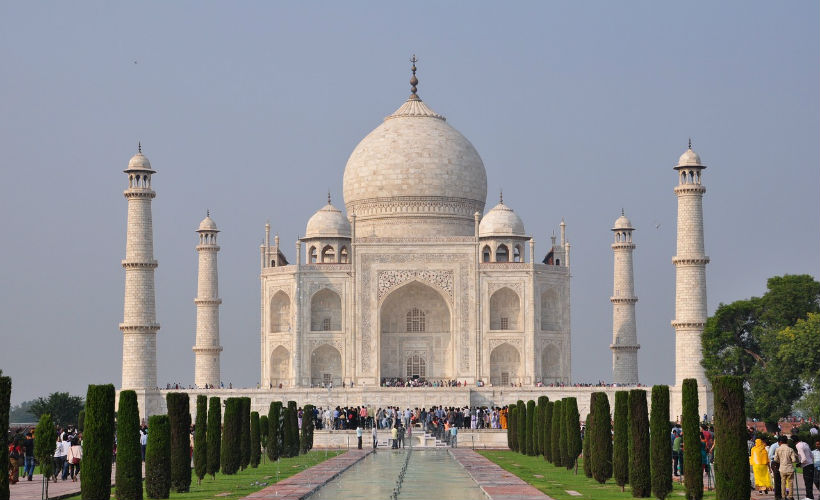 Head to Agra for a day, tick visiting the Taj Mahal off your list, and bask in the wonder of a legendary love story. Built by Emperor Shah Jahan as a monument to his favourite wife upon her demise, this majestic landmark is monument to love – the kind you want to aspire to, perhaps?
SHOPPING
Seeing as it's often referred to as retail therapy, there's a pretty solid guarantee that it'll lead to joy or a confidence boost, if nothing else. Treat yourself to wares from India's rich aesthetic heritage at these bustling bazaars.
Dariba Kalan
Nestled in the lanes of Old Delhi, Dariba Kalan is a jewellery bazaar where you'll find everything from earrings and necklaces to miniatures utensils and hip flasks. Every shop in here is at least two centuries old, and prices are reasonable.
Shahpur Jat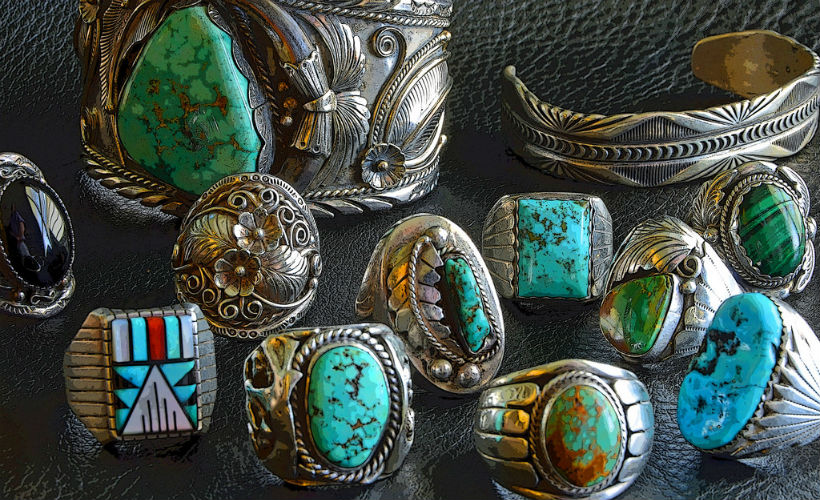 This marked houses a collection of indie boutiques, where you can find both traditional and contemporary silhouettes. Our top suggestions are Lila, Nimai and Kardo. Fill those shopping bags with love.
Meherchand Market
An up-and-comer, Meherchand Market houses eclectic boutiques, some excellent restaurants, and is located near some historical spots. It's a lovely place to spend a lazy afternoon. Hit up Lovebirds, the CMYK bookstore and The Shop. When you get hungry, stop by Guppy by Ai for some of the town's best sushi.
 DINE
Tuck into a lazy meal and aim straight for a food coma. Steer you clear of romantic settings and dim lighting, and just focus on satisfying your tastebuds with the best.
Suribachi
An old classic, Suribachi has a variety of eats, with Asian and north Indian being the most prominent. The food is flavourful but not too spicy. It's perfect for an outing with a group of single gal pals. Where: T-540, Malviya Nagar Corner, New Delhi
Fat Lulu's
Dainty eating be damned: This is the best wood-fired thin crust pizza in Gurgaon that has comfort food written all over it, best enjoyed within the restaurant's quirky décor, complete with floor-to-ceiling glass windows. Order up a pie or two and wash it down with a chilled tumbler of beer. Find their outlets here.
Prankster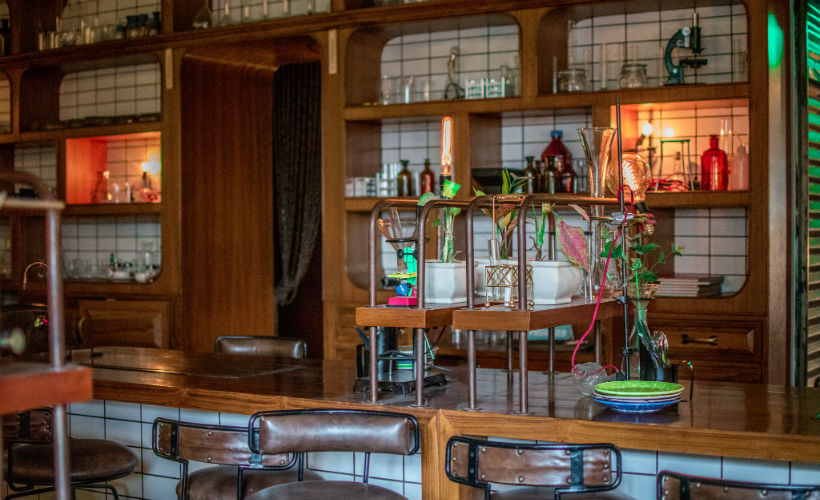 The biggest restaurant in Gurgaon, this is the place to head to if you'd like to try the country's staples and favourites. We recommend the Rampuri Ghosht (goat curry) or the Pao Bhaji Burger (a vegetable burger), for vegetarians.  Where: Site 8-10, Sector 29, Gurgaon
DRINK
Bottoms up! Find your own happy hour.
 Dramz Whisky Bar/ Vibe — The Sky Bar
Both rooftop bars (there's just something about them) promise spectacular views and equally well-mixed cocktails and finger food. Go to Dramz for their extensive whisky menu and an indulgent evening. The space offers an unobstructed view of the Qutub Minar, which only adds to the experience. For eats, munch on their stuffed mushrooms. Vibe, the highest rooftop bar in the city, serves innovative cocktails that are all worth checking out. Sip your choice while enjoying the breezes, cabana-style seating by the pool, and a bird's eye view of Gurgaon. Dramz: 1580/1, KD Marg, Near Qutub Minar, Mehrauli, New Delhi Vibe: Rooftoop at the Hilton Garden Inn, Baani Square, Sector 50, Gurgaon
Arriba
Get ready to brindis (toast) to life and all that you're grateful for. A Mexican tequileria, Arriba has an extensive margarita menu, along with other cocktails. The place is festive and cosy – really, the perfect place to drink yourself merry. Where: Asiad Village, Sirifort Complex, New Delhi
Ek Bar India
'Ek' means one – it's even got single in its name! A novel bar to experience Indian flavours paired expertly with quality liquor, Ek Bar is vibrant (but not loud) and laid-back. Try their Royal Indian Punch (it's a favourite), which does indeed pack a punch. Where: D 17, First Floor, Defence Colony, New Delhi
DESSERTS
What's V-Day without some sweets for the soul? Here's what Delhi is tripping on these days, best shared with absolutely no one. The Bombaykery One of Gurgaon's favourites, Bombaykery has everything from Nutella brownies to Cutting Chai (Sharp Tea) macaroons. Try one of their baked cheesecakes if you don't have too much of a sweet tooth. Where: 1st Floor, Shiva Market, Near Vakil Market, Chakkarpur, DLF Phase 4, Gurgaon (takeaway or delivery, only)
Sanadige
Seafood destination Sanadige does an unmatched coconut rice pudding (Tender Coconut Payasum): Sweet, with bits of coconut. Where: 22/48, Commercial Centre, Malcha Marg, Chanakyapuri, New Delhi
Kunafa
The world is your playground indeed. This one's got the Arabic sweets (from baklava to stuffed dates) and strong Turkish coffee to wash them down with. Where: 70 Mehar Chand Market, Lodhi Rd, Lodi Colony, New Delhi