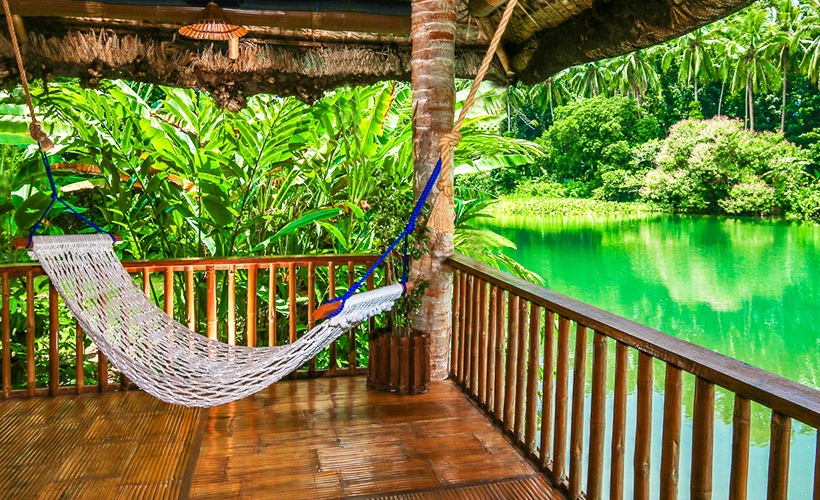 Can you imagine having water running over your feet with the loud pitter-patter of water crashing its way down while you dine on a lovely traditional lunch? The Waterfall Restaurant at the Villa Escudero Resort gives you the unique dining experience of lunching in a waterfall. Yes, in.
The resort in San Pablo City, Philippines is less than three hours from Manila, and set amidst coconut trees, forests, and mountains. Of course, highlight at this resort is that you get to enjoy authentic Filipino cuisine seated right at the foot of the impressive Labasin Falls with your feet in the water!
A meal unlike any other
Guests enjoy a buffet lunch, kamayan (by hand) style while seated at handmade bamboo tables covered in banana leaves. It's a communal way of partaking in a meal, whereby everyone at that table eats the food served all across the table without plates or utensils.
The menu includes Filipino dishes like lechon manok (roast chicken), miswa (noodle) soup, grilled pork liempo (belly), and bibingkang galapong (rice cake) and halo-halo (shaved ice with condiments) for dessert! Soup, salad, and fruit are also a part of the buffet spread along with drinking water. Sodas, fruit juices, and buko (young coconuts) can be ordered at an additional cost. The staff here are excellent too, welcoming you like family and catering to your every need.
Due to how you're in an outdoor setting, the Waterfall Restaurant is open-air and thus weather dependent for your personal safety. In terms of attire, it's a resort so it's okay to wear a bathing suit. However, Filipinos are generally modest and choose to cover up even in the water. And yes, you can totally take a dip in the falls while you're there. The area around the waterfall can be a bit slippery and the current's a bit strong for some, so make sure you watch your footing!
Villa Escudero Resort is a working coconut plantation that was founded in the 1880s. Don Placido Escudero and his wife, Dona Claudia Marasigan, originally planted sugarcane on the property. Their son, Don Arsenio Escudero, planted the coconut trees in the early 1900s.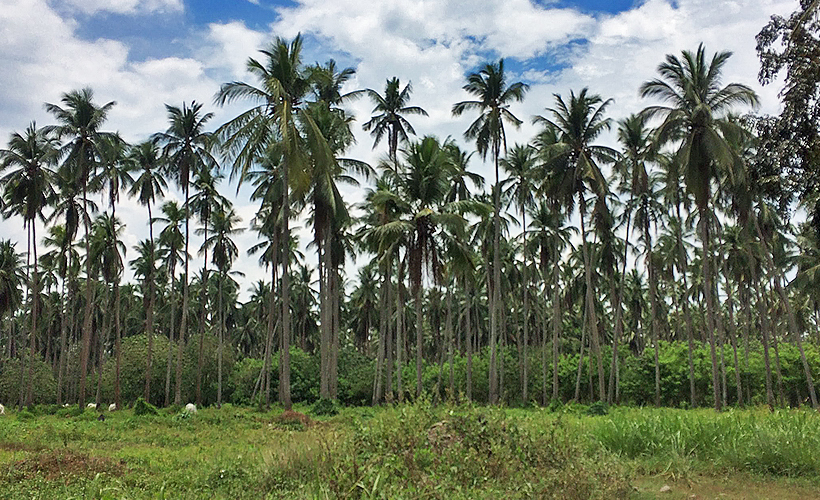 The estate was first opened to the public in 1981, and while the property offers much to experience in terms of Filipino culture, customs, and history, it's the restaurant that makes this space truly unique. The waterfall is not natural, but actually a spillway for the Labasin Dam – the country's first working hydroelectric plant – built by Don Arsenio Escudero in 1929.
---
Here are some of our favourite rivers and waterfalls in Southeast Asia to add to your travel list:
---
Other resort highlights
This resort offers a number of other activities. Bamboo rafting on the river is another highlight as is bird-watching and the cultural show that's showcased on weekends. There are carabao cart rides accompanied by serenades by Filipino singers for an authentic experience. Riding a jeepney is also part of the Pinoy cultural experience and you can have one to take you to the restaurant.
Villa Escudero Resort also has a pool that's equipped with four hot tubs, perfect for lazy days spent relaxing and soaking up some sun. Visitors can stay overnight in comfortable rooms, some of them overlooking the river. Dinner is served in a large hall near the lake with an impressive wooden chandelier.
There's a museum on the property that showcases the family's private, eclectic collection of mementoes housed in a church with the first floor dedicated to religious objects. The second floor features an abundance of secular objects and one can spend hours looking at all the interesting pieces. Don't expect a 'traditional' museum with explanations for all of the objects – it really is just the family's personal collection of things on display. Overall, Villa Escudero Resort really gives its visitors a glimpse of what life in the area was like 100 years ago.
Cover photo from villaescudero.com
Get all the latest travel stories from Zafigo. Follow us on Facebook, Twitter, and Instagram.