Petrina Thong was always curious as to what hitchhiking was all about, with general consensus suggesting that it was downright dangerous. Petrina then decided to set aside a shoestring budget of US$200 and flew herself to Sweden.
"So when I researched about hitchhiking, it lead to people who lived alternative lifestyles without money. All of that made me curious, because our lives revolve around money so much. That started to annoy me so much; 'We're the only creatures on earth that pay so much attention to these pieces of paper that mean nothing to every other living creature. So I flew out to Sweden because I had some friends there. Of course, I didn't dare do it alone, so I started hitchhiking with a friend."
Here are some of the tales from her adventures;
Dumpster diving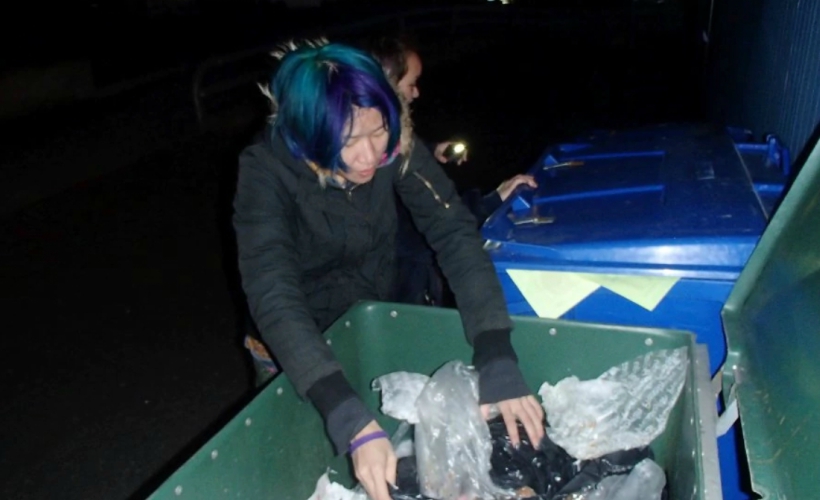 During her travels in Europe, Petrina quickly found out that food became an issue, leading her to resort to dumpster diving. "One of the things that you need to do without much money is dumpster dive. That's what I did, go through dustbins looking for food."
While such an act is looked down upon and appears to be downright unhygienic, Petrina had a different take; "Actually, I really enjoyed it, cos you know, free food! Especially if you find something that's actually nice and edible like bread. In Europe, their grocery stores throw away their food in a more clean manner, so it is perfectly safe."
The kindness of a stranger

After hitchhiking with her friend from Sweden to Denmark, her friend had to leave, leaving her paralysed at the thought of hitchhiking. Eventually, she decided to do it and started looking for a ride.
"This guy stops his car and I get in. He was an elderly Danish guy, and he asked what I was doing and why I was doing this. I explained my story and he suggested flying to Berlin, which was my next stop. But I said I had no money. Then he said why don't I buy you a flight ticket. Anyway, he drove me to the airport but tickets were too expensive. He bought me a bus ticket instead."
Alone at the bus station, Petrina was surprised to see the Danish gentleman approach her again; "After dropping me off, he came up to me to give me his contact number, asking me to let him know when I arrive safely in Berlin. I was like; 'That's so sweet of you, but why would you do something like this for a random stranger that you know nothing about.' His response was; 'Well, because I have a granddaughter now, she's about seven years old now, and in the future she will be traveling just like you, so I hope someone else will show the same kindness.' I was stunned."
The gentleman's kindness made a mark on Petrina; "I was like 'Woah, my first hitchhiking solo experience and someone was so kind.' Obviously after that I kept in contact with him and let him know when I'm safe, and updated him throughout my travels. Throughout my trip I kept meeting really kind people. These are the experiences you would not get unless you put yourself in a vulnerable situation."
Chasing the rainbow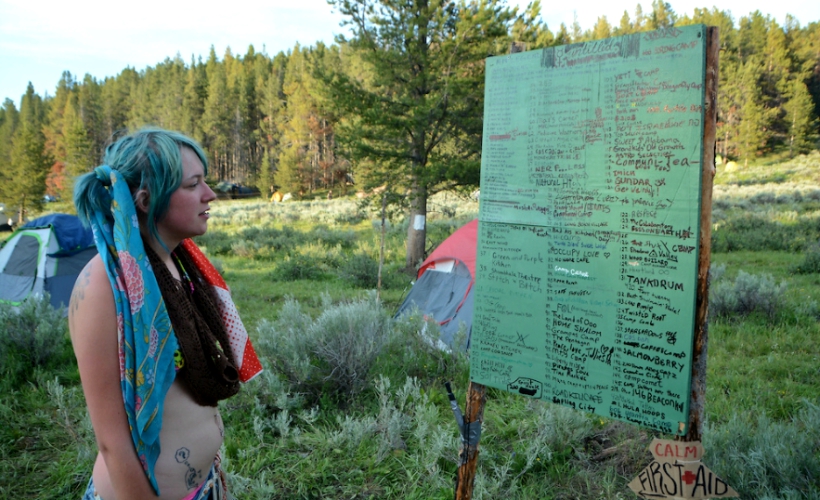 Petrina's trip to Europe was not primarily focused on hitchhiking, she had a single goal; "When I went to Europe, I had one thing in mind, I wanted to find the Rainbow Gathering, which is an extremely elusive hippie gathering that I couldn't find any information about. The only thing I knew was that it was the roots of Burning Man. When I asked anyone about Rainbow Gathering, no one seemed to know. Eventually I ran into a girl who was leaving a squat area; she came up to me and asked if I was going to Rainbow Gathering. She had an email that I could use to find out more about the gathering."
Unfortunately for her, the invitation was less specific then one would be accustomed to; "It had a vague drawing of some mountains with an X to mark the spot. I had no idea how to get there. I was staying in someone's trailer at the time, but the trailer belonged to a person that no one had seen for six months. Coincidentally, on the second night I was there, the owner came back and asked if I wanted to go to the Rainbow Gathering. I was like 'What? Yes!' Everything was just falling into place."