December holidays usually leave us deliberating between three options: Stay home with the extended family, go traditional with a snowy destination, or leave the hype and hassle behind for a beach getaway. As we reminisce the passing of a year, you'll probably realise that it's been a year of change, uncertainty, and more change… So why not embrace it with an unorthodox holiday?
1. MACAU
The island embraces the festive season like the rest of Asia, with lots of bright displays and good food.
Weather
Expect a mild chill in December, with temperatures between 14°-20° Celsius
Celebrate by
Taking a chance: Macau is known as the Vegas of Asia, but it really should be the other way round – the former Portuguese colony generates five times more gambling revenue than its American cousin. End the year on a fortuitous note with a nail-biting round of baccarat, but if gambling's not your thing, the dazzling light displays along the Cotai Strip – especially at the Venetian Macau and Galaxy Macau – are not to be missed.
Explore history and religion: Macau is also a historical mecca, rightfully earning it a place on UNESCO's World Heritage List. There are a number of Catholic churches and chapels on the island that were built in the 15th and 16th centuries, including the looming Ruins of St. Paul's and the Chapel of St. Michael that's set in a beautifully landscaped cemetery.
Eat, eat, eat!: Don't forget to indulge in Macau's food, a unique and rich cuisine that borrows notes from China, Portugal, and other Portuguese colonies like Goa and Brazil. You simply cannot go to Macau without sampling its Portuguese egg tarts and pork chop buns.
2. CAPE TOWN, SOUTH AFRICA
A good 80% of Cape Town's population is Christian, so there's plenty of festive cheer to take in between your visits to the beach, mountains, and vineyards.
Weather
It's summer time in the Southern hemisphere, with lots of sunshine and temperatures between 20°-25° Celsius during the day and an average of 15° Celsius at night.
Celebrate by
Strolling the Christmas markets: Over the Christmas period, there's lots of shopping and gift-buying to be done at the numerous Christmas markets, along with Christmas-themed light displays, sing-alongs, free concerts, and carolling held throughout the city.
Don't miss the Carols by Candlelight event, a yearly tradition that hosts about 20,000 people over 4 days. You can also join the locals at midnight mass at St. George's Cathedral.
Live it up: The more adventurous may also enjoy coming down Table Mountain via the world's highest commercial abseil, or go cage diving with sharks in Gansbaii. Party it up on Long Street, take in the arts and music at Woodstock or one of Cape Town's many jazz clubs… there's even a penguin colony! For Malaysians hankering for home, the local Cape Malay food may satiate some of those cravings but leave space for dishes from across the African continent and what may be the world's finest tuna.
Walk down memory lane: Historical buffs will be interested in Robben Island, the District Six museum, and the Museum Mile which offer a sombre look at South Africa's cruel past, while serving as symbols of hope and progress in a fast-changing world.
3. KERALA, INDIA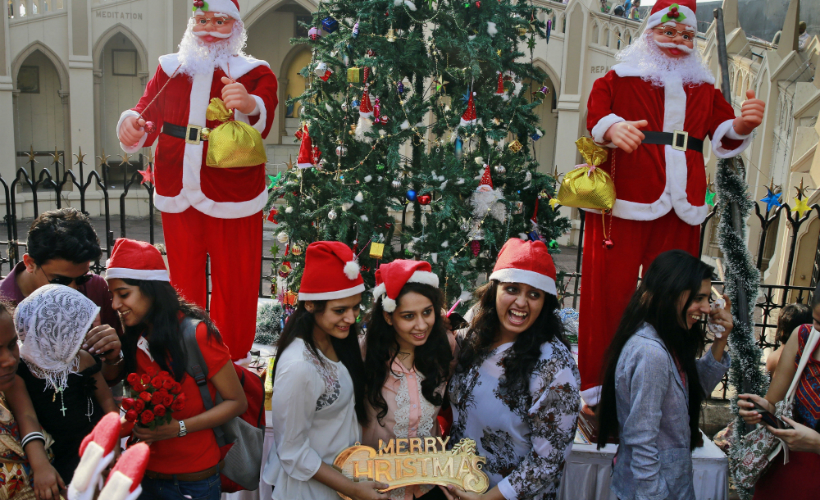 Kerala is one of the few regions in India that has a large Christian community, with one key difference: it's believed that the religion was first introduced here by one of the twelve apostles, St. Thomas from the Middle East.
Weather
Weather in December is cool and dry, though that still means temperatures between 27° – 31° Celsius.
Celebrate by
Listen to the language of Jesus: You can visit a Mar Thoma or Jacobite church on Christmas Eve to experience mass held in Aramaic, the language of Jesus. Alternatively, take your pick from Malayalam or English services, all amidst a sea of vibrant sarees and jangly jewellery. Indulge in a Malayalee Christmas feast the next day; you get to pair rich, homemade sherry wines and fruit cakes with mutton curry, appam, and biryanis. What's not to love?
Join the Cochin Carnival: Kerala is best experienced by starting in Cochin where you can take part in the annual Cochin Carnival, a cultural extravaganza with food festivals, art shows, games, and sporting events that culminates with a grand elephant-led procession on New Year's Day.
Head to the hills: Leave the bustle behind for the cooler hills of Munnar, where plantations and tea gardens abound. If you've got the time, check out the wildlife sanctuaries in Thekkady before making your way to Alleppey for a leisurely houseboat cruise along Kerala's backwaters that will take you through farming and fishing communities. End your trip down south at the Kovalam beaches, before heading home from Trivandrum.
4. LIMA, PERU
Peru is often overlooked as crowds throng the more popular cities of Rio de Janeiro and Buenos Aires, but its beaches are just as beautiful and the Yuletide celebrations just as colourful.
Weather
Lima is a great place to visit throughout the year. December marks the return of summer with warm, sunny days and temperatures in the low 20s.
Celebrate by
Have a Latin American Christmas: Christmas festivities bear many of the hallmarks of traditional American and European celebrations. Think turkey feasts, midnight mass, and carolling in the town square, but with distinctly Latin American touches like Peru's famous ceviche, cinnamon hot chocolate, lechon (roast suckling pig), tamales, and of course, late night salsa parties that go on till the wee hours of Christmas morning.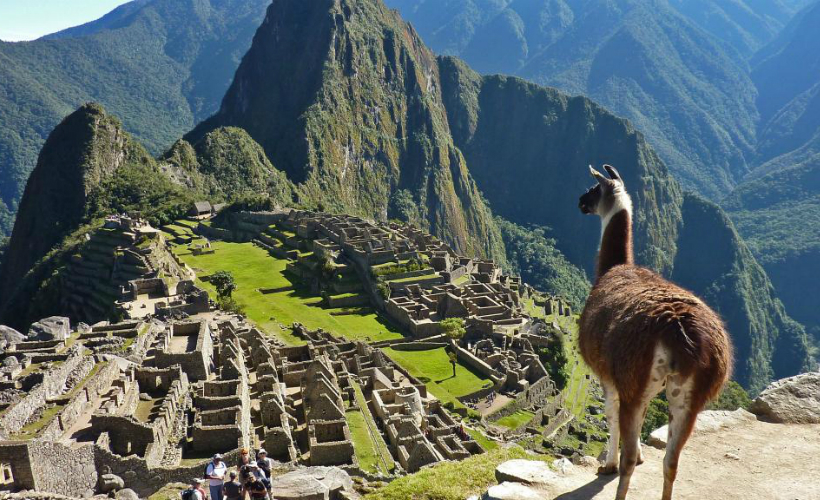 Eat, drink…and be naughty: Limenos (as Lima dwellers are known) are obsessed with food – be sure to visit the Boulevard of Gastronomy to partake in all the yumminess Peru has to offer. For a good dose of adrenaline, go paragliding; Lima's strategic clifftop location and strong winds makes it one of the few cities you can paraglide over. For a more cheeky experience, have a laugh at Museo Larco's naughty porn pottery collection.
Visit the wondrous: While you're there, be sure to take day trips to the ancient city of Machu Picchu (it's one of the seven wonders of the world), the Sacred Valley of the Incas, as well as the Peruvian Amazon basin, which is the most protected tract of the Amazon rainforest.
5. DUBAI, UNITED ARAB EMIRATES
Christmas in Dubai? Oh, yes. Head here if you're looking for a luxurious holiday that's all about embracing the commercialism, unironically. As Time Magazine says, "…nobody ever came to Dubai in search of understatement."
Weather
Dubai loses some heat in December (thankfully!). Expect temperatures between 24°-26° Celsius during the day, and it can get chilly at night.
Celebrate by
Chill out in faux winter: The Dubai Winter Festival at the Dubai World Trade Center is a great place to start, with a snow play area, ice skating, snowman and gingerbread house-building activities. You can also check out the 22,500 square feet Ski Dubai indoor ski park at The Mall of the Emirates or Santa's Grotto at Wafi Mall where Dubai's best Santa is rumoured to reside.
Shop till you drop: What stay in Dubai is complete without a visit to its surreal malls? Treat your wallet and yourself with day trips to the Mall of the Emirates, Souk Madinat, and the enormous Mall of Arabia. Don't forget to take in the more traditional aspects of Dubai; visit the old quarters and check out the vibrant street markets.
Ease into the New Year: Enjoy an idyllic day at Nasimi or Jumeriah beach, or have a nomadic overnight experience at a Bedouin campsite. If you're staying on till New Year's Day, ring in the new year with a drink at one of Dubai's many skyview bars. Where else should you be at the start of the year but at the very top of some of the world's tallest buildings?