Known popularly as the Festival of Colours, Holi is a traditional Hindu celebration that marks the arrival of spring while signifying the triumph of good over evil. The two-day festival begins on Pooranmashi (Full Moon) and is marked by great merriment that includes dancing, singing and feasting. But its most notable activity is the throwing of coloured powder on each other, something that has drawn even non-Hindus to participate in the festival in droves.
Besides India and Nepal, Holi is also celebrated in Malaysia. We asked two women – one who has been celebrating the festival every year in India, and a Malaysian who attended her first Holi last week – to share their thoughts on the colourful event and what it means to them.
The regular: "It's all about hope and love"
By Angelica Shisha Syiemiong Pereira
Growing up in one of the most populated cities in India, you learn to make your own decisions at a young age in order to stand out and be independent. To succeed at becoming the best version of you, you embrace everything around you – cultures, people, religions, and traditions. I was encouraged to explore and celebrate all the festivals India had to offer. Even though I was born and brought up as a Catholic, I embraced them all with an open mind.
Holi, also known as the Festival of Colours, is one of the many festivals I grew up celebrating and its meaning, for me, has evolved over the years. As a child, I simply followed the masses but as I grew into a young adult, I began to acknowledging and comprehend the reasons behind the festival. My favourite part about Holi is the effort that people put in to make sure that it is as radiant as it can be for the entire community, as friends and families blend into one.
On the first day of Holi (it's a two-day festival) the young me would wake up early to fill up my bright neon water guns and water balloons. My neighbours would do the same, after which we would sit by our windows and wait patiently to see who would be the first to hit the streets – with buckets filled with water balloons. Once a 'prey' was spotted, the children would run out of their houses with their 'ammunition', find a good hiding spot (behind cars, building pillars or trees) and begin our water battle.
The older among us would arm themselves with coloured powder and when you got hit by those, they took forever to scrub off! If you didn't fancy walking into school looking like a character out of a Disney movie the day after Holi, there was only one thing to do: Oil yourself from head to toe to avoid the powder sticking to your skin, but what's the fun in that?
Throughout my childhood, that was what Holi meant to me – a time to play and have wet, wild and colourful fun. It was only when I went to high school did I truly understand why Holi was celebrated. It is meant to usher in spring, and although marked by different names and traditions (in some parts of India, dancing and singing are part of the revelry), the sentiment, spirit and emotion by which the festival is celebrated remain the same everywhere: It's all about hope and love.
As a young adult, the meaning of Holi once again took a turn. With heightened awareness of the world around me, I began to appreciate the festival as a time for everyone to get together and lose all inhibitions. For a day or two, we put our busy schedules aside and transform into giggly kids. The sheer joy of smearing a friend's face with powder in a rainbow of hues is no less than the excitement of running after friends with water balloons in my hand and making sure that they're drenched from head to toe.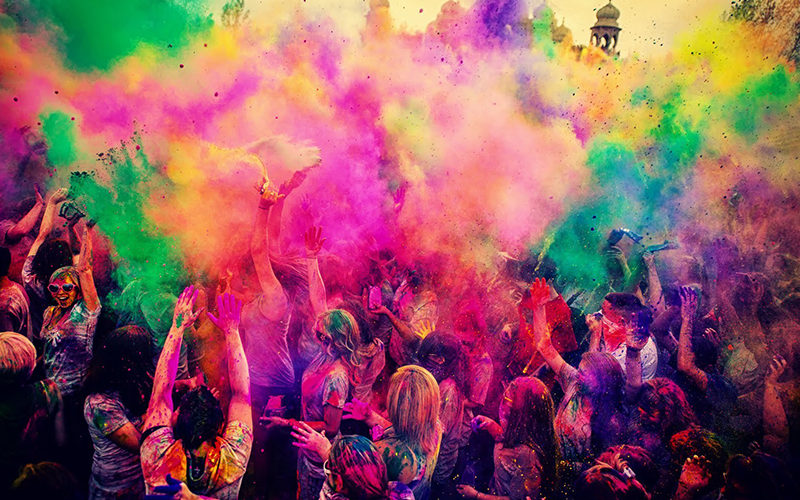 Over the years, with water scarcity and pollution becoming increasingly pressing issues, celebrating Holi has metamorphosed just like I have. We have adapted to current situations, leading us to honour and observe festivities even more diversely. In the state of Maharashtra where I now live, splashing water during Holi is banned but not so in other parts of India.
The growth of Mumbai as a city can be compared to that of a moody teenager: Rapid, sudden, unsystematically stagnant at times and unapologetically colourful. I have been privileged to watch the city change in the last two decades, in various forms. Most importantly, we have also redesigned festivities so that they remain beautiful experiences that stay true to their intended significance while making sure to be socially conscious and responsible.
Ultimately, no matter how you choose to celebrate Holi, it's a beautiful festival that adds colours to a person's life and brings people together across borders.
Angelica Syiemiong Pereira was inspired by Captain Planet while growing up, which led her to build a career in the Environmental & Renewable Energy industry. When not working, she's either planning her next trip or dining at a new spot. Her aim is to visit a new city every year.
Picture credits: Andy Basile Insights, Photos of the Week
The first-timer: "People don't look all that different, once we're coated in Holi colours"
By Corina Wong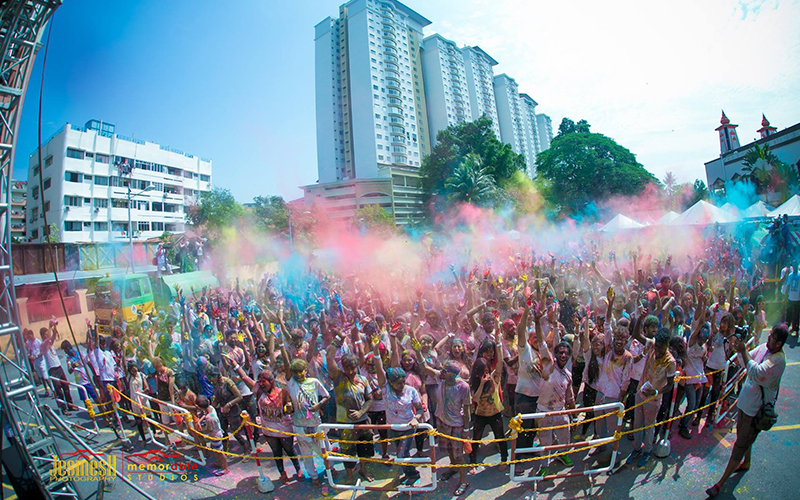 A long queue was snaking towards the entrance of Shree Lakshmi Narayan Mandir temple in Kuala Lumpur's Sentul area, where ground-shaking thumps of music could be heard. This has been the venue for the city's official Holi celebration in the last few years, drawing thousands of people. This year, the organisers had hoped to make it into the Malaysian Book of Records as the largest gathering for Holi.
Most people were clad in white, including myself, which is the preferred wardrobe for Holi but not for any sacred reason. It is, simply, the perfect backdrop for the neon-coloured powders that are bound to adorn festival-goers from head to toe.
While I had expected to be transformed into a display of peacock-like vibrancy, this being my first Holi, I couldn't help but try to shield myself from getting caught in the vibrant crossfire. At first. "You can't avoid getting coloured," a young woman told me, and this is a fact: The cleaner you are, the more tempting a target you are to high-spirited youths armed with powders in vibrant shades of pink, red, yellow and blue. As soon as I stepped onto the temple grounds, a sprinkle of indigo powder streaked my pristine T-shirt and in no time, I was wearing an abstract painting of yellow, red and orange, with splashes of blue. "You don't have enough on you!" someone said, laughing as she flung pink powder onto my hair while I ducked unsuccessfully. A blue daub went onto my face and at that point, I gave up trying to keep my face and hair clean.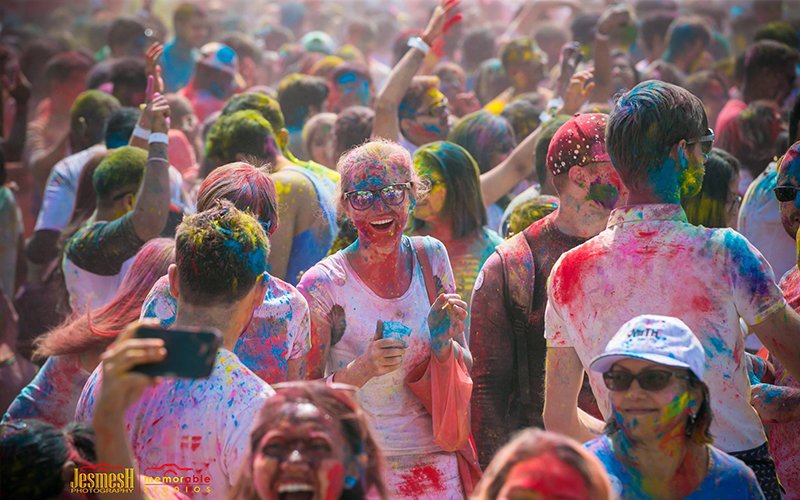 On a regular day, having someone fling powder of any sort towards you would certainly spark off an argument but not during Holi. In fact, for many, that is the reason for attending the annual festival and it's all taken in good humour, with people chasing each other while laughter and joyful screams fill the air. The only attendees who managed to escape the melee were the photographers who had climbed onto higher grounds to take overview shots of the festivities.
After a while, it struck me that everyone looked uncannily alike… our hair had taken on identical shades of vibrant colours and our facial features were indiscernible under layers of neon powders. It was a surreal sight.
Just as the powder war was reaching a frenzy, a roar went up as jets of water rained down on us. The dancing became even more exuberant, with the water-sprayers joining the party and moving to the thumping music while standing precariously on top of the tankers. The water melted the colours on our skin but didn't wash them off. From dusty peacocks, we melded into a gigantic surrealist painting.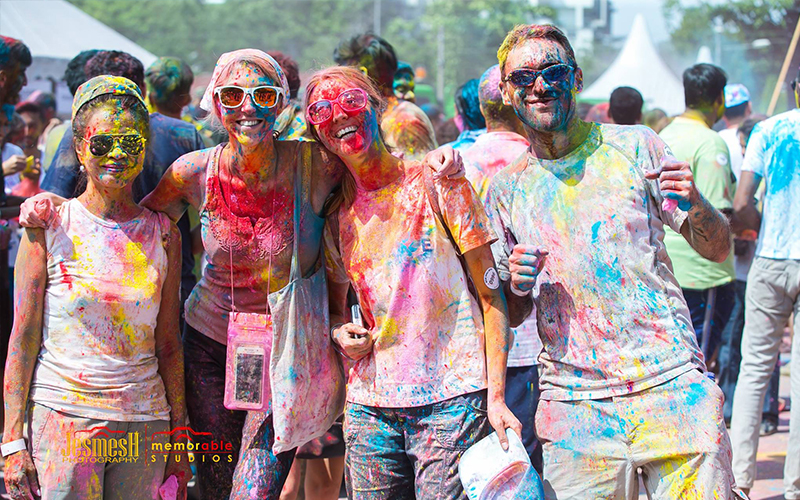 There is certainly nothing staid about Holi and it is perhaps no surprise that most of the festival-goers were of college age. I spotted a number of the elderly among the crowd who sportingly got into the spirit of the celebrations, albeit in a statelier manner. There was a section for children, where I thought it would be a good idea to seek some respite from the heat. I had to think again when I was spotted by a colourful tyke carrying a water gun. I became his immediate target but with a swift duck, the water flew over my head. I decided an easier way to cool off was to down some icy drinks, and there were plenty of stalls selling beverages. Those who were really affected by the heat found their way to the medical tent where a large, well-organised team kept the lines moving fast.
I took a bus home as I reckoned no taxi or Uber driver would be pleased with a colour-streaked passenger! The colours on my skin came off after a few washes but lingered on my t-shirt, a gorgeous piece of abstract art. I will keep it as a reminder of the exuberance, riotous energy that I experienced at my first Holi festival. My biggest takeaway? That people don't look all that different, once we're coated in Holi colours.
Corina Wong grew up in Kuala Lumpur, and still loves exploring the city's little nooks and corners for hidden gems.
Picture credits: Jesmesh Photography

Read Next:
Get all the latest travel stories from Zafigo. Follow us on Facebook and Twitter.