My mother was born and brought up in Shillong, a small city nestled in the East Khasi Hills and the capital of the North Eastern state of Meghalaya in India. Deep gorges and extensive stretches of thick forest-covered hills lavishly blessed with exceptional biodiversity make up this beautiful state that many tribes like the Khasis, Garos, Jaintias and others call their home. Tall pine trees, the aroma of pine cones, steep narrow winding roads and gently flowing cold streams that chill the skin their water touches are among the features that stand out in Shillong. My mother lived there for 17 years before moving to work in Mumbai, and her heart has always been divided between these two uniquely different cities. She may live in one of the biggest cities in the world but being a Khasi is an integral part of her being – and to an extent, mine too.
Every few years, I would spend several summer months in Shillong with my maternal grandmother. We would sit on the front porch of our ancestral home, Rocky Villa, and watch army officers march up and down the road. She would tell me as many stories as she could remember of my mother's childhood and her own.
But my most recent visit to Shillong was very different. It was my first trip back after grandmother passed away four years ago. This time, my mother was the one narrating the stories while we made new memories of our own. My heart was heavy even before we began our trip but my grandmother had always wanted me to become familiar with our traditions and tribe. This journey was for her.
My childhood memories of Shillong kept playing over and over in my mind as we made our way there. From Mumbai, it takes at least eight hours of travelling: A five-hour flight to Guwahati, with a stopover, followed by three to four hours of driving up and down winding hilly roads along which wild dandelions and tiny flowers grow. But no matter how long it takes to reach the 'Scotland of the East', the voyage is always worth it.
Upon entering Shillong, my mother noticed immediately how much had changed since her last visit. It was evident that the city was evolving into a more modern one, from the cars on the roads to the number of new buildings, slightly losing the charm it had when I was younger. But some things remain untouched.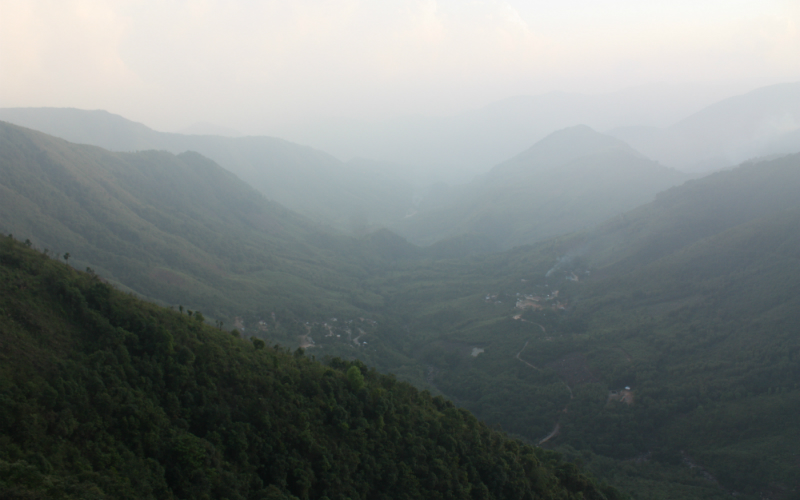 Secluded in the hills, the people of Shillong have always lived by their own rules that binded them into a close-knit community. Respectful and very loyal, they strive to serve each other; most of the people work for the government or government-related organisations.
One of the best times to witness or experience this close camaraderie is during meals. Eating is always a communal affair. Traditional food stalls have tables lined up on the sides of the wall for everyone to eat as one – there are no separate tables to sit at. These food stalls have stayed the same since my mom was my age. Some are fitted with small chimneys, made of wood with basic steel cutlery, to smoke pork and beef. These food stalls are modest places that everyone and anyone goes to for wholesome meals. My mother and I have a tradition of eating at such stalls in a village called Nongpoh before heading to or before leaving Shillong, no matter what time it was.
When dining with relatives, you will find that everyone wants to cook for you, using traditional family recipes that reflect their pride in the land that gives them their food. India's North Eastern states have very different tribal cuisine and the Khasis favour simple, earthy dishes that are rich in flavours. Rice, meats and vegetables like soya bean, beans, carrots, squash, pumpkin and bambooshoot make up most meals.
But it is never just about the food; more importantly, meal times are opportunities to engage in dialogue and get to know each other better. We never ate just three meals a day, it was always four or five in order to spend more time with each other. Their aim was to fill up your stomach so full that you are unable to walk home, therefore staying on to continue conversations that bring people together.
Hospitality is extended and accepted by all – social barriers and heirachy do not exist at the table. The people of Shillong have always been taught to be humble and to remember their roots, no matter where life takes them. The annual Shad Suk Myniem, a thanksgiving festival celebrated every April through dance, illustrated this best.
Everyone would be dressed to the nines on this day, the women dripped with their finest jewellery while men outfitted themselves with whips and swords in hand. It was my first time attending the festival and in going with the flow, my mother and I put on traditional Khasi dresses called khor and adorned ourselves with heirloom jewelry.
We went out to the Weiking grounds, where the festival was held, and were amazed at spectacle of hundreds of people dancing. Men danced in circles around the women, who remained in center while moving to the beat of drums and flutes. My mother explained that the men stayed on the outside as this symbolises them as the protectors of the honour of womanhood. Unlike a major portion of India, the Khasis follow a matrilineal system whereby children take on their mother's surname.
If you want to delve deeper into the local psyche, I've found that the best place to go is the markets. You can learn so much about a place and its people with a stroll through the bazaars. It's also one of the things that my mother and I love doing wherever we travel. In Shillong, we would go to Lewduh Market (also known as Bada Bazaar), located in the middle of an intersection of tiny lanes on a hilltop. There's a smorgasbord of shops and vendors here – butchers, vegetable sellers, wholesale grain stores and in a tiny corner, we found a little mom-and-pop shop selling Justin Bieber badges. The colonial influence on Shillong can be seen all around, but the city's younger generation are also greatly influenced by pop and rock music culture. Every taxi we took had a Guns N' Roses song playing in the car.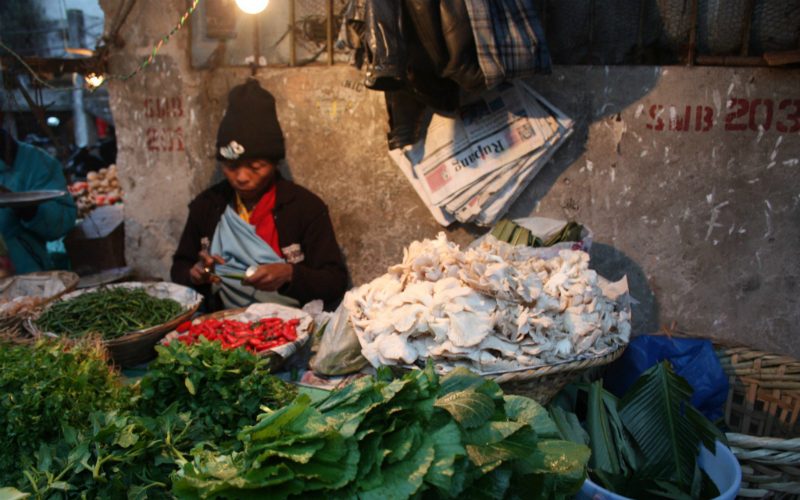 In this society where traditions are passed on through the women in the family, these traditions as well as my grandmother's and mother's stories of Shillong will live on through me. No matter where I may call home, the birthplace of my mother pulls me back every now and then. The cool breeze that blows through Shillong bonds people like those seeking warmth around fireplaces. That is what I love about it. The weather may change quickly here, but people remain the same and true to who they are.

Read Next: