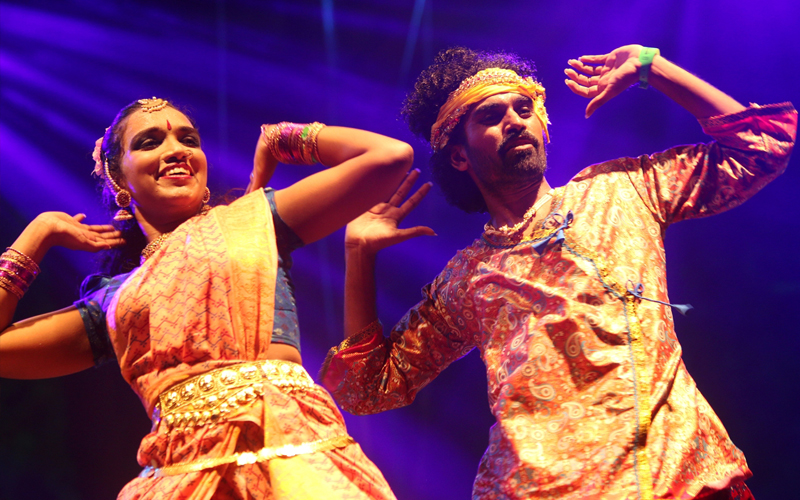 We picked up an Estonian folk dance, tried our hands at the sape (a wooden string instrument from Borneo), sang old Kelabit songs, explored different string instruments from around the world, played the traditional Bengkulu drums from Sumatra, discovered a little known Australian aboriginal tribe from the Torres Strait, watched a Chinese musician make music out of a single tree leaf, attempted Inuit throat singing, and played in a drum circle – all within three days. After all that, we sang and danced without a care in the world to music performed by 23 bands hailing from 18 countries across five continents.
We were at the Rainforest World Music Festival (RWMF) and what a fulfilling weekend it was.
Held at the Sarawak Cultural Village at the foothills of Gunung Santubong, RWMF is an award-winning annual music festival organised by the Sarawak Tourism Board. Music lovers and makers around the globe gather for a weekend to celebrate world music, arts and culture. 
This year's edition of RWMF, the 19th, took place from 5-7 August. Every day, the doors opened at 2PM with an exciting schedule of interactive music, dance, and cultural workshops conducted by the performers. The fun workshops are what set RWMF apart from other music festivals; visitors get to meet and interact with the musicians in an intimate setting as they passionately shared a treasured piece of their culture. This year, RWMF also had dedicated workshops for children to make it a family-friendly affair.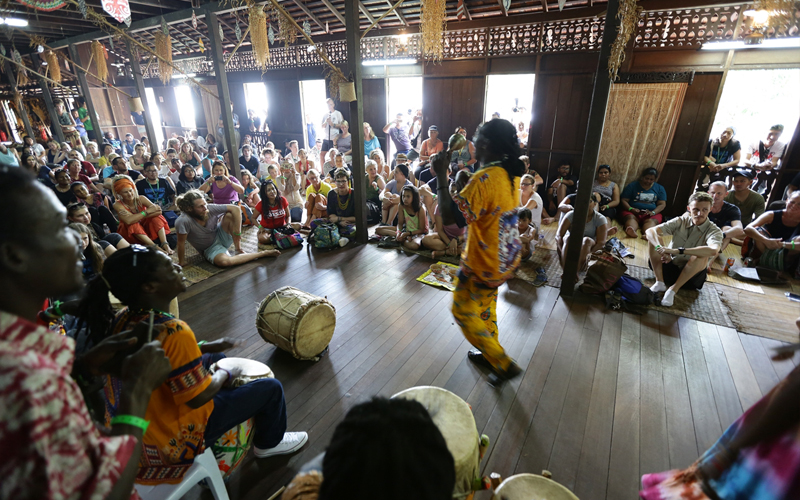 It's a common perception that music festivals are only for young people, but what we observed at RMWF shattered that stereotype. It wasn't just the teens and young adults who populated the festival grounds; families, young children and grandparents were also seen having the time of their lives. While the more energetic ones danced the nights away in front of the stage, tired bones found their own space at the back of the amphitheater, relaxing while enjoying the shows. 
According to the organisers, an average of 20,000 people attend RWMF every year, comprising 44% tourists and 56% Malaysians. The massive crowd may sound suffocating but those numbers refer to the total crowd over three days. For safety reasons, a maximum of 8,000 people are allowed on the festival grounds at any one time. Police personnel were at hand to watch over the crowds and with the Sarawak Cultural Village being such a spacious venue, it did not feel packed at all. You could easily to find a quiet corner to dance, relax or soak in the experience. The queues at the female toilets were also relatively short although unfortunately, so was the supply of tissue paper.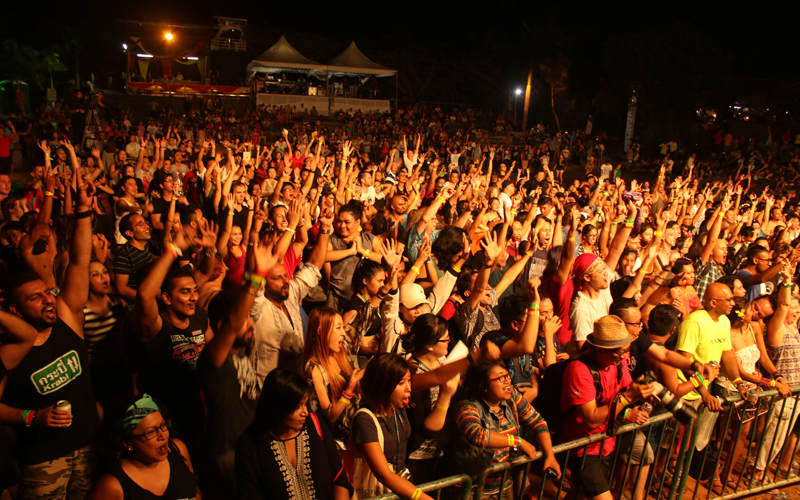 True to its promise as a family event, the crowd was well-behaved and most people were friendly and respectful. The concerts ended around 12.30AM each night, and there were plenty of shuttle buses to ferry people back to their hotels. Overall, safety was not an issue except for some carelessly unattended bags during the afternoon workshops.
The festival programme included a craft bazaar, food market, booths offering facials and massages, and indoor performances. With Gunung Santubong as the backdrop to soft, golden sunsets, we also had the perfect setting for afternoon picnics by the lake.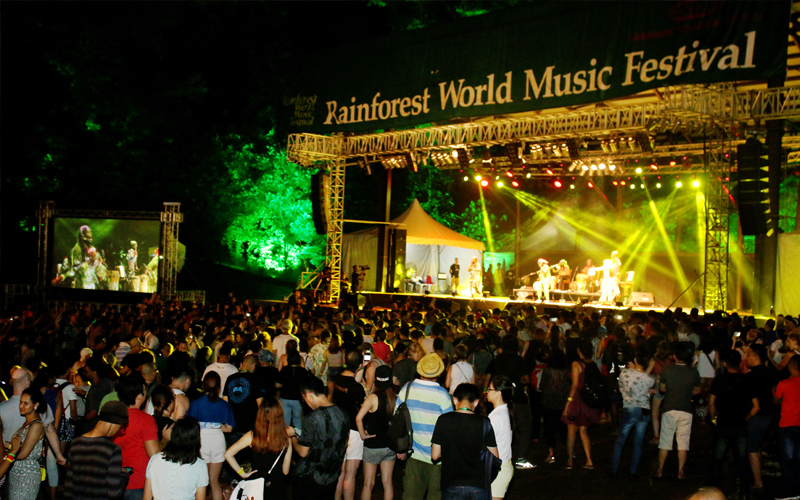 When night fell, the workshops would come to an end and Sarawak Cultural Village transformed into an amazing concert venue, featuring two outdoor stages surrounded by lush jungles that added a surreal touch to the performances. For the uninitiated, world music encompasses ethnic music – folk songs, traditional music, indigenous music, and fusions of traditional songs with contemporary influences – from different cultures around the world. 
RWMF took great care in selecting the bands, ensuring that festival-goers would be entertained, educated and surprised. Performers flew in from the most exotic of places like Latvia, Syria, Haiti, Bulgaria, and the Torres Strait; the furthest culture that graced this year's RWMF was the Inuit throat singers from the cold Canadian Arctic. Seven to eight bands take the stage every evening to perform age-old songs and dances from their villages. From the longhouses of Sarawak through Africa and to Eastern Europe, we travelled around the world through a thoughtfully-curated line-up of the world's best musicians. Beautiful music, usually only performed at weddings and traditional ceremonies, were brought to Sarawak.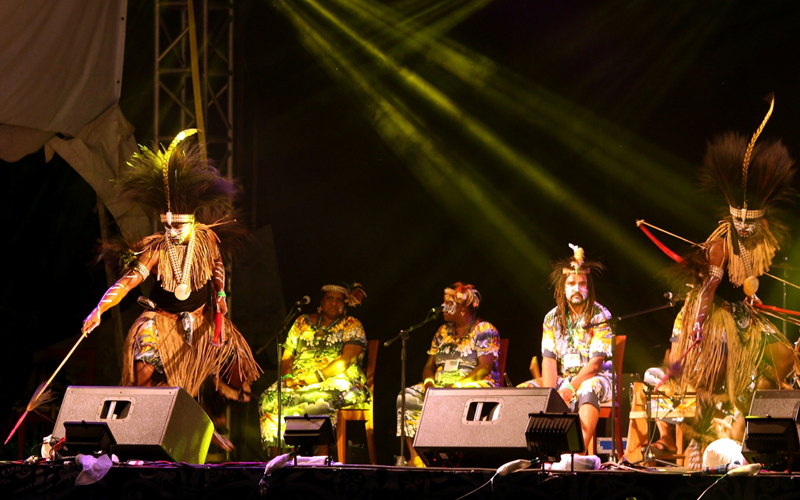 Quality music is sacred to RWMF and they made sure to give us not only what we wanted to hear, but also what we didn't know we want. Case in point: We never knew we needed Latvian bagpipes and drums music on our playlist until now. There was no shortage of pleasant surprises during the performances. Haitian voodoo band Chouk Bwa Libete went through a spiritual moment halfway through their set; Shanren (China) turned traditional Chinese tunes into a rock concert; a capella group Vocal Sampling (Cuba) serenaded Teresa Teng's Tian Mi Mi. The crowd was so captivated by the music that even a downpour on the second night did not stop them – they simply danced in the rain. 
For the performers, RWMF is an equally special place. Pat Thomas and the Kwashibu Area band from Ghana told us that the vibe at RWMF is unique compared to other world music festivals they had performed in, including those in Korea and Japan. They were blown away by the diversity of the bands and the audience. RWMF saw bands from South East Asia, which is uncommon at European music festivals that typically only feature groups from Europe, Americas and Africa. They were also surprised to see more Asians in the crowd, as this demography is a rarity at European festivals. 
RWMF is not just a music festival but also a platform for cultural exchange and appreciation that crossed the boundaries of race, religion and culture. Sarawakian sape player Alena Murang said RWMF brought the world together and we couldn't agree more. "We don't compete against each other because we come from another country. We celebrate what makes us different, we share stories, make music, learn from each other and have a big party." 
During those three days, the world truly came together, united not because we think we are all the same but because we celebrated our differences through song, dance and thunderous applause. We saw that all cultures are beautiful, despite everything else that may be happening. When Broukar from Syria took to the stage, for example, we acknowledged the turbulence happening in their country and then remembered the forgotten splendour of the Syrian people.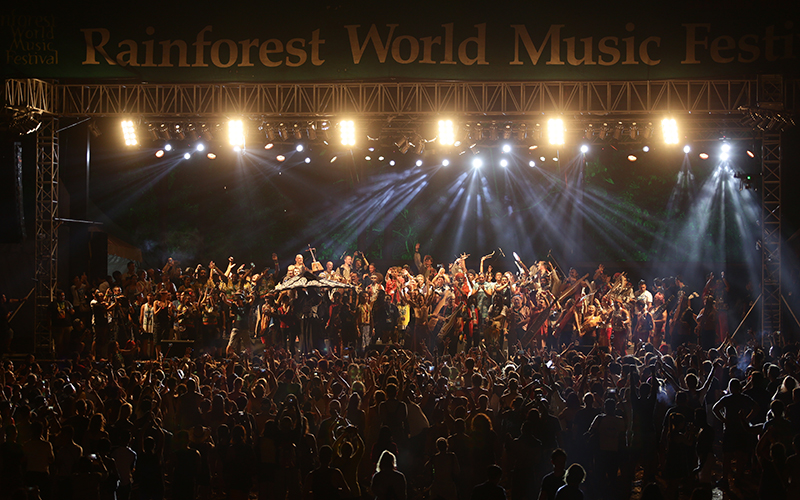 Entering its second decade next year, RWMF promises to be the biggest and best edition yet. Mark your calendars for 14-16 July 2017, because you won't want to miss it.

Read Next:
Get all the latest travel stories from Zafigo. Follow us on 

Facebook

 and 

Twitter

.