I embarked on a month-long motorbike ride from the Hanoi to Ho Chi Minh. It was an exhilarating yet treacherous journey — one that changed me as a person. It was probably one of the most physically challenging adventures my body has endured but I saw exquisite sights which I still dream about to this day!
Looking back, here are a few things I wish I knew before I commenced this mind-blowing journey.
1. A lack of street lamps
As you ride through the Vietnamese countrysides, there will be magnificent views you can marvel at by day, but a distinct lack of street lamps to help you navigate at night. The small motorbike light you have won't be sufficient to guide you through the many potholes and debris on the road. Quite simply, it's extremely dangerous to ride at night and I wouldn't recommend it at all. If you plan to ride through Vietnam, always plan to arrive before nightfall, especially when you are riding through the countryside.
2. Potholes that go past your ankles
Speaking of potholes, there are many. Some may be so deep they go past your ankles! The potholes can catapult the motorbike and make you lose control and crash. If you have an accident, don't be disheartened. Ride at a comfortable, safe pace, and if you have a little crash, accept that it's normal to have a tumble on this journey. If you aren't seriously injured, dust yourself off and ride on!
3. Nutty lorry drivers
The best way you are going to keep safe on this ride is to practise defensive riding. Assume all the lorry drivers are a bit nuts, with no regard for your safety. Stay clear of them, don't ride near their vehicle as it's likely they can't see you. Give them way and let them zoom past you at their normal 250 kilometres per hour.
4. Floods
Nothing prepared me for riding in the floods in Vietnam. Have you ever tried swimming? Okay, how about swimming with a 180kg piece of metal and your wet backpack? Extremely challenging! In hindsight, rather than riding through the floods, I should have stopped pretending to be Superwoman, settled down with a good book, and waited for the rain to subside. Or you could avoid riding in the monsoon season altogether — simple! (Note: Vietnamese monsoon season: May to October).
5. Lots of cheap accommodation
The first few places I stayed on my journey was booked online in advance. Nevertheless, I quickly realised there was an abundance of cheap comfortable accommodation which can be booked by just walking up to reception and negotiating directly!
The people are extremely friendly and open to a good old barter. Smile, be respectful, and try using puppy dog eyes at some point, what's the harm eh?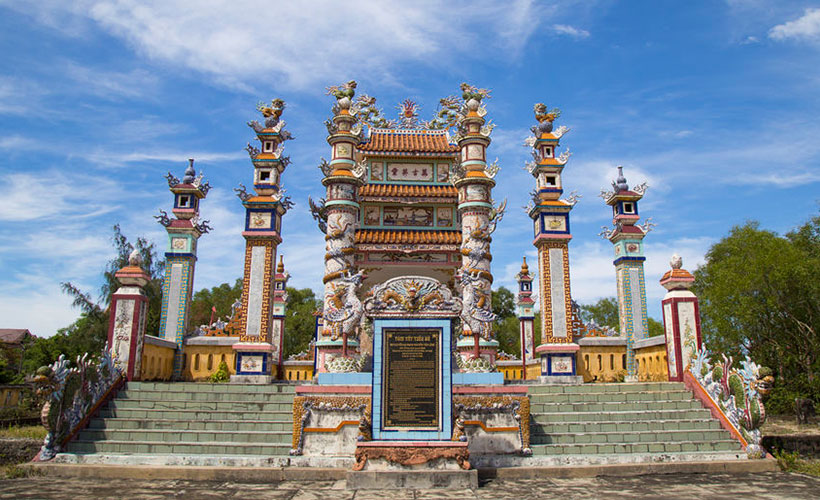 6. You can take the train or bus
One of my biggest regrets was not stopping to see the An Bang City of Ghosts cemetery while riding along the coast. Out of the corner of my eye, I could see majestic colourful graves to honour the dead. They looked like works of art and I wish I took a moment to respect their beauty. I didn't stop as I had to thousands of kilometres to cover within a fixed time. I later realised you could actually do sections of your journey with a bus or train and bring your motorbike with you! You can avoid less scenic, more dangerous roads, and take time to savour the beautiful sights that you want to stop and admire.
7. Hidden gems that will blow your mind
Some of the best views in my life were experienced on that road trip. I distinctly remember riding through the misty mountains of Ha Giang. It had windy roads with cascading waterfalls — again making it feel like a scene from Avatar. I rode through fluffy clouds that gently kissed my skin, and admired fresh corn growing off the side of the mountain, glinting in the sun.
I realised in this crazy busy world we live in, there are pockets of the world that are still at peace. A little piece of heaven preserved for us to savour and appreciate the beauty of life.
*All photos by the author unless stated otherwise. 
[zf_post_boxes widget_hide_desc="true" num_post="3″ post_id="23323, 21962, 22755″]
Get all the latest travel stories from Zafigo. Follow us on Facebook, Twitter, and Instagram.