Quaint neighbourhood, Taman Tun Dr Ismail (TTDI) in Kuala Lumpur is no stranger to restaurants, and good ones at that. So, when we heard the suburb was about to add yet another eatery to its list, we couldn't resist jumping at the opportunity for a food review. Nestled within the residential hub, it's easy to miss Aposto if you weren't looking, but that's part of its charm. It's a hidden treasure for those who genuinely appreciate food to find.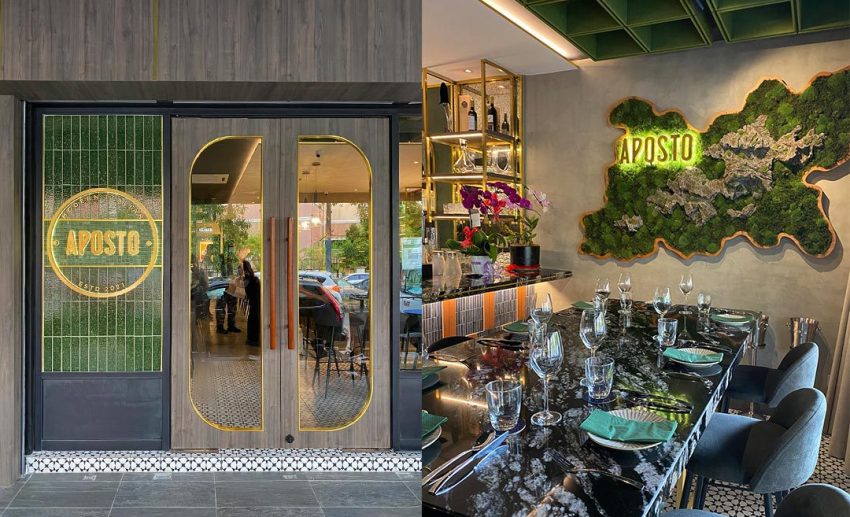 Founded and run by Klang-born Chef Chu Wei Sin, this modern restaurant serves up Italian cuisine heavily influenced by the cook's travels. The idea is simple, serve delicious food to enjoy with the ones you love, and the idea pulsates through the eatery as you enter.
"Aposto is a modern Italian restaurant, and what we do is, we take the classic Italian fare and twist it a little bit, and bring it to the new age. With interesting cooking methods and ingredients we have flown in. So, that is the modern twist we're putting into the food."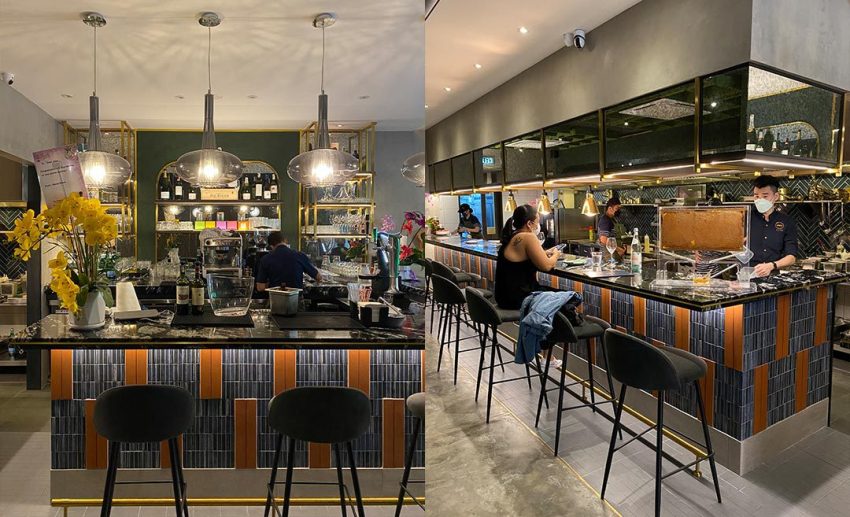 As we enter the restaurant, the friendly staff immediately takes us to the bar, where the entire night's theatrics will be on full display. We exchange pleasantries with chef Chu, and right off the bat, he says, "What we can do tonight is, I'll just feed you."
Literally, the sweetest words you'll ever want to hear from the chef, and it's evident he is excited to take us on this unique culinary journey. We, too, share the same sentiment. He even takes the time to ensure that he's made aware if whether we have any preferences or allergies. "Our food, it's a la carte and meant to be shared. Between two people, we recommend getting four to five different items." And so, for the night, he cooks us up a storm.
The main event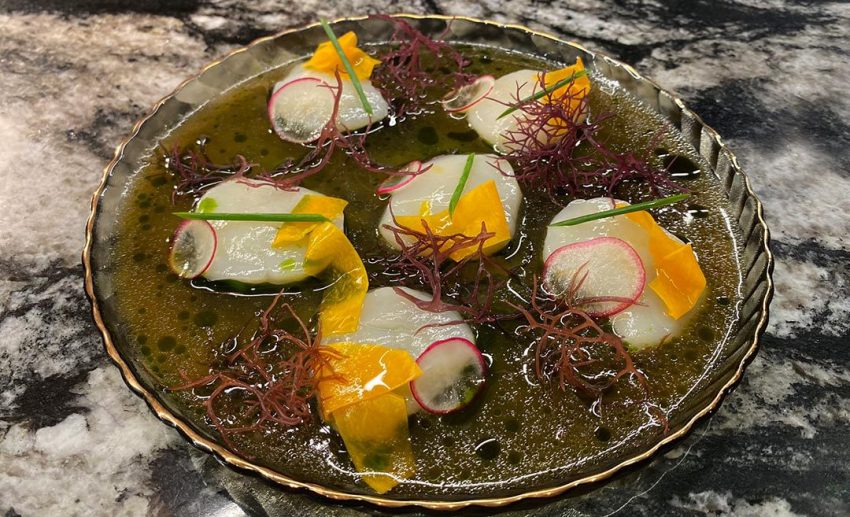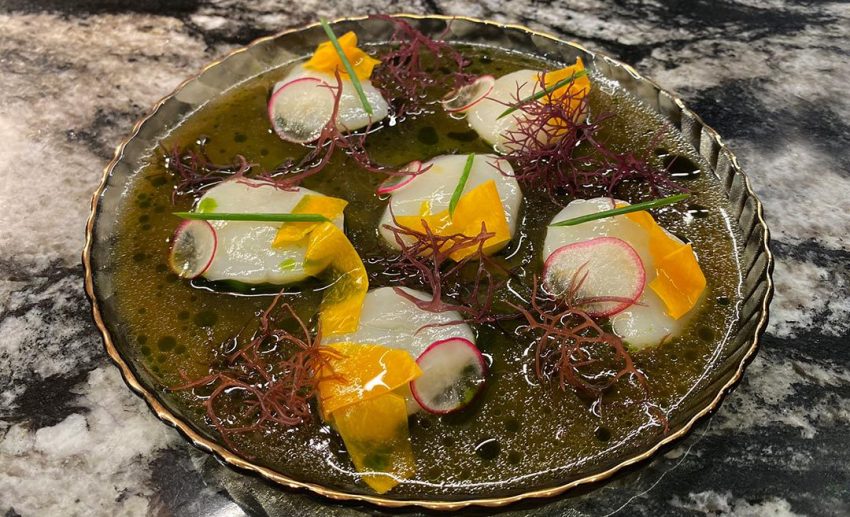 We start the night off with the Scallop Carpaccio — which is unlike any starter we've ever tried and a grand introduction to Aposto's Italian-fusion cuisine. The scallop sashimi is served with seaweed, salted kelp, and passion fruit vinaigrette, which all seem to melt in our mouths synonymously. The chef's layering of flavours is achieved with this dish!
As we watch Chef Chu prepare our next dish, we also get curious about which continent contributed to his culinary skills after acquiring them from three different continents. "I think they all had a spin on how I do things and see things. But the biggest one, I would say, is New Zealand because I was there for the longest time. I was there for about five and a half years. So, that's the most defining time in my cooking."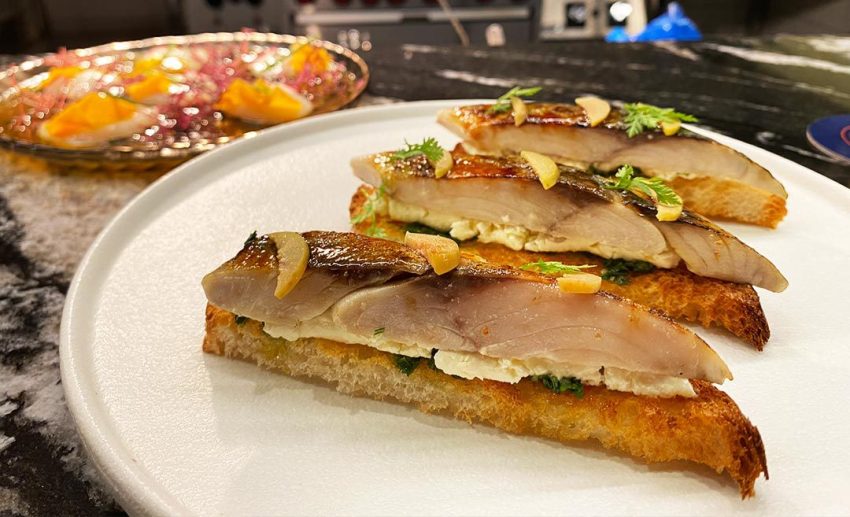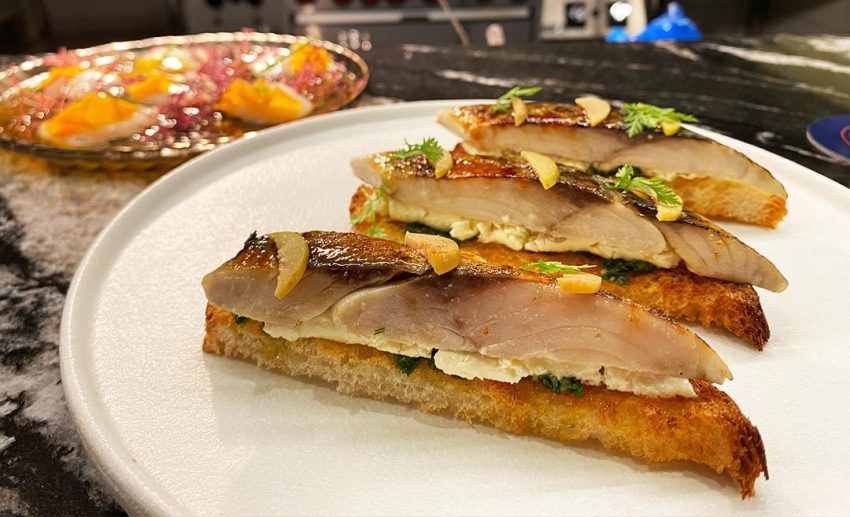 While putting together his next work of art, it's abundantly clear how passionate he is about people having a good time and being served even better food. Saba on Toast (RM34) tastes even better than it looks, and is neatly presented on a plate. Chunky slabs of saba (mackerel) paired with feta cheese and olives sit on a bed of sliced ciabatta. Honestly a unique combination; we recommend giving this a go should you visit Aposto.
While most people prefer the privacy of their own tables, the bar we parked ourselves at for the night gave us front row seats to witness the well-oiled machine that Aposto's kitchen is. In most behind-the-scenes looks into the inner workings of a restaurant is a chaotic kitchen; which we've seen more than once on television. But here, the chaos works as everyone is communicating respectfully, which translates to beautifully-presented and delectable dishes that are served on time.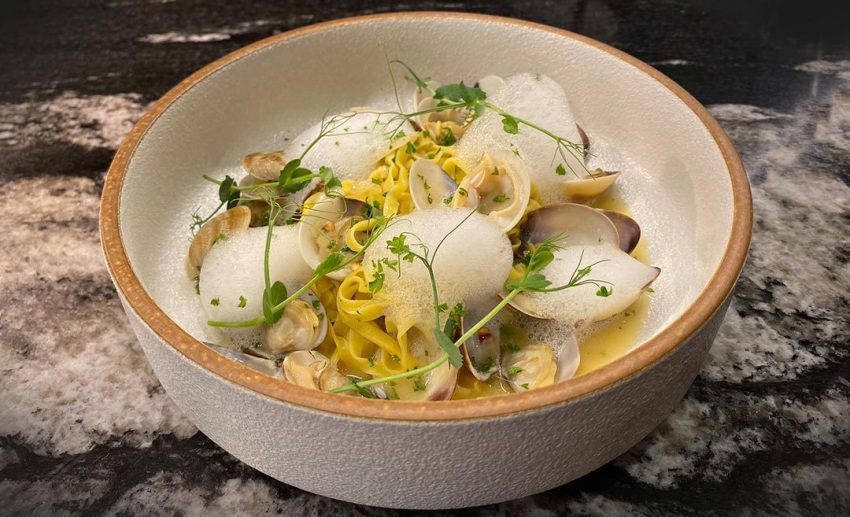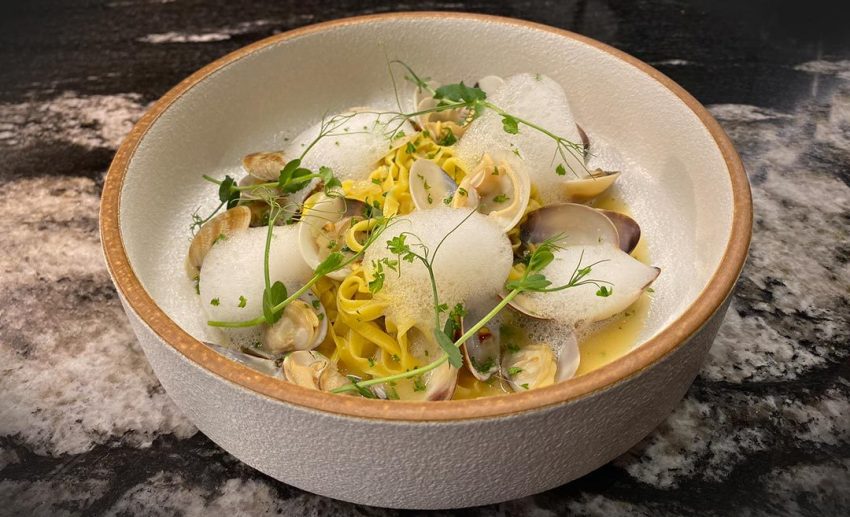 The Black Tiger Prawn Polpette (RM36) arrives next, perhaps the second-best star of the night's cast of Italian-fusion dishes. We are no food critiques by profession, but we certainly can appreciate this dish of tiger prawn meatballs. Completely drenched in tomato sauce, crème fraîche, and sprinkled with crunchy rice pops (it's purple), you'll be amazed by the symphony of flavours. Right after, we devour the Miso Chilli Vongole Aglio e Olio (RM52), that consists of freshly-made and hand-cut linguini, Venus and Asari clams, and a miso flavour that is simply out of this world.
At this point, our stomachs are about to reach their limit, but we take a beat to enjoy some drinks and hold on for the masterpiece – Braised Beef Short Ribs (RM168). A dish cooked for a total of a whopping 18 hours, so you'll know we're not exaggerating when we say this dish is cooked to perfection. Served with creamy polenta and balsamic soy glaze, the short ribs truly melted in our mouths.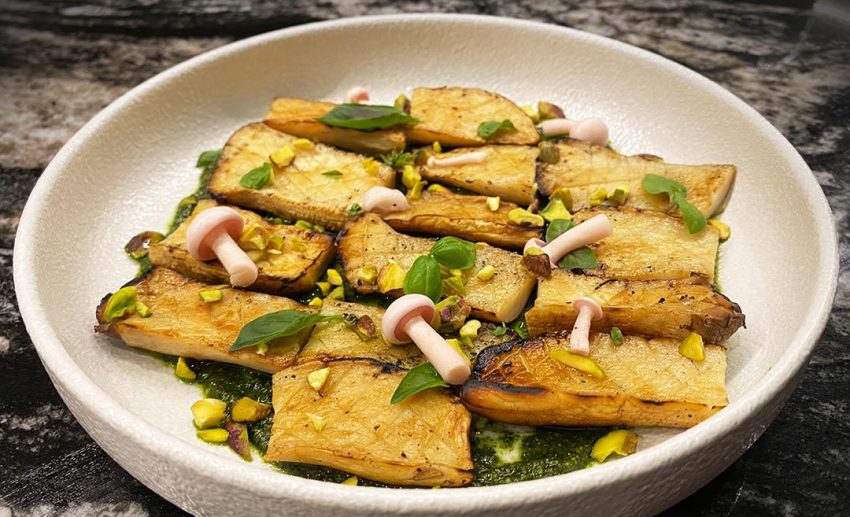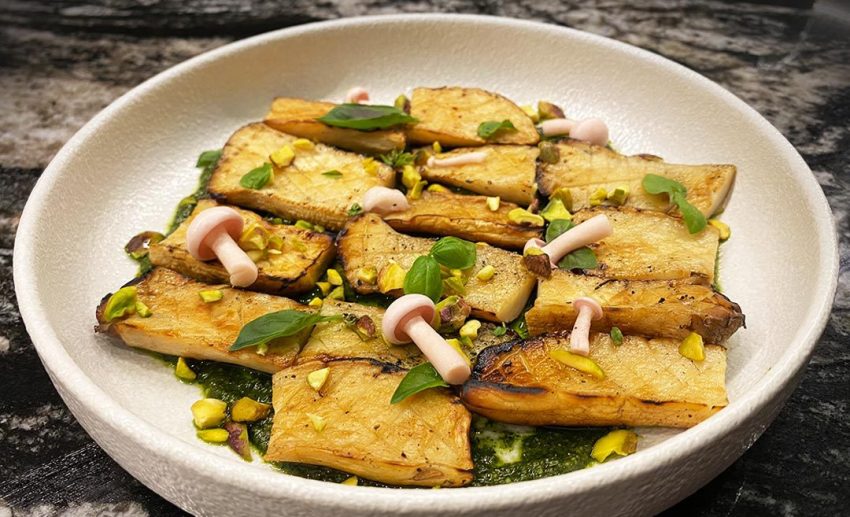 Before we move on to dessert, we give one of Aposto's vegetarian dishes a try. The Mushroom & Pesto (RM28) is simple dish, but rich in flavour. It features charcoal-grilled king oyster mushrooms served on a bed of homemade pesto and toasted pistachios. The super cute pickled white shimeji mushrooms are sprinkled on top to add a dash of flavour.
Sweet endings
Finally, we end our review with the Honey Panna Cotta (RM34) – think your classic panna cotta but accompanied with white wine jellies, blackberries, and (drool) fresh honeycomb! This dessert dish from Aposto does not disappoint and is a refreshing (and sweet) end to our time at the modern Italian restaurant.
By the end of our night at Aposto, it's probably an understatement to say that we leave feeling stuffed, but more importantly, we end our night by making plans to revisit the restaurant.
It's all about laidback vibes and honest food here; it's hard not to love what Chef Chu has envisioned and ultimately realised for many Malaysians to enjoy and share with their loved ones. Well, you've heard of the farm to table concept, consider this passion to plate!
Check out their menu here or make a reservation here.
Address: 38, Lorong Rahim Kajai 14, Taman Tun Dr Ismail, 60000 Kuala Lumpur
Contact: +6010 282 4990
*All images by Xin Xin Lee.