When choosing a place for a quick vacation in Malaysia, it's unlikely that Gopeng will be a first choice, but this sleepy town in Perak has a plethora of things to offer. Whether you're seeking adrenaline-pumping adventures or moments of stillness in nature, Gopeng will have plenty for you to do. This quaint town also harbours a secret culinary scene waiting to be discovered.
Picture this: charming stalls and restaurants serving some of the best homemade fare and the kind of flavours that'll leave your tastebuds wanting more. So, the next time you're in Gopeng, why not kickstart your epicurean journey with our mouthwatering list below?
1. Gopeng Antique Kopitiam
Gopeng Antique Kopitiam is a gem that not only serves some delicious eats but has a pretty interior too. Its locally-designed wooden structures and quirky indoor and outdoor spaces make it a photo-friendly area. There are countless seats from the artsy courtyard adorned in murals, the old bus-turned-seating area, or the second floor that oozes a cool 1920s vibe.
If you're into smoked duck, give theirs a go, as it's a crowd favourite. This space is also the perfect place for a laid-back catch-up over coffee. Muslim friends, keep in mind that pork is also served on the menu here.
Address: 3, Jalan Pasar, Pekan Gopeng, 31600 Gopeng, Perak
Contact: +605 359 3559
2. Gopeng Hill Asam Laksa
Calling all asam laksa lovers! If you're hankering for this tangy and flavourful dish, look no further than Gopeng Hill Asam Laksa. We're not kidding when we say this is THE spot for authentic laksa and some seriously delicious dim sum in town. The seating spots here are limited, so making a reservation is highly recommended, which gives you a chance to try their extensive menu.
Walk-in customers are limited to only laksa, dim sum, and fried dishes. Also, this food spot may call it a day early once they run out of goodies. So plan wisely!
Address: Jalan Kampung Pintu Padang, 31600 Gopeng, Perak
Contact: +6016 668 9839
3. Warung P. Ramlee
Picture this: immersing yourself in the nostalgic melodies of the legendary P Ramlee, all while enjoying delicious food at Warung P. Ramlee. True to its name, this restaurant pays homage to the iconic Malaysian actor, offering live performances on selected days.
Located near Kandu Resort and various glamping sites, it's no wonder this place buzzes with activity, especially during lunch. Warung P. Ramlee's menu caters to casual dining with a delightful range of Western and Malay dishes to choose from.
Address: Kampung Gunung Mesah Hilir, 31600 Gopeng, Perak
Contact: +6017 577 9127
4. Gaharu Tea Valley
Looking to explore another hidden gem in Gopeng? Well then, Gaharu Tea Valley should be at the top of your list. Visiting here will allow you to witness the Gaharu Tree up close and enjoy your meal with breathtaking views.
During your visit, be sure to swing by the HOGA Shops and Deli as well, where you can indulge in all things Agarwood — from tea and ice cream to waffles and noodles. Foodies, in particular, will delight in Agarwood's unique flavours and incredible health benefits.
Address: Jalan Sungai Itek, 31600 Gopeng, Perak
Contact: +605 351 1999
5. Mee Kari Ami
Get ready to satisfy your noodle cravings at Mee Kari Ami, a local food spot that has been dishing up deliciousness for over two decades. Despite its remote location, this place transforms into a buzzing food hot spot when the weekend rolls around. With plenty of noodle options to choose from—be it laksa, fried noodles, curry, or soup—you'll find something to your liking.
Their speciality, mee curry, is an absolute must-try. The best part about this place? You'll get bowls of satisfying delights that won't break the bank.
Address: Pintu Padang, 31600 Gopeng, Perak
Contact: +6017 592 2842
6. ManjaKelana Cafe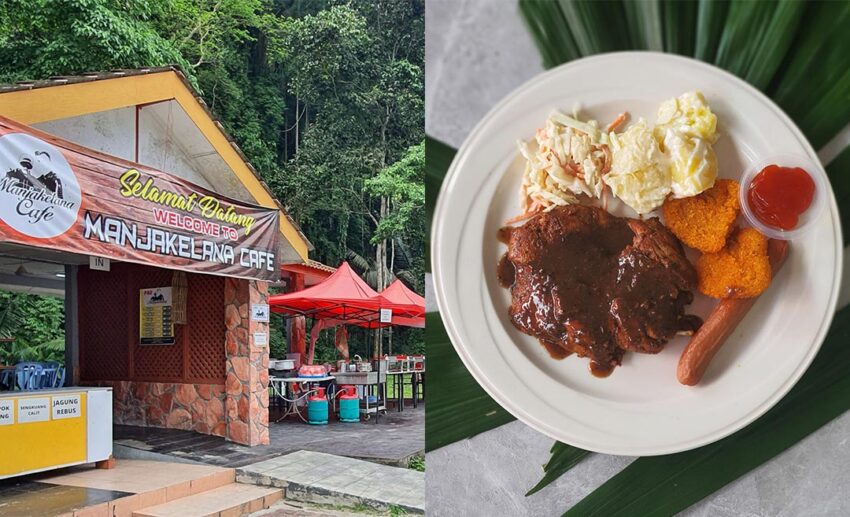 If you find yourself near Gua Tempurung in Gopeng, swing by ManjaKelana Cafe for a truly local food experience. Their extensive menu features dishes you won't easily find elsewhere. Imagine indulging in steamed cassava with your choice of sambal or even penjan ubi kayu (potato bits doused in caramelised sugar) — a rare treat indeed.
Don't miss out on their sengkuang calit, a tasty turnip dish topped with a delicious locally made spread and crushed nuts. Of course, you'll also find familiar favourites like satay and nasi lemak. Make sure to come with an empty stomach.
Address: Jalan Gua Tempurung, 31900 Jeram, Perak
Contact: +6010 370 2866
7. Cendol Sammy
If you're looking for an authentic cendol experience, head straight to Cendol Sammy, a beloved stall that's been delighting taste buds for over 20 years! The stall is located right across from Restaurant Ho Ho Chak, but be sure to time your visit right as they are only open for three hours.
Our last trip proved to be disappointing due to having trouble locating them, and this is probably because the cold treat sold out. So, learn from us! Their cendol is perfect for a scorching sunny day in Gopeng!
Address: 10 Jalan Cassia, Lawan Kuda Baru, 31600 Gopeng, Perak