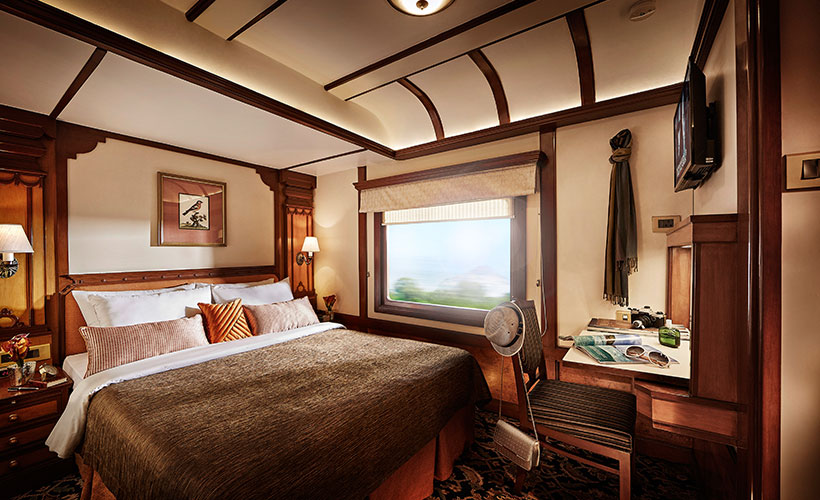 Travel advisories issued to women year-on-year never fail to remind us that India isn't particularly a safe country for a solo lady traveller. And for me to suggest that you travel to India aboard a train may have drawn a few gasps and raised a few eyebrows. Understandably so. The Indian Railways make up the world's fourth largest railway network, but as is true in many regards, scale and quality don't always go together. The fact of the matter is that regular trains connecting Indian cities are unappealing to look at, far from hygienic, serve food that is often questionable and come with a security risk to travellers where they can be harassed, mugged or worse at any time of the day.
However, a journey through India aboard a train can be truly mesmerising, mystical and memorable as the track weaves through cities and countryside. Your best bet? The luxury trains running through India that are as rustic as they are classy — they're safe, clean, secure and beautiful. The interiors on each of these trains are inspired by an erstwhile royal kingdom and their corresponding style of architecture. You'll also find that the amenities and comforts offered on these trains are nothing short of a 5-star hotel. There is a welcome service, a cultural performance to greet guests, personal guides and even butler service — you name it and it's there. This is first class pampering on steel wheels.
So, if you're a woman travelling to India for the first, second or nth time, there are luxury trains that will make your journey deep into India truly worth your while. Here are some of the options that you must consider:
The Golden Chariot
This luxury train traverses through three southern states — Karnataka, Kerala and Tamil Nadu — covering 1,888 kilometres spotted with world heritage sites, wildlife sanctuaries and other spectacular places you can tick off your list. On the inside, it's ornate and historical, paying tribute to ancient kingdoms of the region. Your personal cabin will come with an ensuite bathroom and a personal butler. The well-equipped gym means you can eat every delicacy served during lunch and dinner without a worry in the world. Finally, Wi-Fi access in certain areas of the train and a dedicated business centre will keep you connected if you're the sort of traveller who needs to stay in touch with the world.
When it's time for relaxation, choose from the onboard spa Nirvana or a glass of wine at the charming lounge bar, Madira (or both!). During the day, sightseeing activities are organised with a personal guide for all passengers. The tariff includes ticket prices to monuments and all meals so you don't have to worry about organising any detail on your own. Its traditional hospitality has earned Golden Chariot various accolades including recognition as one of the seven best luxury rail journeys in the world by Vanity Fair Magazine within four years of its inception.
Prices for a seven-day journey range from INR112000 (approximately USD1725) to INR353920 (approximately USD5460).
Palace on Wheels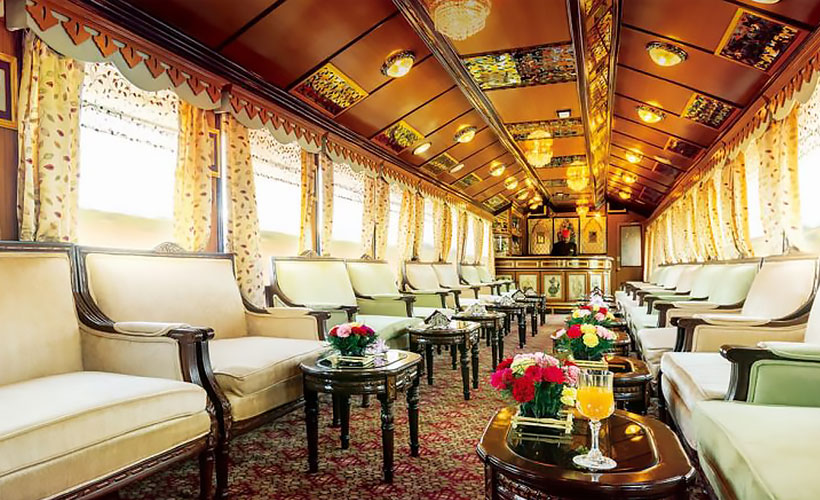 The decor, hospitality, route and everything about this journey is as grand and royal as a palace in the state of Rajasthan. Resplendent fortresses, age-old havelis (ancestral homes) and jewelled palaces are witnessed throughout this eight-day journey in Rajasthan and Agra city. The 14 saloons are painstakingly decorated with miniature paintings, antique furnishing and plush carpeting, while offering modern comforts such as a mini pantry, intercom, a satellite phone, TVs brimming with movie options, ambient music and of course, a spa. Each guest chamber comes with air conditioning, an attached bathroom with hot showers and a personal attendant if there's anything you still may need.
There are two restaurants on board – one serving traditional Rajasthani fare and the other offering a smattering of Chinese and Continental dishes for when you need a change. The train's bar is also stocked with a choice selection top shelf international liquor along with a good selection of books, if that's your poison for the evening.
Prices start at INR30000 (approximately USD4630) per person per night.
Maharajas' Express
Image Credit: Maharajas Express
It's the youngest amongst India's luxury trains is Maharajas' Express offering seven pan-Indian itineraries to choose from. The train was designed keeping in mind the famed Orient Express, which means top notch services, amenities and security paired with impeccable service. This includes a 24-hour paramedic on board, an air ambulance service in case of emergencies and meals that can be prepared gluten-free, lactose-free, kosher or just about any other way you'd like it. Designated porters will help passengers embark and disembark with their luggage before they get to the carriage and meet the butler who handles pretty much anything and everything for passengers on the train.
The meticulously done rooms are spacious enough to accommodate a luggage hold under the beds to minimise clutter, a fairly generous wardrobe, hairdryers in the attached bathrooms and individual climate control. If you're looking for a full bath tub in the your washroom, you may want to book the grand presidential suite that covers the entire length of one carriage.
The train has a library, board games and card games within the lounge bar making it a favoured spot among travellers, whether solo or in a group. Two fancy restaurants serve freshly-prepared, mouth-watering delicacies that you can ask your private butler to arrange in-suite for a private dining experience.
A four-day trip starts at INR292230 (approximately USD4510 per person) and a seven-day trip goes up to INR1690000 (approximately USD26070) for the presidential suite.
Deccan Odyssey
In the gorgeous state of Maharashtra runs the Deccan Odyssey with experiences that are historical, spiritual and cultural. Native songs and dances at the trains' platforms make for the perfect immersion throughout the journey, and are the most charming welcome or send-off one can encounter. The train has recently added six new journeys to its kitty to include rather unexplored destinations by tourists such as Aurangabad, Bijapur, Sawai Madhopur and Sasan Gir. While you're sightseeing with your personal guide, the wonders of this erstwhile Maratha Kingdom will leave you enthralled. But equally impressive is the duration spent on board the Deccan Odyssey.
Spa, check. Wi-Fi, check. En suite bathrooms, check. Medical assistance, check. Souvenir shop, check. Magazines and newspapers delivered to your room with your morning tea, yes please! The 'blue limousine on wheels' has partnered with the Taj Group of Hotels, one of India's most prominent luxury hotel chains, to ensure that the experience on the train is flawless. Common lounge areas cover recreational options that range from chess to Chinese checkers, while the bar stocks a selection of specially-curated wines. This is India's very own Blue Train that will leave you with memories of a regal and comfortable journey exploring the majestic terrain of Maharashtra.
Price for a four-day journey starts at INR167000 (approximately USD2575) and goes up to INR924700 (approximately USD14260) for a seven-day journey in the presidential suite.
Get all the latest travel stories from Zafigo. Follow us on Facebook, Twitter, and Instagram.