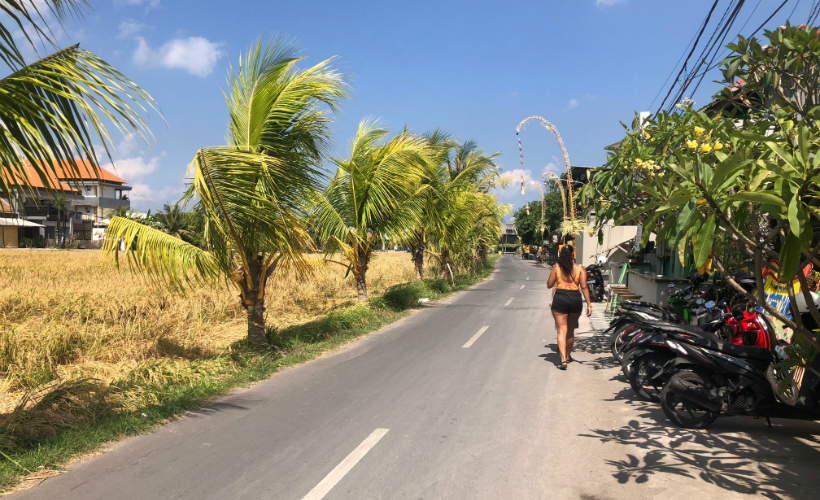 One of the greatest things about working online is that you get to bring work with you anywhere around the world. You earn and travel at the same time. It's actually the dream. If you're one of those digital nomads who really take advantage of the privilege and go to places you've never been before, then you may know a couple of countries that can be called a haven.
This digital nomad thinks the beautiful Indonesian island of Bali is your next haven.
Now, there are a couple of things a digital nomad needs for a place to be considered conducive for both work and play. You need a stable internet connection, a co-working space, affordable accommodations that need to be close to the greatest scenery of the place, accessible transportation, and of course, food. Plenty of food.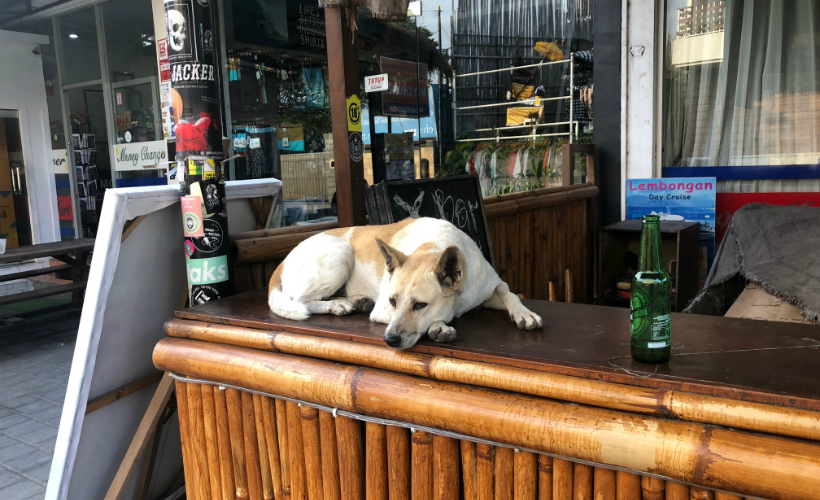 Being a digital nomad in Bali has its pros and cons. Whether you choose to stay on the beaches of Canggu or enjoy a laidback life in Ubud, you're guaranteed to accomplish work like in any other place in the world. You just need to live with some of the bumps in the road, which is part and parcel of being a digital nomad. The difference is, you get to enjoy a different culture, which may actually inspire you more.
Having worked and stayed in Bali for around six months, these are my tips that I think will help you decide whether or not to make your way to one of Asia's best islands:
Where to go in Bali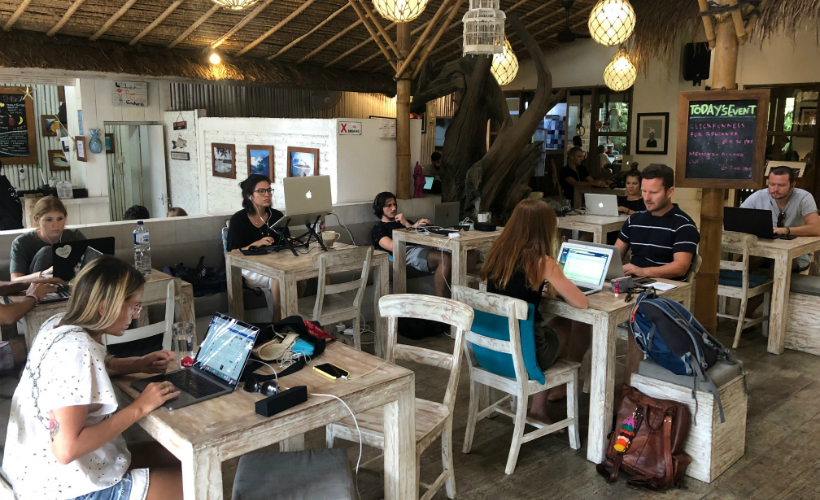 Bali is a popular tourist destination. Making the decision to come to the island is the easy part; picking which town or location on the island to temporarily set down roots in is what's tricky. Bear in mind that the biggest reason why you want to go to Bali is to accomplish work while experiencing what the island has to offer. You can't work without the internet and you'll only go crazy with a slow internet connection.
If you ask anyone who's been there, they'll immediately tell you to head to Ubud. Aside from being the island's cultural centre, it's where Hubud, the island's premier co-working space, is located. Hubud's a breezy, indoor-outdoor bamboo space where you can co-work, co-live, and co-learn. Best of all, it's reliable. You'll need a reliable co-working space if you plan to stay for a while.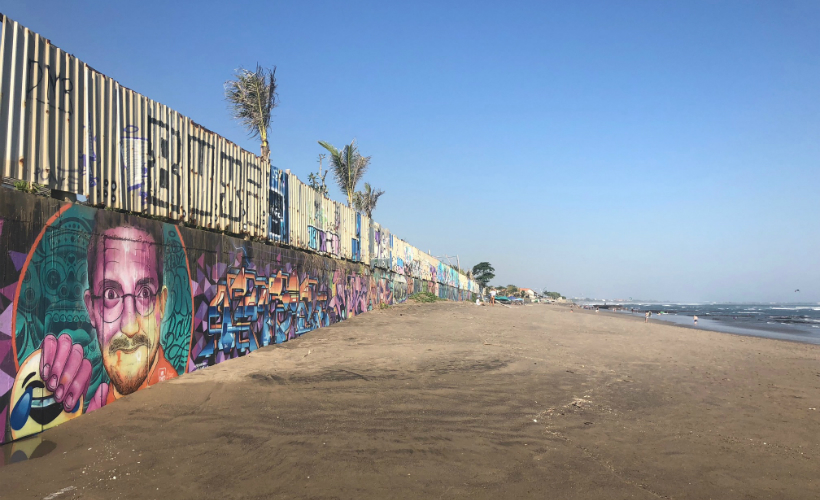 As Ubud's situated up north, you won't get the beach there. So if you're a water baby and craving the surf, go to Canggu, a resort village on the south coast of Bali. It's famous for its beaches, food, and stunning vistas. As for the internet connection, Canggu has co-working spaces called Dojo Bali and Sprout. Both are perfect for hip and young digital nomads.
There are more places on the island with co-working spaces you can choose from. There's Connect at Pepper Seminyak, Lineup Hub, and Souq. You'll find more located in Seminyak, one of the main tourist locations as well.
Now that you have an idea of where the good co-working spaces are, that frees you up to check out tourist destinations that you specifically want to visit.
I'm not saying you have to choose a city or town with a co-working space. You can go anywhere you want as long as you have a mobile setup. Having a laptop and a pocket Wi-Fi also does the trick. Getting mobile data is very affordable in Indonesia. They have data services that are good for a whole month. You just have to buy a SIM card, get some help loading mobile data for a month and you're good to go!
Hostel vs Villas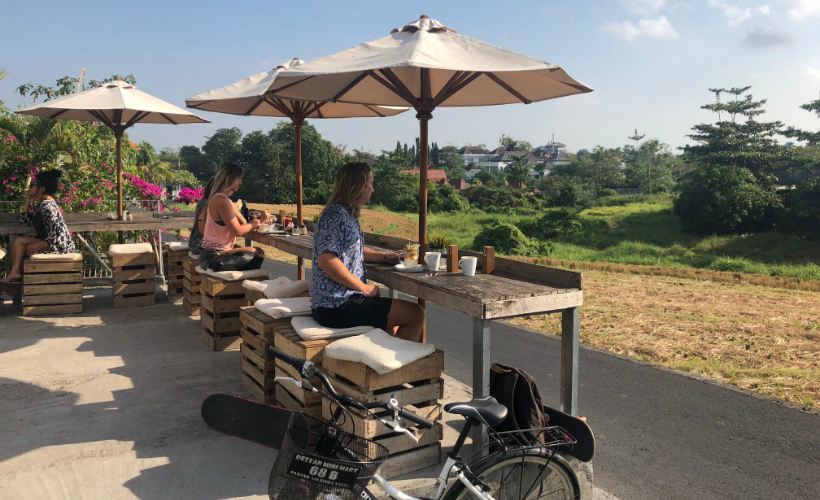 Some of the co-working spaces mentioned offer accommodations as well. However, if you're looking at saving a bit of dough, you can stay at a hostel or villas. Another option is to Airbnb. It all depends on which one fits your budget.
Staying in a hostel is definitely one of the cheapest options. If you don't mind having a bit of noise from the people around, then you can settle for this. However, if you enjoy peace and quiet, and need your creature comforts like pool facilities, you can consider staying in a villa. Villas in Bali cost between USD400 to USD500 (approximately RM1600 to RM2000) for a month's stay.
Food and transport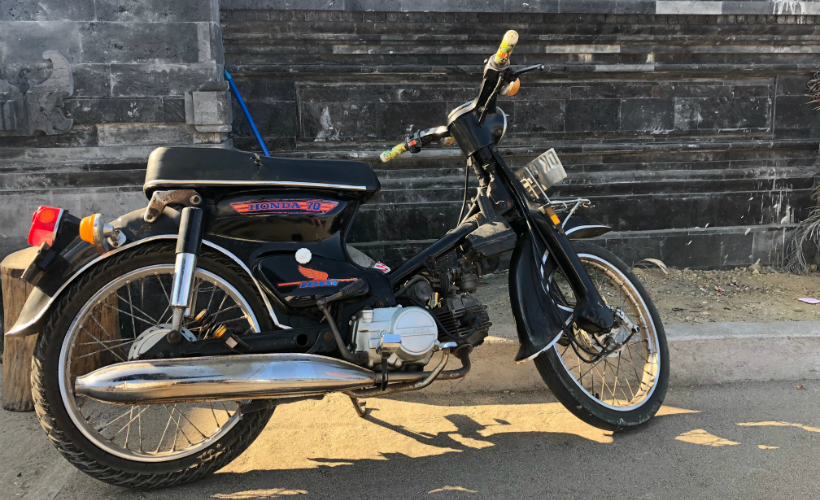 Grabbing some grub is something you'll definitely enjoy in Bali; and you'll enjoy it even more if you're adventurous enough. Eating at fancy restaurants will rob you of the experience of enjoying Bali or Indonesia itself. Plus, you spend more dollars on a smaller portion of food.
Every traveller knows that the best places to try food are where the locals usually go. In Indonesia, they have something called a warung (foodcourt) everywhere you go.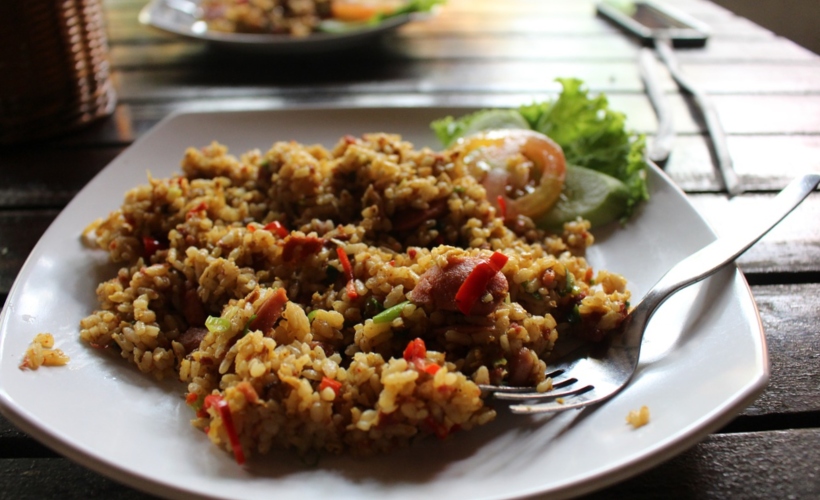 Some of the Indonesian fare you should have on your list of things to eat is nasi goreng (fried rice), ayam goreng (fried chicken) served with sambal (chili paste), bakso (meatball) soup, bebek bengil (crispy duck), and babi guling (suckling pig). Street food is also very popular in Indonesia. The streets turn into one giant food hub at around 6pm. Everywhere you go, you'll find simple but good local grub.
Transportation is also accessible and affordable. Believe it or not, the Grab app is pretty efficient anywhere. Cabs are also a good option, but can be on the pricier side. If you're adventurous enough, rent a motorcycle instead. Local transportation such as the angkot (tricycle) and ojek (motorcycle taxi) are also available to take you wherever you want to go.
*All photos are courtesy of author unless otherwise stated. 
Get all the latest travel stories from Zafigo. Follow us on Facebook, Twitter, and Instagram.