It's no doubt that the Netherlands' capital, Amsterdam has its own special charm. Known for its artistic heritage, elaborate canal system, and narrow houses, this city has had visitors flocking to it since forever. Cycling is also part of its identity, with many bike paths around the city. But there is more to the Netherlands than Amsterdam.
From the delightful town of Amersfoort to the incredible architecture of Rotterdam, every city has something unique to offer, guaranteeing an unforgettable trip. And getting around the Netherlands, a relatively small country, is easy thanks to their efficient train system. So, day trips are definitely not a problem. Now, without further ado, here are 10 other notable cities in the country you should visit and explore.
1. Harleem
Duration by train from Amsterdam: 14 minutes
Train stop: Haarlem Station
Located just a short train ride from Amsterdam, Haarlem is a charming, picturesque city filled with medieval architecture and cobblestoned streets. Strolling around the city centre itself is a joy on its own and allows you to take in the sights and sounds. If you're looking for a break from the crowds in Amsterdam but still want to experience a true Dutch city, this is the ideal place to visit.
Places to visit: Frans Hals Museum, Teylers Museum, Grote Kerk, Grote Markt, De Adriaan Windmill, Wijngaardtuin (park), Van Der Pigge (old Dutch pharmacy)
2. Utrecht
Duration by train from Amsterdam: 27 minutes
Train stop: Utrecht Centraal Station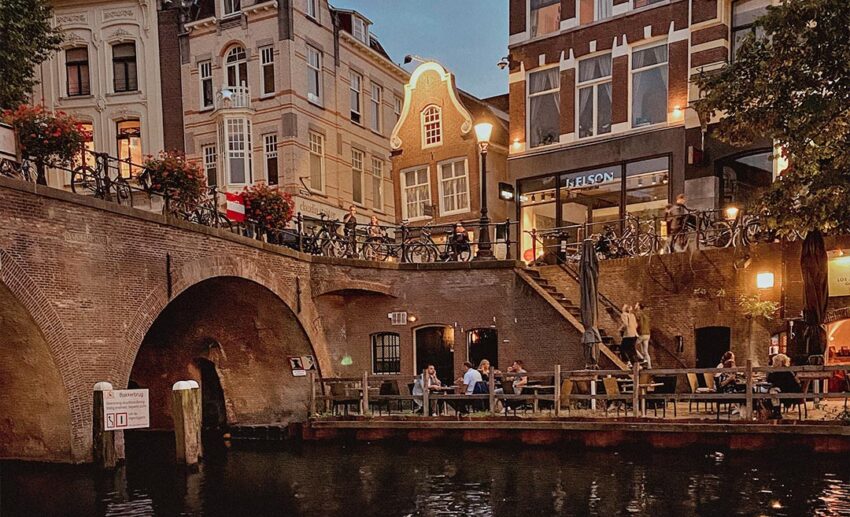 Utrecht is the largest city in the Netherlands and also the hometown of the iconic book character Miffy. Utrecht is such a cool city! It's got a perfect mix of old and new. You can see all the latest developments in the city centre and still feel the charm of the historic buildings. Plus, who doesn't love Miffy? She's the cutest!
One of its many unique features is the two-level structure canals, a defining characteristic of the city since the 13th century. Utrecht is also packed with many fun attractions and a diverse food scene to explore!
Places to visit: Dom Tower, Oudegracht (old canal), Central Museum, Miffy Museum, Speelklok Museum, Vredenburg Market, Oude Hortus Botanical Garden, Haar Castle
3. The Hague (Den Haag)
Duration by train from Amsterdam: 53 minutes
Train stop: Den Haag Centraal Station/Den Haag HS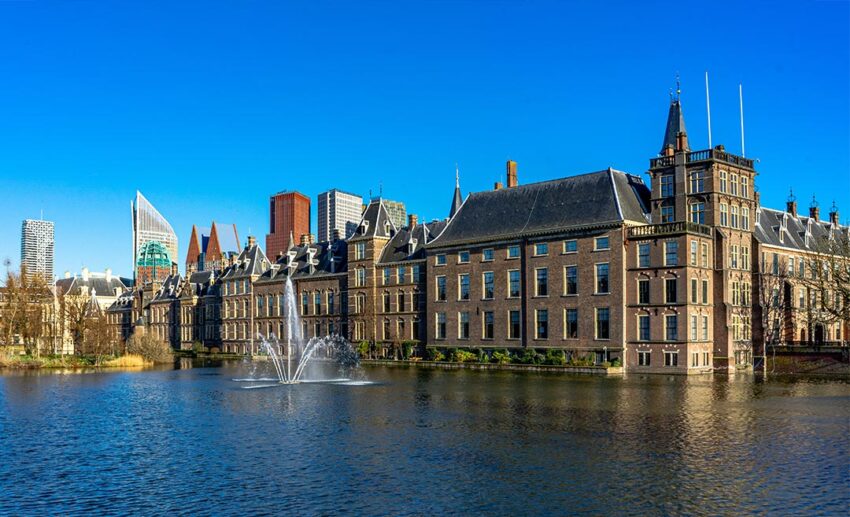 The Hague is known as the political capital of the Netherlands, home to the Dutch parliament and the International Court of Justice, but that doesn't mean it's all serious business here. The city of The Hague has plenty of cultural attractions waiting to be explored, which include the Palace of Peace and impressive museums like Mauritshuis. The latter is home to famous masterpieces such as Vermeer's 'Girl with a Pearl Earring.'
Places to visit: Mauritshuis Museum, Escher in Het Paleis Museum, Binnenhof (parliament square), Peace Palace, Scheveningen Beach, Noordeinde Palace (King's working palace), The Passage, Chinatown, Madurodum
4. Maastricht
Duration by train from Amsterdam: 2 hours 30 minutes
Train stop: Maastricht Central Station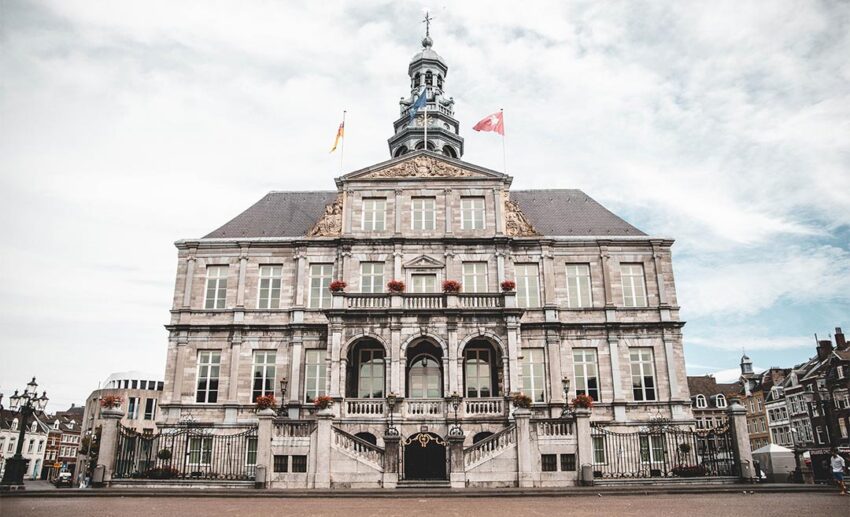 If you're looking for a charming and distinctive city in the Netherlands to revel in, Maastricht is definitely worth a visit. It's situated in the southern part of the country and boasts a fascinating history as the oldest city in the Netherlands.
Besides its rich historical timeline and significant cultural role, Maastricht is also a beautiful town with a picturesque waterfront vista of the River Maas, and has one of the best culinary scenes in the Netherlands!
Places to visit: Boekhandel Dominicanen (bookstore in Dominican church), Bonnefanten Museum, Market Square, Basilica of Our Lady, Saint Pietersberg Caves, Christmas Market (during winter), De Bisschopsmolen Waterwheel, Fort Eben-Emael, Helpoort, Valkenburg
5. Delft
Duration by train from Amsterdam: 1 hour
Train Stop: Delft Station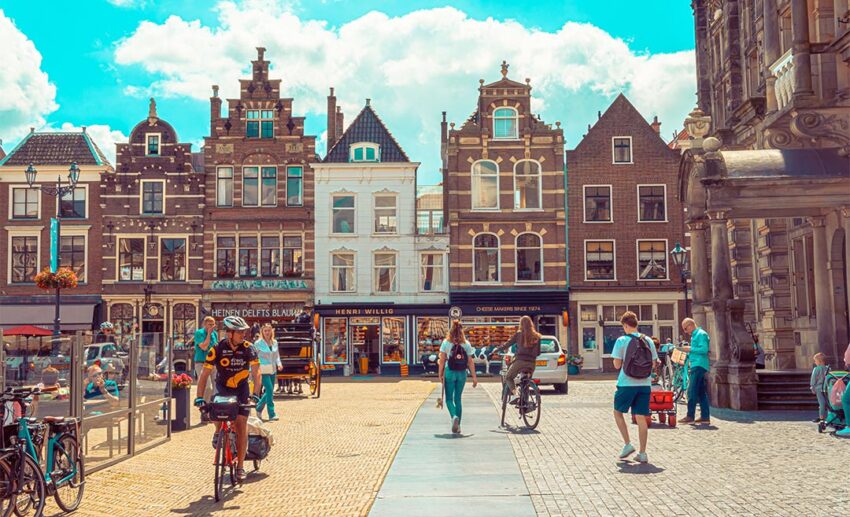 Delft is a quaint town straight out of a postcard, with picturesque canals and cobblestone streets. While it's known as a vibrant student town and home to prestigious universities and campuses, Delft maintains a laid-back atmosphere and preserves its enchanting medieval architecture.
You might recognise the name 'Delft' if you're familiar with the iconic pottery, Delft Blue. This distinctive style of pottery with blue and white design has been crafted in Delft for centuries, and in this city, you can explore the workshops and witness the craftsmanship first-hand.
Places to visit: Oude Kerk, Market Square (Markt), Nieuwe Kerk, Koninklijke Porceleyn Fles (Royal Delft Blue factory), Prinsenhof, Oostpoort, Vermeer Museum, De Roos Windmill, De Diamanten Ring Bakery (oldest bakery in Delft)
6. Rotterdam
Duration by train from Amsterdam: 42 minutes
Train stop: Rotterdam Central Station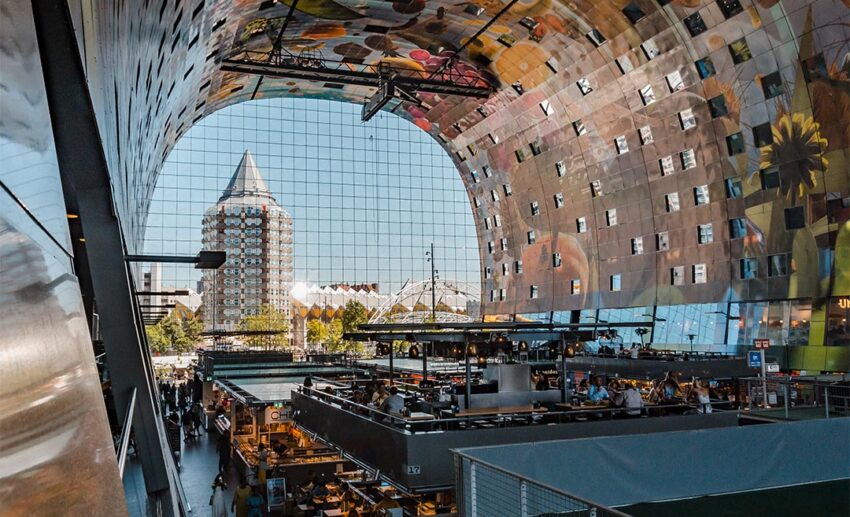 As one of Europe's most modern and innovative cities, Rotterdam is an architectural playground with unique designs — such as the iconic Cube House and the Market Hall. It's definitely worth visiting for all architecture fanatics or those seeking a vibrant, modern city vibe.
One of the unique ways to traverse the city when exploring Rotterdam is by water taxi. This is a fun and convenient way to get across the Rotterdam area while enjoying the stunning views the city has to offer.
Places to visit: Erasmusbrug, Markthal, Cube House (Kijk-Kubus), Euromast Tower, Museumpark, Old Harbour, Maritiem Museum, Fenix Food Factory, Stroll around Delfshaven, Arboretum Trompenburg (Botanical Garden), Depot Boijmans Museum, Hotel New York
7. Giethoorn
Duration by train from Amsterdam: 2 hours
Train stops: From Amsterdam, transfer at Zwolle Station to Steenwijk Station, then take bus 70 (direction Zwartsluis) to Dominee Hylkemaweg, Giethoorn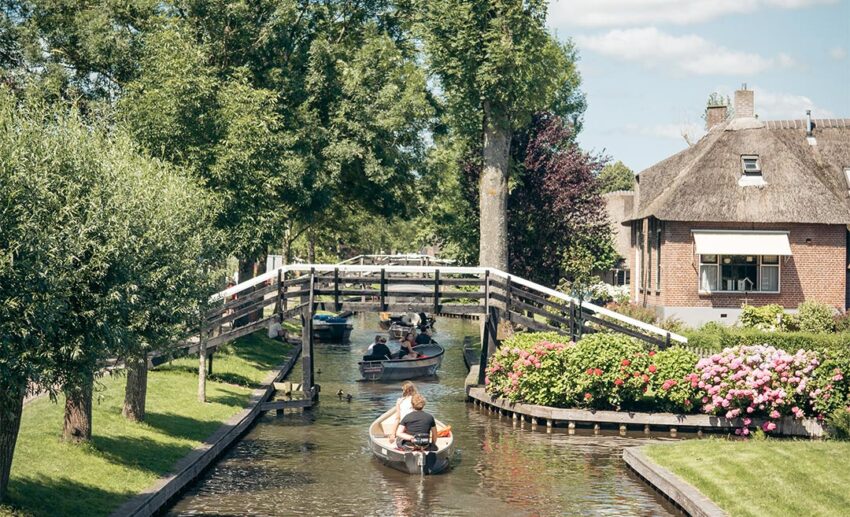 Giethoorn, also known as the Dutch Venice, is a charming village that looks like it came straight out of a fairytale. With no roads, as it's built on a small peat of islands, this idyllic part of the Netherlands is connected by over 170 wooden bridges and houses with quaint thatched roofs.
For a more enjoyable experience in Giethoorn with fewer crowds, visiting on a Monday is recommended. Renting a boat is highly advised too, so you can leisurely navigate the canals and enjoy the scenic sights at your own pace.
Things to do in Giethoorn: Canal Cruise, Boat Rental, Cycling, Museum Giethoorn, De Oude Aarde Museum, Weerribben-Wieden National Park, The Grand Café Fanfare, Shop at Gloria Maris Schelpengalerie
8. Groningen
Duration by train from Amsterdam: 3 hours
Train stops: From Amsterdam, transfer at Almere Station to Groningen Station
Visitors often overlook Groningen as it is quite a distance from Amsterdam, but the city holds immense appeal and interesting attractions. Located in the northern part of the Netherlands, Groningen is known as a university town, which means fewer tourists.
Besides the picturesque city centre, Groningen offers unique attractions for nature lovers, including the UNESCO World Heritage Site, the Wadden Sea –– a shallow body of water with tidal flats and wetlands that stretch to parts of Germany and Denmark.
Places to visit: Stroll around Hoge Der A, Groningen Museum, De Lelie Windmill, The Tea Factory (Theefabriek), Noordpolderzijl, Hortus Botanicus (Botanical Garden), Abraham's Mosterdmakerij & Restaurant (Mustard Museum), The Forum, Zoutkamp, National Park Lauwersmeer (Wadden Sea)
9. Gouda
Duration by train from Amsterdam: 50 minutes
Train stops: From Amsterdam, transfer at Utrecht Central Station to Gouda Station
A fan of cheese? Then visit Gouda. Though don't be mistaken, the beloved gouda cheese didn't, in fact, originate from here, but the name of the city is derived from its cheese trading history.
If you find yourself in the cheese city of the Netherlands, make sure to treat yourself to some of the delicious wheels of dairy goodness available at Gouda's traditional cheese markets. You can catch the cheese market between April and August every Thursday morning.
Places to visit: Gouda Stadhuis, Markt Square, Museum Gouda, The Red Lion Windmill, Goudse Waag Cheese museum, Gouda Cheese Market, Kamphuisen Bakery, Saint-John Church, Visbanken (fish market)
10. Amersfoort
Duration by train from Amsterdam: 35 minutes
Train stop: Amersfoort Central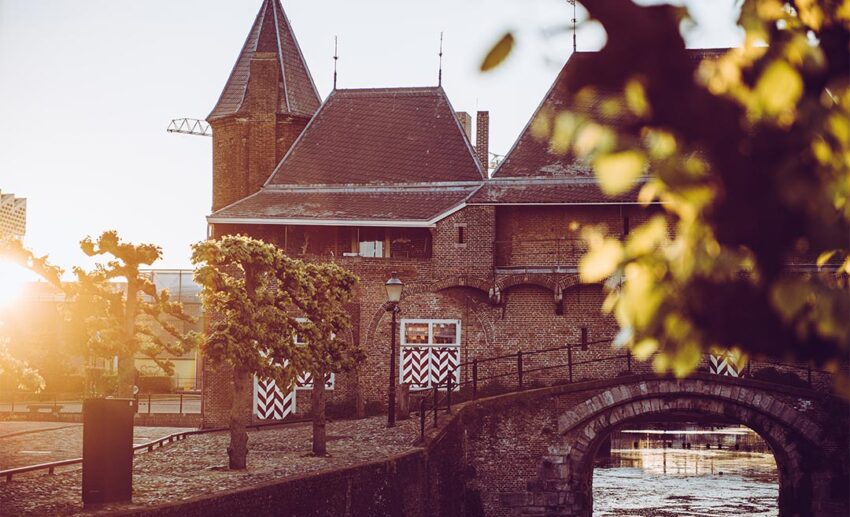 Amersfoort is a hidden gem of the Netherlands, a city that is just a 40-minute train ride away from Amsterdam, and is well worth visiting. It's got impressive architecture and classic canals, making it a photographer's dream. Strolling around the city is an enjoyable activity in itself, as you will stumble upon many cute streets and picturesque Dutch houses.
One of Amersfoort's must-visit, unique attractions is the iconic watergate Koppelpooort. Built in 1425, this structure is surrounded by charming medieval architecture and scenic streets that will transport you back in time.
Places to visit: Muurhuizen Street, Court of Almshouses, Mondriaan House, Museum Flehite, Water Gate Koppelpoort, The Eemhuis, Museum KAde, Buuf in the Serre Cafe, Liefde & Ambacht cheese shop, Het Lokaal