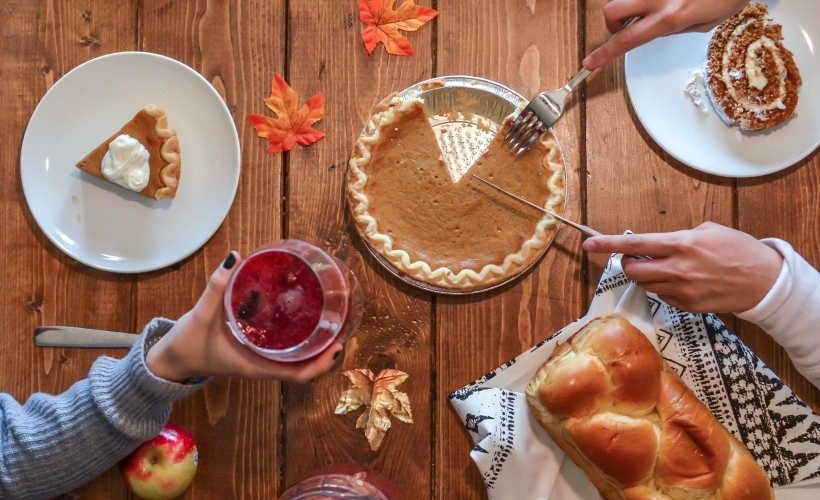 Ho, Ho, Ho! Christmas is just around the corner.
That pretty much just means plenty of last minute shopping, long distance calls with your overseas BFF, an extra 30 minutes of cardio in an effort to make room for the approaching family dinner. Tis' the season to be jolly and do some serious feasting! Yes, we're talking golden roasted turkeys, cranberry pies, eggnog and countless Christmas candies.
To help you kick-start the festive season, here's our pick of Christmas buffets around in and around Kuala Lumpur to satiate all your holiday cravings.
Colonial Cafe, Hotel Majestic KL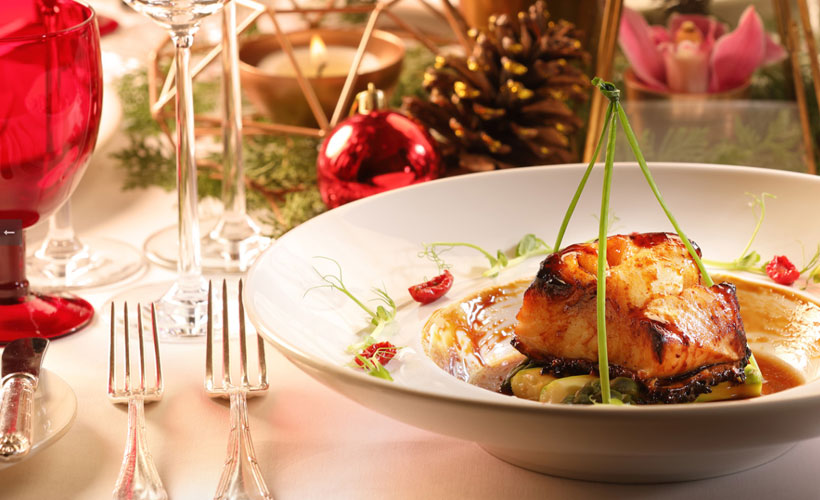 Transport yourself back to the elegance and class of the 1930s at the Colonial Cafe. Located in the Majestic wing, this ornate restaurant will make all your dreams of a posh Christmas meal come true with their festival menu comprising of a smoking bishop mulled wine, water crest soup with lobster meat, sliced turkey accompanied with cranberry sauce and chestnut stuffing, braised beef cheeks, honey glazed cod fish and a range of decadent puddings including a chocolate fudge cake with crispy brandy snaps.
This Christmas, Hotel Majestic is also paying tribute to the legendary stars of the Rat Pack. So expect Frank Sinatra's Fly Me to the Moon playing in the background as you sip your mulled wine and sink your teeth into camembert cheese. It can't get much fancier than this, really.
Christmas Eve Dinner Menu: RM280 nett per person
Christmas Day Dinner Menu: RM220 nett per person
For reservations and more information, click here.
TEMPTations, Renaissance Hotel Kuala Lumpur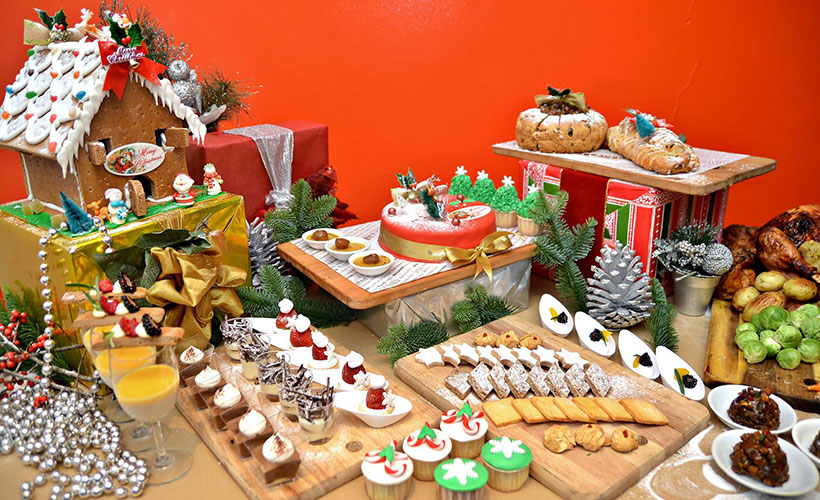 Standing true to its name, TEMPTations is serving quite a tantalising Christmas spread, one that will be hard to refuse. Along with classic dishes such as a whole roasted turkey (stuffed, of course) and roast beef with Yorkshire pudding, the menu this year has expanded to include a wide variety of European dishes such as Scandinavian baked salmon, chicken stroganoff with potato gnocchi and a mélange of Asian flavours in the tandoori prawns and Japanese seafood platter. For those with a sweet tooth, the dessert spread at TEMPTations comes with pumpkin pies, chocolate and vanilla lemon yule logs, Santa fruit pavlova, hazelnut éclairs and other deliciously sinful treats.
Add a real Christmas touch to your meal and visit the 'Wish Upon A Star' tree in the hotel lobby, where you can help to make an underprivileged child's dream come true. After all, what's Christmas without a little giving back to those in need?
Christmas Eve Dinner Buffet: RM175 nett per person.
For reservations and more information, click here.
Vasco's, Hilton Kuala Lumpur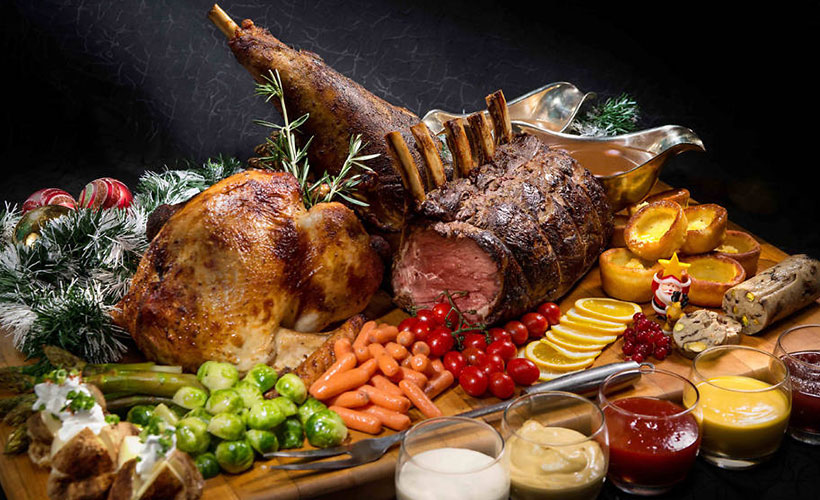 Vasco's is going back to basics this Christmas by serving up a storm of hearty yuletide dishes. Treat yourself to a spread of gastronomic delights from roasted turkey with traditional bread stuffing and buttered vegetables to rib eye steak and pan fried foie gras to baked oyster mornay. If you want to continue the festivities at home, you can even take an entire roasted honey glazed turkey with apple and chestnut stuffing, seasonal vegetables and homemade sauces at RM488. As for the traditional Christmas desserts, the offering includes chocolate logs, puddings and fruit mince pies.
Like every Christmas celebration, the feast at Vasco's come accompanied with a group of carollers who will keep you well entertained with delightful festive carols as you indulge yourself with the very best of Christmas cooking.
Christmas Day Dinner Buffet: RM198 nett per person.
For reservations and more information, click here.
Warisan Cafe, Royale Chulan Kuala Lumpur
If your Christmas plans revolve around playing host to a big group of family and friends, might we recommend a family table at the Warisan Café? This halal-certified restaurant is going all out this year with a menu themed around flavours of the world. Let your guests drool over the baked mussels with gruyere cheese or bite into tender pieces of grilled beef tournedos served with a black pepper sauce. Other specialties on their menu include wellingtons, terrines, pates as well as other dishes inspired by local, Japanese and Italian cuisines, which means there's something for everybody.
In true Christmas spirit, Warisan Cafe also has a turkey carving station featuring the house special roasted turkey with grape honey glaze along with a mouth-watering range of French pastries, fruit cakes, puddings and other sweet Christmas delights.
Christmas Eve Dinner Buffet: RM150 nett per person
For reservations call +603- 2688 9688 / 9645 or visit the Royale Chulan website for more information.
Nook, Aloft KL Sentral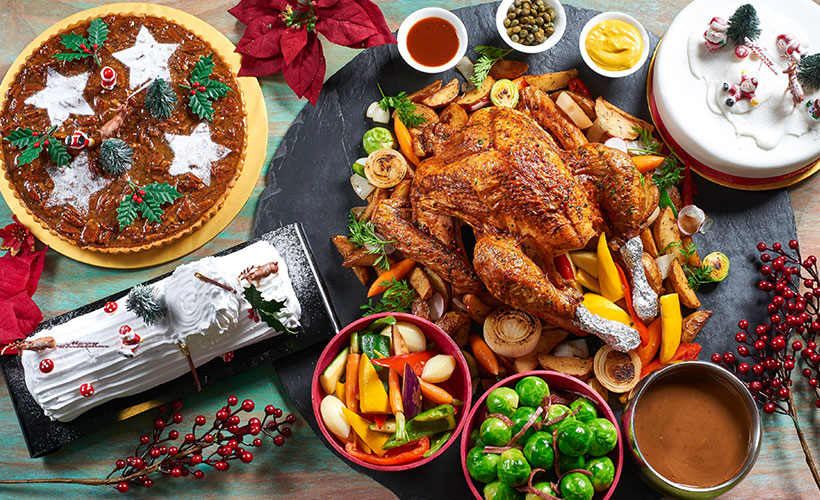 This Christmas, Nook will be the best place to satisfy your inner carnivore. Their meaty buffet includes herb-crusted roasted leg of lamb, beef stroganoff, smoked short ribs, peri-peri roasted whole chicken and beef goulash. The spread comes with several accompaniments such as creamy mashed potatoes and mac and cheese. But the star of their Christmas Dinner Buffet is their garlic- and rosemary-roasted whole turkey with all the trimmings including cranberry sauce, giblet gravy and grilled pumpkin.
There's always room for dessert; even after savouring all that meat. The spread at Nook is loaded with Christmas treats like pumpkin pies, chocolate mint brownies, yule log cakes, mixed berry pavlovas, sticky toffee puddings with caramel sauce and decadent strawberry cheese cakes.
The Christmas dinner buffet is available at Nook until December 30, 2017 and is priced at RM 118 nett per person.
Christmas Eve Dinner Buffet: RM128 nett per person
For reservations and more information click here.
Ruyi & Lyn, Bangsar Shopping Centre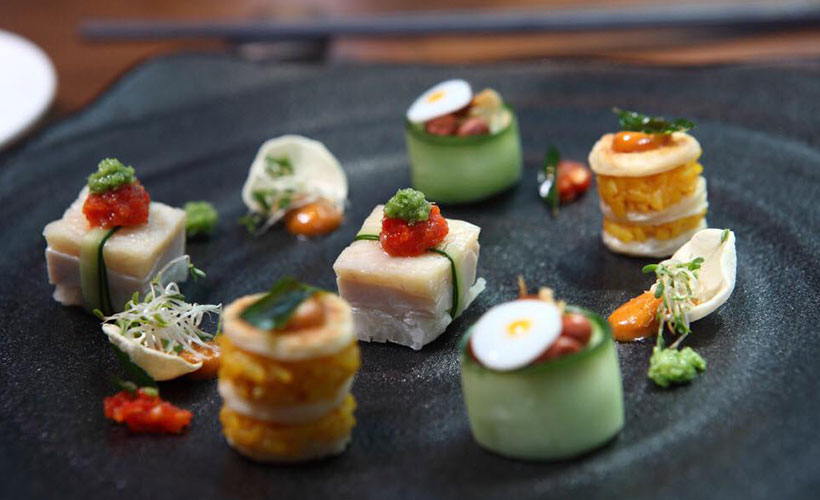 Having won foodies over with their nasi lemak sushi, Ruyi & Lyn is a hot culinary favourite for those who enjoy Chinese cuisine with a modern twist. This jolly season, Ruyi & Lyn's Christmas menu lets diners take a break from the norm and replaces it with refined tastes and sophisticated dishes. Start your meal with a soy-glazed octopus served with crispy skin fish and follow it up with mushroom cream potage, braised abalones with black truffle jus, baby lobster and Wagyu beef that comes with egg ramen topped with ebiko. Finally, the meal is finished with a chilled bird's nest and honey dew sago.
The celebrated Chinese restaurant is also hosting a special New Year's Eve countdown dinner party with the theme 'One Night in Shanghai' featuring live performances, all night long tapas and dessert buffets and a four-course sit down dinner.
Christmas Celebration Menu: RM298 nett per person
For reservations and more information, click here.
Nobu, Kuala Lumpur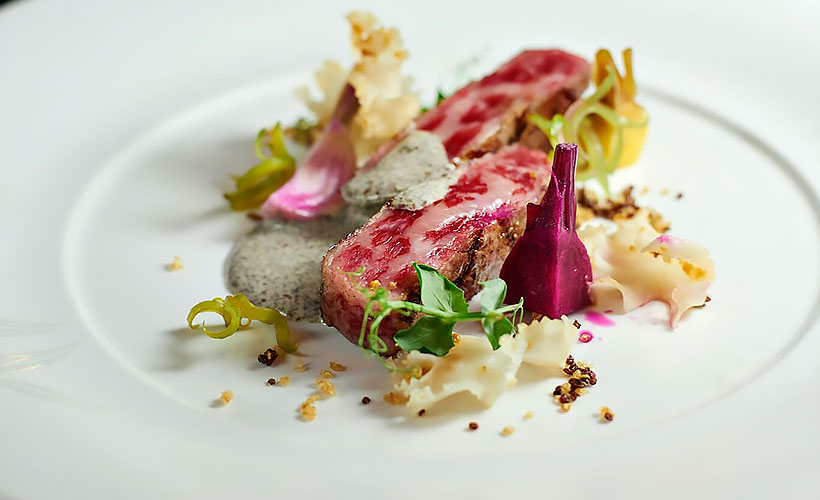 If you are a fan of Japanese cuisine and don't mind spending your year-end bonus on an exquisite meal, we have the perfect dining spot for your 2017 Christmas dinner. With a view of the city's skyline and an ambience that reflects nothing less than elegance, the master creators at Nobu KL are serving up a seven-course omakase meal to elevate your fine dining experience. Scallop quinoa salad, pan-seared Chilean sea bass with truffle sauce, smoked Wagyu with Yuba and nori sauce and many other uniquely crafted dishes adorn their menu.
The special Christmas menu at Nobu is available from December 22- 25, 2017.
Christmas Seven Course Menu: RM560 nett per person
For reservations, call 03-2164-5084 or visit their Facebook page for more information.
Terazza Brasserie, Dorsett Grand Subang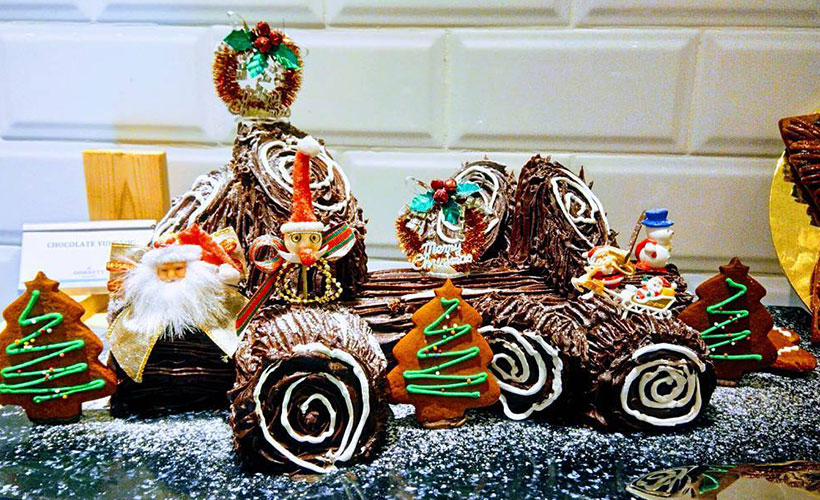 Residents of Subang, if you're lazy to drive into town to get your Christmas fix, book yourself a spot at Dorsett Grand's Terazza Brasserie. Their spread this year is inspired by cuisines from all over the globe. Along with Christmas must-haves, their buffet will showcase a mix of Asian and Mediterranean dishes along with a generous selection of seafood on ice. Warm yourself up with a traditional lobster bisque and a baked shepherd's pie or take your taste buds on a culinary adventure with a dish of poached asparagus and roasted Australian prime ribs with pink peppercorns and a pommery mustard sauce.
Save the best for last and stop by the dessert section to help yourself to some scrumptious treats including Christmas puddings, gingerbread-crusted cheesecakes and other special festive goodies.
Christmas Eve Dinner Buffet: RM138 nett per person
Christmas Day Dinner Buffet: RM128 nett per person
For reservations and more information, click here.
Swez Brasserie, Eastin Hotel Petaling Jaya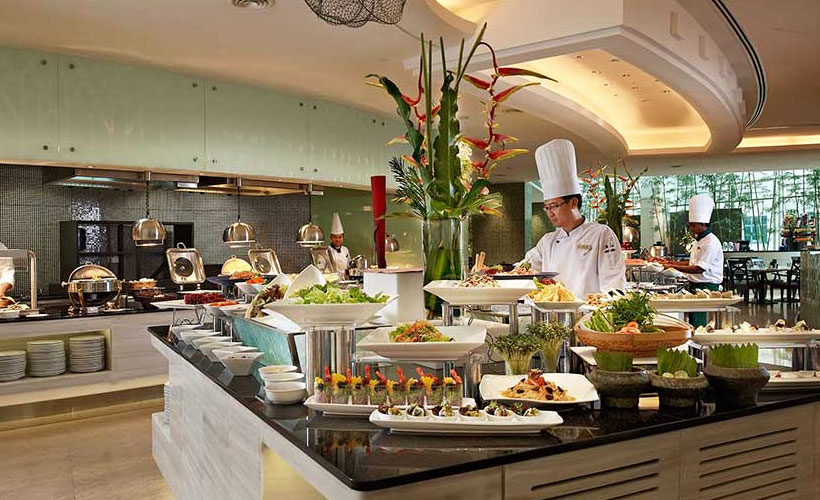 It's a magical Christmas dinner in PJ! Eastin Hotel's Swez Brasserie is delighting diners with a live performance by renowned illusionist Dr Mahdi Moudini on Christmas evening. Adding a further touch of magic to the festivities is their buffet line-up comprising of roast turkey, braised lamb shank, beef stroganoff, a giant seafood paella counter as well as a 'make your own taco' station. If that's not enough to satisfy your Christmas cravings, they also have servings of butternut squash soup, poached salmon trout, duck leg confit and more delicious dishes. It's a magical affair indeed!
Christmas Eve Dinner Buffet: RM145 nett per person
For reservations and more information, click here.
Happy holidays and Merry Christmas!