British Airways announces its top picks on street food in Europe and North American in 2017. Travellers can now take advantage of the MATTA FAIR® special fares and travel to selected destinations to try out mouthwatering street food. Travellers from Malaysia can fly to any of the cities on the British Airways route and eat to their hearts' delight on the four-class configured Boeing 787-9 Dreamliner from Kuala Lumpur.
The special return fares start from MYR2,588* in World Traveller economy class to London. Customers will land at the airline's home – the award-winning London Heathrow Terminal 5 and from there they can enjoy stress-free onward connection to various cities across the UK, Europe and North America. Bookings must be made by 27 March 2017 on ba.com or at the upcoming MATTA fair for travel from 06 March 2017 to 31 December 2017.
Here are some amazing street foods for you to try on your next gourmet holiday:
1.Korean Tacos and Burritos in London, UK
Not all Korean food are barbequed. Be adventurous and try this fusion of Swedish-Mex-Korean offering nicely wrapped in a taco or burrito. Once you savoured the explosion of flavours from Kimchinary, there's no turning back. Each signature taco and burrito is served with the freshest and tastiest of ingredients. Noteworthy is their slow-braised Bulgogi beef brisket burrito wrapped with kimchi fried rice, sesame slaw and spring onion relish and their Gohchujang chicken taco with sesame peanut winter greens and smacked cucumbers. Depending on the day of the week, the Kimchinary food van can be spotted at the KERB market at either the Loft on Camden Lock Market or at India Quay at Canary Wharf.
2.Grilled Cheese in London, UK
Not a fan of fish and chips or looking for a break from this quintessentially British fare? Why not try what has been touted as London's best grilled cheese for a change! Every Saturday at the Netil Market on Westgate Street, there is a little Alpine-inspired shack called Morty & Bob's that is said to serve the best grilled cheese in the city. It oozes a blend of three Neal's Yard cheeses which you can add on mouthwatering toppings of your choice – avocado, bacon, truffled mushrooms – to create your personal version of a grilled cheese!
3.Currywurst in Berlin, Germany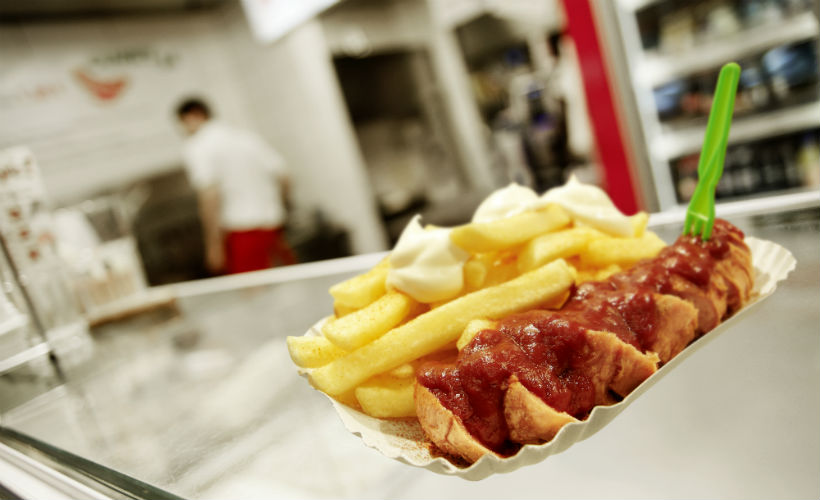 ​Currywurst is Berlin's ultimate and most iconic street food combining grilled pork sausage with heated ketchup sauce and curry powder, served together with fries. Kreuzberg's Curry 36 stand located at Mehringdam 36 comes highly recommended by Berliners as one of the top stalls to savour the delicious Currywurst.
4.Tapas in Barcelona, Spain
​La Boqueria is Barcelona's oldest market and a paradise for all food lovers. A wide array of local delights can be found at the market but not to be missed are the tapas by El Quim de la Boqueria. The famous El Quim is a 16-seat stall in the middle of the market serving up traditional tapas made with incredibly fresh ingredients. Favourites include artichokes, fried eggs with baby calamari, fried fish or caramelized mushrooms. Even though the food stall is always buzzing, the chef will always make time to talk with customers and recommends his best dishes to them.
5.Crêpes in Paris, France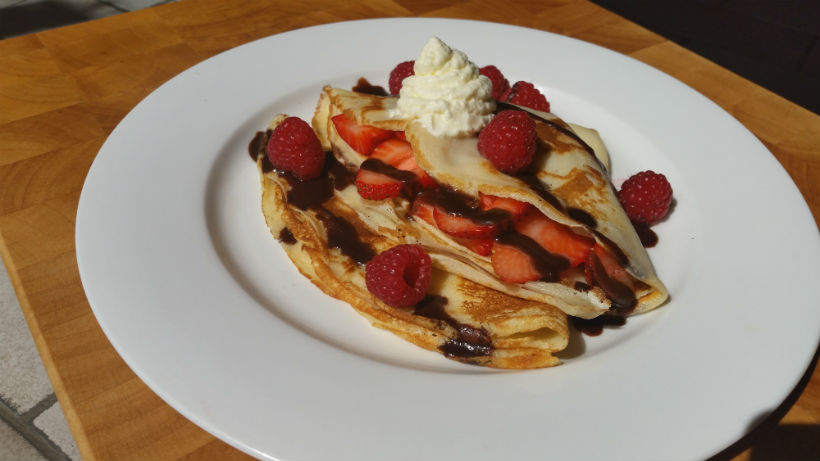 ​One cannot be in France without sinking one's teeth into a delectable crêpe. You will also be spoilt for choices of toppings, including cheese, asparagus, ham, melted chocolate, Nutella, bananas and so much more. Seek out La Crêperie Bretonne located near the Montparnasse Tower for this wondrous French fare. It serves a variety of mouth-watering homemade crepes and if you are a cheese lover, their Camembert crêpe is to die for!
6.Trapizzino and Suppli in Rome, Italy
Most visitors to Italy had taken a bite out of their famed gelato, pasta and pizzas but have you ever tried trapizzino or suppli? Trapizzino, or Italian pizza sandwich, is a triangular pocket of expertly-baked pizza dough stuffed with classic Italian fillings such as braised beef, oxtail stew, octopus, aubergine parmigiana and meatballs. Trapizzino can be found at its namesake restaurant on Via Giovanni Branca in Rome's trapizzino market. It is a great snack to take with you as you roam the streets of Rome.
Suppli is a simple and delicious delicacy that is long regarded as Rome's favourite street food. It is a deep-fried rice ball stuffed with different fillings and topped with lots of mozzarella. Locals recommend to taste this unique snack at Supplizio on Via dei Branchi Vecchi 142 or I Suppli located at the beautiful Trastevere neighbourhood or Mondo Arancina located at Via Marcantonio Colonna 38.
7.Breakfast burrito in Dublin, Ireland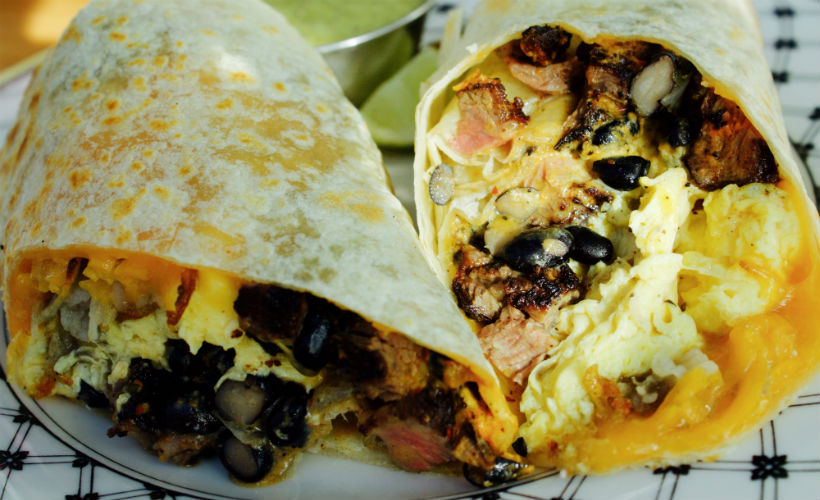 Street food culture in Dublin is now more popular than ever. One of the local favourites is a Mexican food truck located just off Dublin's Chancery Street – K Chido, touted to serve the best breakfast burrito in all of Dublin. The truck can be found near the entrance of the Fegans Foodservice warehouse and those in the know do not mind queuing up to enjoy K Chido's delicious traditional Mexican classics.
8.Herring in Amsterdam, Netherlands
Every visitor to Amsterdam should give herring a try. It is the city's signature dish and served practically at every fish stand in the city. The soused herring is served on a paper plate with onions and pickles, and it's not uncommon to see locals holding the fish by the tail and dropping it into their mouths with their head thrown back. Vishandel Molenaar located in Albert Cuyp Market and Frens Haringhandel situated next to the flower market in the city center are the locals' favourite herring stops. An extra tip: herrings are said to be at their sweetest and freshest between May and July.
9.Hotdogs in New York, USA
Hotdogs are synonymous with New York and the best place to enjoy the best one in town is at Crif Dogs located at 113 Saint Mark's Place in lower Manhattan. The must-try at Crif Dogs are its Jon Jon Deragon, a hotdog with a schmear of cream cheese, and the Spicy Red Neck – bacon wrapped and filled with coleslaw, chili and jalapeños.
10.Waffles and Dinges in New York, USA
Ever tried waffles with fresh salmon and cheese as toppings? If you haven't, make a date with one of the many Waffles and Dinges' stands or food trucks that can be found along the entries to Central Park or Lincoln Center. Pick your favourite toppings from its huge selection – chocolate, strawberries, walnut blueberry crumble to bacon. When you are done, wash it all down with a cocoa, milkshake, coffee, or ice cream – it is a true sweet indulgence.