We're all guilty of a little ignorance, I myself had this remarkably benighted perception that Bosnia is some war-torn derelict country. I also envisioned dramatic images of myself crying over bullet holes in buildings and piles of rubble. It certainly didn't strike me as a place that offers hiking, adventure, and breath-taking views. To my delight, I discovered it offered all that and then some. Here's a four-day itinerary to help you adventure through Bosnia like a boss!
Day one – grabbing some grub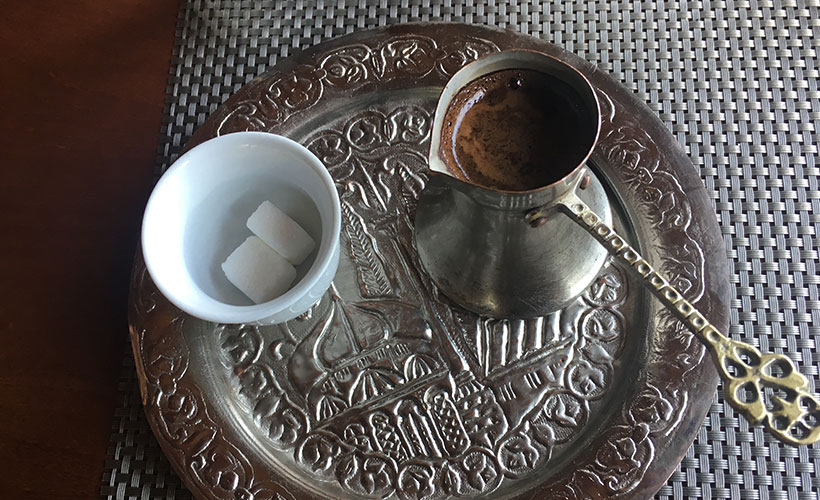 First stop – Sarajevo. It's a vibrant city with an exotic blend of the East and West. What struck me most was the religious and cultural diversity. I witnessed a stunning lady in six-inch heels and a risqué dress, walking arm-in-arm with an equally beautiful, demurely-dressed girl wearing a hijab. To me, it's cultural integration and respect done right!
Be sure to make a beeline to Bascarsija, an old town with cobbled streets filled with souvenir shops, sweet shops, and cafés. Here, you can indulge in one of Bosnia's biggest passions –coffee. It comes served in delicately-engraved traditional metal pots with sugar cubes on the side.
I found that Bosnians don't really like displaying any form of emotion to strangers, but if you want to get them really fired up, insult their coffee. Or even better, brew it incorrectly in their presence. I think my brother has permanent ear damage from jokingly using old coffee granules to make a new pot of coffee. It's the one time I saw a sweet, shy Bosnian girl give him the telling off of a lifetime!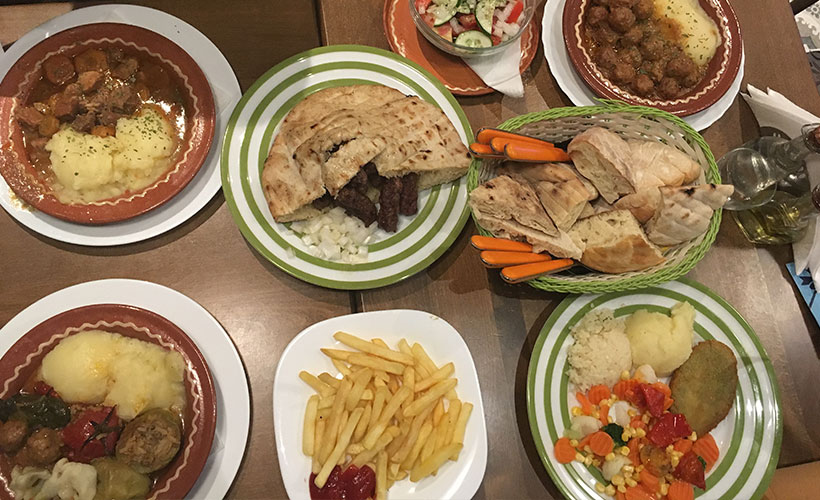 Another Bosnian passion is meat. Grilled, salted, stewed, they do it every way imaginable. I got to sample traditional Bosnian cuisine in a marvellous restaurant called Sedef. If you ever make it here, make sure you order Cevapi – a dish made of lamb or beef kebabs served with somun (Bosnian pita bread) with raw onions.
Other fare to try includes burek (flaky pastry with a spinach, cheese, or meat filling) and klepe (minced dumplings). If you want a snack, head to the supermarket and buy yourself suho meso for no more than a couple of Euros. It's a deliciously smoked, salted meat that you can munch on to keep the hunger at bay.
Tip: Food is extremely cheap in Bosnia, and I spend no more than €20 (approximately USD23.50) per day eating very, very well. Even three weeks post-holiday, I'm still trying to rid myself of my food baby.
Day two – working the rapids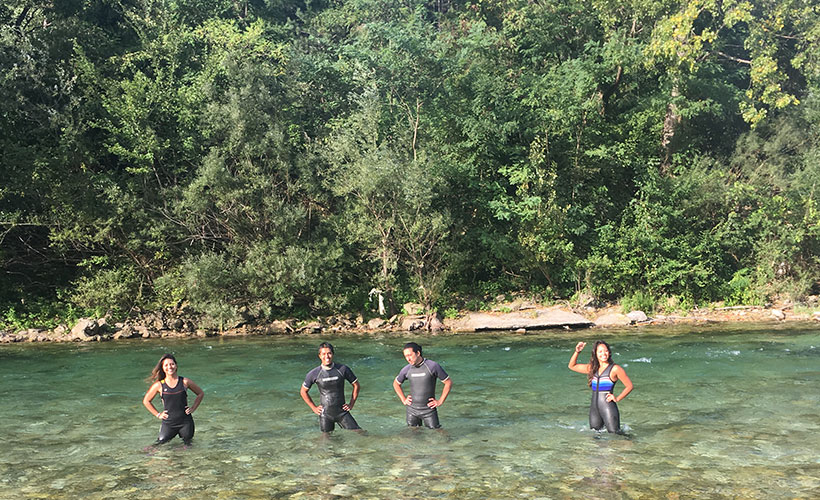 Basically, I spent this day screaming like a little girl. I went water rafting in Konjic, just an hour's drive from Sarajevo, and we booked our rafting with the Aladdin Rafting Neretva team.
The adventure started with breakfast at Aladdin's beautiful courtyard filled with fruit trees. Then, it was time to gear up with wetsuits, helmets, life jackets, and so on. If you want to look like a Captain America hero, this is your chance, as the wetsuits are surprisingly flattering. You can do lunges and take pictures of you doing splits and no one will bat an eyelid, either. Even my sister did it.
The Neretva River is so pure and clear, it looks like turquoise crystal. I'd never seen water this exquisite in my entire life… and I live in New Zealand! Despite its beauty, prepare for an adrenaline-fueled ride that flings you down rapids. You'll pass numerous waterfalls too, and can even jump from one of the bridges.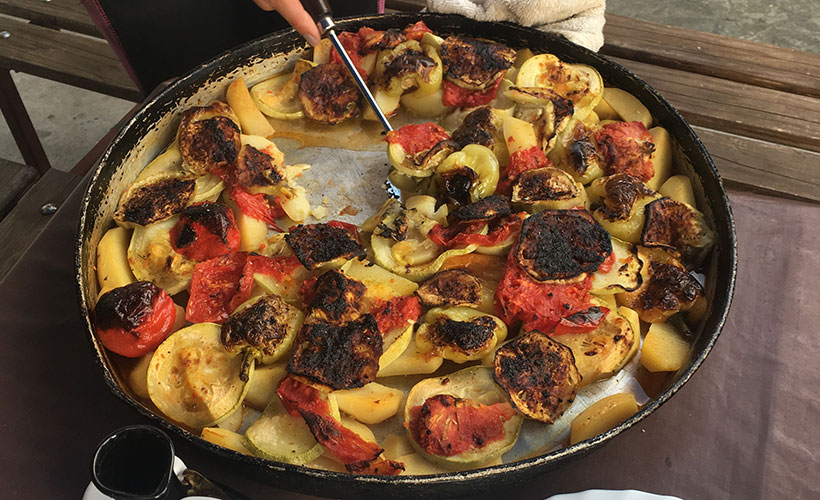 After all the excitement, the day ended with a mouth-watering barbeque of grilled meat, chicken, and vegetables. What surprised me the most is that Aladdin's team accommodated my vegetarian sister. My sister found that being vegetarian wasn't easy in Bosnia – the land of grilled meat. However, Aladdin's wife hooked her up with some serious veggie grub. I'm talking roast potatoes, peppers, and courgettes stewed with tomatoes and pinches of pink salt from heaven. I actually got serious food envy.
Tip: Book with the Aladdin Rafting Neretva team. The total cost is €35 (approximately USD41) for a whole day of rafting. Meals are included in the price.
Day three – shopping time
I recommend spending a day exploring Mostar, but make sure you stop over at Jablanica Lake. Swimming here is like making your way through through liquid glass; it's that crystalline! Jablanica is also famous for a grilled lamb dish called jagnjetina. Feast on this till you get the meat sweats, and when you do, just feast some more. Oh, and then head to Mostar for the rest of the day.
You know how sometimes you get back from a holiday with really crappy presents? You won't have that problem in Mostar! Rows upon rows of market stalls, or čaršija, sell exotic coloured lamps, jingling artefacts, and silky garment that make you feel like a pompous Roman emperor.
If a furiously-paced shopping spree isn't your idea of a good time, just amble over to Stari Most (literally 'Old Bridge' – a rebuilt 16th century Ottoman bridge). Here, you can watch divers in budgie smugglers (also known as Speedos) fling themselves off the bridge with great gusto. The objective is to create the biggest splash possible.
Alternatively, marvel at the Koski Mehmed Paša Mosque and its well-preserved architecture. You can take a breather from the market madness by strolling outside the courtyard, or if you fancy shedding some of that burek weight, climb up the minaret for 360º views of the city.
Tip: Book your accommodation in Mostar via The Balkan Backpacker. Besides a great location, a stay costs €10 (approximately USD12) for a bed in a dorm, while a two single bed apartment is €25 (approximately USD29.40) per night. They also have a really cool initiative where you get 10 per cent off all of hostels in their Balkan network.
Day four – the hills are alive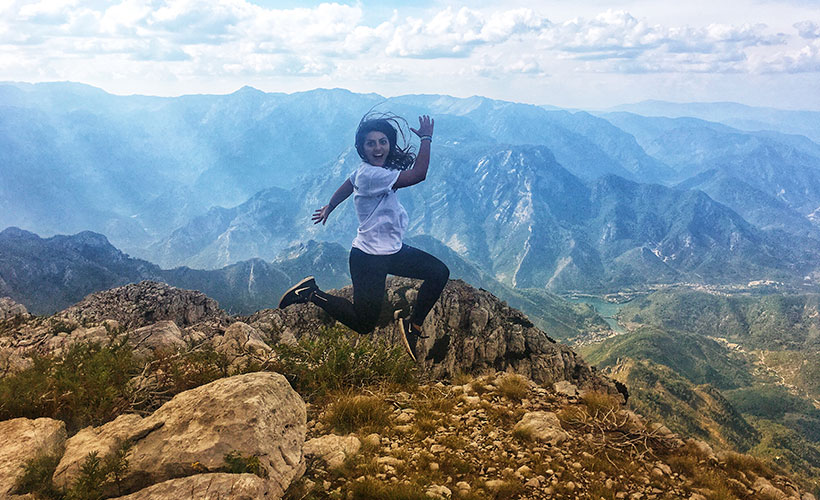 Save the best for last and tackle Mount Prenj. My favourite part of the entire Balkan trip,
Prenj was climbing a spectacular mountain range nestled in the Dinaric Alps of Southern Bosnia and Herzegovina. By a stroke of luck, we made friends with a local who happened to be the President of a local mountaineering club. Before I knew it, we were all on a truck full of cheerful Bosnians making our way up the mountain. Do note that you can walk this part of the trail, it takes roughly five to six hours one way, and it begins at Glosgonica Village.
The trail began with lots of singing and chattering, which was soon engulfed by sounds of me huffing and puffing like a warthog. An hour later, we arrived at the huts. There are two huts, one of them built more recently and to me, it's a work of art. I was blown away by how it has water, heating, electricity, and double glazing.  There's absolutely no chance of you getting cold in this hut that's miraculously warm and toasty.
I busied myself trying to take a picture that didn't make my nose look like Pinocchio (big nose problems), when I was interrupted to try grah. This soup is a tasty mix of beans, onions, and smoked beef that leaves you feeling delightfully full and sleepy.
Little did I know that the grah is fuel for the next leg of our upward climb. It takes around three hours to reach the peak – Izgorjela Gruda – from the hut, and needless to say, the views are spectacular. Even along the way, I can guarantee you'll get Instagram worthy shots. A word of caution, though. Sometimes, there are loose rocks along the trail, so keep an eye out for them and yell "Stijena!" (rock) to warn the other hikers lower down the mountain. 
Tip: Get in touch with Naid Keskin, President of the Mountaineering Club, if you want to scale Mount Prenj. A day tour with him costs €40 (approximately USD47) inclusive of transportation and guide services. He has a lot of knowledge and insight to the mountain, and can hook you up with the best views and safest routes to tackle. The price of the huts are €7.50 (approximately USD9) per night. Naid has the key to the hut, too, so keep him happy.
Now, for some general advice:
Where to stay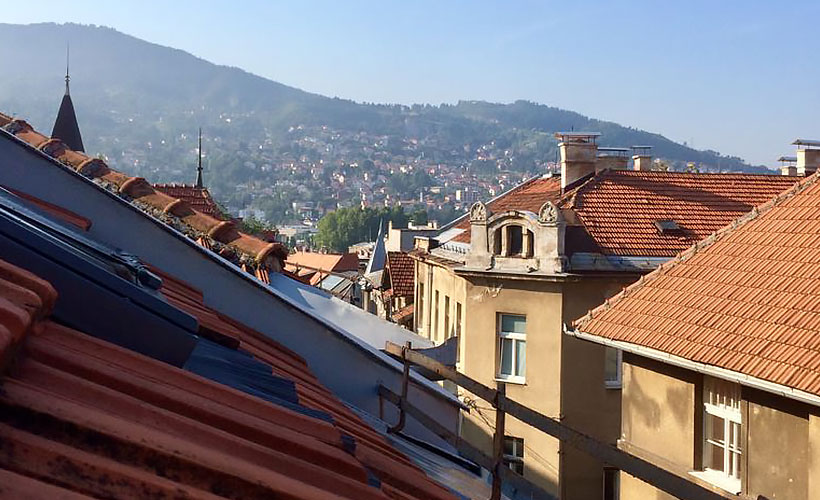 Ideally, use a combination of Airbnb, Hostelworld, and Booking.com. As a guide, it should cost you about €40 (approximately USD47) per night for a four-person apartment in Sarajevo using Airbnb and Booking.com. Using Hostelworld in Konjic and Mostar proves to be more cost effective at €10 (approximately USD11.70) per person.
Transport
Renting a car is extremely reasonable price-wise. A quick search on Sixt and Rent. It allows you to rent a car for as little as €16 (approximately USD19) a day. Do bear in mind that this doesn't include insurance, and that cars in Bosnia are left hand drive on the right side of the road.
Currency
The currency in Bosnia and Herzegovina is called the Konvertibile or Bosnian Mark (KM/BAM) and exchange rates are roughly €1 to KM1.96. Bosnia has a closed currency, and this means you won't get a hold of it outside the country. If you're really stuck, some places accept Euros. Remember to exchange any leftover currency before you leave the country because you won't be able to once you're home.
All in all, Bosnia's the place to be if you're looking for a reasonably-priced and adventure-packed trip. The country's just brimming with breath-taking sights, warm people, and food that'll tantalise your taste buds. So, when in Europe, try something a bit different and get yourself on the next plane to Bosnia.
*All photographs are courtesy of author. 
Get all the latest travel stories from Zafigo. Follow us on Facebook, Twitter, and Instagram.