The city-state of Singapore is known for glittering modern structures, historical neighbourhoods and some of the world's best bars.
To accommodate the millions of tourists flooding the island every year, boutique hotels have sprung up like flower blooms in spring, each with their own individual style. For a stay in Singapore that you won't soon forget, book one of these hotels:
The Forest by Wangz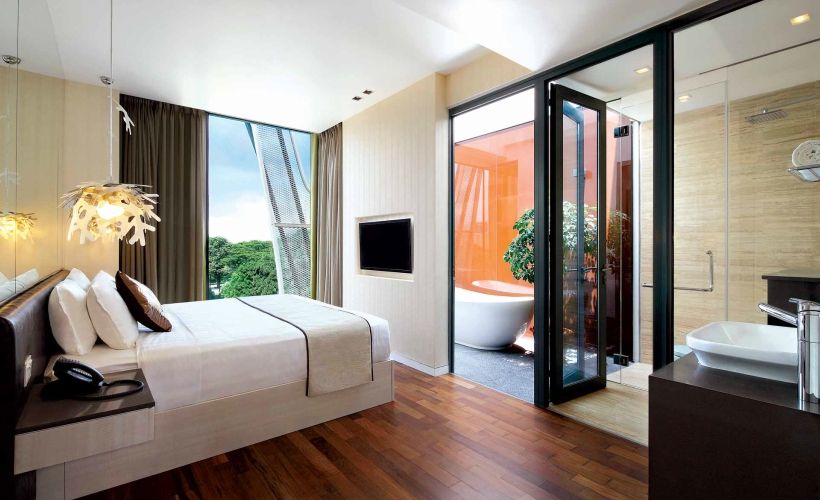 Keeping with the natural theme of its name, The Forest by Wangz is an urban oasis set within the hustle and bustle of Singapore – its design is inspired by lush tropical rainforests. As you meander through the space, you'll see specially-commissioned artworks dotted around the hotel, which are a treat to discover as you wander around.
The boutique serviced apartments, fitted with hand-picked designer furnishings, are suited for short- and long-term stays. Whether it be for business travellers or fun-seeking holidaymakers.
Each stylish apartment comes with a fully-equipped kitchenette, LED TV, and Wi-Fi.
Located within a residential area, it's a mere 10-minute walk from the Novena MRT Station and near several locations of interest, such as shopping malls and eateries.
Popular tourist attractions like Orchard Road (10 minutes by taxi), Marina Bay (15 minutes by taxi) and Universal Studios Singapore (20 minutes by taxi) are also easily accessible.
Address: 145A, Moulmein Road, Singapore 308108
Lloyd's Inn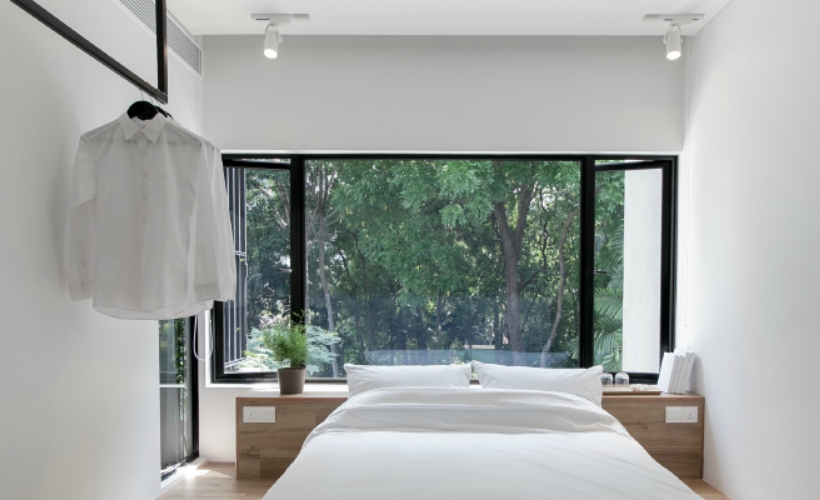 The folks at Lloyd's Inn understand that sometimes, simplicity is best, which is why the inn has embraced a minimalist style, with only light touches of greenery here and there. Its airy surroundings and few decorations give you the space to actually take a breath and relax.
Lloyd's Inn offers eight types of rooms, each tailored to the needs of different types of travellers. For example, The Skyroom offers an outdoor bathtub with a clear view of the heavens while The Garden has a small private garden that you can treat as a mini oasis.
Don't miss out on taking a dip in their pool too, which is lined with lush tropical foliage and comfortable sunbeds, where you can soak up some rays. If you prefer moonlight swims, just float on your back and watch the stars twinkle above.
For all its quiet and calm, it has a surprisingly central location – Singapore's shopping mecca of Orchard Road is less than 10 minutes away on foot, as is Somerset MRT Station if you're headed elsewhere.
If you're unfamiliar with the area, Lloyd's Inn has a useful walking guide for guests to take with them as they explore the streets. Besides local cafes and nightspots, the map includes the locations of nearby ATMs, a pharmacy and money changer.
Seeing as it's one of Singapore's most popular boutique hotels, we'd recommend that you book as early as possible to avoid being disappointed.
Address: 2, Lloyd Road, Singapore 239091
Hotel Vagabond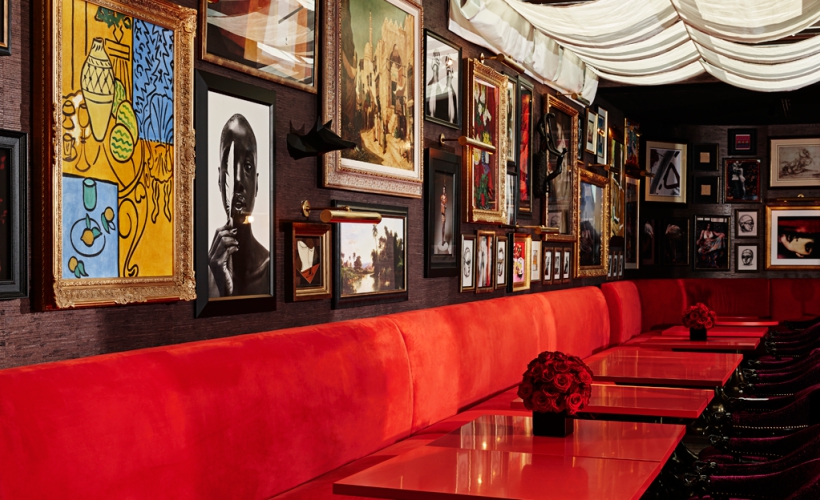 For a taste of Parisian decadence, look no further than Hotel Vagabond. It's the first hotel in Asia to be designed by world-renowned French architect and interior designer Jacques Garcia, and everything about the hotel invites you to let your hair down. It's inspired by the French capital's love of the arts, prominently featuring works from all around the world.
Spend an evening at Vagabond Salon, where you can enjoy live performances by local and visiting artistes while sharing good food, drink and conversation.
Back in your room, recline amid plush luxury with 400 thread count Egyptian cotton sheets and goose down pillows and comforters.
In terms of exploration, the colourful heritage enclaves of Kampong Glam, Little India and Chinatown are right at the hotel's doorstep, while the Central Business District and key attractions like Marina Bay and the Singapore River are mere minutes away by car.
Address: 39, Syed Alwi Road, Singapore 207630
Wanderlust Hotel
The aptly-named Wanderlust Hotel is a four-storey whimsical wonderland that attracts similar-minded travellers. It may appear quaint and ordinary on the outside, but once you step through its doors, you're in for a pleasant surprise.
Each floor of the hotel features a different concept. Level 2 has rooms where everything is painted in a single Pantone color. Going up a floor, level 3 follows a 'paper' concept, where rooms are replete by origami or pop-art. Finally, the top floor is an eclectic mix, from housing a space-themed room complete with a rocket ship to another fashioned after a treehouse.
If you can pull yourself away from your quirky room, be sure to explore the streets of Little India, which are full of their own character.
Address: 2, Dickson Road, Singapore 209494
Hotel 1929
Housed within a listed heritage building in Chinatown, Hotel 1929 works around rather than against the historical structure. Staying here allows you to experience Singapore's rich history through the hotel's extensive collection of historical black-and-white photos, placed throughout the walls of its corridors.
While cozy in terms of space, the design makes the most of it while incorporating a contemporary style complemented with bright pops of colour. Some rooms come with their own balconies overlooking the vibrant Keong Saik Road, while the Terrace Suite offers a view of the neighbourhood from the private rooftop verandah, where you can indulge in a late breakfast or bubble bath in the outdoor bathtub.
Address: 50, Keong Saik Road, Singapore 089154
The Sultan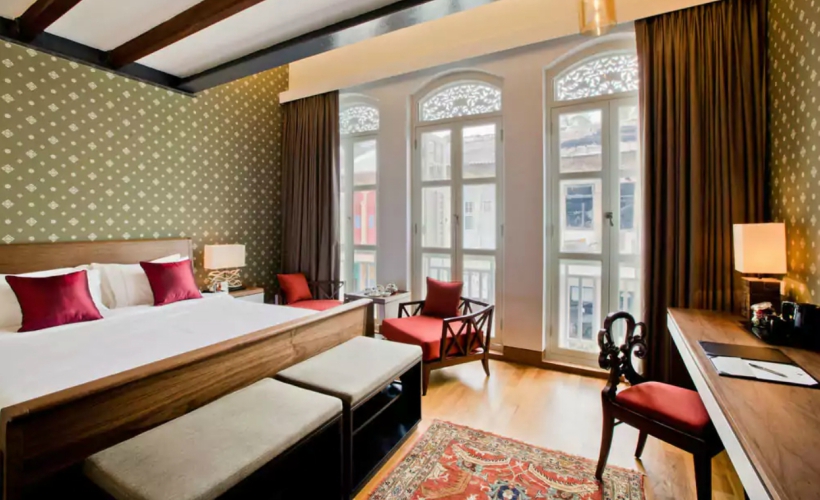 Experience the old-world charm of Singapore at The Sultan, where you'll feel like royalty as you're wrapped in the hotel's subtle elegance and understated luxury.
Comprised of 10 heritage shophouses, you can choose from any of the hotel's eight room types, each meant to cater to guests' different budgets and needs.
Hide away from the world in the Attic Room, which offers a tranquil escape, or be gently woken up by the sun's rays in the Skylight Room, where your bed is placed right beneath a wide skylight window.
Pop out of the hotel and take a stroll around the neighbourhood's trendy cafes and shops. As Kampong Glam is a predominantly Malay area, there are plenty of halal eateries around, ranging from Middle Eastern to Indonesian cuisine.
If you're into vintage clothes and jewelry, check out Arab Street and Haji Lane, where tiny shops are treasure troves of unique finds.
Address: 101, Jalan Sultan, Singapore 199002


This story was originally published on Traveloka.
Zafigo republished this story in full with permission from the author to hopefully bring the story and the author to a larger audience, simply because good authors and stories should be read by as many people as possible! If you are keen on Zafigo republishing your stories that will be of interest and useful to women travellers especially in Asia and the Middle East, please get in touch with us at [email protected].