It goes without saying that travelling alone can be an exciting and rewarding experience, but for solo women travellers, it isn't without its risks and challenges. However, by arming yourself with research, resilience, and courage, you can have a positive and unforgettable trip. Egypt is full of unique and interesting landmarks, rich culture, and ancient history that continues to fascinate everyone — including scientists — to this day.
If you're planning on discovering the wonders of Egypt solo, here are our top tips for a safe and successful adventure.
Hire a guide
The most popular tourist attractions of Egypt can get extremely busy, so if you want to enjoy a little more solitude, you may want to head off early in the morning to beat the crowds. However, one of the best ways to see all of these sites is to travel with a tour guide or Egyptologist. There are ample travel agencies that can provide you with a specialist guide, either alone or together with other travellers, to help you enjoy day trips smoothly and safely.
You can choose from a multi-day tour which visits different sites each day, or book individual tours for each place you want to visit. After all, just because you're travelling solo doesn't mean you have to be alone. Many people meet life-long friends whilst travelling and end up exploring the sites in groups, which can be more fun and arguably much safer.
No trip to Egypt would be complete without visiting at least some of the 118 world-famous pyramids, along with the magnificent Sphinx. But aside from the obvious landmarks, there are many other historical treasures to be found in Egypt. From the Al-Azhar Mosques to the Valley of the Kings, to the Citadel in Cairo, and the Museum of Egyptian Antiquities, there's no shortage of ancient artefacts on display around this vibrant country.
Soak up the sun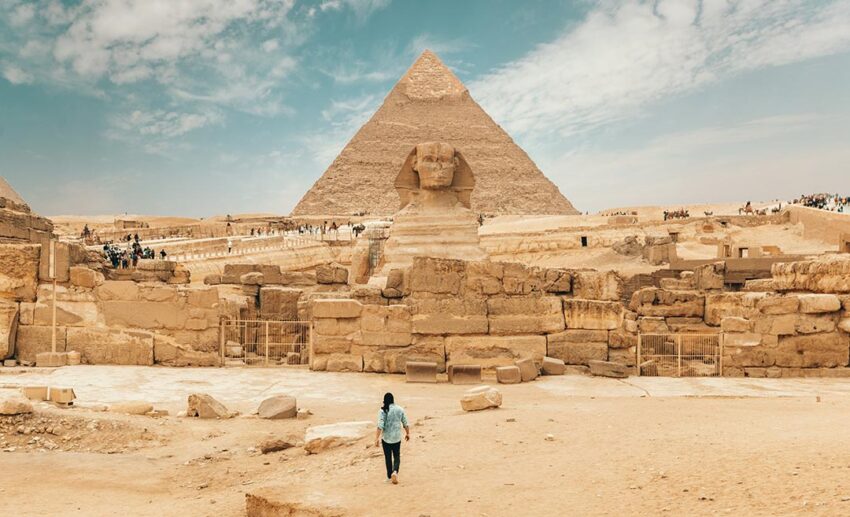 Found in South Sinai, Ras Muhammad National Park was the first National Park of Egypt, designated to protect the Red Sea Reef which is a famous hotspot for ocean explorers. There is a selection of shipwrecks waiting to be discovered beneath the waves, with the chance of spotting sharks, green turtles, and an abundance of colourful fish swimming through the beautiful coral reefs.
Once you've dried off, be sure to head to the inland region of the park to explore the Temple of Horus, an Egyptian temple built over 2,000 years ago. This is the second largest temple in Egypt, and is a sacred site where the god Horus was said to have fought a mighty battle with his uncle, Seth, after discovering Seth had murdered Horus' father Osiris.
If you're in need of some company, head to Sharm El Sheikh for miles of golden beaches that glisten next to the warm waters of the Red Sea. After soaking up the sun you can refresh in one of the many open-air bars, grab a bite at a local restaurant and even enjoy the area's vibrant nightlife scene.
Stay safe
Travelling solo and safely around Egypt requires mostly the same wisdom needed to stay safe anywhere in the world. Avoid walking alone at night through areas that aren't part of a designated resort and have your mobile phone fully charged with your GPS location available to at least one friend or family member.
As a Muslim country, many Egyptians value modesty and so it's important to be respectful of their culture. You can avoid unwanted attention by investing in a trendy headscarf from one of the many colourful markets and wearing modest clothing when off the beaches or resort. An added bonus is that a scarf will protect you from the scorching sun when traversing the deserts of Egypt.
Sadly, poverty is rife in rural parts of Egypt and pick-pocketing is common. Be vigilant with your bags and keep your valuables close when exploring areas outside the resorts. If you ever feel threatened, or like you're being followed, pop into the nearest mosque. As a sa-cred space, you will be protected and most locals are very friendly. They'll gladly help if you feel unsafe or are in trouble.
Enjoy yourself
No matter where you choose to go when discovering Egypt, the unique sites to be found here are sure to provide an unforgettable experience. Travelling solo can open so many doors, from self-discovery to making new friends, and is a massively rewarding experience you should be proud of. Enjoy your trip!