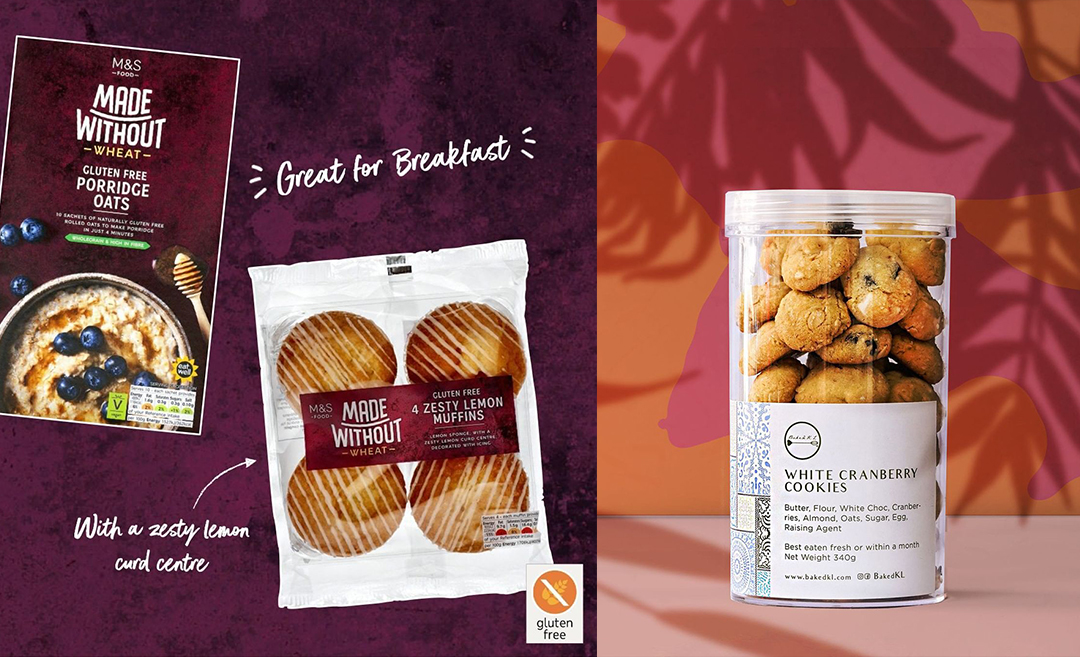 Subscribe to our new 

Telegram

 channel for the latest updates.


Whilst a food intolerance attacks the gut, causing pain and sometimes embarrassment, an allergy can land you in the hospital as your body attacks the pesky invaders and manifests itself as rashes, hives – or worse – anaphylactic shock. Reading labels religiously is imperative.
With more of the population being aware of their gut sensitivities, or diagnoses ranging from the women-only Polycystic Ovarian Syndrome (PCOS) and Endometriosis, Hashimoto's disease, and thyroid issues affecting more females than males, Coeliac disease and lactose intolerance, allergy-friendly foods are being sought more than ever.
Some eight years ago, I went on a personal mission to heal my gut and allergy symptoms (bloatedness, epic farts, diarrhoea, brain fog, excruciating migraines, itching). Back then, my only options were literally Asian-style soy milk and gluten-free bread that crumbled like cardboard. But now, things are different. 
From the easiest spots to pop into when you're out of 'mylk' (dairy-free plant milk) to speciality options for succulent fresh bread, plant cheese for that wine night or co-yo (coconut yoghurt), we've got you covered comprehensively. Hot tip: Parents of children with sensitivities, bookmark this page! 
*GF (gluten-free) DF (dairy-free)
SUPERMARKETS
Tesco and Giant are great for general shopping and carry a range of soy, almond, and oat DF mylks to pop in your basket. A cost-effective barista standard mylk is V-SOY Low Sugar & For Barista at under RM6 a litre. For baking and cooking, Homesoy Original Soya Milk at under RM3 a litre is a steal. The organic aisle is also worth a gander for surprise finds and millet grains – a fab GF couscous substitute. Shop in-store or online at HappyFresh. 
Village Grocer, Jaya Grocer, Ben's Independent Grocer (BIG), Qra, Cold Storage, Isetan KLCC, Ampang Grocers, and Hock Choon are just some of the speciality grocery stores that carry locally-produced and imported pasta, mylk, cereals, DF cheese, spreads, and GF sauces (soy, oyster, fish) as well as baking mixes and ingredients from trusted brands such as Woolworths, Orgran, Bob's Red Mill, and Doves Farm. BIG also carries imported Schar brand shelf-stable bread rolls, loaves, and pizza bases – all stuff worth stocking up on. Wander all the aisles, you might find surprises like GF Vegemite, plant-based Milo powder, and UHT packs. 
Shop online here: 
Walk-ins only:
Ampang Grocers: 40, Persiaran Ampang, Wilayah Persekutuan, 55000 Kuala Lumpur.
Hock Choon: 241, 1, Jalan Ampang, Taman U Thant, 50450 Kuala Lumpur.
Marks & Spencer
View this post on Instagram
Dotted all over our country, Marks & Spencer (M&S) Food Halls carry a great selection of their own Free From Wheat brand for GF folk and their Plant Kitchen line for those who need to be DF and egg-free (vegan). GF bread, buns, cake and viennoiseries are just the tip of what's on the shelves. However, it's in-store shopping only, or if you live close enough to one, they're available on GrabMart and FoodPanda Shops. Tip: Bring a cooler bag for the frozen produce. And don't miss out on the GF fish fingers and DF ice creams!
Vegan District
View this post on Instagram
A dedicated plant-based supermarket in Dataran Sunway. Everything they stock is completely DF and there are several GF offerings as well. Look out for Schar brand breads and local DF chocolate by Benn's Ethioca, made with cacao beans from local and regional farmers. Benn's much-awaited launch of Gourmet Plant-Based White Chocolate is also available here – perfect for baking or snacking on straight out of the 1.5-kilogramme bag. An extensive range of plant mylks, instant coffee packs, yoghurts, ice cream, and plant cheeses — both local and imported — are stocked. 
Vegan District cold ships same-day delivery for a flat rate of RM10 for orders under RM150, for selected Klang Valley locations (free for orders above RM150). They also ship any and all of their products anywhere throughout Peninsular Malaysia via their online store and Shopee store.
BAKED GOODS
WheatFree For You
View this post on Instagram
Malaysia's first dedicated 100% GF bakery boasts an impressive selection of breads – yeasted, sourdough, and yeast-free to cater to a diverse customer base. Most breads are also DF, egg-free, sugar-free, and preservative-free. Cinnamon rolls, bagels, bread loaves, scones, doughnuts, cakes, and festive delights such as gingerbread houses are a peek into what's on WFFY's menu. All breads are gum-free, something people with sensitivities will appreciate. 
Orders can be made directly through their WhatsApp and they ship throughout Peninsular Malaysia. Orders in the Klang Valley can be picked up at their location in Kepong, delivered for a fee by WFFY, or a runner service can be arranged. Orders to be placed three days in advance or visit their booth at Desa Park City Farmer's Market every first Sunday of the month to buy off the shelf.
Brownie Points By Ivy
View this post on Instagram
Looking for celebration cakes and to support a local one-woman outfit in the Klang Valley? Ivy's Devil's Food Cake can be made GF, DF, and egg-free without compromising on rich, chocolaty flavour! A soft chiffon cake for teatime is also popular along with baked doughnuts, bread rolls, and loaves. Baked in a facility that also contains wheat and milk, all allergy-friendly items are baked in a separate room. Orders can be placed via WhatsApp and collected in Bukit Antarabangsa or with a runner service at your own expense. Ivy even has out-of-towners placing large orders to bring back home. It's that good! 
Yummy Doodles
View this post on Instagram
Yummy Doodles may be a relative newcomer on the allergy-friendly scene, but they have some hardcore fans in the Klang Valley. Many have gushed over how the brioche loaf is, "The BEST loaf of gluten-free bread I have ever had!" The focaccia, pictured above, looks mighty inviting as well. Yummy Doodles is exclusively gluten- and nut-free, with customisation options for being prepared dairy- and egg-free. You'll also find items that are fully vegan and gum-free on their menu. The well-loved GF brioche is available in a fully plant-based version sans eggs, dairy milk, and butter. Now, that's a feat! Advance order is required and only available within the Klang Valley (pick up at KL Sentral or delivery via Lalamove or Grab).
BakedKL
View this post on Instagram
BakedKL is a favourite for naked style cakes and famous for their selection of brownies. Seasonal festive drops are inclusive too, with plant-based options like Vegan Pineapple Bombs (pictured above) à la kuih tart. Cakes sweetened with lakanto, a monk fruit sugar-free alternative, are on the menu with most cakes customisable to be DF, egg-free, and/or GF with a small top-up. 
Advance order online is appreciated, however, most times orders before 11am will be eligible for same working day delivery. Delivery can be arranged by BakedKL or by you. Or you can pick up the goods yourself from Taman TAR in Ampang for 5% off. Nationwide, brownies and selected cookies can be ordered via the BakedKL Shopee store. Brownies available on the GrabFood app if you're within distance of Taman TAR.
Tedboy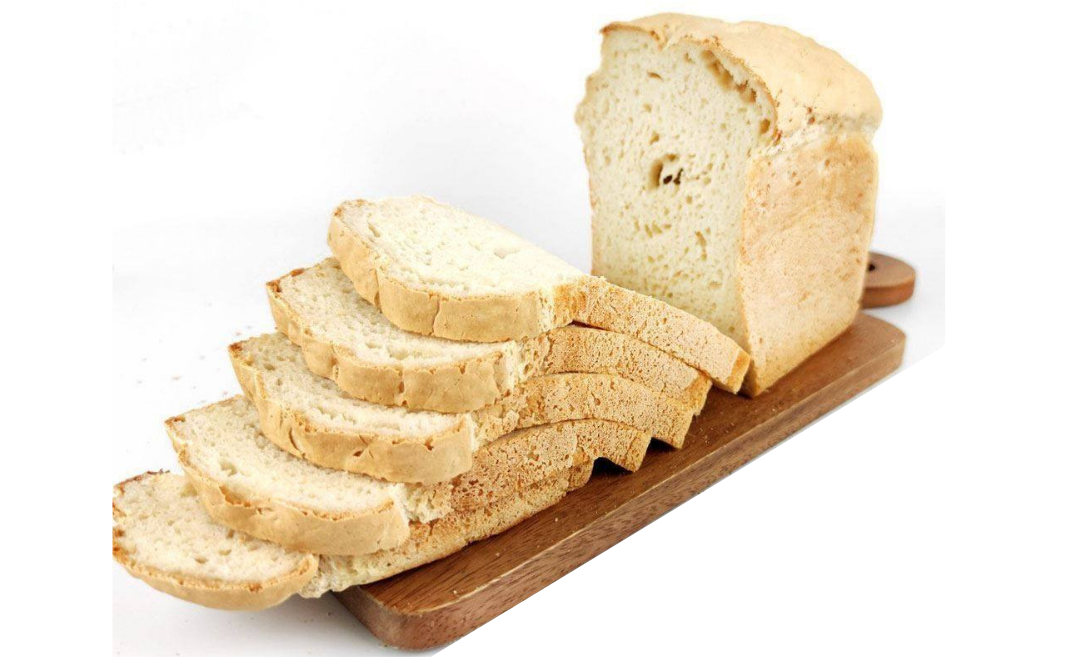 Bakery chain Tedboy introduced their GF line in mid-2020 with four items – Chocolate Cake, Almond Lemon Cake, and bread loaves in Junior and Regular sizes. Though a modest offering, it's also an economical one. An order of bread comes in threes – regular size (at 1.2 kilogrammes each) is RM48 while junior loaves (at 500 grammes each) are a wallet-friendly RM28. Items are baked to order on their website and on their Lazada store. Delivery within the Klang Valley only. Advance order recommended.
CHEESE, YOGHURT, & ICE-CREAM
Sunglo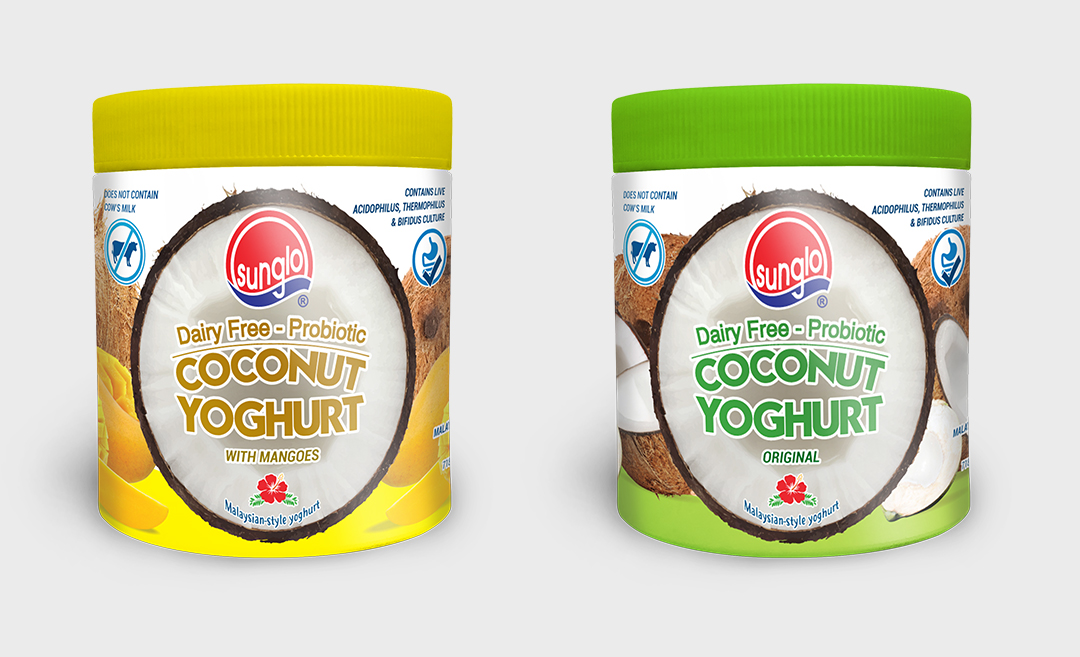 Sunglo is available at most major supermarkets with their dairy line of yoghurts, lassis, and paneer. Here's a little secret… Order their DF probiotic Coconut Yoghurt that's available exclusively online and get it cold delivered to you free of charge with a minimum spend of RM30 in the Klang Valley. There are three variants too (Original (plain, slightly sweetened), Palm Sugar, and Mango) and they come in two sizes – a hefty 650-gramme tub for the family and individual 90-gramme pots perfect for a lunchbox. They're priced for a steal too at between RM1.14–RM8.06.
My Plant Deli
View this post on Instagram
My Plant Deli has been wowing local DF and plant-based palates since 2017 with their exciting range of cheeses and ice creams. Organic soy or sunflower seeds form the base of their cheeses. They melt brilliantly and have a familiar oozy, stretchy, creamy quality to them – just what you need for grilled cheese sandos, pizzas, and pasta bakes. My personal favourite? Their plant-based brie that's sublime in a sandwich or on a cheeseboard. 
A small range of GF ready-to-bake frozen vegan pizzas for those easy dinner nights is also a popular item. Available in the Klang Valley at Vegan District, Green Bamboo Organics, Miyosi Mart and 51.Grocer. In Langkawi at Green House Organic & Natural Care and Greenland. Vegan N'Nine in Negeri Sembilan stocks My Plant Deli ice creams. 
SAUSAGES
Lily's Homemade Sausage
View this post on Instagram
Lily's is Malaysia's first GF, keto-compliant sausage producer. Although, do note that it's non-halal. They're available through Qra Supermarket in Bukit Tunku, KL and a list of other merchants as listed on their Facebook page. Alternatively, you may message Lily's direct on WhatsApp. 
Khaleel
Another Malaysian brand, Khaleel offers GF, real meat sausages and fish cakes to the halal crowd with nationwide agents. WhatsApp for enquiries.

OTHER ONLINE OPTIONS
A quick search on online shopping platforms Lazada and Shopee will bring forth an abundance of GF and DF choices that ship mostly nationwide. Mylks, cookies, and some local enterprising small businesses with flour mixes, dried noodles, and instant food pastes make this option a one-stop-shop from the comfort of your own home which is great because, you know, we're still in a pandemic! 
Special mention goes out to this marvellous chance find of mine, Prestige and Trendy, that's on both Lazada and Shopee. Their Asian-style dried ramen and mee sua noodles are a godsend as subbing pasta for Asian noodles can only satisfy one so much. This is a treasure trove of a shop – everything I've ever got or recommended to someone has gone down aces.
Follow Zafigo on Instagram, Facebook, and Twitter. Sign up to our bi-weekly newsletter and get your dose of travel tales, tips, updates, and inspiration to fuel your next adventure!