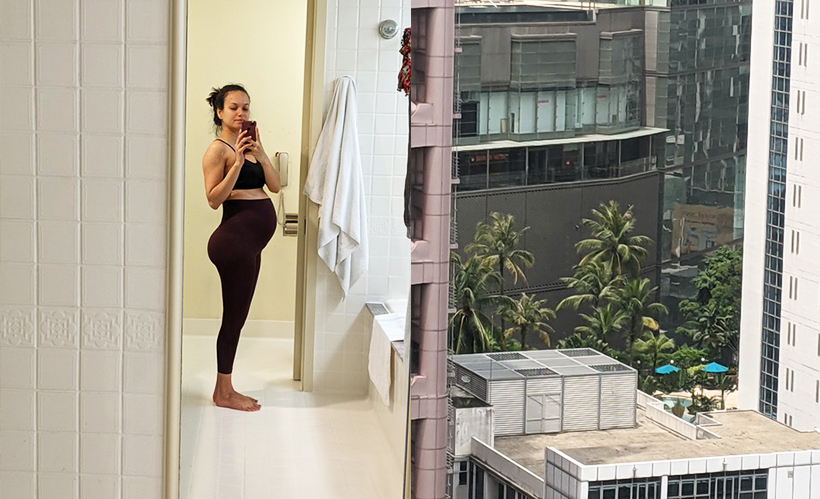 Subscribe to our new 

Telegram

 channel for the latest updates.
At seven months pregnant, my husband and I made the big move back to our motherland – Malaysia. I kept a journal during our 10 days in quarantine, and while the first few days passed by with surprising ease, by the end we were mentally exhausted.
The reactions were mostly the same when we told our friends and family that we were moving back to Malaysia. Half of them were extremely excited, and the other half asked why in the world we'd want to do that considering the political and pandemic situation, opining how easy we had it in Melbourne. My husband, Dinie, and I asked ourselves that too in many of our conversations leading up to the final decision, to make sure that it was something we both really wanted. 
Ultimately, we both agreed that family was the reason – we'd both been away from our families the past eight years, and with our first baby on the way, we wanted to be back with them for the support. We also wanted for our baby to grow up with the warmth of our big family, knowing her cousins, aunts, uncles, and grandparents. 
Our long journey home began with compiling all the relevant documentation needed to apply for permission to leave Australia and enter Malaysia, as well as preparing ourselves mentally for the quarantine we would have to go through upon arrival. 
After months of consulting Malaysia Quarantine Support Group (MQSG) – the Facebook group set up for travel and quarantine support that's now amassed nearly 70,000 members sharing their experiences – we had to deal with flight reschedules and cancellations from Malaysia Airlines; rebooking with Singapore Airlines; liaising with Istana Hotel to organise our quarantine; selling, giving away, and packing all our worldly belongings; a baby shower and a few farewells. We finally left Melbourne on the 23rd of April 2021, arriving in Kuala Lumpur (KL) the next day.
Day 1
We land in KL at 9.30am. It's an odd scene to see KLIA so deserted, but compared to Changi and Melbourne Airports, it's the busiest one. There are many, many checkpoints to go through, and while I'm not entirely clear on what each checkpoint does, it moves pretty efficiently and we get things done like checking in with the MySejahtera app, a swab test, payment for said test, and confirmation of our Premium Package booking. 
Our status on MySejahtera is updated to PUS (Person Under Surveillance) and we're directed to undergo a quarantine period of 10 days. We could've shortened it to seven days if we took a test in Melbourne within 72 hours of arrival, but I want to make sure that we didn't catch anything during the travelling period. 
Immigration's a breeze. There are no more autogates to go through, but there's also no line, and interaction at the counter is short and sweet. After another verification of our Premium Package booking, we're led in small groups to go and collect our luggage, which are already waiting for us. Pregnancy privilege means I get to stand back and relax while my husband wrestles with all 15 pieces of our luggage and gets them through customs. One of the volunteers kindly helps him with this.
It's nearly 11am when we step out of the airport and into the stifling humidity. A far cry from the crisp Melbourne autumn we've just left behind. A row of drivers in PPE suits are waiting for our little group, and as we confirm which pre-booked van is ours, our luggage is spread out on the ground and doused in a sticky spray of sanitiser. Then, we're loaded on to our van and on our way to Istana Hotel. 
The drive takes about an hour. In between my mild panic attacks at the way our driver is using his phone and switching lanes without indicating, I have plenty of time to muse on the reality that we've just left behind eight years of building a safe and comfortable life in Melbourne. I won't lie; I'm apprehensive and wondering if I'll feel like we've made a mistake in coming back. I'm worried about the current COVID-19 situation here, wondering if I'll be able to find a job, and nervous about becoming a mother and adjusting to a life that might be more difficult than the one we left behind. Despite all these anxieties though, the overwhelming feeling is one of happiness to be back. Homecoming is truly a one-of-a-kind feeling. 
When we finally reach Istana Hotel, we're greeted by the sight of an ambulance waiting outside the entrance. Someone in the hotel has tested positive for COVID-19. We remain in the van while they're escorted out and the whole lobby and area is disinfected. The process takes about half an hour, and once they're done, check-in is fairly straightforward. We're added to the hotel WhatsApp chat group for support and queries, sign a couple of forms, and then are on our way to our room. 
I am pleasantly surprised at how spacious the room is. We have a king-sized bed, a couch and coffee table, a desk and chair, a big TV, and plenty of space for activities. The window is huge and overlooking the AIA building and Pavilion, with lots of sunlight streaming in. The bathroom too is pretty roomy, and equipped with a bathtub, a separate shower, and a double sink. The furnishings are a little dated, but everything is clean and in working order. We're provided with two cartons of bottled water (24x500ml), some tea and coffee, and various toiletries. Breakfast, lunch, and dinner are served at designated times during the day. We don't get to choose the meals, but having paid for a Premium Package, the food is meant to be good. 
My first order of business is to wash the grime of travelling off and lunch arrives just as I'm done. The doorbell rings and the food is left on a chair outside our room door, served in packaged trays. Lunch is grilled chicken with mashed potatoes and gravy, whole roasted garlic, mini quiche tarts, and what I think is meant to be a lobster bisque type thing. There's also a slice of chocolate cake on the side. 
After lunch, I want to start being productive right away. I have a list of things to do during quarantine, and am determined to form some kind of routine, but I finally decide that what I need most today is rest. There's no better feeling than sinking your weary body into crisp white hotel sheets and getting cosy while the air conditioner blasts cold air. 
When I wake up from my nap, it's dinnertime – rice and fish, some steamed vegetables, and fresh fruits. Immediately after dinner, I call reception to request extra pillows for my pregnant self, and they're happy to oblige. 
Then, I decide it's time to get started on what I've been looking forward to most during quarantine: having a million baths. We've stocked up on bath bombs for this, and the one I choose today is a calming blend of lavender and chamomile. It allows me to quiet my racing mind and let go of the stress of organising our move, to be present in the knowledge that we're finally here and ready to start the next chapter of our lives. I allow myself to succumb to exhaustion and fall asleep at 8pm, snug in my nest of four pillows. 
Day 2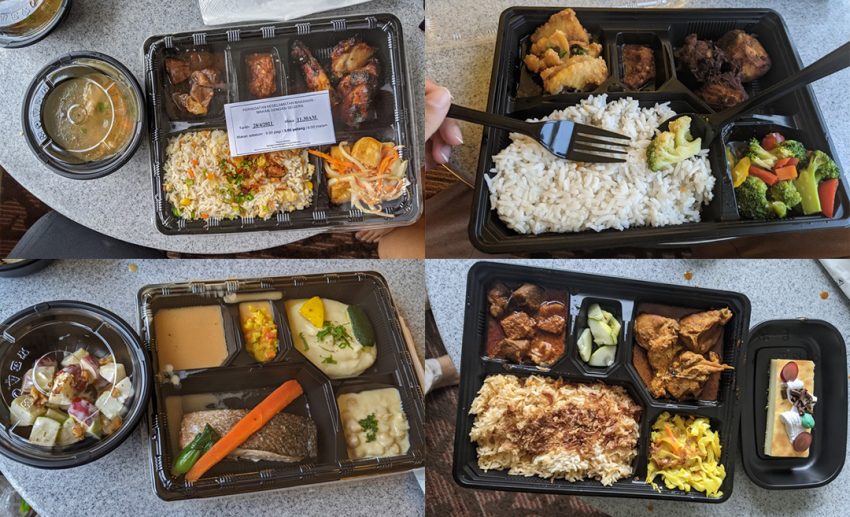 I wake up naturally at 7am and decide to start my day then. Breakfast arrives at 7.30am, giving me just enough time to freshen up. There's mee goreng, strips of omelette, spicy potatoes, and a bit of chicken, as well as corn flakes, fresh fruits, and some apple juice. I'm slightly amused at how the food seems to be random things thrown together in a fusion style, but also appreciative that the food is plentiful and quite tasty. I dig in while Dinie does a workout and I watch him feeling slightly guilty that I haven't kept up with my fitness the last few weeks. Perhaps before lunch today, I decide.
After breakfast, I'm determined to start my routine of productivity. My plan is to make sure I get showered every morning and change into 'day' clothes, then spend a few hours working on my TEFL course, journalling, and various admin things for when we get out of quarantine. Evenings will be dedicated to relaxing, watching TV, baths, and bedtime around 10pm. I thrive on routine and am convinced that this'll be the best way to pass the time. I did boarding school as a teenager and six months of lockdown in Melbourne, so 10 days in this hotel room will be a breeze! 
I don't manage to do the workout before lunch, but I'm otherwise productive with the tasks I've set. Lunch today is crumbed fish, spaghetti, mashed potatoes, steamed veggies, and a side of Caesar salad. There's a carrot cake for dessert which turns out to be absolutely delicious. We also receive an amenities package with three instant noodle cups, biscuits, potato chips, and some 3-in-1 Milo packets – a pleasant little surprise from the hotel as part of our Premium Package. 
We're also allowed care packages from family and friends with certain restrictions, so we make a list of things to request that my aunt will organise to get delivered tomorrow. We request laundry detergent, snacks, multivitamins, Honey Stars for my cereal cravings (no joke, this baby is a cereal fiend), and extra bottles of water. Oddly enough, the hotel prohibits deliveries of any exercise equipment, including yoga mats, which is a bit of a bummer. I'm curious as to their reasoning. Maybe sweaty COVID-19 germs.
Evening passes with another bath and some Netflix. Dinner is chilli-roasted chicken with potatoes, gravy, a stroganoff-filled pastry puff and sesame dressed salad, with fresh fruits on the side. All in all, I'm a happy bunny after a productive day by the time I go to bed. 
Day 3
Breakfast comes at 7.30am again and it's an omelette, roast tomato, hash browns, and sausages, accompanied by fresh fruits, a mini croissant, and guava juice. The fruits have been the same so far – two pieces each of watermelon, honeydew, pineapple, and papaya. Being a low-risk pregnancy, I think I'm pretty low-maintenance and haven't requested anything special besides extra pillows, but I do make some conscious decisions such as avoiding some of the meats and washing the fruits with bottled water. 
I've been a little worried about how my stomach would cope with the food – every time we come back to Malaysia we have an adjustment period where we inevitably deal with a mix of diarrhoea and constipation, heartburn, and indigestion, but so far so good. I've come prepared with charcoal pills, but it'll be nice if I don't have to use them. Dinie is taking no chances, he says, taking two every morning.
After digesting breakfast, my guilty conscience reminds me that I haven't been working out. It takes a lot of self-pep talk and quite some time of flipping between social media and pregnancy workout videos before I finally get myself up to do it. 
And I do it. 
A 10-minute warm up stretch.
Satisfied, I take a nice hot shower, get into my day clothes and start on my TEFL course. After an hour of this, I mysteriously find myself on the IKEA website. I start making a list of things I'll get for our house when we're out of quarantine. I go back to the TEFL course. Lunch is Japanese-themed today – some rice, chicken, fish, and miso soup. I spend the next few hours on my laptop searching for baby stuff.
Our care package arrives at 5.30pm and it's exciting to open it even though we know exactly what we've asked for. The Yoodo SIM card I ordered and got sent to my aunt's house is also included and I'm glad that now I'll be able to call hospitals and organise prenatal appointments. Dinner comes shortly after, and it's fried bihun with butter prawns, chicken and sup ekor. I avoid the prawns, but the sauce on it's yummy.
After dinner, I call my mum who's based in Portugal to wish her a happy birthday, and then we spend the rest of the night watching TV before I fall asleep. 
Day 4
I wake up feeling enervated and mildly nauseated. I wonder if it's COVID, food poisoning, or plain old pregnancy perks. I eat the sausages, hash browns, and baked beans for breakfast, but leave the scrambled eggs. The portions are big and I'm finding that I don't have time to get hungry in between meals. Which is a blessing, I know. 
Despite feeling very average today, I manage to do my shower-day clothes-TEFL course routine and even start soaking some dirty laundry. I spend the afternoon working on a sewing project – turning an old pair of fleece pants into a blanket for baby. I'm by no means a skilled seamstress, but I can mend a hole, and how hard can it be to cut up a pair of pants and sew it square? Not that hard it turns out, but not exactly that easy either. 
We get the results from our initial COVID test at the airport – both negative. Lunch is rice, veggies, chicken and beef, but I honestly can't tell you what style these are cooked in. Chinese fusion is my guess. We spend the afternoon watching New Amsterdam on Netflix, and then have a video chat session with my best friend who lives in Amsterdam. 
Dinner tonight is my favourite meal so far –  salmon with mashed potatoes, gravy, and a Waldorf salad. More Netflix after dinner, followed by a nice, long bubble bath. We end the night with a random Korean horror movie and I think that today, especially the latter part of, has been the best day in quarantine so far. Only six days to go.
Day 5
Today, I task myself with rearranging luggage contents so that I only have to open one suitcase when I get out of quarantine, as we'll be staying with my aunt for the first two weeks until Hari Raya. I also discover the delights (dangers) of shopping on Zalora for baju raya. Lazada is another dangerous place I discover.  
Lowlight for today: breakfast is a repeat of two days ago and I'm starting to get a bit bored of the food. I've seen a review of someone else doing quarantine at Istana Hotel who requested to switch to local food which he said was better, so I decide to do the same. The catering team are super friendly and happy to oblige.
Highlight for today: fresh bed sheets! The housekeeping team aren't allowed in our rooms while we quarantine so we strip the sheets off ourselves and leave them outside the room as per the instructions. They're supposed to give us a white plastic bag to put the sheets in but we don't receive them during the day, so we put them into the yellow biohazard bags we get provided with for our trash instead. At the designated time of 2pm we also don't receive the change of sheets, so we call reception and they say they'll send them up at dinner time with the correct white plastic bag.
Dinner time comes. They don't send the white plastic bag. They do send fresh linen.
Day 6 and 7
Day 6 passes in a blur of Netflix, IKEA browsing, food, window-gazing, more food, more baths, and more Netflix.
We have a welcome respite from our room on Day 7 when we are called on for our second COVID test. We grab our masks and identification and are herded into the elevator along with others from our floor. Not exactly socially-distanced with almost 10 of us squeezed into the elevator. The back lobby has been set up with tables and chairs, and stations for identification check, payment, and swabbing. It's quick and efficient, and this test doesn't hurt as much as the one at the airport did where the inside of my skull felt violated from the nasal swab. We're back in our room within 30 minutes. 
We seek more excitement in the afternoon by ordering some donuts and cookies from Dunkin' Donuts. I do enjoy them, but remain ever faithful to Famous Amos for having the best cookies.
Since Day 7 is a Friday, we decide to have a party at night and blast (at a reasonable volume) some tunes on our little UE Boom. We have a little boogie, but I tap out after a few shimmies and shakes because lil' ol' pregnant me just doesn't have the stamina I once did.
Day 8 and 9
I abandon all semblance of routine. I remain in my pyjamas all day and mope about how sick I am of the food. Since requesting local food, we have rice for nearly every meal and I'm about to rice out from all the rice we've been ricing. My thoughts are scattered, and nothing makes much sense when I write. By this point, I've taken so many baths I never want to see another bathtub or smell another bath bomb in my life. 
Our test results come back negative, and we are cleared to check out on Day 10. It seems so close yet so far away. 
Day 10
This is it. This is the day we discover that there is life outside this hotel room. 
They inform us that the checkout process starts from 10am to 2pm and that we must wait to be called on. At 9.30am we are ready with our luggage packed, and our room is thoroughly examined to ensure we don't leave anything behind. I hear they incinerate any poor objects left behind. 
At 10.30am there's a knock on our door. The sound of freedom. 
We're escorted down to the main lobby where we go through a few checkpoints to verify our identities, collect our discharge papers, and ensure that there are no outstanding payments.
And just like that, we're free people. 
I'd like to thank my husband for keeping me entertained and sane throughout this period, Istana Hotel for building your rooms with plenty of space, and for feeding us food that's tasty and plentiful (even though I don't think I'll be eating rice for a while, but I guess that was my own doing), and all the frontliners who answered my queries and attended to my needs to the best of their abilities and always with a cheerful and patient attitude. 
Reflecting on the last 10 days, I can say that I'm quite impressed at the efficiency of the quarantine system set in place. Are there areas that can be improved? Certainly. I do recognise, however, what a mammoth task this whole operation is, with so many different stakeholders involved, and I remind myself every day that a little patience and kindness goes a long way.
40460, 36572, 38850