Before I begin, the intention of this article is to offer an insightful and honest 'behind the scenes' view of what it's like to live on a luxury island resort in the Maldives. It's an appreciation of the journey I've had moving here, and I hope it will convey the gratitude, appreciation, and love that I have for my island home – a 5-star luxury resort located in Baa Atoll in the Maldives.
Baa Atoll is situated to the north of Ari Atoll and is a UNESCO World Biosphere Reserve. It is known for its large, unique and diverse coral reef environment of 75 islands that make Baa – as the locals affectionately call it – a marine wonderland of beauty, biodiversity, and biological importance.
So what does an atoll look like? Well, imagine an aquatic neighbourhood of islands lying anywhere from three to 45 minutes away from one another. Some of these are residential islands on which only Maldivian or local communities live, some are uninhabited, and some only hold resorts.
The size of these islands varies too. Some, such as Edyhafushi, the capital island of Baa Atoll, is large enough to contain schools, hospitals, banks, and local businesses in addition to government offices. Edyhafushi measures 1.22 kilometres in length and is 0.60 kilometres wide and with a population of 3,339, consisting of both Maldivians and foreigners, making it the most populated island in Baa. Maalhos, another popular local island with charming guesthouses, has a population of 716.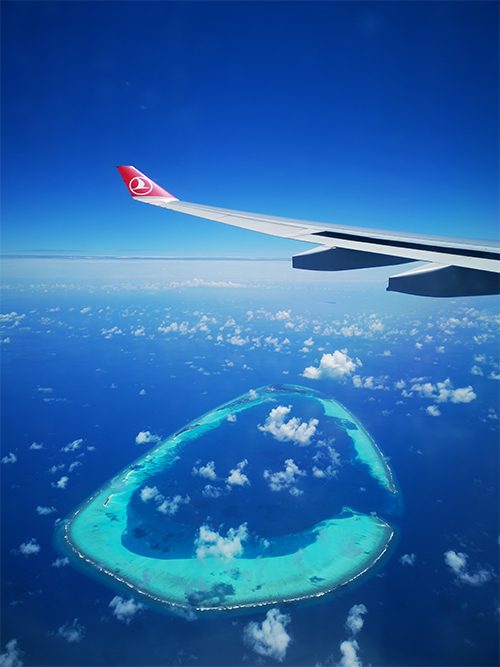 The island resort I live on has a staff population of about 310 people and is 500 metres by 800 metres with a total of 80 villas on both land and over water. It's tiny.
With this in mind, now consider travelling and getting around. Within the atoll, we travel by boat. Our guests travel 40 minutes by seaplane from Male, the capital city where you'd have to transit through Velana International Airport to get to the resort. There are also domestic airlines that connect Male with other atolls throughout the country. 
Travelling by sea is a lovely way to move about. I love the feeling of the sun on my skin and the wind in my hair as the speedboat gently bounces over waves in our chosen direction. Now, consider when the weather isn't great. If the winds or rains are too strong, travel gets delayed. Seaplanes can't land, boat journeys turn into thumping rides, and flights are missed if travelling to the airport becomes impossible. 
Missing your flight home and having to stay another day in the Maldives, you say? Well, that sounds like a dream! What's so hard about that, you might ask. Absolutely nothing, unless you've been here for the last seven months and your island home is starting to appear more like a gilded cage than a hedonistic island escape.
If you're rolling your eyes at my seeming 'misfortune' of having to live in a 5-star luxury resort on a Maldivian island, I get it. If I were you, I'd be rolling eyes at me too. But as they say, the struggle is real. Let me attempt to explain why:
1. There's no privacy
Living within a small community of people that you see every single day, that you don't really have much privacy from, can be a very intimate experience. 
Staff accommodation on the island is cosy, mainly due to the lack of space. We're lucky to have our own villa, not everyone does. And if you think about it, for the most part, other staff members 'see' (i.e. watch, observe, monitor) you all the time, and this by default becomes magnified when you're the boss's wife – my husband is the General Manager (GM) of our resort home. 
Where you go matters. What you say and how you dress matters. 
Humans are social creatures, so yes, a healthy amount of curiosity is naturally to be expected, but I don't think I've ever stepped out of my door freely, without the sense that I'm 'being seen' by another staff member. Anonymity is non-existent here, and for someone who craves her own space and who also places high importance on personal boundaries, this took some getting used to.
The upside: Bright smiles (crinkly smizes above face masks these days) and cheery greetings calling out to you throughout the day – these are really priceless! 
2. Boredom hits you like a brick wall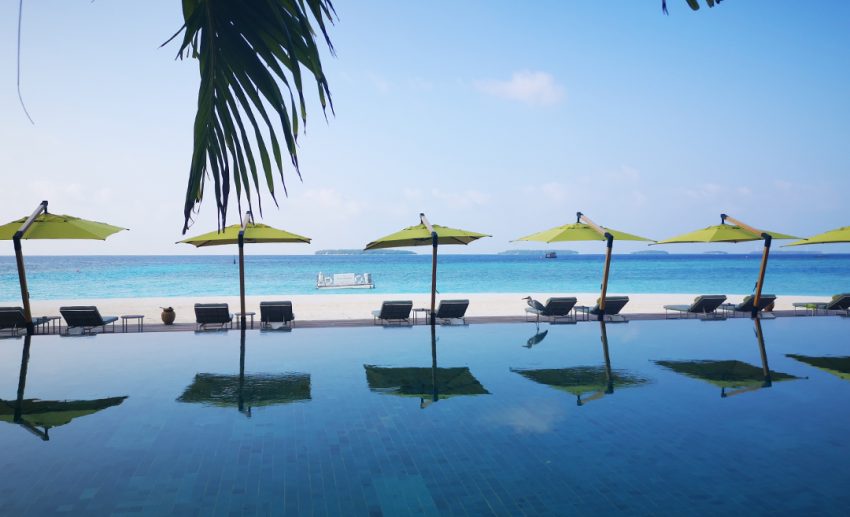 I get asked this question the most, "What do you do all day?" This is the tiniest island I've lived on. You can walk the width of the island in less than five minutes, while eight minutes will get you from one tip to the next. There's nothing scarier to the mind (read: my mind) than having all the time in the world and not knowing what to do with it. I didn't see it coming, but moving to here hit hard. I eventually felt imprisoned by the sheer amount of time and freedom that I had, as ironic as that might sound. 
After I'd stopped pinching myself from disbelief about how lucky I felt to have the opportunity to live here, my mind quickly wandered away from the bruises on my arm to a flurry of panicked thoughts. Thoughts that desperately tried to keep me occupied once the joyful privilege of sunbathing on the pristine, white sandy beaches or snorkelling in turquoise waters along some of the best coral reefs in the world started to fade. 
Getting stuck on the hamster wheel of the mind is an unproductive thing. I kept looking for ways to keep myself distracted from the fear that was lurking behind the question, "Don't you get bored?" because that answer was shaping up to be a resounding "Yes!" After weeks of resisting, a good friend helped me see the light. One day, as I was chewing his ear off on one of my usual rants, he candidly said, "Just be bored! You know it's going to happen, embrace it!" And just like that, something clicked. I surrendered and it changed everything. I started allowing myself to slow down. 
The upside: Slowing down meant listening to my needs. It meant napping if I felt tired, stretching if I felt emotionally or energetically stuck, crying if that helped, or even just watching the clouds roll past. The more space I created for myself to be bored (which I was beginning to see was a construct of the mind), the more relaxed I felt, which led me to feel happier and also more stimulated to be creative and expressive in my yoga practice, my writing, and everything else that I was creating. 
3. The pressure to integrate

 
My Myers-Briggs Type Indicator (a personality test) state's that I'm an extrovert, but while I love meeting new people, over the last few years, I've found being a wallflower pretty enjoyable too. Unlike other resort GM's wives I know, I tend to keep an intentional distance from resort guests, unless a special occasion requires otherwise. Someone remarked the other day, "Oh, how do you live here? You have no friends!" "Well," I responded, "I actually have 300 friends and they're all here on this island!" We both laughed as she realised that I was referring to the resort staff members. 
I realise now that I put a lot of pressure on myself to assimilate into the resort's community because this is where I live. We have an incredibly diverse staff population from the Maldives to all over Southeast Asia, Europe, Africa, and the Middle East. Truth be told, integrating here was rough in the beginning, and had it not been for the COVID-19 pandemic and the resulting lockdown, I probably wouldn't feel as at home here as I do now. 
During the lockdown, the resort shut for six months, and as the world started retreating into their homes and social distancing, we were moving in the opposite direction. We were stuck on the island. There were no international flights to return us to our homes, no boats were in operation, borders were closed, and inter-island travel prohibited. With the resort shut, there were also no job titles, no meetings, no guests to serve, no rules (almost!), no schedules – we were a motley crew of 300-odd people on an island in the middle of the Indian Ocean living together and it turned out to be one of the best gifts I (and the resort) received this year. Spending lockdown on the island had its own challenges, but it created new friendships and bonds that are strong, genuine, and deeply supportive of one another. 
The upside: Integrating into the community has become easier. Due to new social distancing policies, the staff cafeteria has a manned buffet service and I join in serving lunch on Friday. It's a great way to contribute and get to know everyone better, and there's less pressure on my end to feel the need to belong. 
4.

 

A lack of convenience

 
Had travel not been halted this year, this would've been of little importance. Getting items you need to a remote location in the Maldives takes longer as everything is flown in from abroad and then travels on a boat to the resort. During the lockdown, items became limited; our food supply shrunk and delivery times grew longer. There are a limited number of stores and healthcare services in the atoll. When you need something, you get what's available locally or you order it online, wait for a considerable amount of time for it to arrive, and pay an inappropriate amount of tax on top of that. For someone who's used to the convenience of a store, supermarket, hospital, dentist, or such, adjusting to this perceived inconvenience took a while. 
The upside: I learned to live with less and realised that I didn't actually need a lot of the creature comforts I thought I did. I gained more clarity on what I really needed and this was a pretty liberating exercise. My biggest changes were in my food choices. As someone who prefers a vegan diet, I realised I had to be flexible during lockdown to eat happily and healthily. 
I'm grateful I feel freer now, otherwise, paradise wouldn't be very nice. 
Get all the latest travel stories from Zafigo. Follow us on Facebook, Twitter, and Instagram.
36463, 40296, 38412