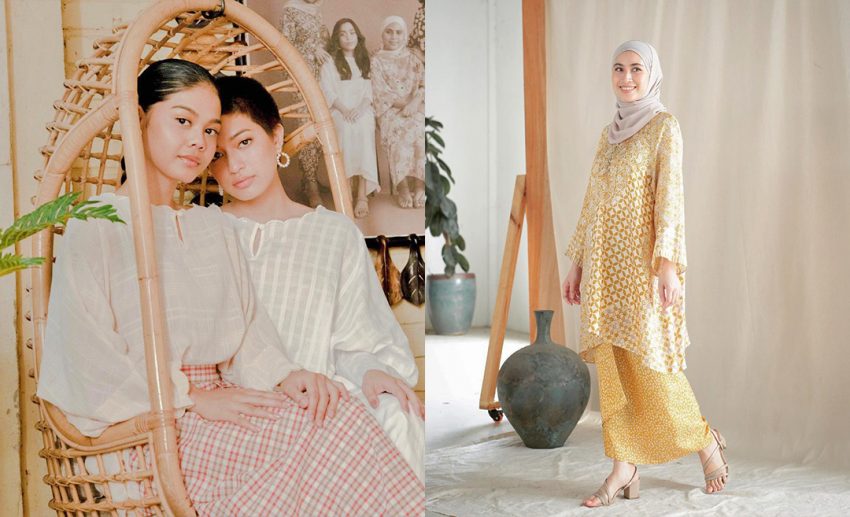 Subscribe to our new 

Telegram

 channel for the latest updates.
Ramadan is upon us, which also means it's time to get your festive wear sorted for those family photos on Hari Raya. For 2021, there's a sense of new energy and freshness as the world emerges from lockdown and into the new normal. Expect the same vigour in the form of refreshed silhouettes and updates on classics that'll make for a very stylish Eid.
Here to save you from a virtual hunt is our curated list of online (and some offline) local brands and labels that might have in store the Raya outfit of your dreams.
1. SHALS
View this post on Instagram
If SHALS' last Raya release was anything to go by, then you'll know each piece from the brand is highly coveted. Founded by the ever-so-stylish Shalma sisters, you can count on the design to marry modern cuts with traditional prints. The SHE RAYA collection has 20 versatile designs, so you can rock each garment even after Raya season.
---
2. Thea
View this post on Instagram
Any purple lovers out there? Thea executes this colour flawlessly and effortlessly. Even if that's not your theme this year, every hue is given ethereal flair – like delicate lace touches, embossed details, and billowing silhouettes. 
---
3. LILIT.
View this post on Instagram
Pleasing neutrals and pops of green galore — that's what you'll notice about LILIT.'s Raya release this year. Fans of the traditional baju kurung and dresses can both find their ideal match here. Aptly named 'Tetangga' ('neighbours' in English), it celebrates the festive mood of Raya. Just because COVID-19 has halted almost all of our balik kampung activities, that doesn't mean the party stops. That's right, you still have your neighbours around to continue the SOP-compliant celebrations. 
---
4. Petra
View this post on Instagram
On the hunt for some oriental opulence for yourself and perhaps even your mini-me? Look no further than Petra. This Raya's collection features form-flattering options like kimono-inspired baju kurungs that give you a cinched waist and scalloped kebayas with a matching shawl. Made with fabrics that are light and airy, you can bet that you'll be staying cool on a hot Raya day in these graceful beauties. And judging by their sneak peek, bold prints are most definitely on their way too!
---
5. SAA Studios
View this post on Instagram
Comfort is definitely up there when it comes to what's important for in a Raya outfit. This blouse and skirt pairing will mask any post-feast belly effortlessly thanks to its oversized design. Other more form-fitting designs are available as well, but here's one thing you can expect from the brand: a no-fail and neutral colour story that'll remain in style no matter the trend. 

---
6. POPLOOK
View this post on Instagram
Dipped in rich jewel tones, POPLOOK's Raya release comprises three capsule collections. Pictured here are two looks part of the Dewi collection – the Ginani and the Caylee. Inspired by vintage Indian sarees, this particular collection features mirror-embroidery detail that required hours of labour by hand. 
The Kemilau, the first collection released is an homage to all things shiny. Opulent, structured brocade and exaggerated puff shoulders also play significant roles in this collection. The Nona, on the other hand, is an ode to classic silhouettes and fabrics. Finally, if you're in search of mother-daughter outfits, POPLOOK has made miniatures of many designs so you can match with your little ones. 
---
7. TOTOMI
View this post on Instagram
For those of you that yearn for unconventionality, TOTOMI is your go-to. One of the most outstanding pieces is their Takiya (pictured here). Look out for textured fabrics — like linen and embroidered cotton — to elevate your style game on this festive day. With their oversized cuttings and the option of a loose waist tie sash, there will be no food babies in sight. 
---
8. KREE
View this post on Instagram
Baju kurung, but make it even classier! KREE's Klasik Raya 2021 is a spectacle of cerulean, emerald, and floral prints. Add a little drama to the typically demure kurung set with pleated shoulders and lace accents and you've got yourself a winning look. Don't forget to throw on a sash for added pizzazz. 
---
9. Hatta Dolmat
View this post on Instagram
Eponymous design house Hatta Dolmat has come out with stuff made of anthophilous dreams. With lush cascades of flowers embellishing each garment, the modern baju kurung Kedah and modern baju kurung Pahang are an absolute must-grab. Each item in the Blooming Embloom release is crafted on a pre-order basis, so you know extra care goes into every outfit. 
---
10. Seleksi Akma
View this post on Instagram
Ready to ruffle some feathers? Seleksi Akma's Raya collection sure does! Aside from an abundant offering of pareos and baju kurungs, the brand also presents the traditional caftan in a new light through their Sulam Ruffle that comes in four pastel shades and a very necessary black. The cotton hi-lo top, paired with a semi-instant pareo makes for feminine and graceful Raya wear.  
---
11. Ana Abu
View this post on Instagram
Missing one Raya reunion was comical, but to be deprived a second time is just torture. Rindu is right. Evoking the sense of yearning for one's family, Ana Abu touches on the emotional toll that the pandemic has taken on us. Typical of the brand, outfits come in ready-made sets and as individual pieces, so you can get creative and mix-and-match to your pleasure. Whether you're into kebarungs or culottes, there's undeniably a pair that'll tickle your fancy. 
---
12. Syomirizwa Gupta
View this post on Instagram
The Ampang Girls is Syomirizwa Gupta's 2021 Aidilfitri theme. Known for his use of vibrant colours and prints, this collection is no exception. Featuring 10 adaptable designs that scream mod, the collection takes a look into the city's history. Large buttons, quintessential flower prints, and bold splashes of colours are strewn across the collection. It's a series fit for a day when you want to make a statement – Raya!
---
13. Tiqa.co
View this post on Instagram
It seems like matching shawls are going to be all the rage this Raya. Tinted in delicate pinks, pure whites, and solid blues, the release comes with the option to pair the clothes with lightweight scarves for an overall sensual and demure look. Whether you're a lover of patchwork or the ever-sophisticated plain baju kurung, it's safe to say that the collection has something to offer both ends of the spectrum. 
---
14. Bellapizo
View this post on Instagram
Capturing the gentle and refined essence of a woman, Bellapizo's Matahari Pagi collection is the long-awaited breath of fresh air amongst this year's horde of releases. Featuring scalloped-hems, the brand also plays around with the garments' sleeves – incorporating designs that come with drawstring closures and elastic trims. High necklines are aplenty too, and if you're one for classy touches, the pearl button closures sure doesn't hurt! 
---
15. Alia B. x Naelofar
View this post on Instagram
Picture this: Sophisticated modesty. That's what Alia B. x Naelofar has in store for you. The collaborative collection sees the masterful designer at work with celebrity personality, Neelofa. Inspired by the Essence of Art Noveau, graceful diaphanous fabrics meets modern lines to achieve a ready-to-wear collection that'll set you apart on the day and keep you comfortable. 
---
16. Alia Bastamam
View this post on Instagram
When you want to be gorgeously draped like a goddess, you always turn to Alia Bastamam! Aside from a highly-anticipated collaboration with Neelofa through her diffusion line, the designer will also be releasing a separate collection through her atelier. The eponymous brand is celebrating its 10th year this Raya, so expect more than just a splash when you check out the collection! While five new designs enter the fray, Alia celebrates this milestone anniversary with 14 revivals of previous fan favourites. This time, she asked herself what she'd have done differently, and got to see them through. 
---
17. FERN Batik
View this post on Instagram
A celebration of the floral world's symbol of vibrancy and luxury, Fern Batik gives their exclusive batik designs an orchid twist. With elegance in mind, the delicate petals of the luxurious flowers are transposed onto cotton and silk. Peppered with hues of purple and yummy tones of peach, the brand definitely hits the spot for anyone who seeks unique colours.
Follow Zafigo on Instagram, Facebook, and Twitter. Sign up for our bi-weekly newsletter and get your dose of travel tales, tips, updates, and inspiration to fuel your next adventure! 
[zf_post_boxes widget_hide_desc="true" num_post="3″ post_id="42500, 35414, 29396″]