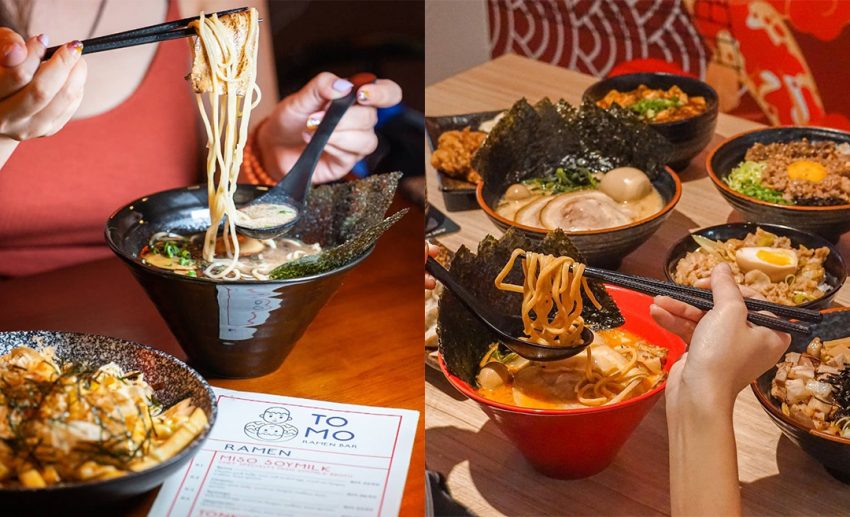 [vc_column_text]
Subscribe to our new 

Telegram

 channel for the latest updates.
With the Tokyo Olympics closed to foreign tourists, it's sad to say that it's going to be a while before anyone can travel to the land of the Rising Sun. But, fret not, we can still sip on yummy matcha lattes and soak in onsens here in Malaysia. There have also been many ramen spots mushrooming in and around Kuala Lumpur (KL), and we've curated a list of the best ramen bars serving only the most authentic and unique ramen, izakaya-style! 
If you're wondering what an izakaya is, it's a casual Japanese eatery that also functions as a bar. As for the food itself, scroll down to the end for two halal ramen restaurants that are totally legit. Read on for some serious food inspo:
1. Ichikakuya, Mont Kiara
View this post on Instagram
Ichikakuya has set tongues a-wagging with their Yokohama speciality ramen – iekei ramen. Their soup base consists of a combination of pork bone and soy sauce broth paired with a generous serving of chicken oil. With thick ramen noodles served with chashu (braised pork belly) slices, a hard-boiled chicken and quail's egg, this protein-packed meal is nicely paired with an ice-cold Asahi beer.
 Ajitama Ramen
---
2. Super Ramen by rudifook, Sri Petaling
View this post on Instagram
Super Ramen doesn't play when it comes to ramen – each bowl served is packed with a fusion of flavours. Their King of Pork Chop Ramen features a giant pork tomahawk, while their Whisky Ginger Clam Ramen is served in a tasteful Halibut broth. If you have kids tagging along, there's no need to worry, as there's a kid-friendly menu available too.
King of Pork Chop Ramen and Rakanka
---
3. Tomo Ramen Bar, Damansara Utama
View this post on Instagram
The Damansara Uptown-based ramen bar serves a special miso soy milk broth for the ramen. Vegetarians can also give this spot a go, as there are vegetarian ramen offerings as well. Tomo Ramen Bar also offers delectable side dishes to pair with their sake, namely their gyozas (potstickers) and mentaiko fries.  
Tomo Miso Soymilk
---
4. Kanbe, Mont Kiara
View this post on Instagram
Kanbe is the new kid on KL's ramen scene that's already gaining a steady following. With seven varieties of soup offered, Kanbe is one of those ramen spots that lets you customise your ramen down to the noodle's texture and the broth's richness. For a small fee, you can opt to swap the usual chashu with thick pork belly slices, or even add some parmesan cheese for a sinfully decadent bowl of good ramen.
Ramen Shiro
---
5. Ramen Bar Shi Shi Do, The Gasket Alley
View this post on Instagram
Ramen lovers would have heard of Ramen Bar Shi Shi Do, a sister branch of Menya Shi Shi Do located just across the street at Jaya One. The izakaya-concept ramen bar has rather appealing interiors. With its Japanese alleyway design, this ramen spot is a great place to dine-in with friends. Pair their best-selling chicken nanban (fried chicken served with tartare sauce) with their selection of whisky highballs or umeshu (plum wine) for the best izakaya experience here.
Ajitama Chashu Ramen
---
6. Okinii Ramenba, SS4, Petaling Jaya
View this post on Instagram
Okinii offers an intimate dining experience at their 10-pax only, izakaya-style restaurant. As one of the few ramen restaurants to offer a matcha ramen broth, it's safe to say that Okinii wins the heart of this matcha-loving writer. Their ramen noodles are handmade daily without alkali water, and their gyozas come in a variety of colours too. Due to the current COVID-19 crisis, Okinii has temporarily closed their outlet, but are still taking pre-orders for delivery of their ramen bowls. Yum!
Matcha Beef Ramen

---
7. Seirock-Ya Ramen, Damansara Utama
View this post on Instagram
You get to build your own chicken ramen at Seirock-Ya, and it's halal! Choose from four of their soup bases – shoyu (soy sauce), shio (salt), miso (fermented soybean paste), and extreme (spicy). With their chicken broth slow-cooked for eight to 10 hours, the extreme flavour packs a punch, and suffice to say the extreme option isn't for those who can't take the heat. Opt for their miso or shio soup base instead if you're not keen on having your taste buds on fire – the slow-cooked broth packs a punch in the umami kind of way. Oh, and here's a tip: their ramen goes best with an onsen egg, so be sure to add one to your bowl.
 Toripaitan Extreme Egg
---
8. Maruki Ramen, The LINC KL
View this post on Instagram
Using only free-range chicken, Maruki Ramen serves one of the best halal ramens in town. With each ingredient made fresh daily without any preservatives or MSG by Sapporo-born Chef Kita, Maruki Ramen guarantees an authentic ramen experience – hence its glowing reputation among KLites. Want some extra protein goodness? Opt for the deluxe ramens as they come topped with slices of premium Australian beef. 
Classic Shio Ajitama
[/vc_column_text][vc_column_text css=".vc_custom_1617169938615{border-bottom-width: 10px !important;}"]
Read More:
[/vc_column_text][vc_column_text][related_posts_by_tax post_types="post" posts_per_page="3″ format="thumbnails" image_size="medium" title="" taxonomies="category,post_tag" order="RAND"][/vc_column_text]