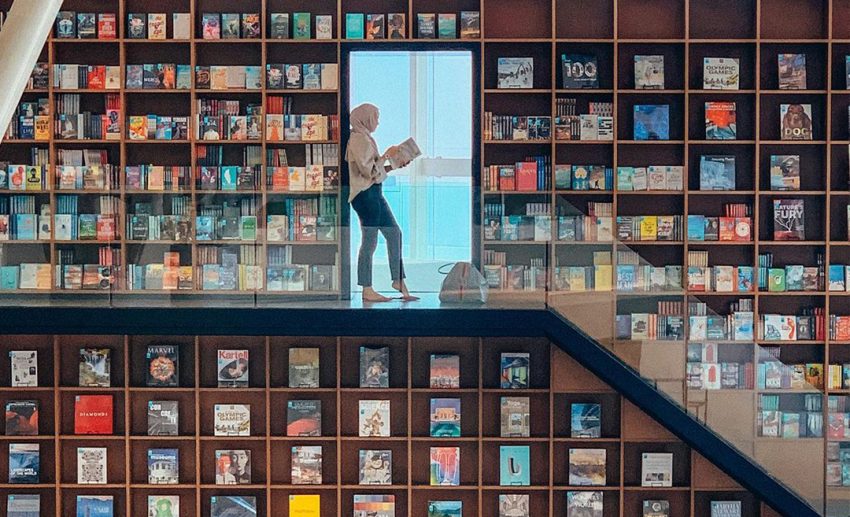 Subscribe to our new 
Telegram
 channel for the latest updates.
When I was younger, bookstores were (and still are) a place that allowed my imagination to run wild. My parents could literally leave me at the bookstore in a mall and be back two hours later to find me still reading in the same spot or stacking piles of books into a checkout basket. I absolutely loved visiting bookstores, being surrounded by books and ardent bibliophiles, and having my nose buried deep into the pages of the horror genre or beautifully illustrated variety.
One thing that I found common in Malaysian commercial bookstore franchises back in the 2000s is the lack of reading areas, curated book selections, and event spaces. But now, we're spoilt with choice with many independent bookstores setting up shop all over the country and new commercial bookstore franchises integrating cafe services within their stores. What's even better is that there are even cafes dedicated to books! So pack your current read, sling your tote bag on your shoulder, and set off to your next reading spot at these independent bookstores and book cafes:
Mentor Bookstore @ RexKL
View this post on Instagram
Situated inside RexKL, Mentor Bookstore offers a wide range of pre-loved books. With its book offerings mostly in Chinese, you can expect to find literature from notable Taiwanese and also Malaysian authors. Translated works from Western authors can also be found here too. What differentiates Mentor Bookstore from others is that it used to be a 24-hour bookstore back in its heyday, and also offers book rental services for a minimal fee.

 80, Jalan Sultan, City Centre, 50000, Kuala Lumpur | Directions
---
Lit Books
View this post on Instagram
Tucked inside Tropicana Avenue is Lit Books, an independent bookstore. Specialising in English literary titles, Lit Books is founded and managed by a husband and wife duo. With its minimalist white walls and clean wooden shelves that are reminiscent of slow-living and Scandinavian design, it's no wonder that the store is an inviting haven for book lovers. Grab a cup of coffee and a table with your current read, or spend hours browsing the carefully curated collection of books – you're guaranteed to feel right at home at Lit Books.

 P-1-11 Tropicana Avenue, 12, Persiaran Tropicana, 47410 Petaling Jaya, Selangor | Directions
---
Tintabudi
View this post on Instagram

Tintabudi is most loved for being a purveyor of literature relating to humanities and social sciences. Originally from Ipoh, the independent bookshop has found a new home at Kuala Lumpur's Zhongshan Building. Expect to find thoughtfully-curated book selections varying from poetry to philosophy. If you like thought-provoking reads that can't be found at run-of-the-mill bookstores, definitely check out this place!

 80, Jalan Rotan, Kampung Attap, 50460 Kuala Lumpur, Wilayah Persekutuan Kuala Lumpur | Directions
---
Gerakbudaya Bookshop Penang
With its iconic cheerful yellow shopfront, Gerakbudaya is a pleasant sight to both locals and tourists alike. There are two Gerakbudaya branches in Penang – the outlet at Jalan Masjid Kapitan Keling carries fiction, poetry, and books from independent publishers, while the Lebuh Pantai branch caters to avid readers of the non-fiction genre. Both branches are located nearby Georgetown's UNESCO Heritage site, so there's plenty of things to see and do.

 78, Jalan Masjid Kapitan Keling, George Town, 10200 George Town, Pulau Pinang | Directions
---
Kedai Fixi
View this post on Instagram
Urban-contemporary publisher Buku Fixi's sleek brick-and-mortar concept store, Kedai Fixi, is located at Sunway Putra Mall. Book offerings here are mostly but not limited to Malaysian authors whose books are written in Bahasa Malaysia. Expect to find literary works from up-and-coming Malaysian authors here at unbeatable prices.

 Sunway Putra Mall, L4.41, Level 4, Jalan Putra, 50350 Kuala Lumpur | Directions
---
Book Cafes
Bukku Cafe
View this post on Instagram
The minimalistic cafe prides itself as being family-oriented and offers a comfortable environment for hangouts or even remote working. With plush sofas and a bookshelf filled with good reads, one can imagine the hours you'll spend reading away at this cosy spot. Order their speciality chocolate drinks and nibble on a complimentary cookie to get the full Bukku reading experience.

 No.1, Jalan Singgahsana 4A/KU2, Bandar Bukit Raja, 41050 Klang, Selangor | Directions
---
CORM
View this post on Instagram
CORM is a night owl's hangout located 30 minutes away from the hustle and bustle of Jonker Street, Melaka. Known to the locals for its hipster vibes, the cafe also sells band merchandise, books, and music relating to all things indie. The cafe also doubles as an event space for local creatives. During pre-COVID times, the cafe hosted free film viewing and appreciation sessions.

 JC1111, Tingkat 1, Jalan Bestari 1, Seksyen 02, Bandar Jasin Bestari Bemban, 77200 Jasin, Melaka | Directions
---
The Ink Library Cafe
View this post on Instagram
With an iconic bicycle perched atop of their storefront, there's no way you can miss this cafe located at Eco Grandeur. With its interior decor filled with hanging plants and ceiling-high bookshelves, it's no wonder that this place is a book lover's haven. Feel free to browse their wall of books and magazines while you're here and feast on their famous Classic Kampung Fried Rice.

 EcoWorld Gallery @ Eco Grandeur, 42300 Puncak Alam, 6332, B49, 47000 Sungai Buloh, Selangor | Directions
---
MeTime Book Cafe
View this post on Instagram
MeTime Book Cafe is Malaysia's hybrid answer to Japan's trendy capsule hotels and manga book rental shops. Providing many genres of manga titles and private lounges, the book cafe operates on an hourly or subscription basis. For RM25, you get two hours of reading time and access to a massive library of manga comics to read. We think that it's a pretty good deal!

 1.010b The Square, Jaya One, Jalan Profesor Diraja Ungku Aziz, Seksyen 13, 46200 Petaling Jaya, Selangor | Directions
---
Book Barter Cafe
View this post on Instagram
True to its name, Book Barter Cafe allows dine-in customers to trade in any books with the cafe's existing books selection. The cafe's urban jungle concept is also distinctive, and very Instagrammable! It's the perfect place for Cyberjaya-based book lovers to spend an afternoon reading and snacking on warung wares.

 GP 1-03 Pinnacles North Court Tamarind Square, 63000 Cyberjaya, Selangor | Directions
---
Yue Coffee Bar
View this post on Instagram
Nestled inside Little Giraffe Story House, a community-run library for children, Yue Coffee Bar's old-school interior is reminiscent of Malaysian shophouses in the 90s. Serving mean brews and craft beer, it's a hidden gem in Cheras to relax and read at. For those who get peckish while reading, their Chicken Gyozas are the perfect snack to satisfy a hungry reader.

 114, Jalan 15, Batu 11 Cheras, 43200 Cheras, Selangor | Directions
---
Lunar @ Bookxcess Tropicana Gardens
View this post on Instagram
Lunar is the collective brainchild of Stellar, RexKL, and Bookxcess. Priding themselves as an urban oasis for the weary, the cafe offers kombucha and locally-sourced chocolate drinks alongside their cold brews. Situated right next to Bookxcess, the cafe is an ideal spot to sip and read.

 Lot 1F – 26 & 26A, First Floor, West Walk No, 2A, Persiaran Surian, Tropicana Indah, 47810 Petaling Jaya, Selangor | Directions
---
Fancy a weekend stay at a booklover's retreat?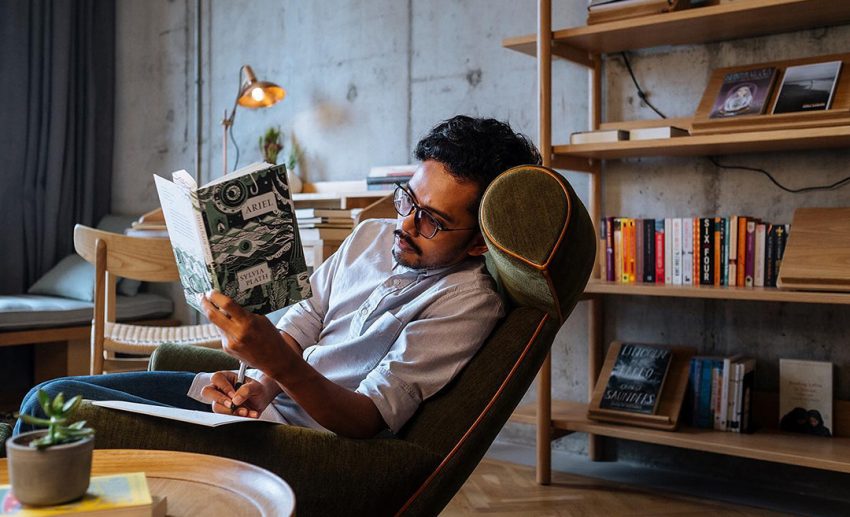 If you're looking for a more private space to get some reading done, why not treat yourself to a book-filled weekend at KLoé Hotel? With their book-themed artist loft, it's the ultimate experience for book lovers, where they get to curl up in a quiet space. With a personal library curated by Tintabudi at your disposal, what more can a book nerd ask for?

 227 Jalan Bukit Bintang, 55100 Kuala Lumpur | Directions