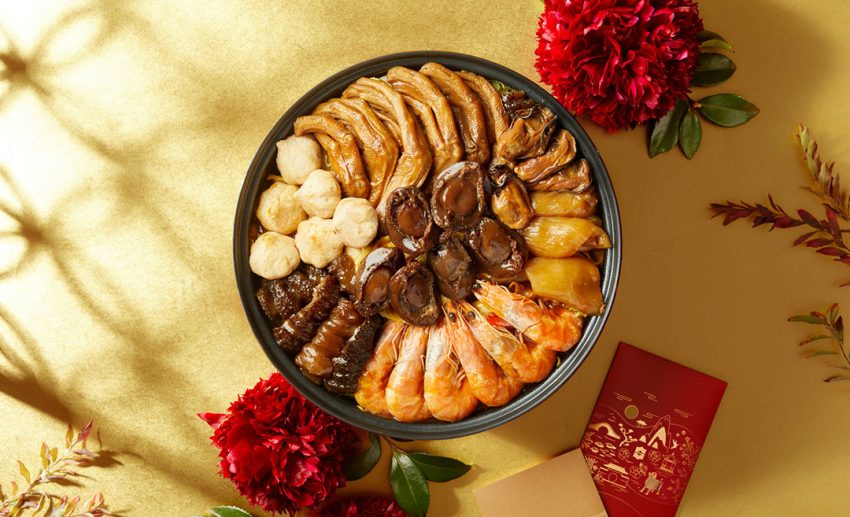 Subscribe to our new 

Telegram

 channel for the latest updates.
With the Movement Control Order (MCO) re-implemented and extended, halting interstate travels and dining out plans, it's evident that some of our beloved Chinese New Year (CNY) traditions will need rewriting. Gone are the days of big family reunions with rowdy group lou sangs at restaurants, and here are the days of intimate dining. 
While it may not be the same, CNY has always been about ushering in the new and making way for incoming good luck. So, the way we see it, there's absolutely nothing wrong with having some delicious yee sang (a prosperity toss) with your close family or housemates in a low key at-home 'do. After all, why cook when you can order in from these restaurants? Get your huat on with these ox-picious offerings:
Shang Palace @ Shangri-La Kuala Lumpur
View this post on Instagram
Offering a seven-course set menu that feeds five pax, items featured in Shang Palace's imperial-themed menu include braised lobster soup with crab roe, sea cucumber and dried scallop, steamed red grouper with fish maw, sautéed fresh scallop and prawn with assorted vegetables, and more! If you're looking for a more intimate Hakka layered flavour, there's also the Premium Abalone Poon Choy featuring ingredients such as abalone, sea cucumber, Japanese fried scallop, goose web, king prawn, and roast duck among other delectable things.
Chynna @ Hilton Kuala Lumpur
From its very own Cantonese restaurant, Hilton KL brings authentic Cantonese cuisine to the table for your reunion dinner. Available for takeaway and delivery, Chynna's six-course set menu, curated for four or 10 pax features classic favourites such as Honey Glazed Chicken, Stir-Fried Scallops with Asparagus in X.O Sauce, Stewed Sea Cucumber Slices with Dried Oysters, Wheat Gluten, and Fatt Choy. 
Lai Po Heen @ Mandarin Oriental Kuala Lumpur
View this post on Instagram
For a unique lou sang experience, Lai Po Heen is offering yee sang platters made not just with the regular salmon slices, but also sea urchin and fish roe, as well as one topped with melt-in-your-mouth MB8 Wagyu beef striploin. There are also two versions of Treasure Pots (Poon Choy) and set menus to choose from for your ox-tradinary at-home reunions. 
The Brasserie @ The St Regis Kuala Lumpur
View this post on Instagram
Expect fresh yee sang platters and prosperity-inducing sets over at The St Regis Kuala Lumpur this year of the ox. With four platters and five set menus to choose from, including vegetarian-friendly options, dine on Chef De Cuisine Cheong Boon Fei's and the owning family's curated treasured family recipes. Additionally, the hotel is also offering Prosperity Box sets for gifting. Comprising of delectable cookies, tarts, and cakes complemented with either a bottle of CNY Limited Edition The Macallan 12 Year Old Double Cask Scotch Whisky or Delamotte Champagne, it's a basket of sweet and savoury delights everyone can enjoy. 
Yun House & Curate @ Four Seasons Hotel Kuala Lumpur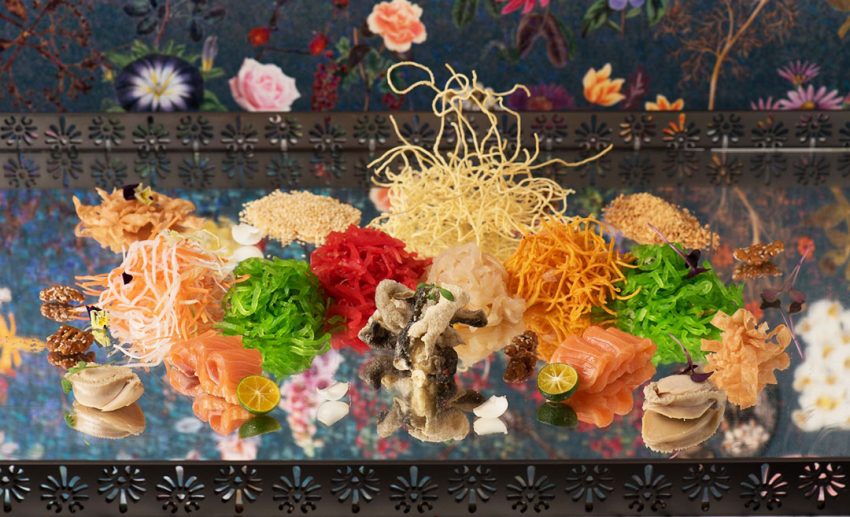 Think: a sumptuous selection of yee sang platters made with premium ingredients, including champagne gelée and caviar. Yes, you heard that right – champagne gelée and caviar. It's a menu so good, we had to say it twice. And if that's not your speed, Four Seasons' buffet spread over at Curate has also been reimagined to include specialties from different regions of mainland China, such as Typhoon Shelter fried flower crab and La Zi chicken. These are all limited offerings by the hotel, so we'd act quick! 
Order online

|

Instagram

|

Facebook For orders and enquiries, chat on the Four Seasons App or email yunhouse.kualalumpur@fourseasons.com, kua_curate@fourseasons.com or res.kualalumpur@fourseasons.com respectively. 
YEN @ W Kuala Lumpur
View this post on Instagram
Whether you're looking to stuff yourself with an extravagant eight-course meal or just a spot of dim sum, YEN is where it's at. Simply pick your favourite Lunar New Year set menu or dim sum offerings from the a la carte festive menu that you can explore online. Should you be an early riser, there's even the YEN Ox Year Brunch, featuring all-you-can-eat dim sum dishes for a truly abundant CNY brunch.
Kwee Zeen @ Sofitel Kuala Lumpur Damansara
View this post on Instagram
Apart from a hearty selection of seven yee sang platters featuring scrumptious topping options such as vegetarian, jellyfish, soft-shell crab, Norwegian salmon, crispy fish skin, scallop with snow pear, and two head abalone, the Sofitel is also offering classic Chinese dishes from the a la carte menu for your at-home festivities. Take your pick from the chef's recommendations such as Steamed Farm Chicken with Minced Ginger and Wok Fried Butter Prawns with Curry Leaf topped with Shredded Egg and Coconut! Browse the full menu here. 
Red Chinese Cuisine @ Pullman Hotel Kuala Lumpur
View this post on Instagram
An as alternative to dining in, the Pullman's three auspicious set menus are available for delivery and takeaway for those welcoming the Year of the Golden Ox at home. The available packages are for five or 10 persons, and feature sumptuous Cantonese fare such as Roasted Australian Lamb Rack with Cumin Crust, Steamed Sea Grouper with Bamboo Pith, as well as Steamed Jumbo Prawns with Golden Crispy Garlic and Glass Noodles. And if you're watching your waist amidst all that hearty goodness, you can dive into Red's signature superfood healthy yee sang. 
Order online

|

Instagram

|

Facebook For orders and enquiries, contact +6016 2903864 via Whatsapp, call +603 2170 8888,  or email to restaurants@pullman-klcc.com
Latest Recipe @ Le Meridien Kuala Lumpur
View this post on Instagram
Le Meridien's Chinese banquet Chef Teh has put together a variety of six-course set menus and yee sang platters for your home affair, available for takeaway and delivery. Prepared sous vide-style, the sets come with easy reheating instructions for a hearty and warm meal. With three sets curated for two, as well as a selection of yee sang with different types of seafood, this is one way to gallop into the year of the ox. 
Quan's Kitchen @ Four Points by Sheraton Kuala Lumpur
View this post on Instagram
While the ox symbolises stability and adherence to tradition, 2021 is proving to veer from known rituals. And Quan's Kitchen is embracing that spirit wholly with its offering of Triple Prosperity yee sang that comes with chilli soft-shell crab and crispy fish satay. If you want to kick things up a notch, Sheraton is here to please with its Opulence yee sang set that comes topped with Tanjung Malim T'Lur Caviar. Looking for more than just a toss? The Spring Happiness set indulges the appetite with an eight-course smorgasbord that includes the Triple Prosperity yee sang, double-boiled Fish Maw Consommé, Baked Cod in Ginseng Soy Sauce Paste, and a Crispy Five-spice Salt and Pepper Chicken. 
Xin Cuisine Chinese Restaurant @ Concorde Hotel Kuala Lumpur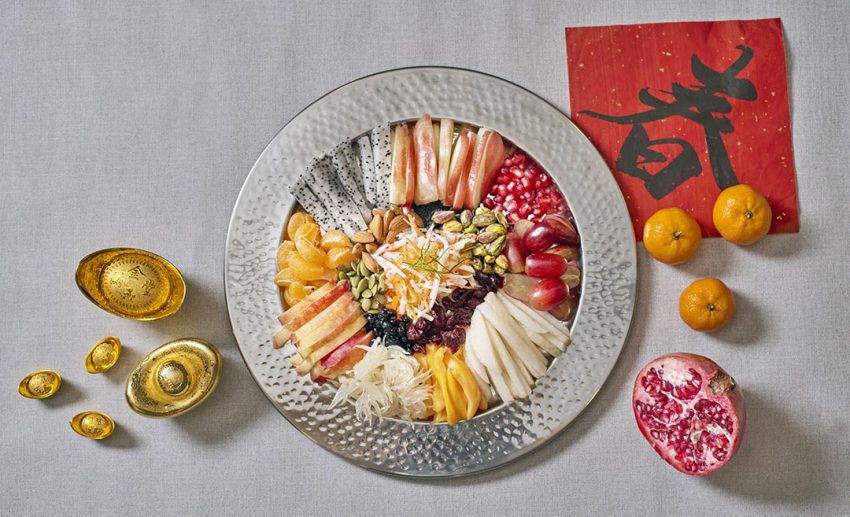 Usher luck, good health, and prosperity with Concorde Hotel this 2021. Offering traditional delicacies of poon choy and modern fruity yee sang for takeaway and delivery, those looking to customise will be glad to know that the a la carte menu is also available for order. Gather the family around for Stewed Pork Knuckle with Sea Cucumber in Brown Sauce, Xin Cuisine's Signature Spare Ribs with Champagne Sauce, and Nian Gao variations. You can view their CNY offers here. 
Grand Hyatt Kuala Lumpur
View this post on Instagram
Discover upscale elegance at home with one of the three yee sang variants that the Grand Hyatt has to offer. If you're feeling decadent, try the Prosperity Abalone Treasure Pot that comes in a ceramic clay pot. For the main courses, pick and choose to your heart's content with a selection of a la carte oriental dishes. Available from 22 January to 26 February 2021, eat the grand way by pre-ordering at least two days in advance. 
Follow Zafigo on Instagram, Facebook, and Twitter. Sign up to our bi-weekly newsletter and get your dose of travel tales, tips, updates, and inspiration to fuel your next adventure!