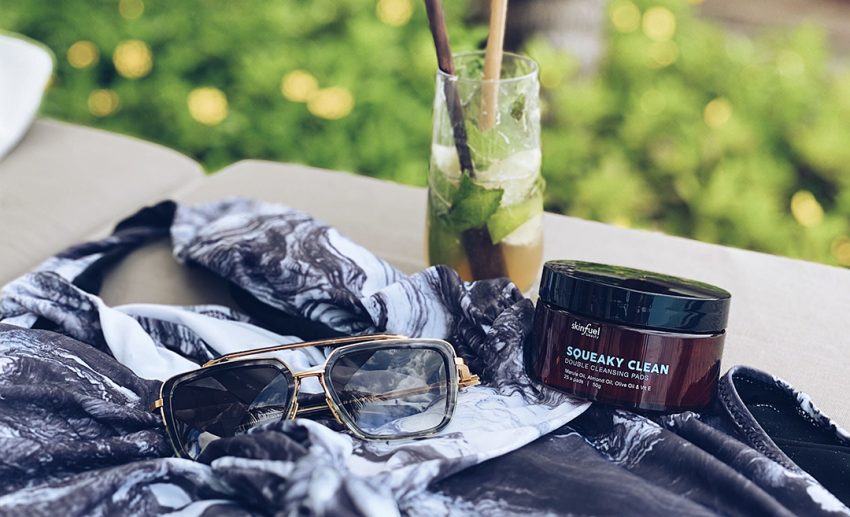 Subscribe to our new 

Telegram

 channel for the latest updates.
Whether you plan to sip on cocktails by the beach, chill by the pool, or go on a road trip to some quaint town with too many syllables to pronounce, we all face a common challenge – overpacking. By the time we pack our sunscreen, lip balm, moisturiser, contact-lens, makeup, eye cream, face-masks, and all of our bedside necessities, we end up looking like we're moving for good when its literally just an interstate destination. The struggle is all too real! 
So, imagine our excitement when we discovered Skinfuel's Squeaky Clean Double Cleansing Pads, Malaysia's first 3-in-1 travel-friendly, double cleansing pad. Priced at RM60 for 25 sheets, this little tub is compact, which makes it space-saving in your holiday carry-on. It's also jam-packed with superfoods for your skin, natural ingredients, moisturising antioxidants, and anti-ageing properties. 
To top it off, it's also halal and cruelty-free! So, what's this magic potion, you ask? Team Zafigo had to find out. Can we really get squeaky clean with one jar of cotton pads? Will we finally master the art of packing light without compromising on our daily beauty routines? We brought Squeaky Clean with us on our respective beachside holidays, and 'shore' enough, we were impressed! This is what the team has to say:
Tengku Zai | Content Manager & Sub-editor | Destination: Langkawi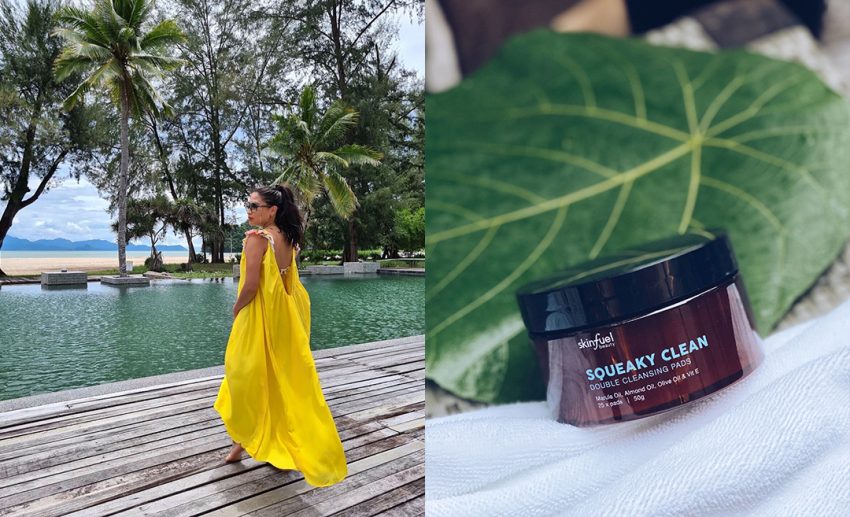 As a former beauty editor for international women's glossies, I've always felt really strongly about any kind of two-in-one or whatever number-in-one product… strongly negative, that is. For instance, a shampoo-and-conditioner combo will get a big fat 'no' from me. Skincare and hair products have their unique purposes and use, functioning at optimal levels when their purported deliverables are kept to specifics instead of trying to do everything under the sun.
But then the team sicced on me the Squeaky Clean Double Cleansing Pads from Skinfuel and I was forced to break one of my personal commandments of never using a two-in-one. Although, I'm a huge sucker for cleansing oils and the inclusion of marula, almond, olive, and vitamin E oils had my curiosity piqued. So, on a recent trip to Langkawi, I gave the Squeaky Clean a go for the four days that I was there. Here's how it went down:
Rating: 4.5/5
Skin type: Dry and eczema-prone
Pros:
• It's really light. I opted to only buy 10 kilogrammes of luggage (I don't know why) and this is much lighter than carrying a cleansing oil.
• Formula-wise, the oil is extremely hydrating on my eczema-prone skin.
• The pads are convenient and really easy to use, eliminating the need to pack an additional makeup remover. 
• In terms of efficacy, it removed all the waterproof foundation, eyeliner, and mascara I used during the day (swimming, so must use waterproof everything).
• The pads smell pleasant.
Cons:
• At RM2.60 per pad, it's not exactly cheap, but I suppose it's not something you need to use every day.
• It's rather bulky, so I advise taking out the required amount of pads you'll need for a trip and just bringing that along. 
• The oil doesn't emulsify as much as I'm used to for the second phase of cleansing, but that's not too bad. 
Overall, there are definitely much more pros than cons when it comes to using the Squeaky Clean. Would I buy it again? Probably, actually. Because it's the first time I used a two-in-one and actually loved it.
Maggie de Souza | Head Of Events | Destination: Perhentian
My skin is naturally oily and prone to breakouts. On top of that, it's also sensitive and became all the more so after I stopped taking oral contraceptives. Given my plight, I've always been particular about the kinds of products I use. The types of products I avoided most (until recently) were ones with oils, thinking that it contributed to my breakouts. I've since learned better.
On a recent holiday, I tried out Skinfuel's cleansing pads and carried it around with me on activity-heavy days. Although I didn't wear make-up, in between sunbathing, beach volleyball, and swimming, I needed a refresher before reapplying sunblock. Instead of wet wipes, I used these cleansing pads and have to say, I did find it pretty invigorating. One, the combined smell of all the ingredients is heavenly and will give you a much-needed mid-day zing. Secondly, I felt that it cleaned my face and neck quite thoroughly after just two or three wipes. I did still need to use a wet wipe after to clear off the excess oils from the pads, but the freshness from the cleansing pads was still felt.
Rating: 4/5
Skin type: Oily and sensitive
Pros: The smell is refreshing
Cons: I found the container a little bulky and would have preferred if it came with 30 cleansing pads instead of 25, just enough for an entire month
Xin Xin Lee | Head of Design | Destination: Perhentian
Speed boat hitting the rising waves from jetty to the island, hair moving in the wind, salty breeze filling the air with sun rays tickling your skin. It's no surprise why we need to take extra measures to care for our skin on holiday. Fortunately for me, I brought along Skinfuel's Squeaky Clean. 
Even though I'm not the kind of person who wears makeup, this 3-in-1 cleanser works well cleansing my dry skin. It left my skin feeling refreshed, smooth, and well, squeaky clean. Plus, the geranium essential oil makes it smell so good and relaxing when you wipe your face and neck. Simply put, it's very easy and convenient.
A handy tip is to put a few in a Ziploc bag when packing for your travels to maximise the space in your luggage. The only downside of this product is that it can be quite pricey to use daily, and the shelf life is only six months once opened. So, unless you travel often, it may not be the best option.
Rating: 4/5
Skin type: Dry and sensitive
Pros: My skin feels good after using it
Cons: Pricey
Tercia Goh | Head Of Content Marketing | Destination: Langkawi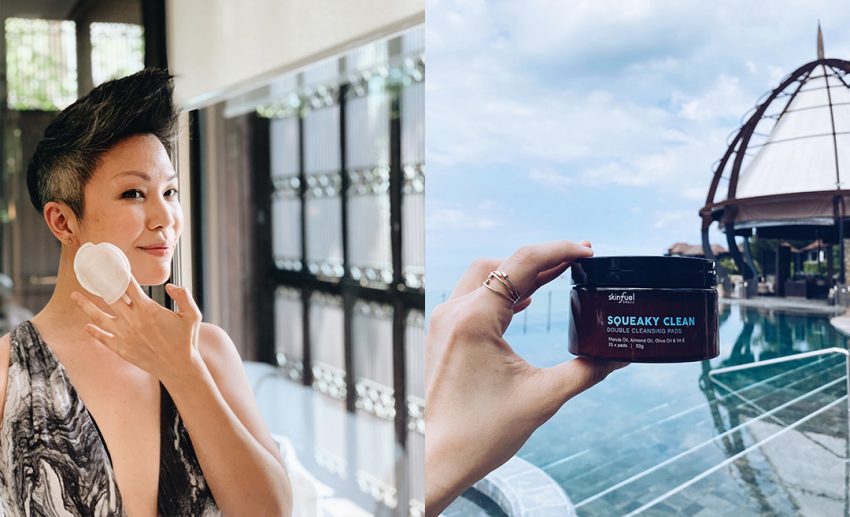 You know the old adage, if it's too good to be true, it probably is. Unless it's Skinfuel's Squeaky Clean cleanser. Right off the lid, I appreciate that it came with a handy pair of tweezers to pick the cotton pads from the jar to avoid contamination. The cotton pads are dry and don't feel greasy (no worries about leakage here), and the double-layer cotton even has a little pocket to slip your fingers into – like cute finger mittens! 
Now, for performance, I can't give you an accurate review without full disclosure. Being on the duty-free island of Langkawi, I might have gone a little overboard with the drinks and found myself quite wrecked by the end of my first night. The easy-slip on cotton pocket gave me the dexterity I would have otherwise lacked, to successfully remove my running eyeliner and greasy sun-tan lotion. While I woke up feeling slightly hungover, my face felt clean and fresh, ready to take on another drink. Now, if only it can do the same for my liver.
Rating: 5/5
Skin type: Combination
Pros: It's like a ninja cleansing pad; fast and efficient. Thanks to the size, I imagine this would be rather handy on long-haul flights, for when we can travel again
Cons: A bit pricey as a daily beauty cleanser. More suited for travelling or when I've had too much to drink, again.
Theresa T. | Business Development & Partnership Lead | Destination: Cherating

 
I've always been a big believer of the 'less is more' approach to skincare. So, I've never really been a fan of using and carrying multiple products. Before Skinfuel, I always opted for either a cleansing gel or oil. I also need to add that when I travel, I like to be able to pack everything in my one backpack and head out, so, the Squeaky Clean's 3-in-1 function is perfect for me. These cleansing pads not only did the job well in removing makeup and other residues, it left my skin feeling soft and fresh. For an outdoorsy person like me, it worked!
Rating: 4.5/5
Skin type: Dry to normal
Pros: 3-in-1 product, saves packing space, great scent.
Cons: The jar could be less bulky (perhaps a travel size jar/packaging would do better).
Rathika Sheila | Content Marketing Manager | Destination: Redang
First of all, a double cleanser that gives my skin the antioxidants and moisture it needs while removing makeup? Give me two tubs, please! Having a multi-purpose cleanser allowed me to save luggage space which is a win, and it smells divine. It made me feel like I was at the spa. It took off my makeup easily, and felt great. Although, to be honest, I'm not used to oil-based cleansers, and my skin type is mostly normal/dry so I wasn't the biggest fan of the slightly oily residue that came after I rinsed my face. But otherwise, it's totally worth the buy.
Rating:  4/5
Skin type: Dry to normal
Pros: Smells great, cleans makeup well
Cons: The oily residue after use
Follow Zafigo on Instagram, Facebook, and Twitter. Sign up to our bi-weekly newsletter and get your dose of travel tales, tips, updates, and inspiration to fuel your next adventure! 
[zf_post_boxes widget_hide_desc="true" num_post="3″ post_id="36610, 32250, 30520″]