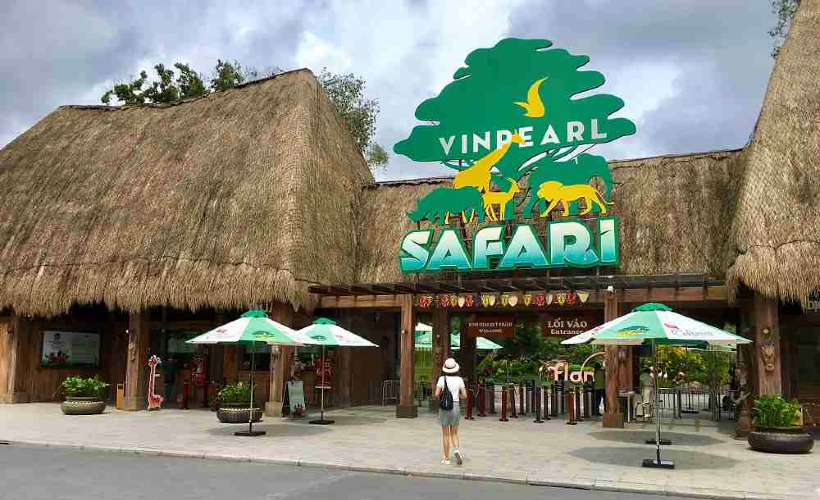 The pandemic hit just as we were approaching the peak season of travel, causing almost everyone with either a plane ticket or hotel booking to cancel their plans. As restrictions ease and we slowly grasp the need for health precautions and travel etiquette that come with this new normal, we can once again start thinking of travel.
A family vacation may be on your post-pandemic checklist, especially if you had to put one on hold back in March. If you're looking for a suitable family-friendly destination, we recommend Phu Quoc for the following reasons: 1) The beaches are pretty, 2) the food is good, and 3) it has the perfect all-day activity for the entire jingbang in the form of Vinwonders and Vinpearl Safari. 
The situation in Vietnam
Vietnam was quick to respond to the COVID-19 crisis, and to date, records less than 400 cases with no deaths. While movement restrictions within the country have been lifted, at the time of publishing this article, Vietnam has yet to fully open its borders to international visitors. However, since the situation seems to be under control, the nation has resumed e-Visa applications for a select list of countries. So while immediate travel is not permitted, you can plan ahead.

Where it is & how to get there
Situated in the northwestern part of Phu Quoc, Vinwonders (also known as Vinpearl Land Amusement Park) and Vinpearl Safari are about an hour's drive from the airport and central district of the island. If you don't mind the 120-minute journey to and fro, most of the hotels in Duong Dong and further south offer car-for-hire services for day trips, and this includes trips to Long Beach, where the parks are. Alternatively, a free shuttle is available from the city centre but do note that to use this service, you will need to have purchased an entrance ticket to either park in advance. You can buy your ticket online from sites like Klook or if your hotel has this service, from the tour counter.  
If the distance from the city centre seems a little too far – especially for those travelling with children or older family members – there are also accommodation choices up north. One option would be to stay at Vinpearl's own hotel – the Vinpearl Resort & Spa.
What to Expect at Vinpearl Safari

The land
The first and largest wildlife conservation park in Vietnam, Vinpearl Safari is home to almost 100 animal species. The park is divided into two main zones, the open zoo – consisting of several smaller sections, including Kid Zoo (the petting zoo), Primate World, Flamingo (performances and shows), the main Zoo (where larger animals are housed), and the aviary  –as well as the Safari. A complete walk around the zoo is about 1km and would take about  two hours to complete. The safari ride is an additional 30 minutes. Buses depart the main waiting area to the safari every 30 minutes.  

Open zoo
Once inside, you can choose to either slowly make your way around the zoo or get on a shuttle (at an additional cost) that would take you directly to the Safari bus waiting area. One of the first areas you will enter is the Kid Zoo where you get to feed animals such as goats, geese, and so on. From there, you move on to Primate World and eventually the Zoo. Do note that the Flamingo show area and restaurant are located by the entrance, which you can access if you walk in a little further past the Kid Zoo. We initially missed visiting this area because we gravitated towards the petting zoo and only realised we did so after looking at a map. For a better idea of what to expect, a map of the park can be viewed here.    
The Safari
The 30-minute ride takes you around a 1km-ish route within large, open spaces where the animals get to roam freely and live as if they were in the wild. For animal safety reasons though, some of the more predatory species are separated by several large barriers (think of those big entrance gates from Jurassic Park but more secure). A guide will be present on the bus to point out and announce (in English and Vietnamese) animals as we approach them but don't expect them to share much info about said animals. 

Highlights
The safari park also has a 'Be a Zookeeper for the Day' programme to keep their young ones entertained. The programme includes spending a few hours shadowing the park's trained animal carers and helping with food preparation, feeding, and cleaning.
There are also several restaurants and food stalls located throughout the zoo, with the highlight being the Giraffe Restaurant situated just outside the Safari. At this restaurant, diners get to feed and take photos with giraffes from a balcony.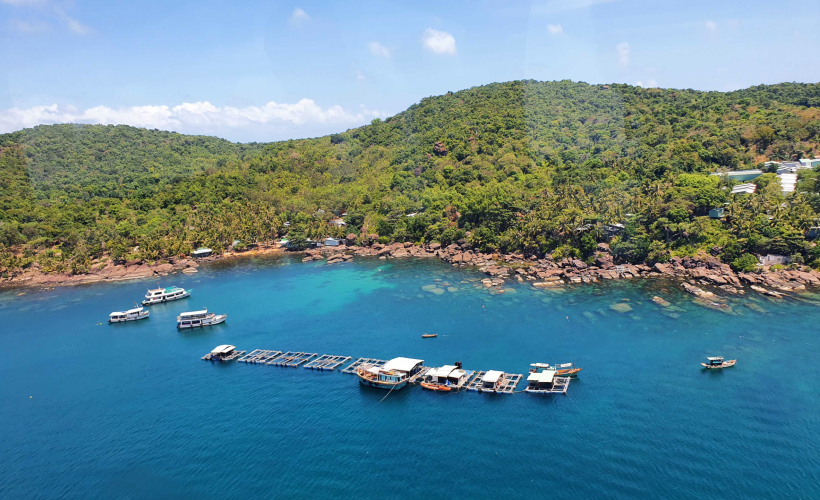 Of course, you can still enjoy the white sands and crystal waters, but there's so much more on offer in Phu Quoc – Ditch The Beach: 10 Other Things To Do In Phu Quoc, Vietnam
What to Expect at Vinwonders

The land
The entrances to both parks are not within walking distance of each other, so you will need to either get your hired driver to drop you off or hope on to the shuttle bus. Inside, similar to Vinpearl Safari, expect to spend a few hours here as well. The first area you will come across is the shopping street with modern and luxury stores. From here, you can either turn off to the water park, or make your way further into the amusement park. A map of the park can be viewed here.
Outdoor Games & Amusement Thrills zones
If you're an adrenaline junkie, certain rides at Vinwonders such as the Merry-Go-Round, Tea Cups, and Bumper Cars may not give you that thrill you're looking for, but there are some other rides like the Swing Carousel, Ocean Train Coaster, Skydrop, and Disk'O Coaster that can give you a bit of a rush.

Water park
The water park features exhilarating slide rides like Big Tornado, Aqualoop, and Big Super Bowl, but if you prefer something more laid-back, there's the Lazy River and manmade beach with a wave pool that is suitable for all family members. Upon entering the water park, the first area you will see is the Kids Pool, which is actually an aqua playground with mini slides, water guns, and fountains.   
Nighttime
If you do stay past sundown, catch the dancing fountain and laser light shows. Some ticket packages include a pass to the dinner at the amphitheatre. The shopping street is also lighted up nicely at night and perfect for some nighttime selfies.
Highlights
Definitely the water park's star attraction, the Giant Boomerang is a 120-metre, free-falling high-speed slide.
The aquarium (located next to the Indoor Games zone) too was a pleasant surprise. Expect lots of marine life as well as amphibians and reptiles. Be sure to catch the mermaid and fish-feeding shows and don't miss walking through the underwater tunnel. 

Things to note
There will be a lot of walking (if you opt to not head directly to the Safari) under the sun with a limited shaded area in both parks, so bring along hats, sunglasses, wet wipes, and face mists. Note that umbrellas are not allowed.
Washrooms are well spread out throughout the parks except on the Safari route.
Lockers are available at both parks. For Safari, they are located outside (before the entrance to the park), and in the amusement park, they are in the water park.
Shower facilities are also available in the water park.

 

Drinks can be purchased from the snack stalls stationed around the parks with the cheapest item being bottled water costing VND20,000 (approx. USD0.90).
For those who would like to buy souvenirs, several shops are located outside the park (opposite the locker area).
If you do visit both parks, expect to spend a whole day there. We suggest doing Vinpearl Safari first, then Vinwonders. At Vinwonders, go on the thrilling rides in the amusement park followed by the water park.
Ticketing & opening hours
Entrance tickets can be purchased on www.vinpearl.com or tour & activities booking sites like Klook, Traveloka, and Viator to name a few. Tip: to make sure you get the best deal, compare the rates on a few sites before making a purchase.
If you are keen on doing both parks, combo tickets are also available. Ticket price ranges between VND400,000-500,000 (approx. USD17-22) for a single park pass and VND740,000 (approx. USD32) for a combo pass. There are also discounted rates for children and senior citizens. Vinpearl Safari opens from 9:00AM–5:00PM while Vinwonders operates from 9:00AM-9:30PM.
Follow Zafigo on Instagram, Facebook, and Twitter. Sign up to our bi-weekly newsletter and get your dose of travel tales, tips, updates, and inspiration to fuel your next adventure!