As part of ZafigoX 2017, we had self-defense workshops to help our female audience travel further and safer, panels that taught us how to overcome deal with sexual harassment on the road, talks that lead readers to start their own travel blogs, and speakers who pushed for progress in their home countries, advocating for women's rights even at the expense of their own personal safety.
Back with a vengeance, ZafigoX 2018 will feature more inspiring women, more talks, and more panels.
So much more, in fact, that it's hard to put it down in words. Which is why we're letting this year's speakers do most of the talking. Come together to discover, learn, meet, and be inspired by these 11 women.
Dr. Catheryn Khoo-Lattimore
Travel Trends 2019 and Beyond: What Will It Be For Women
10 November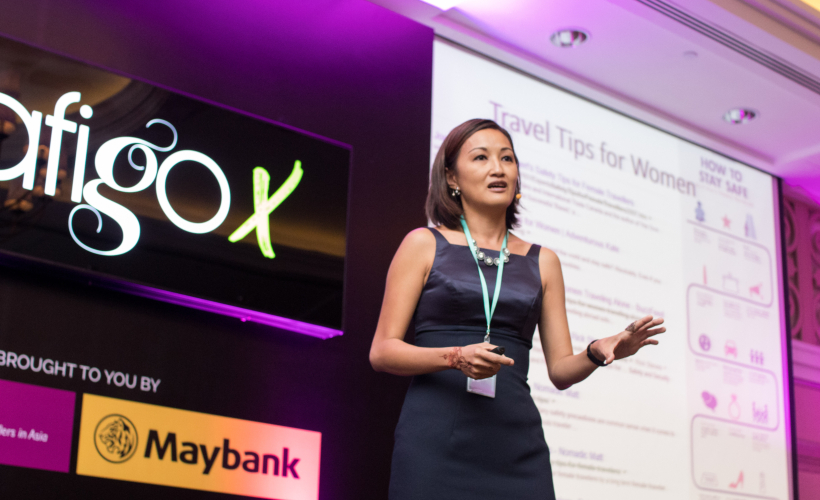 Catheryn has a PhD in Consumer Behaviour, and is a senior researcher on women in tourism. She is also the Regional Field Expert for the United Nations World Travel Organisation (UNWTO)'s Global Report on Women in Tourism and the author of Asian Genders in Tourism and Women and Travel: Historical and Contemporary Perspectives. She holds a Fulbright scholarship for her work on girlfriend getaways and has published extensively on the subject of solo female travels. In her talk last year, she shared how it was possible to shed the guilt of travel and will this year elaborate on the evolution of female travel trends.
Get your All-Access ZafigoX Pass to gain insights from Dr. Catheryn on women and travel here.
Dr. Sakia Haque
Breaking Gender Stereotypes And Discrimination Through Travel
10 November
Sakia comes from a society that simply doesn't allow for women to travel the world. But as many strong women do when they are put into a corner, Sakia fought back hard. She founded Travelettes of Bangladesh, a travel group of over 23,000 women who love travelling, and in doing so, is helping her countrywomen explore their homeland and the world beyond it. Breaking through the boundaries set up by tradition, she is working to change her country by empowering women and inspiring them to travel.
Learn more about Dr. Sakia's journey in empowering women from her community to travel by nabbing yourself an All-Access ZafigoX pass here.
Mei Mei Chu
Millennial Travelling – Not Doing It For The 'Gram
10 November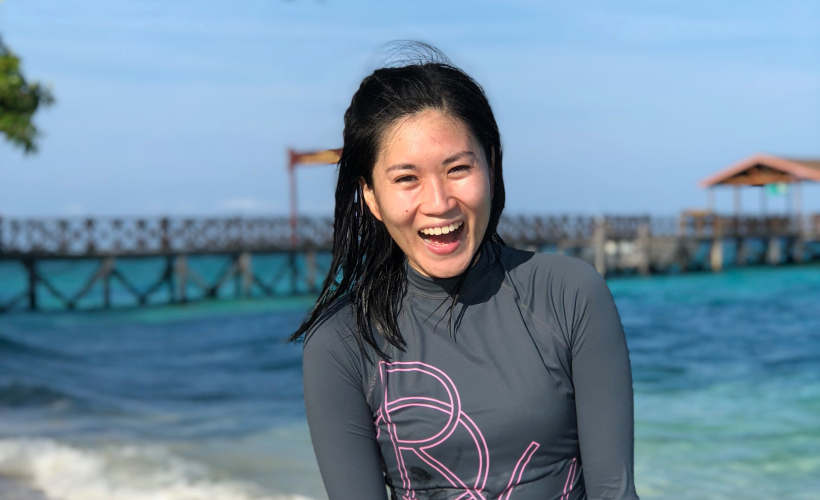 Mei Mei first started travelling at age 18, at a time where travel narrative and images were dominated by men. Today, she runs a travel blog where she shares intimate and honest stories from the experiences of a woman travelling solo. Mei works to inspire other young women to seek their own adventures and not just for the sake of pretty pictures. She believes that through travel, women of all ages and ethnicities can find independence, strength, and empowerment much like she did.
Want to get to know Mei Mei and hear her stories on her travels? Get your passes for her ZafigoX 2018 talk and panel right here.
Xyza Cruz Bacani
Breaking Barriers: From Domestic Worker To International Photographer
10 November
Xyza Cruz Bacani is a Filipina street and documentary photographer based in Hong Kong. Having worked as a domestic worker in Hong Kong for almost a decade, she uses her work to raise awareness about under-reported causes, particularly the intersection of labor migration and human rights. A Fujifilm Ambassador and a Magnum Foundation Photography and Social Justice Fellow 2015, Xyza has exhibited her work worldwide and is living proof that your circumstance do not dictate your future.
Get your All-Access ZafigoX Pass to hear Xyza's tale of self-discovery here.
Claire McFarlane
A Woman Traveller's Worst Nightmare: What I Did To Overcome It
10 November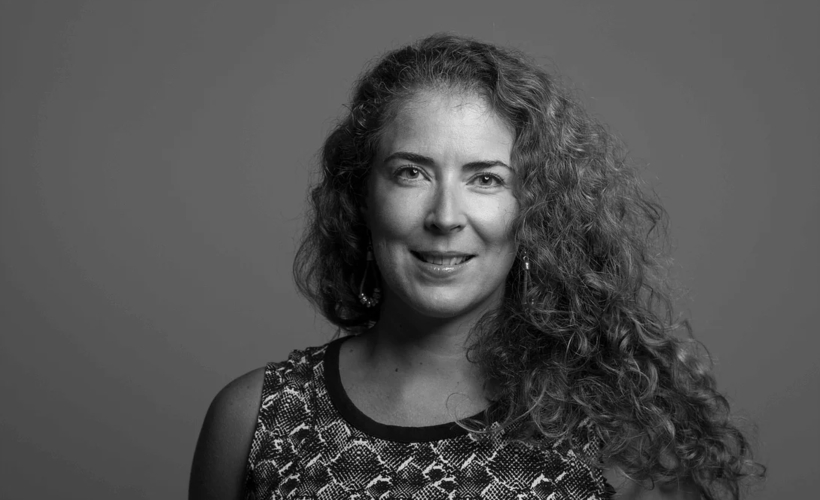 Claire is founder of Footsteps To Inspire, a project aimed at breaking the silence on sexual violence. A rape survivor herself, Claire is on a mission to run over 3,500 kilometres of beach across 230 countries. By sharing her personal story and peaceful outreach, Claire is fast becoming a voice of hope and inspiration to many. She has already run in 45 countries and hopes to create a movement of change, encouraging others to join her along the way. In her talk, Claire will share with the audience the trauma she experienced in France and how she turned the nightmarish experience into one that advocates for hope and change.
Learn more about Claire and how she overcame that tragedy to better the lives of countless other women at ZafigoX 2018.
Beverly Aisha Roach
Impressions From War And Other Life Adventures
10 November
Beverly served in the Canadian Army for 21 years and is now extending her career in high-risk security. Having lived in diverse conflict zones, from Kabul to Darfur, Bev kept the organisations she worked with safe so they could continue their work. She started Brazilian Jiu Jitsu at 52, and is now a certified self-defence instructor. She also began a small sportswear line called 'The Diesel Diva: #PeaceThroughSports' that allows her to sponsor athletes from areas with fewer opportunities and help social projects in urban low-income communities in Brazil and Pakistan.

Himadri Garg
Why India Is Safe To Travel Solo For Women
11 November
Is India on the no-go list for many woman? The resounding yes that follows is a product of many scare stories and reports that have painted India unfavourably. But Himadri of Ghoomophiro Sisters set out to prove otherwise. A traveller, photographer, and digital marketer, Himadri along with her sister Prachi has been exploring India for over eight years.
They pen down their travel musings on the go and they have been featured on CNN Travel, Indian Express, Femina and various other publications. Sit in on her talk and find out just how safe (or unsafe) India is for women.
Want to travel India yourself? Get your All-Access ZafigoX Pass to hear from Himadri and other women about their travels here.
Anita Yusof
Living Life In The Fast Lane: One Woman, One Motorbike And The World
11 November
Anita picked up riding six years ago specifically to travel. Only after three years of riding a motorbike, she went on her epic solo journey around the world on a motorbike. The ride, which she named 'Global Dream Ride', spanned 65,369km in 40 countries across four continents in 370 days. In her talk, she will touch on how her great passion for adventure riding intersected with travelling and earned her an Asia Book of Records entry.
Get your All-Access ZafigoX Pass to hear from Anita how she made her 'Global Dream Ride' a reality here.
Adrienne Lee
Creating Jobs For Women Through Travel
11 November
Adrienne, a consultant for a non-profit, works to advance the travel industry's social impact. Over the last 10 years and on all seven continents, Adrienne has lead programs in socioeconomic and community-development spaces, creating non-traditional livelihoods for women. In her talk, she will elaborate on how travel can be used for wealth distribution, to drive gender equality, and alleviate poverty remote places.
Learn more about Adrienne and how you too can use your own travels to help others at ZafigoX 2018.
Hermandari Kartowisastroz
Talk: 65 Countries At 75 – What I Have Learned
11 November
Hermandari, or Ibu Ndari, is a photographer, activist, and world traveller. At 67, she picked up an interest in photography, went on to pursue her passion and became a professional photographer. On her 70th birthday, she launched her first photography book entitled Mengapa Tidak?. To date, Ndari has travelled to over 60 countries in regions like Asia, Europe, and America, going from sleeping in tiny tents to hiking up mountain trails. At 75, this cool grandmother shows no signs of stopping and will share at her talk what these travels have taught her, and why you too shouldn't let age stop you from your wanderlust.
Wondering if you're too old to start travelling? Get your passes to sit in on Ibu Ndari's talk and panel on defying age norms here.
Marina Mahathir
Wanting The World And Going Out To Get It
11 November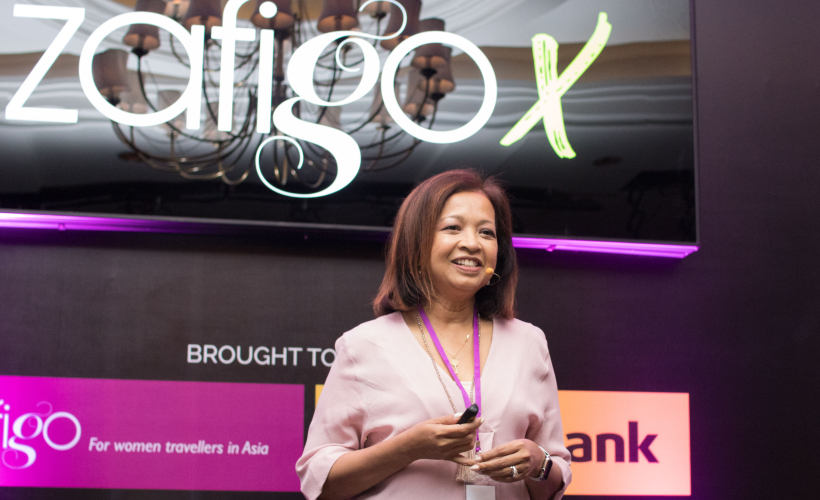 Marina is a writer and activist whose passion for women's rights has been a constant thread throughout her working life. She is an HIV/AIDS activist, and has also co-produced a TV programme for young women called 3R – Respect, Relax & Respond, to educate young ladies about their rights and options in life. In 2014, Marina founded Zafigo.com, a travel website for women in Asia, which seeks to empower women through informed and independent travel. ZafigoX is another brainchild of hers, where she seeks to bring together the accomplished, non-judgemental and supportive women to help others discover what they are capable of through their journeys.
Get your tickets for ZafigoX now to learn from these women and meet like-minded women who share your passion for travel!
 Get all the latest travel stories from Zafigo. Follow us on Facebook, Twitter, and Instagram.