The next time you're in Thailand, lay off the tom yam goong and venture into the finer side of Bangkok's culinary scene. The Thai capital has a thriving fine-dining scene that has gained international recognition.
Any chef can tell you that Thailand is one of the very few Asian countries that has a Michelin guide, the others being Singapore, Japan, Hong Kong and Macau. That's right, even Malaysia does not have a Michelin Guide yet. An increasing number of the world's best Michelin chefs had packed up their knives and moved to Bangkok not just for a holiday but to establish some of the world's most celebrated restaurants here.
Now that we've convinced you to explore beyond Bangkok's street foods, here are some of the new dishes in Bangkok that BK Magazine says "you should be eating right now". BK Magazine listed 30 in their original article, but here are the 13 that got us salivating:
1. Fried quinoa tom-yum with diced salmon at Brekkie
Inspired by classic tom yum fried rice, this dish substitutes rice with the trending superfood quinoa but still delivers all the tom yum flavour – an excellent go-to dish for any carb-watcher.
Where: 6/9 Sukhumvit Soi 39 | Tel: 083-656-6141 | Price: THB 285 (USD 8.25)
2. Calamari ripieno at Sun Street Panini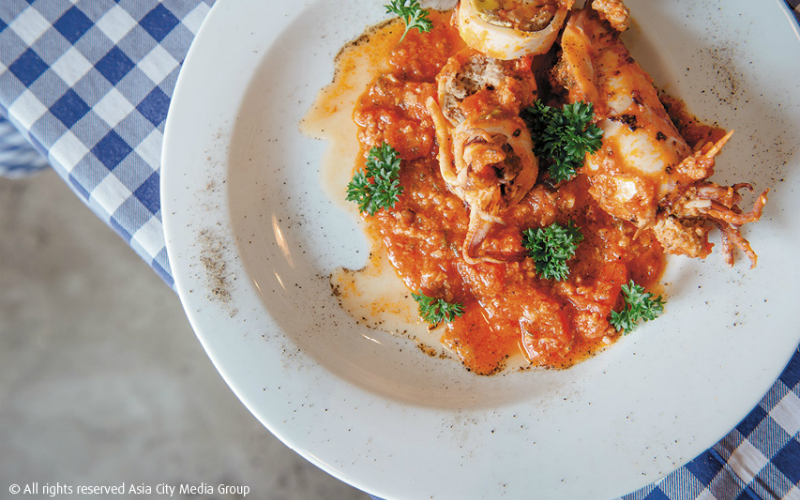 This new Italian eatery on Phra Athit Road is everything a homey restaurant should be. It also does an amazing calamari ripieno, which sees squid stuffed with homemade sausage, boiled egg and parmesan cheese, cooked in tomato sauce.
Where: Phra Athit Road | Tel: 082-454-8884 | Price: THB 230 (USD 6.70)
3. Simply the Best Burger at Brew Beers & Ciders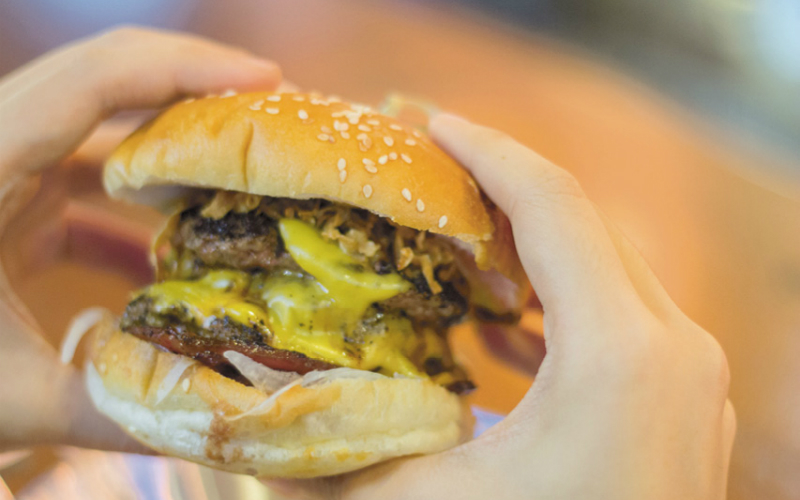 Food truck pioneer Daniel Thaiger and Thonglor drinking hole Brew Beers & Ciders teamed up and went back to burger basics, aiming to recapture the charm of old-school American fast-food burgers. The patties, though, are made from prime cuts of Aussie wagyu and angus beef, nestled between local breadmaker Conkey's steamed potato bun. These buns hold up admirably to the winning combo of gooey Cheswick cheese, garlicky Thousand Island-like sauce and juicy patty.
Where: Brew Beers & Ciders, G/F, SeenSpace, Thonglor Soi 13 | Tel: 02-185-2366 | Price: From THB190 (USD5.50)
4. Smoked salmon and cream cheese waffles at Upstairs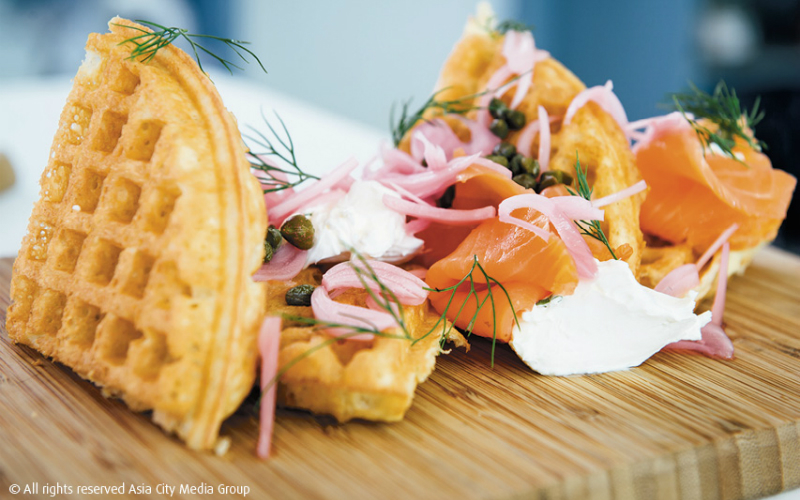 The crispy waffles offered every Sunday from noon-5pm at Upstairs at Mikkeller are no afterthought. Chef Dan Bark whips them up from corn starch and coconut, then serves them with delicious toppings like smoked salmon and cream cheese with capers and pickled shallots. Don't miss their other pickles (B50), too!
Where: 26 Ekkamai Soi 10 Yaek 2 | Tel: 02-381-9891 | Price: THB 260 (USD7.50)
Tip: With a variety of cafes and hotel restaurants offering a wide selection of breakfast dishes, brunchers in Bangkok have many great options to select from. Check out: 

5 Beautiful Brunches Places In Bangkok 
5. Ropa vieja at Azul
Instead of using beef like a traditional ropa vieja stew, chef Kip Oxman makes the dish lighter by using duck. The flavors are still there though, perfect for slathering on a to-die-for grilled corn cake along with an unctuous runny poached egg.
Where: 16 Sukhumvit Soi 49 | Tel: 02-662-6117 | Price: THB 220 (USD6.40)
6. Tawa lobster at Indus
Indus's new chef, Anil Kumar, hasn't just revamped the look of the restaurant's classic dishes; he's also added some new items inspired by the coastal region where he's from. Don't miss the flavorful tawa lobster (B1,650), which features a whole Phuket lobster, marinated in spices, grilled, and then served in its own shell.
Where: 71 Sukhumvit Soi 26 | Tel: 02-258-4900 | Price: Market price
7. Fried Chicken Bao at The Courtyard (B500)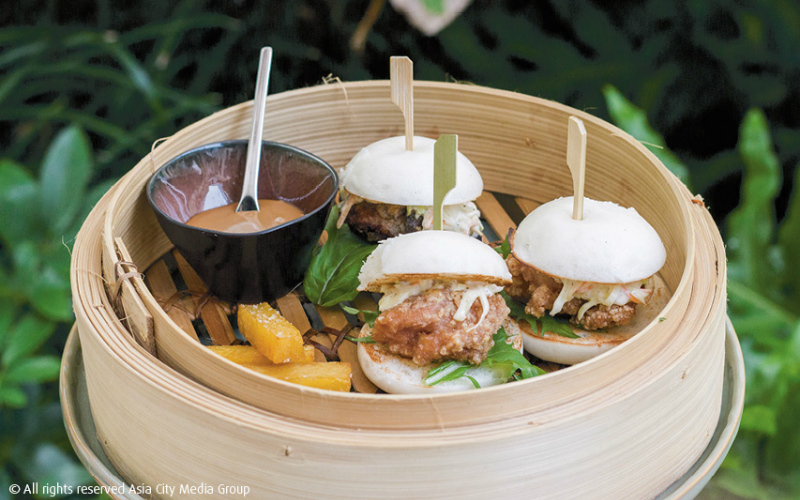 These Taiwanese bao come with a Japanese twist in the form of mild ginger notes to the fried chicken and an okonomiyaki sauce to go with the hand-cut fries.
Where: The House on Sathorn 106 Sathorn Rd. | Tel: 02-344-4000 | Price: THB 500 (USD 14.50)
8. Wagyu short ribs at Bunker (B950)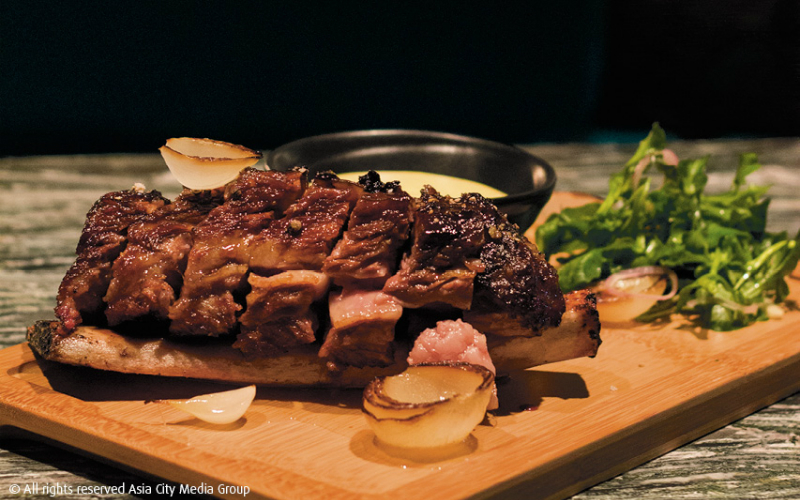 At one of Bangkok's best recent openings, they serve a decadently fatty plate of smoky wagyu short ribs so tender that they melt as soon as they hit your mouth. When paired with super-creamy mashed potato and their herby side salad, it's perfection.
Where: 118/2 Sathorn Soi 12 | Tel: 092-563-9991 | Price: THB500 (USD 14.50)
9. Sushi at Sushi Masato
The fact that over six months' advance booking is right now required to get a seat is proof of how much this city loves the omakase offering of this Tokyo-hailing sushi master. When working in New York, Masato was also the city's youngest chef ever to win his restaurant a Michelin star.
Where: 3/22 Soi Sawasdee 1, Sukhumvit Soi 31 | Tel: 02-040-0015 | Price: THB4,000 per person (USD 115.70)
10. Crab meat pad Thai at Baan Phadthai (B280)
Issaya Group executive chef Sujira Pongmorn makes a "secret" sauce from 18 ingredients for her pad Thai, which also features Chanthaburi noodles, house-dried shrimps, duck egg and crab fat. The crab meat pad Thai features an outstanding flavor combo in which the crab stock, fat and meat perform powerful work.
Where: 21-23 Charoenkrung Soi 44 | Tel: 02-060-5553 | Price: THB280 (USD 8.10)
11. Beef tartare at Water Library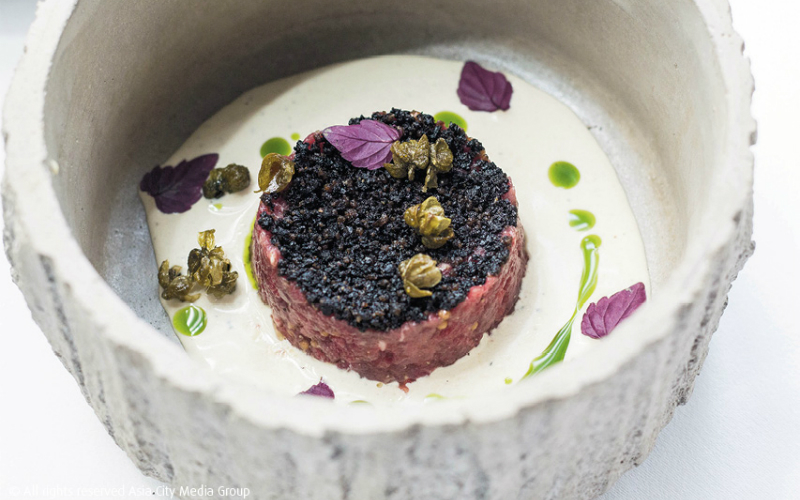 Chef Mirco Keller has given some pep to a classic beef tartare by adding the refreshing tuna-based Italian sauce called tonnato into the dish. On top of the meat, you've also got flavors of mustard seed, capers and olives in there. Make sure you get everything altogether in one bite.
Where: 2/F, Chamchuri Square, Rama / MRT Sam Yan 4 Rd. | Tel: 061-852-5411 | Price: part of the set lunch, starting B890 for two courses (USD 25.75)
Tip: Interested in exploring other Latin flavours? Check out our article on the best Mexican restaurants in Bangkok

here

. 
12. Earth set at Mana Cuisine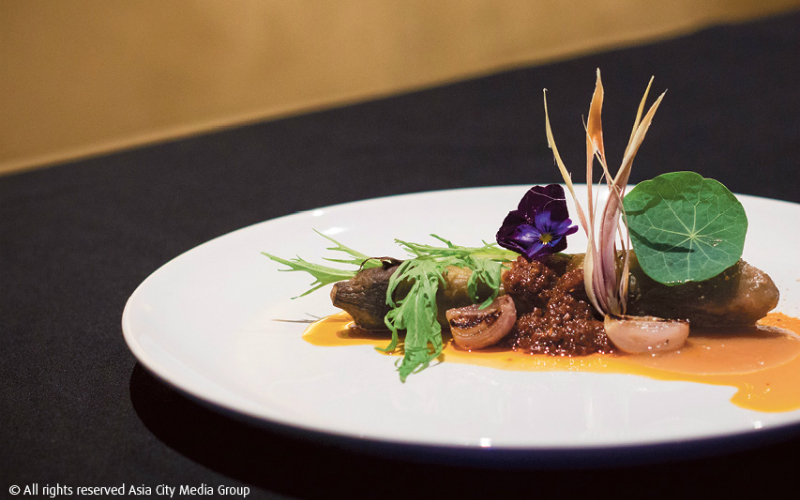 Tucked in Chi Ultralounge nightclub, Mana Cuisine serves dinner as four-course sets which rotate every month and come in three options: meat and poultry (dubbed Fire), seafood (Water) and vegetarian (Earth). We're partial to the Earth set, which highlights dishes like Eastern European borscht soup made with beetroot and red cabbage.
Where: Chi, 32/8 Sukhumvit Soi 13 | Tel: 02-102-0013 | Price: BHT 1,800 (USD52.10)
13. Rubia Gallega beef at Il Fumo
The restaurant has rounded up some of Europe's most prized meats. The veal is a Piedmontese breed raised on hazelnuts, the prosciutto and pork neck hail from the Ca' Lumaco Estate (between Modena and Bologna), and the beef—well, that comes from all over the place. Our favorite however is the intensely flavored, dry-aged Rubia Gallega from Spain.
Where: 1098/2 Rama 4 Rd. | Tel: 02-286-8833 | Price: THB5,400 for a 1kg prime rib (USD 156.20)
For the full list of mouth-watering cuisine in Bangkok, check out BK Magazine here.

Read Next: