This is Part I of our series on cafes along Bangkok's public transportation lines. Read Part II here: 10 Best Bangkok Cafes Near The Sukhumvit BTS Line
Whether you're in Bangkok on a work trip or leisure getaway, chances are, you will be commuting often using the city's well-connected BTS or Skytrain network. There are two main lines: Silom runs from west to south of the city, whereas the Sukhumvit line crosses from north to east. All the BTS stations are populated with small kiosks peddling a variety of goods and services, from apparel to food and money changers.
If you need a place to get work done in between appointments, here's our list of workspace-approved cafes within walking distance (under 15 minutes) of stations on the Silom line:
*Cafes are listed in order from West to South
1. Gallery Drip Coffee
If you need somewhere to relax after shopping in the Siam area or are looking for an excuse for another visit to the Bangkok Art and Cultural Centre, this specialty cafe on its first floor might just be it. They serve up delicious drip coffee made from single source coffee beans, including varieties from around Thailand. The beautiful and modern decor (including a sculpture-like wooden ceiling design) helps the cafe fit in seamlessly with the rest of the art exhibits.
Station: National Stadium (Exit 3)
Address: 1st Floor, Bangkok Art and Cultural Centre, 939 Rama 1 Rd, Pathum Wan | Opens: 11am-9pm, Tue-Sun | Tel: +66 081 989 5244 | Facebook: fb.me/GalleryDripCoffee
2. Growth Cafe & Co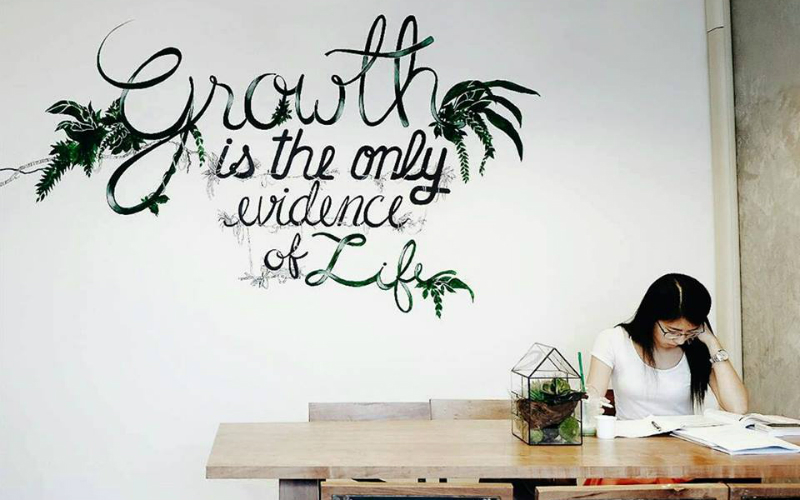 A shopping mall may not be the first place that comes to mind when searching for a workspace, but this cafe and co-working space at Siam Square is worth navigating the crowds for. Growth Cafe & Co brands itself as a place for inspiration and creativity to blossom, with minimalist decor and green fern plants hanging above tables. A full coffee bar is available on the first level of the cafe while the co-working space is upstairs. The food is predominantly Thai (think cakes and Thai-style sandwiches). The affordable co-working space rates (from THB190-290 for the day), complete with a snack bar (free soda and cookies) and fast Internet will keep us coming back.
Station: Siam (Exit 2)
Address: No. 236/8-9, 2-4 Floor, Siam Square Shopping Centre | Opens: 9am-12am daily | Tel: +66 086 778 8163 | Facebook: fb.me/GrowthCafeAndCo
3. Spoonful Zakka Cafe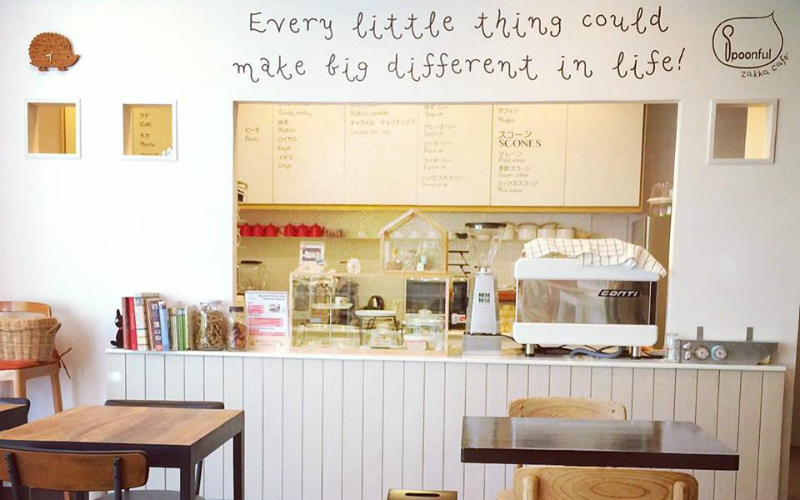 This cafe is modelled after the original outlet in Japan and stays true to its roots, selling the same whimsical and kawaii home goods and accessories. In addition, they serve artfully arranged desserts, freshly baked cakes, and light Thai curries and salads. Their specialty is Japanese tea, and they even offer afternoon tea workshops with a tea master from Kyoto.
Station: Ratchadamri (Exit 2)
Address: No. 31, Langsuan Road, Lumphini, Pathum Wan | Opens: 11am-7pm daily | Tel: +66 02 652 2278  | Facebook: fb.me/Spoonful
4. Cafe 9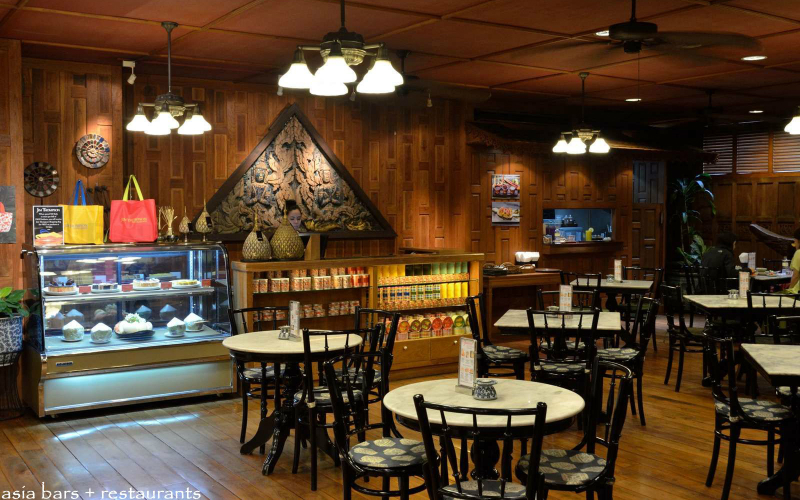 The Jim Thompson House is one of Bangkok's most visited tourist sites. While discovering the mysterious story behind the beautiful home, you'll also find a stunning collection of traditional Thai art that is worth a visit on its own. If you're looking to save the sightseeing for later, head to Cafe 9 that's part of the Jim Thompson group of restaurants. This is the only spot on our list without WiFi access, but the traditional Thai-style decor and quiet ambiance make it conducive for work and ideal for an escape from the busy streets.
Station: Sala Daeng (Exit 3)
Address: No. 9 Surawong Road | Opens: 9am-9pm daily; only pastries and drinks are served from 6pm-9pm | Tel: +66 02 632 8100 | Facebook: www.jimthompson.com
5. Bonita Cafe and Social Club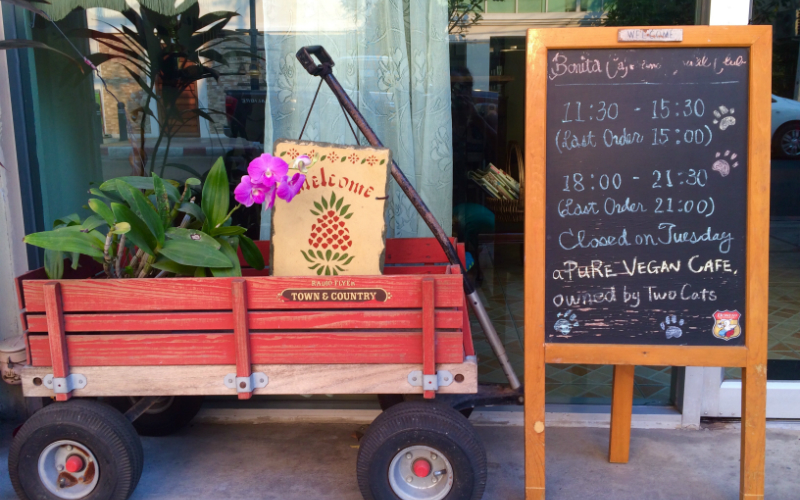 This cafe offers a homey atmosphere to tuck into delicious Western and Thai vegan and organic food. Find your spot at any of their wooden kitchen tables, complete with vintage American-style tablecloths. Skip the coffee and try a healthy and fresh smoothie for your afternoon burst of energy. I went for the mixed veggie soup and teriyaki burger plate; the burger was crisp and the sauce flavourful. The cafe also sells vegan running shoes and other active gear (the owners are avid runners).
Station: Surasak (Exit 3)
Address: 56/3 Pan Street, Silom | Opens: 11:30am-3:30pm & 6pm-9:30pm, Wed-Mon; closed Tue | Tel: +66 02 637 9541 |  Facebook: bonitacafesocialclub.wordpress.com
6. The Hobbyist Cafe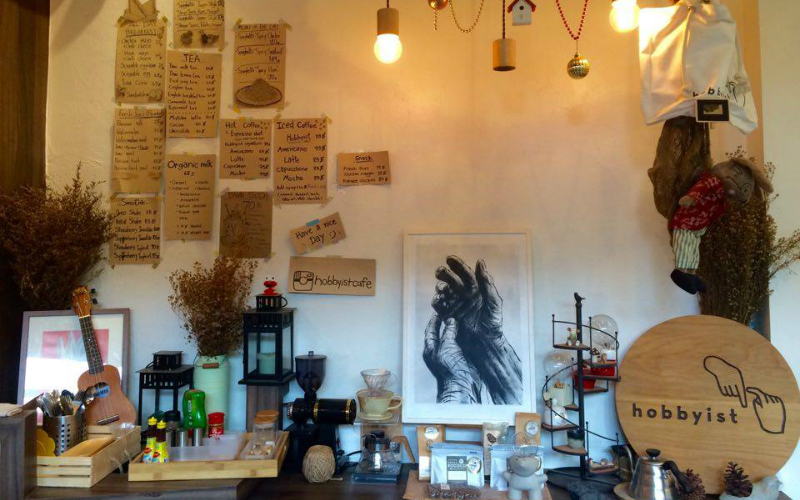 This hip and rustic cafe is a quick walk from the Shangri-La Hotel. Despite being located in a popular tourist area, it's a favourite among locals and expats looking for a cafe with a workplace vibe. They serve basic hot and iced coffees, Thai-style drinks (think iced teas and sparkling Italian sodas), and I also enjoyed their delicious panna cotta. With reasonably priced coffee and fast WiFi, this spot is the perfect place to finish some work before dinner on the river or an evening sightseeing tour.
Station: Saphan Taksin (Exit 3)
Address: No. 1326 Charoenkrung Road, Bangrak District | Opens: 7am-10pm, Mon-Fri; 10am-10pm, Sat; closed Sun | Tel: +66 086 619 5446 | Facebook: fb.me/Hobbyist-cafe
7. House of Commons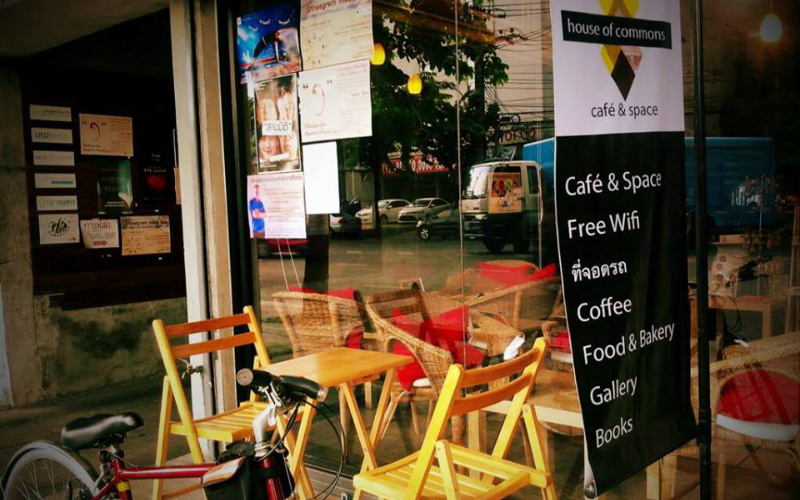 This is a little further outside the BTS grid – it's about 20 minutes' walk away – but made it to the list given the few conveniently-located work spaces the further you head west out of Bangkok. House of Commons describes itself as a 'cafe & space,' which means you can expect plenty of single seats as well as communal worktables. A bookshop is integrated into the cafe space on the main floor. Check their events calendar ahead of time, as House of Commons hosts many movie and art events. While at it, try one of their decorated cupcakes.
Station: Krung Thon Buri (Exit 4)
Address: No. 664, Charoen Nakhon Road, Klongtonsai, Klongsan | Opens: 8am-8pm daily | Facebook: +66 082 983 8099 | Social: fb.me/HOCSpace
8. Gooodluck's (Home) Cafe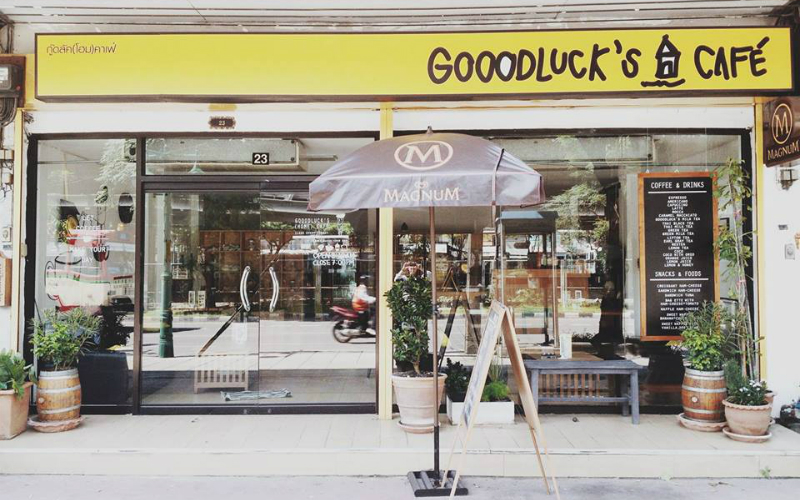 Should you find yourself on the east side of the Chao Praya River and looking for a break from the high-rise buildings and crowded shopping malls, Gooodluck's Cafe makes a nice option for a mid-afternoon coffee spot. Located less than 200 metres from the BTS station, this cafe offers light sandwiches, cookies and a small eating area. WiFi is available for all paying customers and the owner welcomes patrons looking to do some work.
Station: Wangwian Yai (Exit 1)
Address: 23 Krungthongburi Road | Opens: 8.30am-7pm daily | Tel: +66 081 822 5492 | Facebook: fb.me/gooodluckhomecafe


Read Next:
Get all the latest travel stories from Zafigo. Follow us on Facebook and Twitter.