As an Ari resident myself, I can't praise the neighborhood enough. Ari (or sometimes spelled 'Aree') is directly on the Skytrain/BTS and is made up of quiet residential streets lined with trees, large high-rise condominiums that rival the nicest and most posh addresses in New York, London, Shanghai or Singapore, gorgeous single family (plus-or-minus extended family) compounds, and numerous new up-and-coming cafes, restaurants and bars.
Every month seems to bring a new trendy food truck or Thai-designer boutique, making it nearly impossible to keep up-to-date.
From personal experience, some additional Ari highlights you should check out include:
For even more tips, DestinAsian's guide to Ari provides a great foundation for anyone looking for the perfect neighbourhood to rent or just a nice night out, including: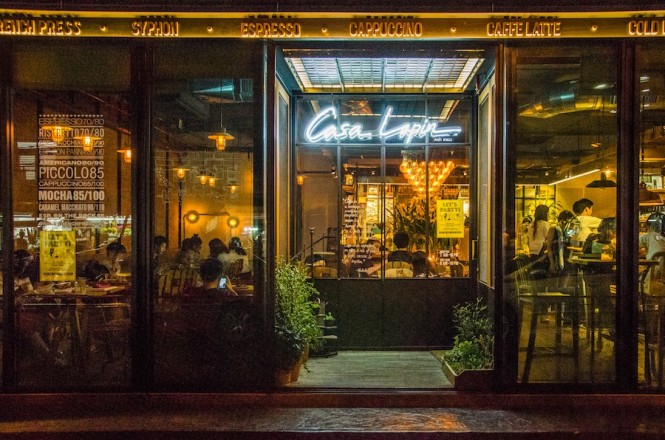 Casa Lapin

In a city where the majority of denizens would happy sip instant coffee from a sachet, Casa Lapin is raising the bar for café culture and then some. The shop offers artisanal single origin coffees made from beans sourced from Ethiopia, Indonesia, and Thailand, as well as gourmet cake pairings including 'flakey chocolate croissants' and 'flourless almond lemon cakes'. The owner, Nattaphat Lux Suriyakumphol, is a Thai architect with a passion for quality coffee, so much so that he spent two years at a Chiang Mai plantation studying coffee beans.

Nattaphat first opened the shop in Thong Lo in Sukhumvit in 2012, before expanding with a branch in Ari in September 2013. With warm wood furnishings, soft jazz tunes, glittering glass chandeliers, and fresh flowers daily, it's the kind of place that welcomes caffeine-fueled work sessions and easy conversation. The word lapin is borrowed from the French term of endearment given to a girlfriend or boyfriend, meant to invibe meetings at the café with a sense of familiarity and intimacy.

Coffee prices from US$4 (THB140).

Website: www.facebook.com/CasaLapin

Address: Soi Pahonyothin 7; 66-81/261-2040
The Rock

Found down a dark alley, this avant-garde restaurant exudes a cave-like ambiance with black painted walls, low ceilings, and limestone tables carved from rock quarries. The Rock's owners, couple Richard and Liu Xi Emden, opened the bar and restaurant in January of this year fusing their respective backgrounds in fashion and design, gemstone dealing, and travel to dream up the nature-inspired space. Leafy plants and vines weave around pillars while calfskins from Portugal cover the floor and carved rocks with candles light each table.

Thai, Chinese, and Portuguese influences play a role in the menu resulting in dishes such as cold, creamy crab pancakes and pomelo salad bites served on pandan leaves with a sprinkling of parmesan cheese. Rows of imported specialty liqueurs and spirits color the cubed neon shelves behind the bar. Signature cocktails are the creation of American mixologist Joseph Boroski, including the simultaneously sour and spicy Red Earth made with a surprising combination of paprika, white rum, lime, and red pepper. Try the Kunming Tourist Trap for a sweeter yet similarly exotic gin-based drink inspired by Chinese tea with hints of passion fruit.

Dinner for two starts from US$30 (THB1,060).

Website: www.facebook.com/rockrestaurantandbar

Address: Ari Soi 4 North; 66-82/688-8200
Bar Aree

For a taste of a typical Thai bar and a slice of the indie music scene pay Ari's local, Bar Aree, a visit. Opened in May 2012 by the Taparak family, the same owners as popular Salt restaurant just across the street, Bar Aree caters to those seeking Thai comfort foods and cocktails to unwind with. Each member of the Teparak clan lends a hand in the venues: Reungrit Teparak manages both spaces with her brother, Raiwin, acting as pastry chef and her sister, Antika, as the creative director.

While Salt is a place for the family's favorite overseas dishes, Bar Aree is a place for local favorites, celebrating the traditional spicy curries and coconut milk soups of their country. "We want it to be a place people feel comfortable, where locals can enjoy their neighbourhood bar and travelers can get a taste of a typical Thai bar," says Reungrit. Grab a glass of Sangsom Thai whiskey and cosy up at the haunt's communal wooden tables. For more upmarket cocktail options, tipple with elderflower and limoncello or cherry brandy with Angostana bitters also beckons. Bamboo lounge chaises and rattan tables create a tropical feel on the patio, while inside, the live band plays Thai love songs into the night.

Drinks are from US$5 (THB175).

Website: –

Address: Ari Soi 4; 66-87/511-4466; drinks from US$5
Ari has at least a dozen more restaurants that rightfully should be named here! For more places to check out, go to DestinAsia's full article or check out some of the following links:
1. Bangkok Area Guide – Ari, Renegade Travels, by Manfred T
Top Tip: Check out this article for a more photos of the neighborhood, including more on advice on shopping and renting in Ari.
2. Guide to Soi Ari, Bangkok @ Honeycombers.com
Top Tip: This article lists nearly every Ari restaurant with details on the type of cuisine, opening hours, and links to more information.
Read full article:
Bangkok's Ari Neighborhood Guide
Reposted from: DestinAsian
Picture credits: DestinAsian

Read more from Amy
More from Zafigo:
India's top 5 women-only travel clubs
New Delhi's most women-friendly hotels
Get all the latest travel updates from Zafigo. Follow us on Facebook, Twitter, and Instagram.