Sofia is a Malaysian third-culture kid back in Kuala Lumpur on a month's break and on a mission to learn about the city she's from but knows so little about. She wanted to do something worthwhile which interests her, so she joined Zafigo as an intern; she started exploring the KL arts scene and became involved in volunteering as well. Before, she just thought KL was soulless, a place where people's main interest were to eat and to 'lepak'. She was proven so wrong. Through her assignments, she hopes to find her roots, understand her hometown and help others open up to a city full of soul. These are her adventures, written in a series.
---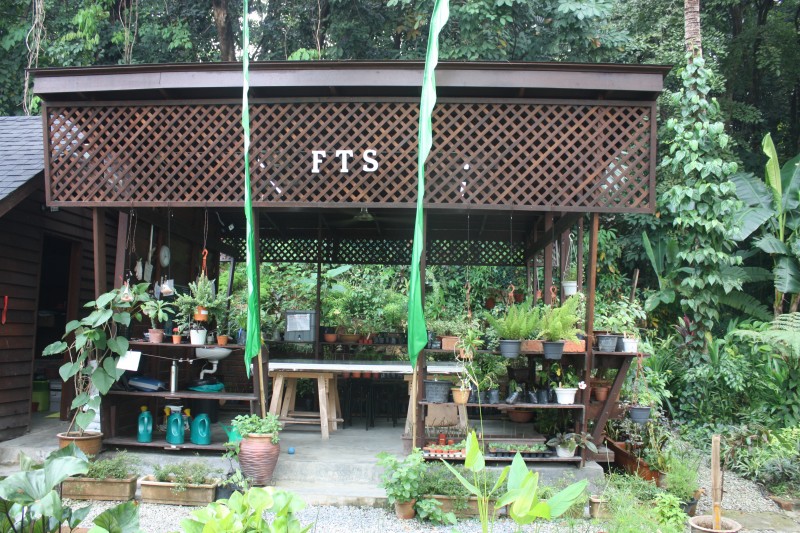 The Free Tree Society is a group of volunteers who aim to green KL from their communal garden. They take seeds, sprout and nurture them. They also give away plants on big national holidays and hold events.
What got me interested to volunteer at the Free Tree Society is their aim to educate people about planting correctly. I was in a phase where I was enamoured with learning about how to make things as opposed to buying them. Good planting skills seemed handy to have if I ever wanted to grow my own vegetables.
So on a Tuesday morning, I ventured out in search of this communal garden located somewhere in the middle of Bangsar, Kuala Lumpur. Since I was here for only a month I didn't see the point of getting a local data plan (free WiFi could be found almost anywhere I went to) so I couldn't depend on Google Maps or Waze to lead me straight to my destination. After passing busy city streets and housing districts, I was starting to lose faith on finding this place.
Before I finally gave up hope, I spotted a plot of land at the end of rows of houses. Where a house should have been standing, enclosed by a fence was an explosion of green. A sign saying 'Free Tree Society' greeted me.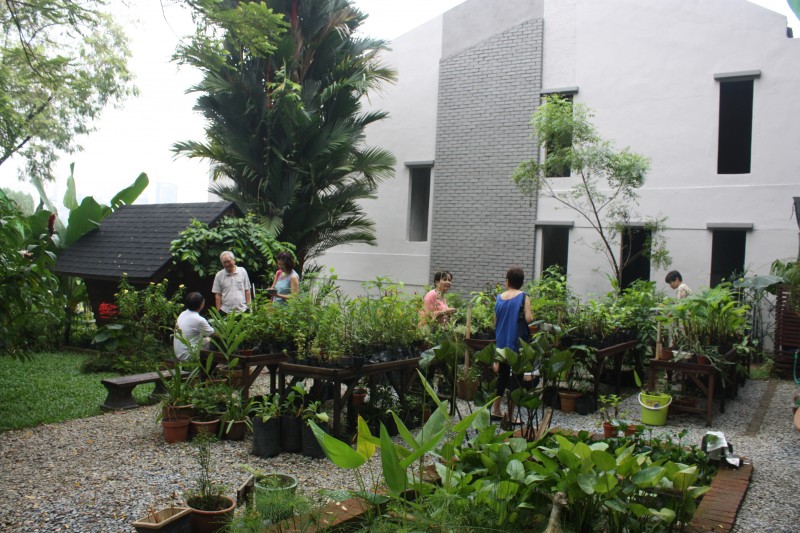 The volunteering session takes place every Tuesday at 9:30 AM. When I got out of the car, I was on the dot for the session, as was one of the founders of the society, Baida. She greeted me warmly and set me straight to work.
My first job was housekeeping. Housekeeping is generally one of the most important things needed to be done, or else the garden would fall apart and become a mess. My housekeeping job was to sweep the ground. Housekeeping is done at the early hours of the day because it is cooler then.
As I swept the ground, I looked around. If I were still in Norway, where I used to live, I would describe it as så koselig – It's a saying I can't really describe with words as it is more of a feeling –the feeling of being in a place that is so cosy that you enjoy yourself by just being there.
There were rows of tables with potted plants, each bearing a sign saying things like 'Herbs' or 'Fruits'. Plants hung from the kampong-themed veranda. I flicked through beautifully illustrated books about gardening that were shelved in the wooden toilet shed. A 'Free tadpoles' sign sat next to the pond filled with fishes and duckweed. There were laminated gardening tips cutely posted all over the place. It was koselig indeed.
After I was done with housekeeping, Baida started teaching me how to take care of the plants. I was noobishly excited. I pruned enthusiastically with gardening clippers, cutting away all the dead brown leaves. It was somewhat therapeutic seeing the plant look more organised.
Every now and then while pruning, I looked up to take in my surroundings. People were milling in and out of the society, carrying handfuls of plants to donate. Some people stopped by to adopt a plant or just to chat, genuinely interested in the garden. One volunteer's small dog wandered around, sniffing things curiously. When one of the regular volunteers was in a bit of a mood, the others tried cheering her up by playfully feathering her nose with a leaf.
It really felt like a society.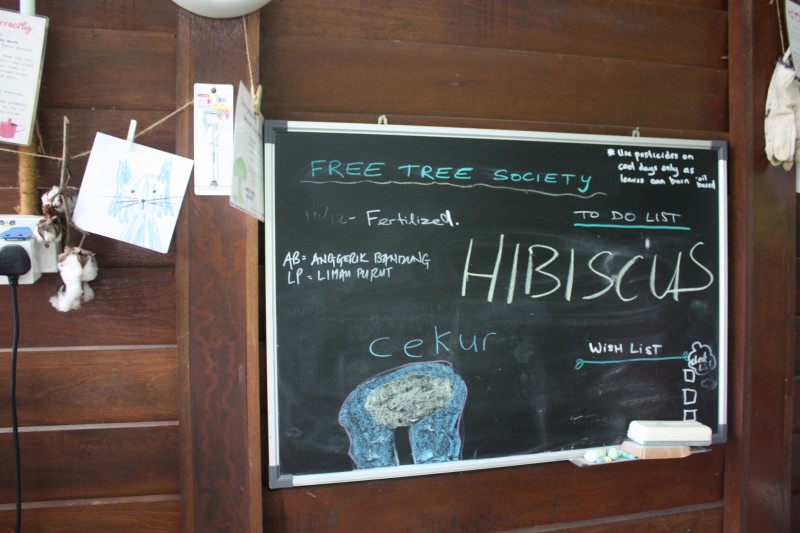 My next task was to propagate. We all gathered up around a large table on the veranda that stood in front of a chalk board saying "Goals: Hibiscus!" Another event the society was getting involved in: giving away free hibiscus's on Merdeka day.
I was taught how to propagate berry plants. Propagating is basically creating a new plant from a part of plant. I learnt how to propagate with cutting. I would cut leaves off a stem, and stems in half, so the stem could focus all its energy on growing roots. I would then stick the stem into a pot of moist soil. It would, overtime, grow into a berry plant. It was so cool.
Despite propagating seeming easy theoretically, being new at this I made a few mistakes here and there; mistakes like rooting a stem the wrong way or not cutting it right, but other volunteers were quick to offer a helping hand and corrected my mistakes, all while having a good natured giggle at me. They also explained to me the science behind why we did certain things in gardening, which I appreciated.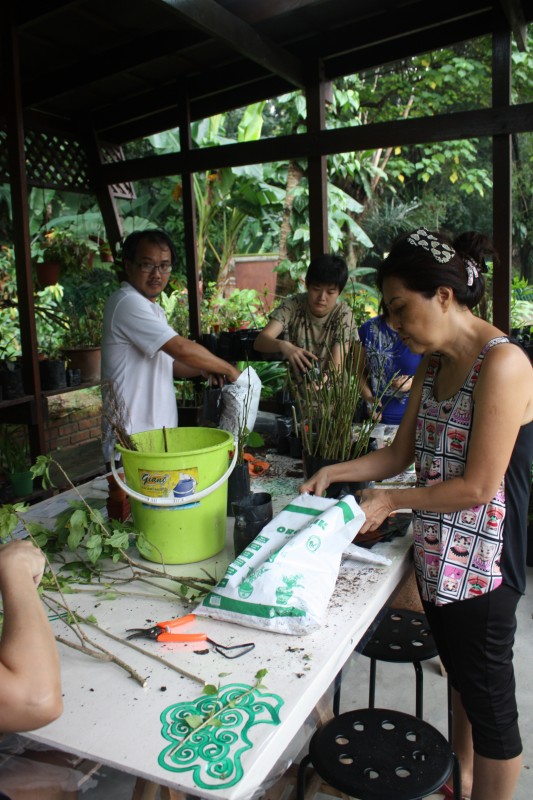 While we sat around the table propagating, naturally a conversation flowed. A volunteer's dog had recently passed away and the others were comforting her. I had just lost my cat that I kept for more than ten years, so I understood how hard it could be. I also understood how it's hard for other people to understand your loss, because to them it was "just a cat". I brought this up and they all agreed. "People who like to garden normally have pets." Someone said to me.
I also realised through the many conversations I had that day that many people in the society were involved or interested in other volunteering projects. I saw a trend Malaysia was seemingly showing me, another small society filled with passionate people.
As I carried on propagating in the garden, I had a moment. I felt the lazy morning sun shining on me, the soil powdered on my hands and the comfort of being with people who were like me, and who understood me.
In the middle of a hectic city, I found a plot of peace.
Free Tree Society Kuala Lumpur is a non-profit organisation that aims to green KL. They take seeds, grow them and then give them away. Their volunteering sessions are on Tuesdays from 9:00 AM to 11:30 PM and Saturdays from 9:00 AM to 12:00 PM. If you are interested to volunteer at Free Tree Society visit their website: www.freetreesociety.org or pay them a visit at 71, Jalan Limau Purut, Bangsar Park.
Facebook: Free Tree Society
Twitter: @FTS_KL
Instagram: @fts_kl
Coordinates: 3.138802,101.674478

Read more from Sofia
More from Zafigo:
Volunteer Travel: Is it for you?
Voices of Zafigo | Kuala Lumpur: Daphne Iking
Get all the latest travel updates from Zafigo. Follow us on Facebook, Twitter, and Instagram.