Sofia is a Malaysian third-culture kid back in Kuala Lumpur on a month's break and on a mission to learn about the city she's from but knows so little about. She wanted to do something worthwhile which interests her, so she joined Zafigo as an intern; she started exploring the KL arts scene and became involved in volunteering as well. Before, she just thought KL was soulless, a place where people's main interest were to eat and to 'lepak'. She was proven so wrong. Through her assignments, she hopes to find her roots, understand her hometown and help others open up to a city full of soul. These are her adventures, written in a series.
---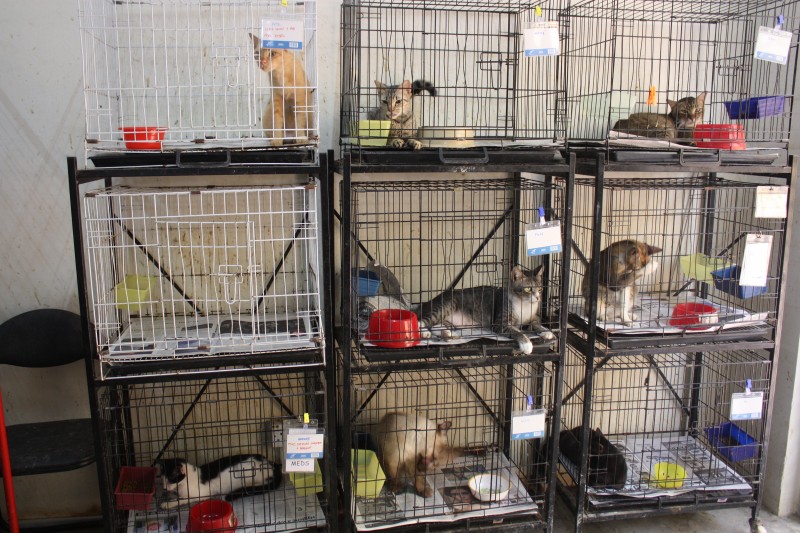 Ifound  Katzen Cat Sanctuary through the Malaysian website  Do Something Good. It  is a no-kill cat rescue center.  No-kill meaning they do not practice euthanasia if a cat is old, sick or requires constant attention. When I messaged the co-founder to ask if I could volunteer and write about the experience, I did feel like I was treated a little coldly.  How rude  I thought. Here I was, willing to spend my time to help and it was like they weren't too keen about me joining.
Eventually I received a message back saying  I could come in one day, but on the condition that I wrote from the heart.
Looking back at the messages now, I realise that they were not being rude at all. I only thought they were because they weren't leaping for joy when I asked to volunteer. They were being straight to the point, and after a day of helping out, I now know it's because they have a ton of other things to think about.
In fact, volunteers with the  mindset  that I initially had, where I shallowly believed that merely my presence was sought for, does more bad than good for this NGO. That's why the founders were acting cautious.
Also, after my experience at the sanctuary,  I understand why she gave me such a condition.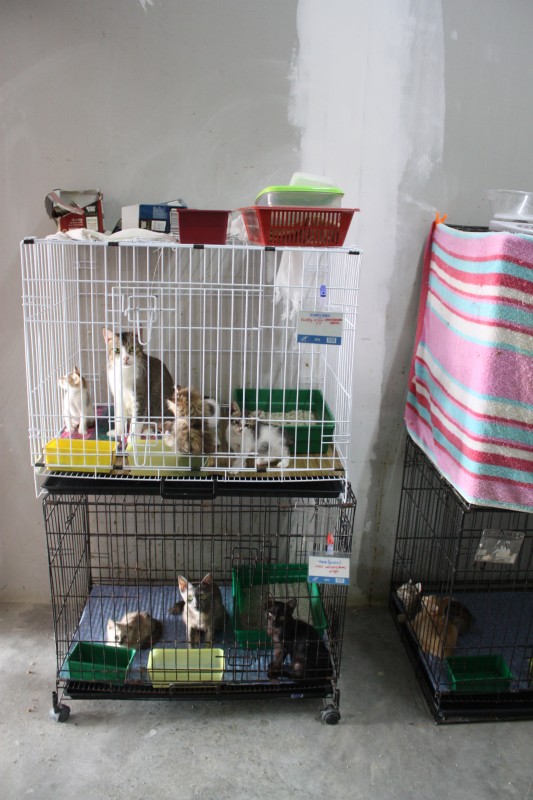 I walked into a room full of cats. There were kittens milling around the floor and pudgy older ones watching me from their cages. Apart from the pungent smell that cats leave, I was, to me, in heaven.
One of the co-founders, Suraya, greeted me. We hit it off immediately, as we both had the same sense of humor and loved cats!
She showed me around the shop lot. The place was still being set up, so the front room, that will eventually become a pet shop, was a little chaotic. In the back room there was a maze of large cages piled onto each other and a string of mewing faces. As we navigated through the room I couldn't help but smile as Suraya would greet each one by their name.
Both Suraya and her sister Shariza founded Katzen Cat Sanctuary. Suraya told me that the NGO was born after a devastating personal tragedy and  Shariza  was in need of a home for her seven cats.
The sisters took turns managing the organisation. Suraya looks after the sanctuary on weekdays to keep the NGO running and  Shariza would take over on weekends due to other work commitments during the week. A huge amount from their combined personal savings was used to get Katzen up and running, and they depend on Shariza's monthly paycheck to maintain the place. For the time being, they do not make any profit from the sanctuary, but that may change when the pet shop opens.
I thought, "wow, they  really  must love cats". I was in awe at how much they were willing to do to help.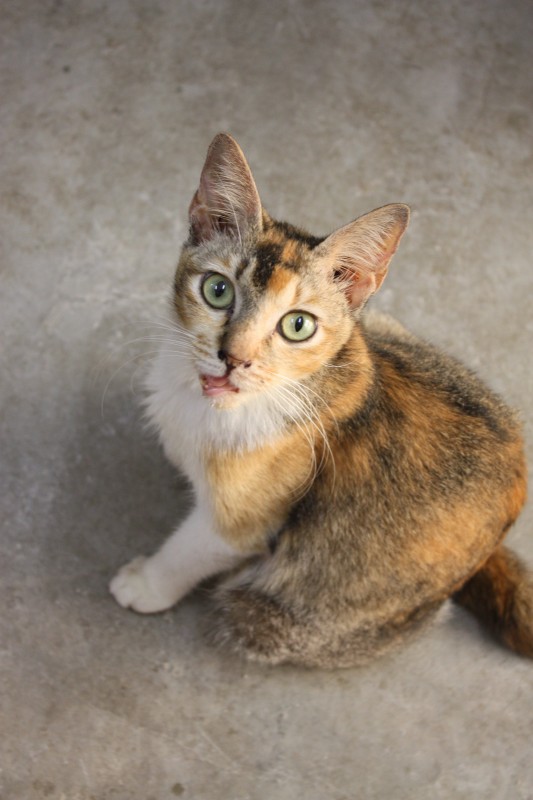 Suraya  gave me a verbal list of what volunteers generally helped out with: feeding, cleaning, medical issues and housekeeping. I began by plucking kittens off the floor and fed them with a syringe. Suraya sat with me as we did this. As we fed them, she told me about how sometimes untrained volunteers would insert the feeding syringe wrongly and end up hurting and choking the kittens.
Throughout the day I heard other stories like this, about volunteers making seemingly minor mistakes; like not drying a kitten who fell into a water bowl fast enough and not cleaning every pole on the cage so bacteria grows; that ended up harming the cats greatly.
That day too, I really understood how delicate kittens' lives were.
I spent five hours in Katzen, and during that time, two kittens died.
Sadly, this was not unusual. Viruses spread so easily. Weak kittens and cats can be too intimidated by the other more dominating ones to compete to eat from the shared food bowl. After hearing story after story, I solemnly asked  how they could have given up a secure life to do this daily. Just hearing the stories had already hurt my heart.
She said that you get used to it, the facts of life, death. She said that she wasn't that religious, but deep down she knew she and her sister were doing their part in the world.
We started doing the medical round for the cats. I sat down with her holding down a squirming cat as she cleaned the pus out of its wound. Normally, the sight of body fluids made me feel queasy, but a cat guardian has to be strong-willed, so I put aside my emotions and did my job.
As we cleaned, Suraya told me  about how having a pet cat and working at the sanctuary are two completely different things. Sometimes volunteers joined without fully understanding the extent of work required to run a shelter. You need to understand that you, and everything you do, is what is going to keep a cat alive. If you are bothered by the smell, or too lazy to clean thoroughly, or not humble enough to take instructions seriously, you really shouldn't be volunteering there.
I was left to hand feed a sickly kitten, while Suraya dispensed meds for other cats. I looked down into my hands and a  small face with scared eyes mewed  at me. The kitten was rapidly losing weight. If she lost too much she would lose her life. She was so weak that I had to feed her out of a syringe.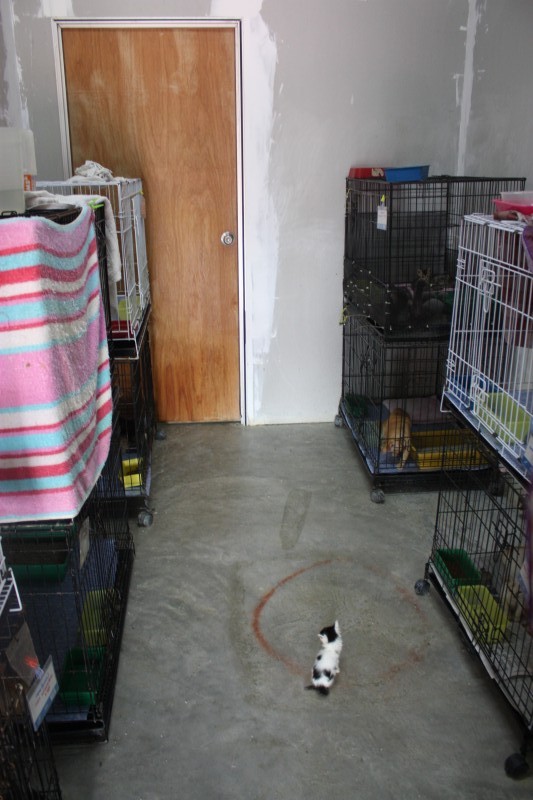 In the beginning, I light-heartedly chuckled every time her black furry body with white splodges cutely struggled out of my grip, refusing to eat. But I began to worry as the reality that the kitten could lose her life if I didn't feed her properly, hit me.
"Come on kitty", I kept thinking desperately, "please don't die on me".
I spent half an hour feeding that one kitten, a job that normally took only five minutes.  But this understanding and determination is what volunteers needed to have.
Holding the kitten in my hands, I thought about how  Katzen  gave me the condition it has to come from the heart when I write about the cat sanctuary. It's because this rescue centre is a part of them, a piece of their lives. It's what  they put all their heart, efforts, love and money into. Not writing it from  the heart would not do it the justice it so rightly deserves.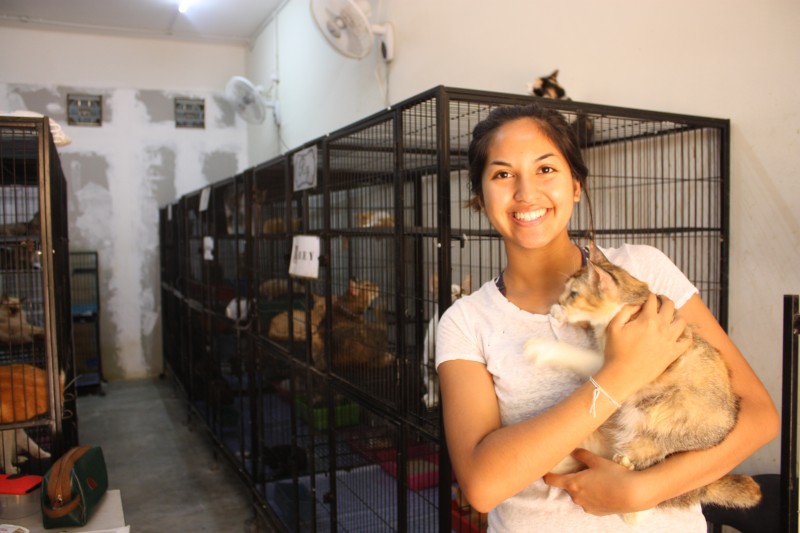 After spending a full volunteering day at Katzen I was touched by my experience there. I now understood the challenges the sanctuary faced, and how they really need help. I left promising Suraya I would carry on helping the sanctuary by sharing and promoting it.
A week later, I received a call from Suraya. She told me that the little black furred kitten with white splodges had caught a virus and passed away. Stopping viruses from spreading is hard to do once it is present. The sadness I felt when hearing this pushed me to want to help even more.
Writing this article, is one way I hope I will be able to, even when I'm not there.
If you would like to volunteer, host fundraisers, help promote the NGO, are looking for an internship or believe you can help in any way to make Katzen Cat Sanctuary rescue and save cats better, contact: sanctuary@katzen.org.my or phone :+6017 8783040
Facebook: Katzen Cat Sanctuary
Instagram: @katzencatsanctuary

Read more from Sofia
More from Zafigo:
Volunteer Travel: Is it for you?
Voices of Zafigo | Kuala Lumpur: Daphne Iking
Get all the latest travel updates from Zafigo. Follow us on Facebook, Twitter, and Instagram.