Thailand is a land of temples, home to thousands of Buddhist monuments, ranging from the humble to the majestic. From Chiang Rai's otherworldly White Temple to the giant Buddha that towers above Bangkok's Phasi Charoen district, every province has awe-inspiring structures.
Among these spectacular sanctuaries is Wat Pa Maha Chedi Kaew, a temple nestled in Sisaket in Northeastern Thailand's Isan region. This temple stands out, however, not for its scale or use of precious materials, but for an ingenious design showcasing 1.5 million bottles.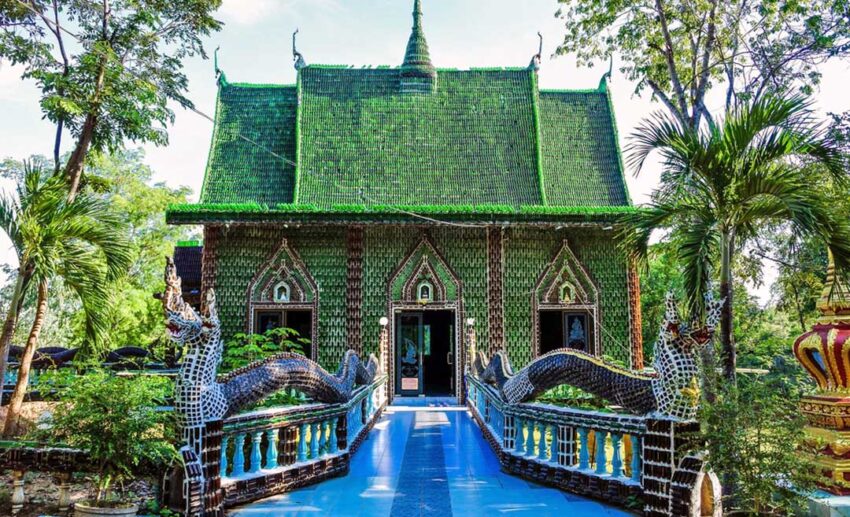 With an ordination hall that appears to float over water, this structure is definitely a showstopper, yet its construction was born out of necessity. In the 1980s, a group of monks, flustered by piles of empty beer bottles littering an otherwise idyllic landscape, devised a novel solution to build a temple with recycled bottles.
Spearheaded by abbot Phra Khru Vivek Dharmajahn, construction of the eco-friendly temple began in 1984, with locals contributing empty Heineken and Chang bottles to the effort. The idea of cleaning up the environment and promoting recycling was a great success.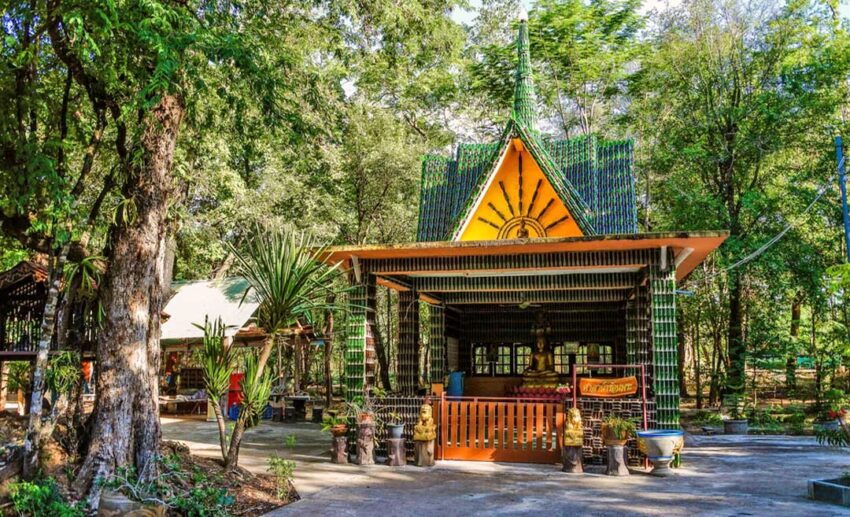 The complex now includes some 20 buildings, including prayer rooms, water towers, sleeping quarters, and a crematorium featuring bottles embedded into the walls, floors and roof. Alternating green and brown beer bottles for contrast, the glass receptacles are arranged in attractive formations. Certain sections employ clear soda bottles and smaller Red Bull bottles.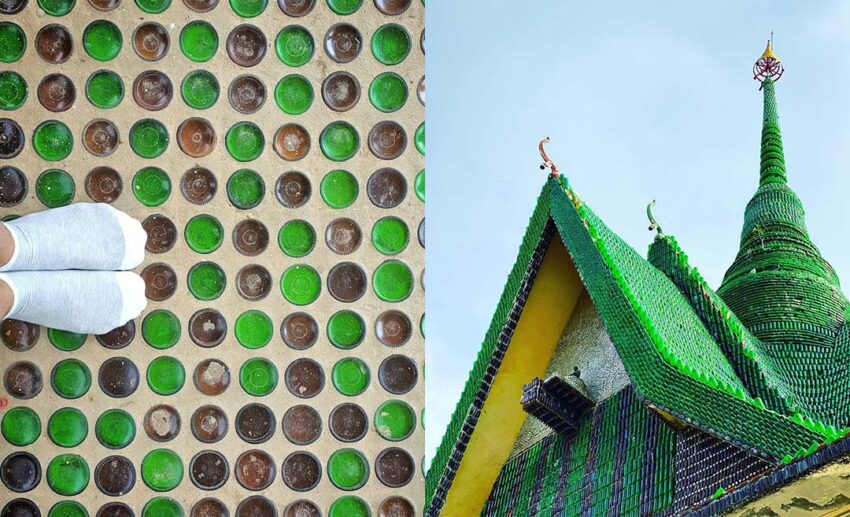 Even the cement floors of the complex––studded with bottles with their bottoms facing up––are pretty. Adding to this picturesque collage are mosaics made entirely out of bottle caps, the most attractive of which is the Bodhi tree that backdrops the Buddha image in the main hall.
Another interesting feature is the giant reclining Buddha decorated with bottles and bottle caps. This serene bottle-decked temple is not merely a tourist attraction, but proves that it only takes a few mindful people to effect change.
This story was originally published on AirAsia. Zafigo republished this story in full with permission from the publisher, simply because good stories should be read by as many people as possible! If you have stories that will be of interest and useful to women travellers, especially in Asia, please get in touch with us at info@zafigo.com.