Maybe you're finally jumping on the Marie Kondo movement or perhaps you're just making room for a new minimalist closet aesthetic. Either way, you're looking at a luggage bag's worth of unwanted clothes. So, what do you do? Do you contribute to more waste filling up landfills or do you set up an online marketplace account to sell them? With the latter, you can potentially end up waiting forever and still not have buyer. Exhausted just thinking about these two options? Here's an alternative — donate them instead!
Give away your unwanted textiles to local charities sans the guilt or extra effort of snapping flattering shots to attract buyers. If you look hard enough, you'll find many charities in the Klang Valley that aim to rehome preloved clothing. And, luckily for you, we did all the hard digging, so all you have to do is browse through our list for your most convenient option.
Kloth Cares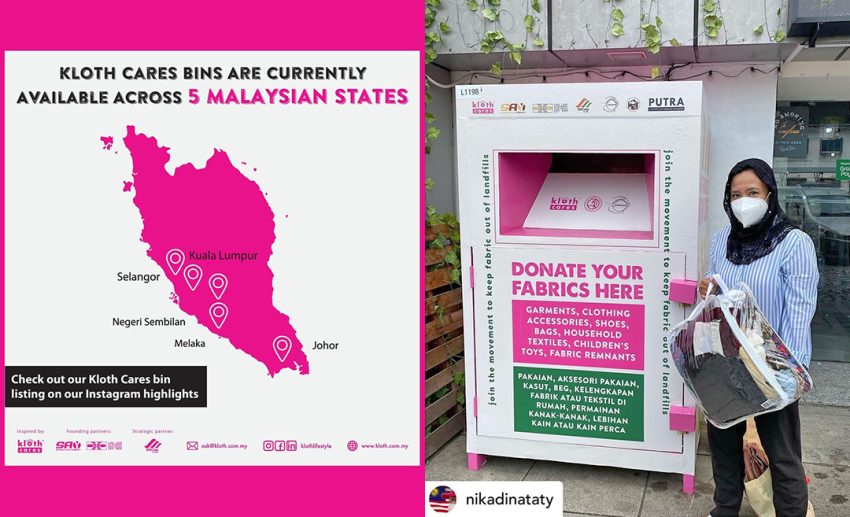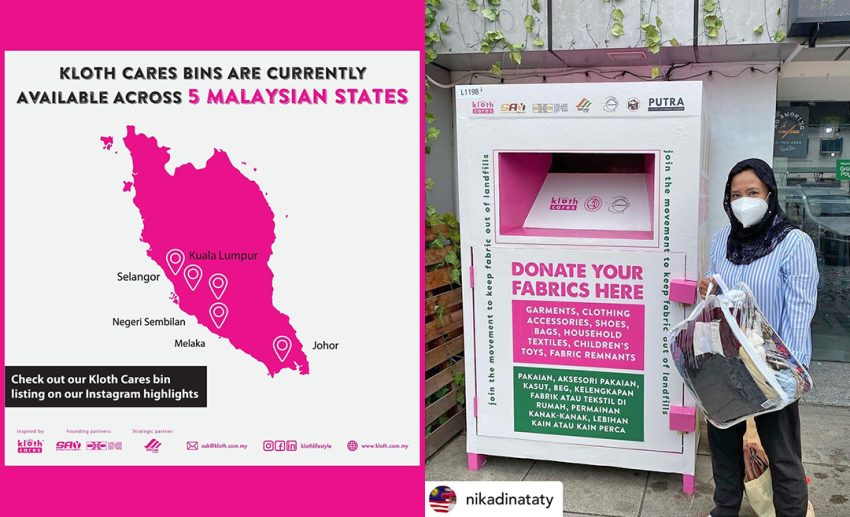 Kloth Cares, a Malaysian social entrepreneurship movement that aims to keep fabrics and plastics away from landfills, collects textiles and gives them new life and purpose. Their approach focuses on managing fabric and textile wastes by staying true to the 5R principles of 'Rethink, Reduce, Reuse, Repurpose and Recycle'.
Since its launch in August 2018, Kloth Cares now has over 300 recycling bins installed in Selangor, Kuala Lumpur (KL), Melaka, and Negeri Sembilan. They accept unwanted garments, clothing accessories, household textiles, footwear/ shoes, children's toys, fabric remnants, and bags. Any donations that are in reusable conditions are up-cycled at bundle shops and donated to those in need. Those worse for wear are repurposed for industrial cleaning and recycled by reengineering to fuel cement kilns.
Kedai BLESS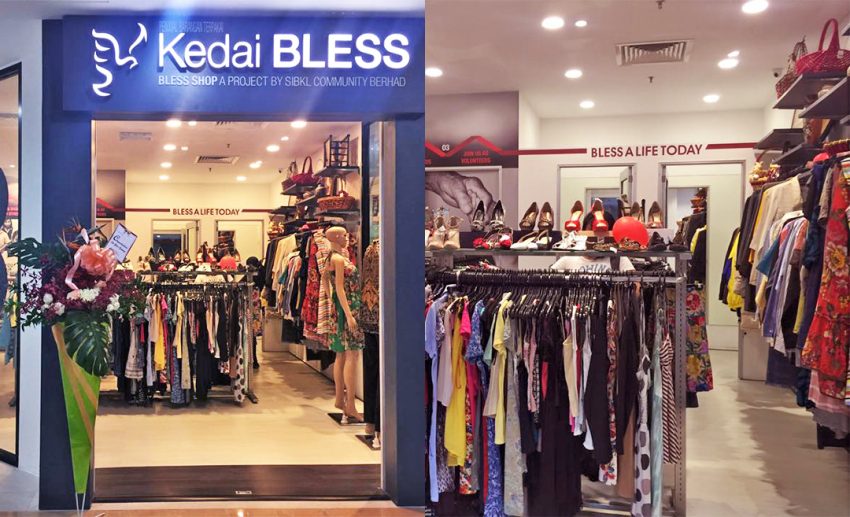 An outlet store that collects and sells preloved clothes in their thrift stores, proceeds from the sales are contributed to the charitable organisations that they work with. Projects like the Kenosis Homes for Drug Rehabilitation, Crossroads Ministry – Rainbow Home for Troubled Women, refugee schools, and more gain from the excellent work done at Kedai BLESS. In an effort to give fair opportunity to those in need, and help them earn income while building a career, BLESS hires Orang Aslis, refugees, and even former rehab patients.
H&M
As a fast fashion brand with a heart, H&M runs a global garment collection initiative to work towards a more sustainable fashion future. Accepting any brand of clothing and textile or fabric scraps of any condition, customers can bring a maximum of two bags per visit (with each pack containing a minimum of five pieces of clothing) to get a 15% discount voucher!
Launching globally in 2013, they accept unwanted clothing in any condition. And according to their website, they mean all states, "even odd socks, worn-out T-shirts, and old sheets."
Monki
Also under the H&M group, the Swedish fashion chain store collects old clothing even if they do not fall under the Monki label as part of their promise to make recycling clothes as much a part of our lives as any other recycling effort. Like H&M, customers can bring a maximum of two bags per day (with a minimum of five pieces of clothing in each bag) for a 10% discount voucher. However, Monki stores will not accept inner garments such as underwear and lingerie.
Kechara Soup Kitchen
You might know of Kechara Soup Kitchen, an organisation that collects surplus food and distributes it to those in need. But did you know that they also accept donations for garments and shoes for the underprivileged? Passionate in serving the poor and homeless in the local community, Kechara Soup Kitchen accepts preloved clothes, raincoats, shoes and more, to distribute them to recipients of their feeding programmes.
Community Recycle for Charity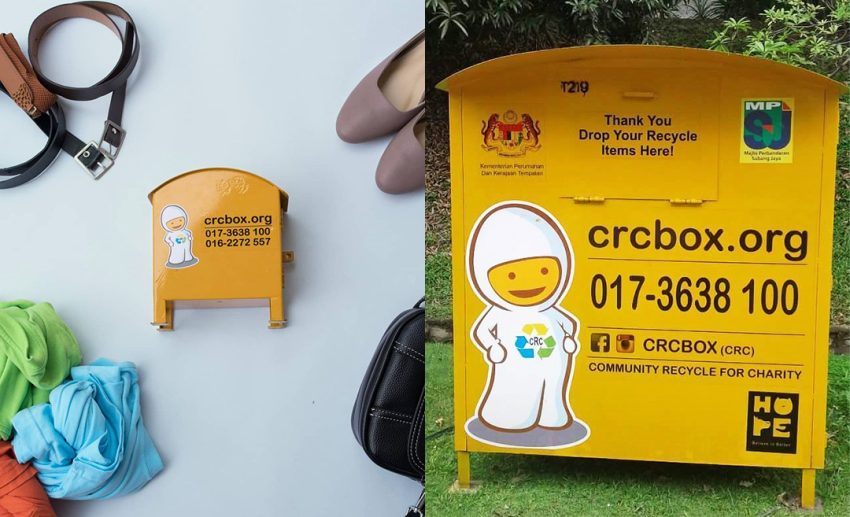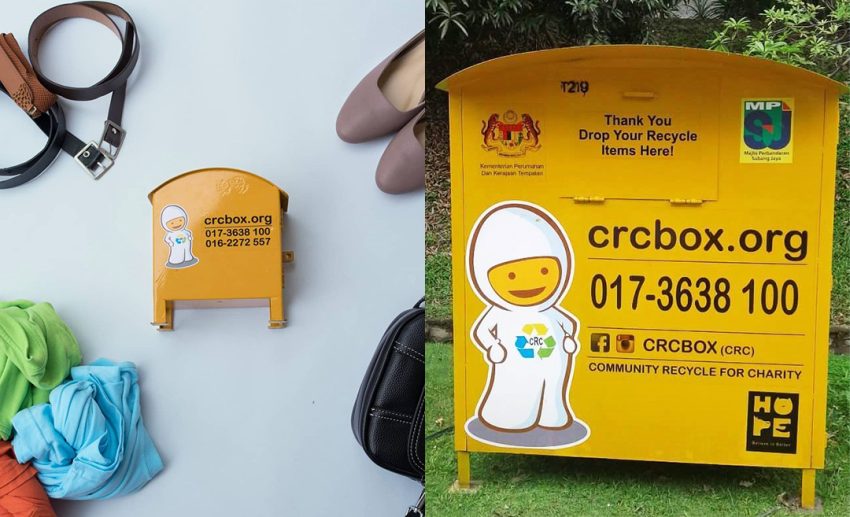 Founded in 2008, Community Recycle for Charity (CRC) is a non-profit organisation that collects clothes and other recyclable items like furniture, paper, glass, plastic, and more. Reusable items are then donated to charity homes that need them, while recyclables are, well, recycled.
To encourage more to be part of the recycling community, CRC has also installed 400 bins around the Klang Valley to make it convenient for the general public to easily access drop-off points. Got items that are too bulky that you'd like to donate? Just slide into their DMs on their social networks or give them a ring to arrange for pick-ups!
iCycle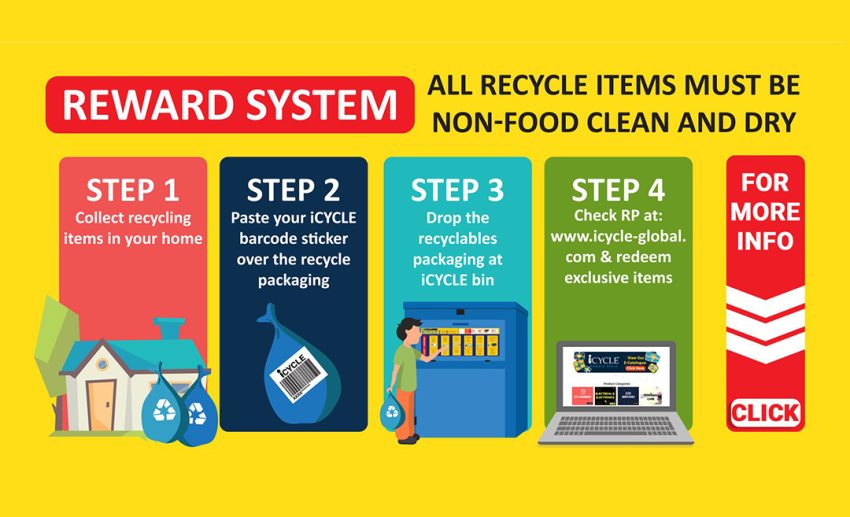 One of a kind, iCycle is a social business portal that allows consumers, individuals, and organisations to track, monitor, and update their performance in their recycling activities. Recognised locally and globally, iCycle Malaysia runs a recycling-for-points programme. Everyday consumers recycle and receive points for shopping vouchers, cash, and eco products.
All you have to do is sort your recyclables, pack them into individual bags, weigh them, drop them off at the nearest iCYCLE® carbon cycles, and then receive points — all via a mobile app. Learn more about how iCycle works and how you can start getting rewarded for recycling today!
Address: Unit A, Level 11, Tower B Medini, 9, Persiaran Medini Sentral 1, Bandar Medini, 79250 Nusajaya, Johor
Phone: +6011-1147 9249