The Haenyeo are the mermaids of South Korea. Strong, and graceful, they dive to the depths of the sea, swimming their mermaid swim and singing their mermaid songs.
Haenyeo are women who plunge into the harsh East China Sea daily – with no scuba gear and sometimes even no wetsuit – to collect shellfish, sea urchins, sea cucumbers and other sea goodies. Remarkably, these women are usually at the age of 50 to 80 and can free dive down to 20 metres underwater. Without air tanks weighing them down, they dive down on a single breath hold. Their lungs have amazing capacity, they can hold their breath for as long as two or three minutes – and sometimes even 10. All these while batting current, waves, pressure, and digging the seabed for their catch of the day.
This job, which is usually passed on from mother to daughter, requires the woman to dive into the sea, collect their bounty, and then resurface to drop it in a sack strapped to a buoy. Resting for no more than a minute, they drop into the sea again and continue the cycle for the next 5 hours. They do this for every season – no matter how cold the water. The Haenyeo's harvest are later mostly sold to overseas businesses – sometimes ending up on a sushi platter in the United States.
For such a strenuous activity, the women have developed tactics to make their job safer and easier. They whistle when they resurface – an ancient technique used to expel carbon dioxide from their lungs. Sometimes, they wear make-up during the dive to please the Sea God. They also sing sorrowful songs about their hardships to sing to boost their moral.
In the patriarchal society of South Korea, they have evolved to become breadwinners of the family. History books dating back to 15,000 years says that the women first started diving to collect pearls for their king. The divers are all women because the men were conscripted to the army in the 17th century. Fast forward to today, the tradition of women pearl divers continues. Though originating from Jeju Island, some have moved to Geoje Island to start a market there. As the women play mermaid for the day, their husbands would stay by the shore to sort out the wife's harvest.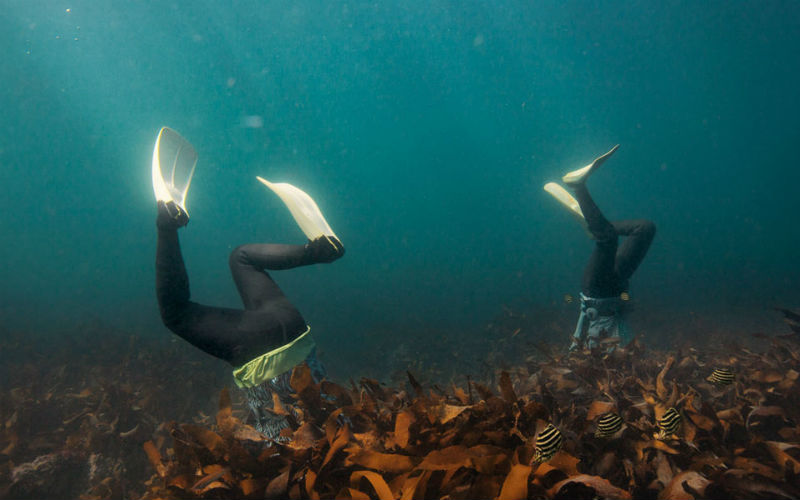 It is a beautiful and unique heritage, but one that is feared to be slowly dying. The current Haenyeo may be the last generation to exist. This cherished tradition is slowly being lost as island girls are now more interested to work in the big city lights. More of them are moving to Seoul instead of inheriting their mother's traditions, jeopardising the chain of the Haenyeo knowledge, skills and endurance.
To protect this cultural asset, there have been academies set up in Jeju and Geoje. In Jeju, the Hansupul Haenyeo School has been around for 8 years, while The Haenyeo Co-op of Geoge Island has been around for nearly a year now. Currently, 20 women have been accepted into The Haenyeo Co-op of Geoge Island. To preserve the Haenyeo tradition, the South Korean government is also subsidising the cost of dive suits for the woman as they traditionally dive in only cotton trousers and shirts.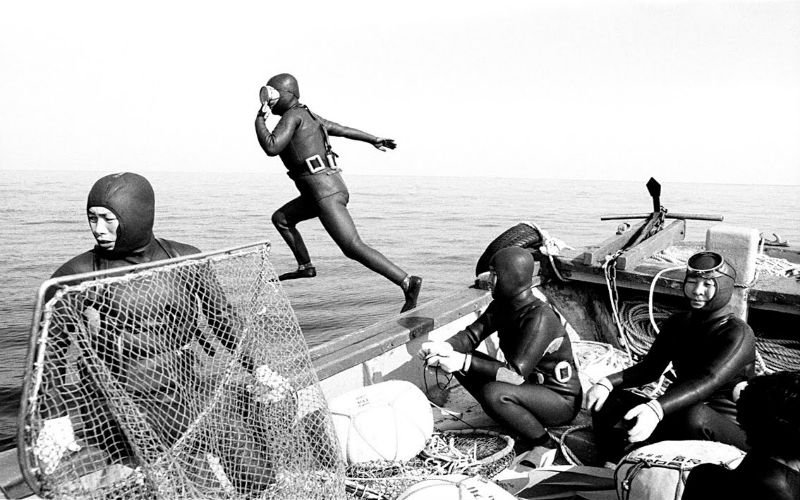 You should consider visiting these mermaids before it's too late. The Geoje International Center (GIC) has workshops for tourists to go freediving with the Haenyeo. The session will include an indoor class for an hour, and then you will spend three hours attempting to catch sea food like the Haenyeo.
If you don't like getting wet, there is the Haeneyo Museum where you can learn more about these women and their amazing capabilities. There is also the Haenyeo Diver Demonstration where you can watch the women in action.
[responsive-video identifier="4IT4YWuc8Aw"]
Mermaids, sea women, Haenyo, call them what you may, these women are listed by UNESCO as part of the world's intangible cultural heritage. There have been movies made about them, books written and exhibitions curated to document their unique way of life. Before it's too late, you should stop over in Jeju Island or the quaint Geoje Island to see the mermaids of South Korea. Better yet, take a swim in their fins and be a mermaid for a day.

Read Next: