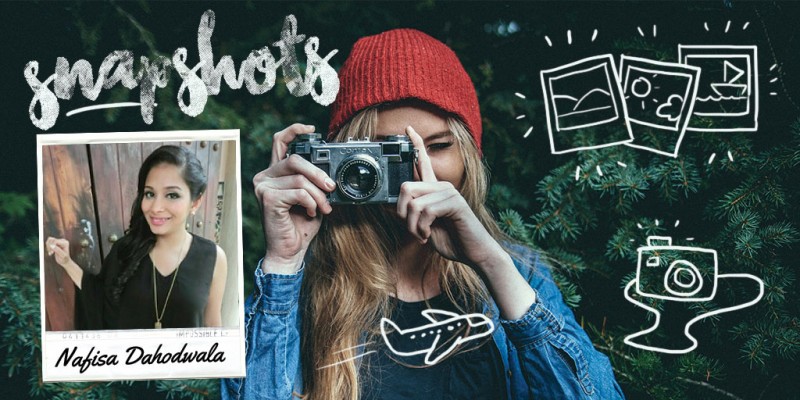 Snapshots (formerly known as Views) is our photo essay section, whereby we ask women to share 6 of their favourite images that tell the story of their city or a destination they have travelled to. We welcome contributions from readers; if you have a photo story to share, email editor@zafigo.com and indicate 'Snapshots' in the subject line. Published submissions will receive a token sum from us.
---
Every stone tells a story and every path you travel brings with it its own destination. This is the statement that crossed through my mind, as I walked on a cold winter afternoon along the streets of Jeonju Hanok Village. Located in the Jeollabuk-do province of South Korea, Jeonju called as a slow city, is perhaps the most traditional and ancient city that is a must visit if you are travelling in South Korea and culture is your thing. Of the many traditional sites the city offers, the most popular attraction is the Jeonju Traditional Hanok Village.
The Jeonju Traditional village houses nearly 700-800 hanok style homes (traditional Korean houses) and has been designated as a World UNESCO Heritage Site. The village has a central pavilion filled with street food, restaurants, shops which then give way to more narrowed alleys with guest houses and private homes all done the traditional way. Besides having the highest number of hanok homes all together, the village is famous for the Omokdae Pavillion, Gyeonggijeon Shrine, Jeondong Catholic Church and Hyanggyo which is a Confucian school. If you are interested in learning more about Korean culture you could also visit the Hanji factory, which is a traditional Korean paper requiring a good deal of craftsmanship to make and the Wine Museum to experiment with makgeolli (rice wine) and moju (another variant of makgeolli). And of course the region has the best bibimbap, so if you are food lover there's something in store for you as well!
Some snippets from my Jeonju Hanok Village adventure…
1. The first view of the Hanok village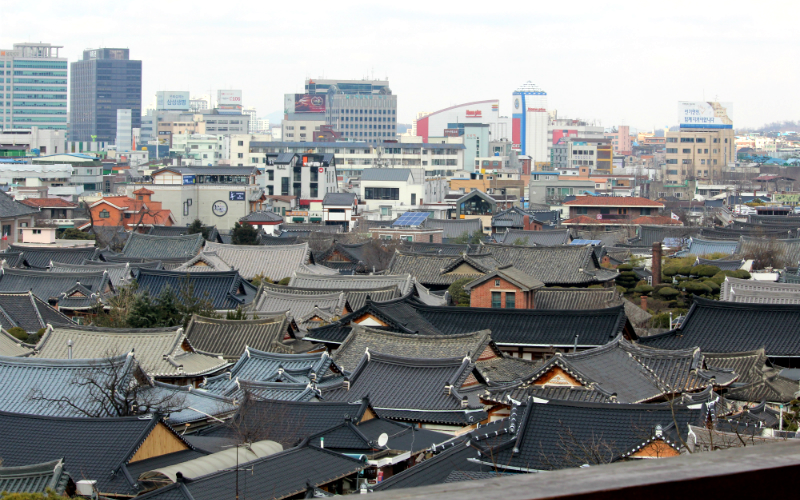 As soon as you begin to move towards Jeonju village, this is the first view that welcomes you. The skyline is a mix of the roofs of the hundreds of hanok homes with the skyscrapers looming in the background. The view is a reminiscent of Korea's progress post-war and a delicate balance of a mixing of eastern and western philosophies and cultures that shape the Korea of today.
2. Omokdae Pavillion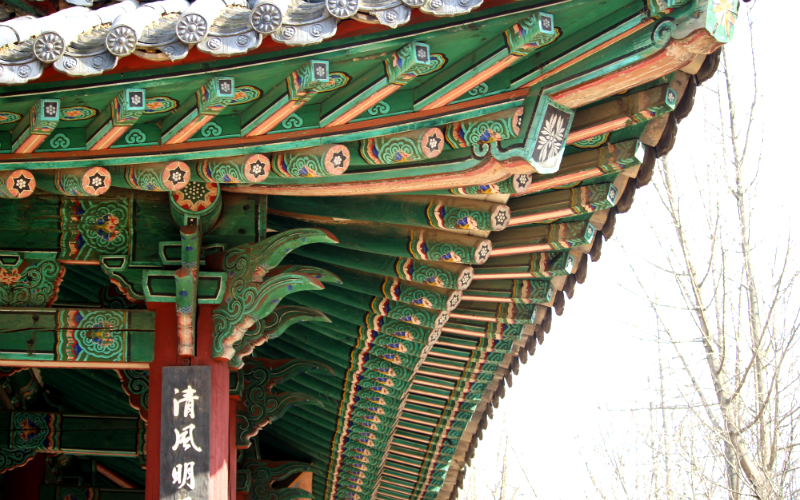 Located on a steep still overlooking the hanok village, Omokdae pavilion is memory of the victory of King Tajeo, first king of Joseon Dynasty against Japanese invaders. The construction and design seen on the eaves of the roof is a classic example of Joseon dynasty architecture and can be seen in many temples across Korea.
3. Exterior view of a Traditional Hanok Home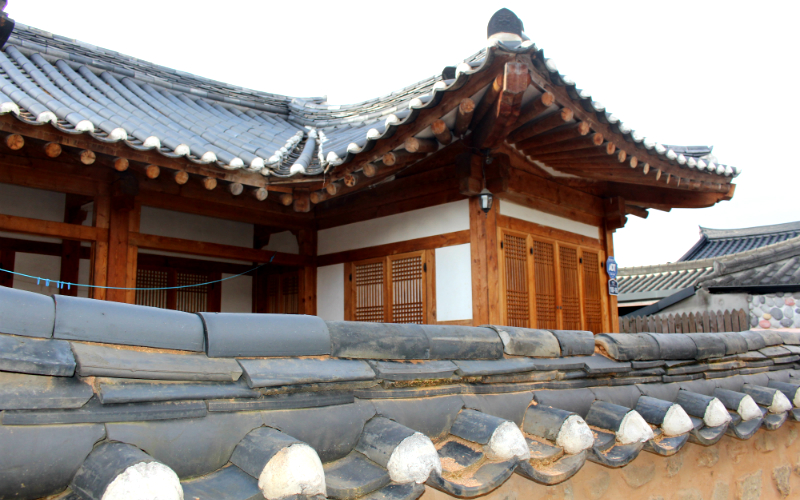 The upward facing roof, is a classic feature of the hanok home. The steep roof was built to protect the interior from the heavy rains and harsh winters of the region. A typical hanok home is often divided into a men chamber and women chamber, the latter being located to an interior section of the house for privacy. Most of the homes also have an under-floor heating system as Koreans like to sit, eat and sleep on the floor. The heating system known as ondol is used for the construction of houses and apartments even today!
4. Hanbok!
Perhaps one of the most flamboyant ways of experiencing Jeonju would be by dressing up in a Hanbok, the traditional Korean attire worn on weddings and other special occasions. A Hanbok typically consists of an upper garment called jeogori worn with trousers (baji) in case of men or a wraparound skirt (chima) in case of women. You can rent one from many of the rental shops in Jeonju; some even provide fancy headgear and styling.
5. Korea and Kimchi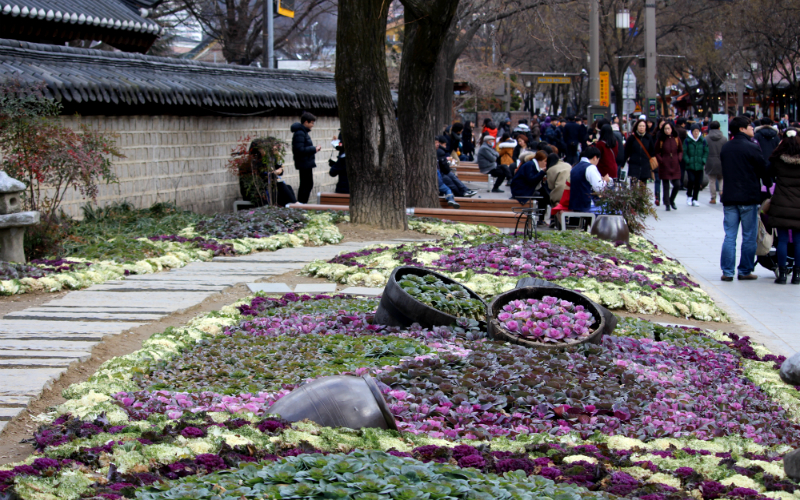 If you have been to a Korean restaurant, the first thing you will be served is a bowl of kimchi. Made from fermenting cabbage and other vegetables not available in winter, kimchi is a national favourite. Featuring in the above picture is a cabbage patch along the busy central Jeonju Street. The cabbage when fully done is then used for production of kimchi by the village residents.
6. Bibimbap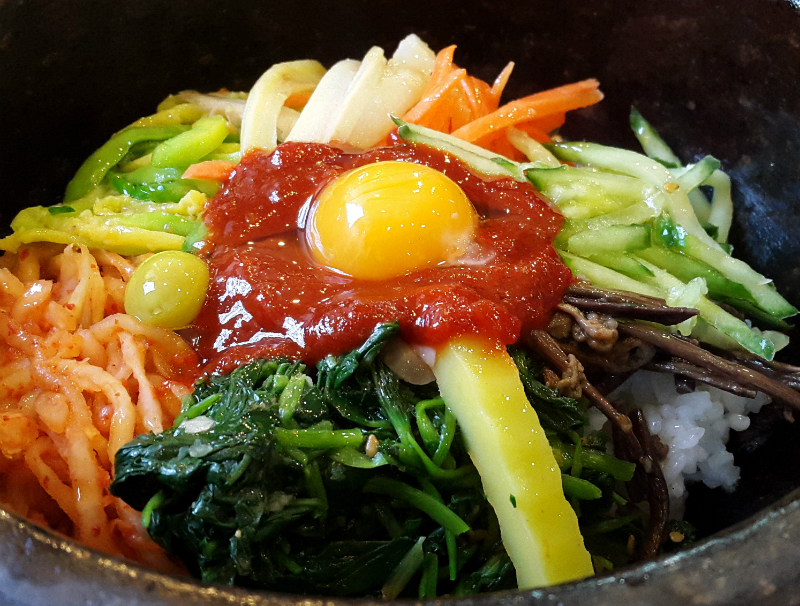 No visit to Jeonju is ever complete without a bowl of delicious bibimbap. Jeonju is known all across the peninsula as the most favoured region for bibimbap. It comes in a hot stone bowl with a generous serving of rice topped with many vegetables such as carrots, cucumbers, zucchini, mushrooms, some sprouts and seaweed topped with a spicy red chilli sauce, beef or pork and an egg. (Some restaurants offer one without meat for vegetarians.) The Jeonju bibimbap is delicious to the core, or as we say in Korea, Masshidta!
If you are laying down an itinerary for a visit to Korea, do include a visit to the Jeonju Hanok village if you can accommodate it in your travel plan. This city with a 1,000-year-old history, offers many untold time-honoured traditions and stories. So take a day off and embrace yourself in the classical culture of this 'slow city.'

Read Next:
Get all the latest travel stories from Zafigo. Follow us on Facebook and Twitter.