Proximity, cost, safety, etc… There are a number of things to take into consideration when choosing a hotel. Should you go for the cheaper option that's slightly out of town or do you splurge on the usually more costly city centre ones for convenience? In a metropolis like Jakarta, the type of trip you're planning for helps determine this.
If you're in the Big Durian for business, choose a hotel that's not only close to your meeting venues, but also opt for hotels located along major roads such as the Jakarta Inner Ring Road, Thamrin, Gatot Subroto, Sudirman and Gajah Madah – a useful tip from Thibaud, an expat who has lived in Jakarta since 2003 and the person behind Jakarta 100 Bars.
In the same article, Thibaud also provides a detailed list of available hotels in or within close proximity to the city centre. We can't list all of them here so we've picked a few to highlight, from budget to luxury, as well as some other useful tips.
Budget stays (☆/☆☆)
Budget hotel chains abound in Jakarta. At most places, you will get what you paid for, but there are a few stand outs that will make your stay a more comfortable one.
Rates: USD20 – USD45
1. RedDoorz near UOB Plaza
"They have dozens of locations in the city which are in fact independent small residences. The level of comfort is good considering the price, usually less than 20$ for a double bed room."
Where: No. 31 Pusat Tanah Abang, Jalan Kotabumi Dalam, Kebon Melati, Central Jakarta City | Tel: +62 816-741-234 | Website: www.reddoorz.com
2. ZenRooms at various locations
"They are cheaper than traditional budget hotel chains yet they offer the same value for money. They have quality linens, flat screen TVs, free WIFI, individual AC and clean bathrooms. They are currently available in several locations in Jakarta and in the rest of Indonesia."
Where: Jalan Mangga Besar Sel., No.20, Jakarta, West Jakarta City | Tel: +62 21 29888140 | Website: www.zenrooms.com
3. Fave Hotel LTC Glodok
"Fave Hotels also have a great value for money, though they are a bit more expensive than RedDoorz. Based on my experience though, the standards can be quite different within the same chain depending on who is the owner. For instance, the Fave Hotel in LTC Glodok is fantastic, probably because it is owned by Agung Podomoro Land (one of Indonesia's largest developer)."
Where: LTC Glodok Building Lt. 8, Jalan Hayam Wuruk No.127, West Jakarta | Tel: +62 21 62318000 | Website: www.favehotels.com
TIP: Malls can be found at almost every bend in Jakarta. So even if your hotel may not have certain amenities like a gym, just head out to one of the nearby malls and hit them gym there. 
Mid-range stays (☆☆☆/☆☆☆☆)
The price of mid-range hotels fluctuate depending on the location you choose; if you are staying in the city centre, rates would naturally be higher compared to those of hotels that aren't central. The condition of the hotels vary too based on how old/new the building is.
Rates: USD50 – USD100
1. All Seasons Thamrin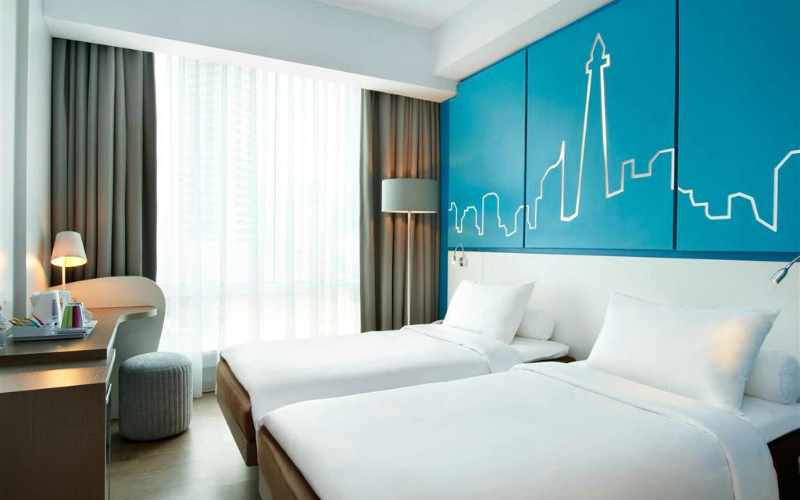 Where: Jalan Talang Betutu No.2, Daerah Khusus Ibukota Jakarta | Tel: +62 21 3900010 | Website: www.accorhotels.com
2. Mercure Sabang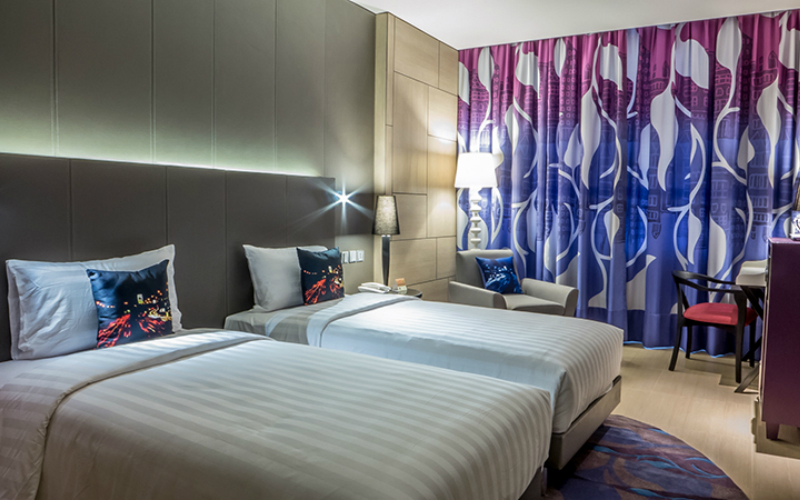 Where: Jalan Haji Agus Salim No. 11, Gambir, Jakarta Pusat, Daerah Khusus Ibukota Jakarta | Tel: +62 21 3503066 | Website: www.mercure.com
3. Novotel Gajah Madah
Where: Jalan Gajah Mada No.188, Daerah Khusus Ibukota Jakarta | Tel: +62 21 29367777 | Website: www.novotel.com
TIP: Traffic should be one of your main concerns when booking a room, especially in busy capitals like Jakarta. If you find a hotel you like but your appointment is all the way across town, it's probably best to skip it and instead chose somewhere closer to point B. 
Luxury stays (☆☆☆☆☆)
Most of the higher-end hotels are located within the golden triangle (Sudirman-Rasuna Said-Gatot Subroro) area and are close to nightlife entertainment spots. A number of these hotels too are attached to shopping malls. If you're the kind of traveller who prefers having everything they need in one location, these hotels are for you.
Rates: USD100 – USD200
1. Grand Hyatt & Keraton at the Plaza at Plaza Indonesia
Where: Kav., Jalan M.H. Thamrin No.15, Gondangdia, Jakarta, Central Jakarta City, Special Capital Region of Jakarta | Tel: +62 21 50680000 | Website: www.keratonattheplazajakarta.com
2. Kempinski at Grand Indonesia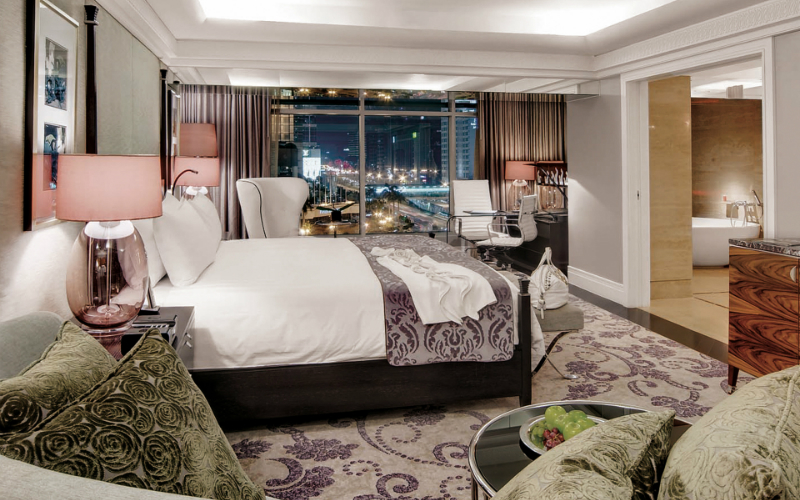 Where: Jalan M.H. Thamrin No. 1, Daerah Khusus Ibukota Jakarta | Tel: +62 21 23583800 | Website: www.kempinski.com
3. Pullman Grogol at Central Park
Where: Podomoro City, Jalan Let. Jend. S Parman Kav. 28, Daerah Khusus Ibukota Jakarta | Tel: +62 21 29200088 | Website: www.pullmanhotels.com
TIP: Traffic starts easing up (only) around 9PM. So when you're done with your meetings, stay out a little longer; have a meal at a nice restaurant or go window shopping. It beats getting stuck in traffic after a long day of work. 
Stays near the airport
If you're on a tight schedule or have an early morning flight to catch, consider staying closer to Soekarno–Hatta International Airport. If you need to go into town for meetings, get your hotel to organise transportation for you.
Rates: Vary depending on the type of hotel you're looking for
1. Orchardz Bandara
Where: Jalan Husein Sastranegara No.8, Benda, Kec. Tangerang, Banten | Tel: +62 21 29667777 | Website: www.orchardzhotel.com
2. Swiss Bellinn Airport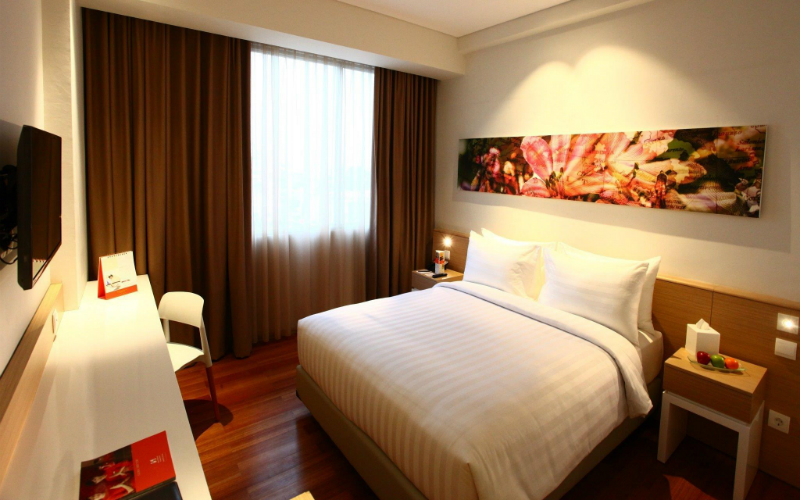 Where: Jalan Husein Sastranegara Blok A No.9, Kec. Tangerang, Banten | Tel: +62 21 29440888 | Website: www.swiss-belhotel.com
3. Ibis Styles Airport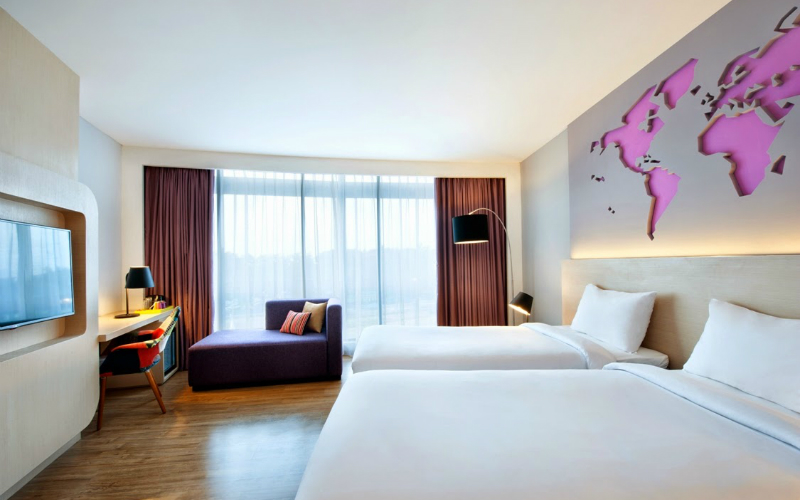 Where: Jalan Raya Bandara Soekarno-Hatta, Rawa Bokor, Benda, Tangerang, Banten | Tel: +62 21 29327777 | Website: www.accorhotels.com
TIP: Consider staying at a hotel on the left side of the main road (road that leads to the airport). If you're in a rush, it saves you a good 10 – 15 minutes. 
These are just some of the hotels on Jakarta 100 Bars' list. The article also touches on the best areas for tourists and backpackers accommodation.


Read Next: