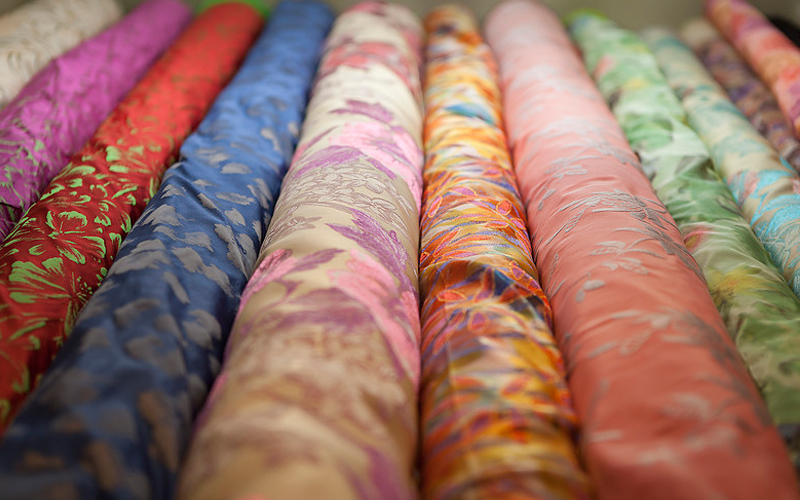 If Belgium is to chocolates, then Jakarta is to fabric. From intricate kebaya, songket, to silk or faux fur, Jakarta's bevy of textile shops has the fabric you are looking for at great quality and low price. Jakarta remains one of the most popular cities to buy fabric in both retail and wholesale. Every year, hordes of Malaysians, Filipinos and Singaporeans visit the Indonesian capital to stock up on cloth for every celebration no matter weddings, Hari Raya Aidilfitri or birthdays. It's not just fabric, you'll even find the perfect zipper, button, and seamstress to boot!
Jakarta's fabric market are tourists attraction in their own right. Here are three of the best fabric markets in Jakarta as recommended by The Jakarta Post Travel:
1. Tanah Abang Market, largest textile market in Southeast Asia
Tanah Abang Market in Central Jakarta has been around since 1735. After several fires and facelifts, this shopping destination's size is now such that it is dubbed the largest textile market in Southeast Asia.
The building's parking arrangement and overall atmosphere are chaotic and yet locals and foreigners still eagerly flock to its wholesale and retail stores. It is divided into blocks with the names Blok A, Blok B, Blok F and Metro Tanah Abang. Blok B houses all kinds of fabric ranging from low-priced items, which are usually from West Java and Jakarta, to more pricey options from Europe.
Annisa Textile & Tailor, for example, only provides local products with a starting price of Rp 25,000 (US$2.58) per meter to Rp 1 million per meter. The price depends on the kind of material, the pattern, and whether the fabric is old or new.
The shop's owner, Taufik, said that most of his customers came from outside the city and overseas, with some of them being designers and shop owners looking for fabrics to sell in their own regions. "A lot of Malaysians came here, usually on weekends. They normally buy kebaya fabric," he said, referring to a distinctive sheer top often worn by Indonesian and Malaysian women.
Malaysians are also loyal customers of the larger Azad Textile, along with Filipinos and Singaporeans, Kus, one of the shop's assistants, said. Though mostly providing imported materials costing millions of rupiah per meter from India, France and Italy, Azad also offers low-cost brocade with a starting price of Rp 15,000 per meter.
"I like shopping in Tanah Abang because the prices are affordable compared to Pasar Baru or Mayestik," said Rahma Yulianti, a 32-year-old tabloid editor who regularly shops at the market with her mother and aunt. "It's a good place to find fabric for uniforms," she added.
Tip
When to go: Some of the stores open early in the morning with around half of them closing at midday. So, arrive as early as you can. Shopping on weekdays is preferable since it can get very crowded and uncomfortable on weekends. Avoid visiting this market during the Muslim fasting month of Ramadhan since roads to and from the market can be clogged for hours.
Bargain: When shopping for large amounts of fabric, try asking for a cheaper price. "If you make a good bargain or buy in bulk, we can give discounts up to 20%," said Taufik. Other than fabrics, Tanah Abang Market is also a good spot to shop for batik, Islamic and children's clothing, and accessories. It is also famous as the best place to get the latest fashions at affordable prices.
Cash only: Be prepared to pay cash as most of the stores do not accept payments by debit or credit card.
Food: As many of the traders in Tanah Abang Market are Minangkabau people, it has a delectable choice of the region's cuisine. You can find it at the food court in the Blok F building.
Safety: Watch out for pickpockets. Make sure you put all your valuables in a safe place in your pocket or bag, or better still, don't carry them at all.
2. Mayestik Market, popular among foreigners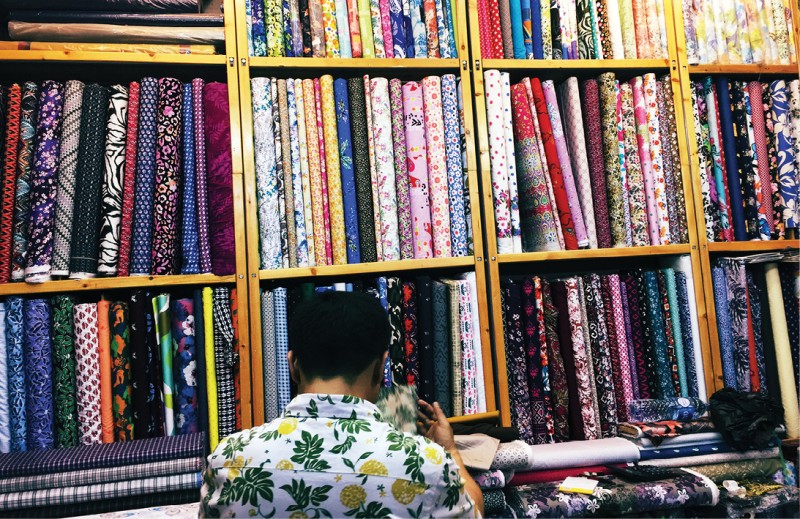 Thanks to its location in South Jakarta, Mayestik Market is a favorite shopping spot among foreigners – who tend to stay in the area – compared to other fabric markets in the city. "Though not so many, we often see about two to four foreigners coming to the store every day," said Fatue D., owner of La Mode Textiles, which is the oldest fabric store in the market.
Established in the 1980s, foreigners used to comprise the store's largest customer base. However, as more and more stores opened, Mayestik became a textile shopping destination and attracted more traders (mostly Indians) and buyers – especially people from southern areas of Jakarta , who previously went to Pasar Baru for their shopping.
La Mode offers mostly imported fabrics with starting prices of Rp 9,000 per meter (chiffon) up to Rp 150,000 per meter.
"I regularly shop in Mayestik because it's not too far from my house and I can find many good fabrics here that are rare in other markets such as Pasar Baru," 50-year-old Elida said. The fact that the stores are conveniently located with their own parking lots and offer a large number of different fabrics to choose from also makes it easier for Elida to get everything she needs in one location.
Mayestik Market's more luxurious stores, such as Pronto Moda and Centro Moda, offer high-end fabrics. With a starting price of Rp 10,000/meter and rising to millions of rupiah per meter, the all-imported-fabrics store offers a fixed price that applies no matter how many meters you are buying.
Tip
Food: If you're walking from one store to another, there are many delicious traditional snack sellers in the area, so make sure you try one or two. If you are hungry, you can find something to eat at the new mall or walk to the Bata shoe store. You will find several food hawkers at the side of the store selling local food such as sate ayam (chicken satay), soto mie (noodles with broth), siomay (dumplings) and gado-gado (steamed vegetables in peanut sauce).
3. Pasar Baru, one of the oldest market in Jakarta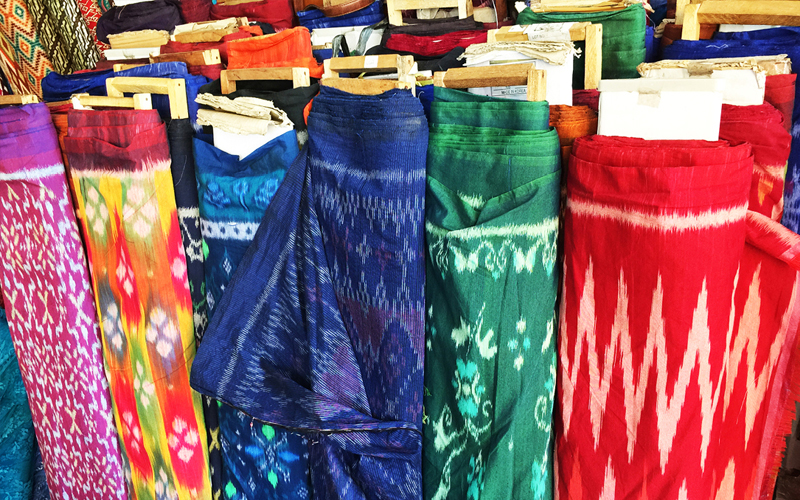 As with Mayestik Market, Pasar Baru offers stand-alone big stores that provide a great choice in both fabrics and prices. There are also more tailoring services for men.
Isardas, which has been operating since 1929, charges Rp 1.2 million for a tailored suit and Rp 300,000 for a pair of trousers – excluding the fabric. If you need to wear it immediately, the store provides a three-day tailoring service at a higher price. As for the fabric, Isardas provides local and imported materials with a starting price of Rp 50,000 per meter up to Rp 1.5 million per meter. The cheapest fabric is from Bandung, while the most expensive ones are from the UK and Italy.
Imported fabrics are also the main commodities at Alta Moda, which is under the same umbrella company as Pronto Moda and Centro Moda in Mayestik Market. Alta Moda's manager, Sunil, said there were some differences in the collection offered by the store in Pasar Baru as opposed to the ones in Mayestik. Cotton at Alta Moda is sold with a starting price of Rp 50,000 per meter.
Sunil added that Mayestik and Pasar Baru were also different in terms of the taste of its customers. "At Mayestik, the customers are mainly locals and foreigners. We don't get many tourists here. Our regular customers are Batak people who usually shop for kebaya and brocade for weddings," he said, referring to the ethnic group from North Sumatra. Sunil added that that the store's local customers comprised around 60 percent to 70 percent of its total visitors. This explains why the wedding season, usually around March and April, is the busiest time for the store.
Tip
Prices: The prices of fabric at Pasar Baru and Mayestik markets are quite similar. The differences lie in the designs and patterns. If you can't find what you are looking for at Mayestik, then you will probably find it at Pasar Baru.
Shop: Pasar Baru is also a hotspot for shopping for digital cameras, beauty equipment and shoes.
Story via The Jakarta Post Travel