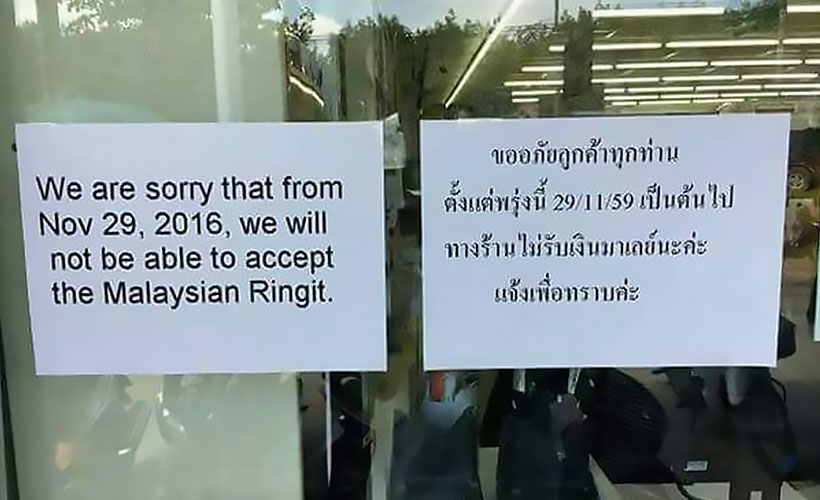 It's been a painful year for the depreciating Malaysian Ringgit and it seems like the wound is continuing to grow.
Several Malaysians travelling in Thailand during the end of November reported that certain money changers in Thailand are no longer accepting the Malaysian currency.
On 29 November 2016, blogger of Malaysia Asia David Hogan shared this photo of a money changer in Hat Yai with a notice that they will no longer be accepting the Ringgit.
"A schoolmate is in Hat Yai now and posted this photo of one of the money changers there… If you are travelling, please be cautious and bring US dollars or change your money in the country (Malaysia) before going abroad as you would not want to be seen as a travelling fool," David wrote in his post.
At the same time, Malaysian traveller Tengku Ferdhaus Al-Mansori reported a similar situation in Danok, a small town near the Kedah-Thailand border.
The notice in the photo states that the money changer will no longer be accepting Malaysian Ringgit as the value of the Ringgit is low. For those who are unhappy with the new rule, the money changer is willing to accept the Ringgit at a lower rate.
According to the notice, MYR1 will be devalued to 30 cents. MYR100 will be devalued to MYR21.00.
The current exchange rate posted on XE Currency Converter is MYR1 to 7.89 Thai Baht.
Rumours about the Ringgit being rejected by money changers overseas have been swirling. Other Malaysians have shared similar experience of certain money changers in Tokyo and Hong Kong refusing to accept their Ringgit.
A week before these photos were shared, New Straits Times reported that the rumours are untrue. According to the report, the Ringgit are still widely bought and sold by money changers in Jakarta and Bangkok.
Malaysians travelling overseas are urged to be prepared with US dollars, a credit card and their ATM cards in case they face the same rude shock at the money changers.
Remember to activate your ATM and credits cards for overseas transaction before travelling.
For ATMs withdrawals, the local bank will charge an overseas transaction fee on top of the charged incurred by your home bank. To reduce unnecessary bank charges, increase your ATM withdrawal limit to reduce the number of withdrawals needed. This must also be done before you leave for your trip.

Read Next: