And finally, the tears came… a single drop at first. Then they silently gushed down her cheeks as embarrassment took the place of anger. She sat there feeling flushed as fellow passengers stared at her. But what could she have done?She was 17 and on a wheelchair. Two male porters had helped her get onto the Indian Railway train coach.
Would anyone believe her if she told them that the very men who helped her up the train were fondling her breasts the whole time? Plus, she thought, it would disturb her mother.
That was Virali Modi back in 2008. Today, the 2014 Miss Wheelchair India runner-up – she is also a Top Writer for Quora, motivational speaker, model, and a disability rights activist – is fighting for better train travel conditions for the disabled community in India.
In an exclusive interview with Zafigo published in November, Virali, a paraplegic since she was 14, said that she loves to travel despite the challenges she faces. And for people with disabilities, travelling on the Indian Railway has always been a challenge; both the trains and the stations are ill-equipped to support them, lacking in infrastructure such as ramps, wide doorways, and elevators.
To bring about a positive change in the existing railway system, earlier this month, Virali signed a petition on Change.org titled 'Implement disabled friendly measures in Indian Railways' to make travelling easier and safer for the disabled.
 What motivated the young beauty to undertake the campaign?
That incident in 2008 is still fresh in her mind. There were no ramps at the station so her mother asked two male porters to help carry her onto the train. The men, Virali recalls, were discussing which body part to hold and kept nudging her breasts. "I was embarrassed, scared, and my eyes brimmed with tears. The entire experience left me feeling awful and disgusting."
She faced a similar predicament twice more after that, which made her reluctant to use public transport. She often wondered how people who were unable to afford the luxury of private cars and drivers would move about if such conditions prevailed?
She started her campaign by writing emails to the Prime Minister and the Railway Minister's office. When she didn't hear back from either, she decided to take matters into her own hand.
In the petition, Virali mentions that her fight is to ensure human dignity for the disabled. She also points out that the Railway Ministry had been talking about making trains disabled friendly but the implementation is so poor that she still feels humiliated every time she travels in them.
"I had to wear a diaper because I couldn't use the train bathroom. And when I needed to change that diaper, I had no privacy… I had to wait for hours for the lights to go off at night."
What does her petition say?
India currently has a population of nearly 21 million disabled persons. About 5% of the population that commutes on public transport are either disabled or are senior citizens.
These are some of the issues that Virali says need immediate attention:
Bathrooms with proper space, clean and higher toilets, and low sinks so that those on wheelchairs can easily reach in order to wash their hands.
Accessible coaches for the disabled in all trains, ideally one in each class.
Enough space between berths to fit a standard size wheelchair, and that allows for shifting onto the seats when needed.
Curtains around the berths for when privacy is required.
Proper infrastructure to cross railroads should the traveller need to change platforms at stations.
 What has happened so far?
The campaign garnered a lot of attention on social media right from the start, with the hashtag #MyTrainToo making its rounds on popular platforms. In the first week itself, the campaign attracted 4,000 signees and received support from doctors, physicians, the disabled, their relatives and even those who aren't psychically-challenged, reported the Indian Express.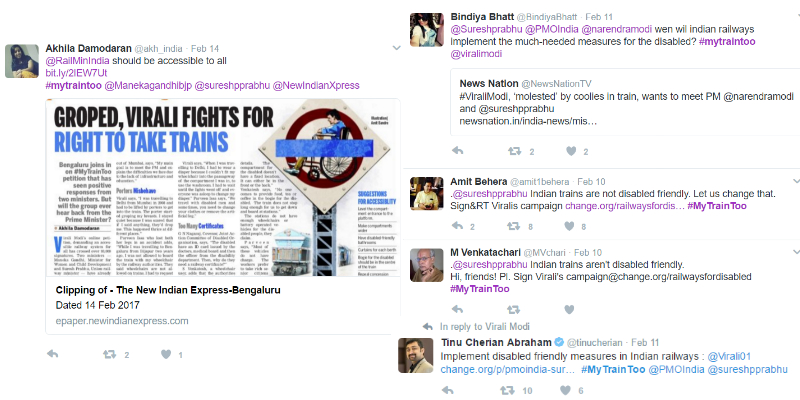 When the campaign gathered over 82,000 supporters, it received a response from India's Railway Minister, Suresh Prabhu. He tweeted that the ministry is working on making trains disabled friendly, and he welcomed any suggestions from the public.
Have taken note.Already w'king on making our stations,trains Divyang friendly,hv made significant progress,lot is 2 be done.Any idea welcome https://t.co/Gg8BQYFm1w

— Suresh Prabhu (@sureshpprabhu) February 9, 2017
The petition also attracted the attention of Women and Child Development Minister, Maneka Gandhi, who requested the Railway Minister to facilitate comfortable train travel for differently-abled individuals.
How can you help?
Virali's fight brings to light the silent suffering that many go through daily. In its third week now, #MyTrainToo has collected over 95,000 signatures. If you too would like to sign the petition, you can do so here.
You can also help create awareness about the campaign by sharing links related to the petition, and hashtag it #MyTrainToo.
If you have undergone similar experiences or would like to speak to Virali, connect with her on Facebook and Quora.