MARISTAR, a new caviar seafood bar and fashion lounge in Kuala Lumpur, combines food, fashion, and passion. With a location in the heart of Kuala Lumpur's (KL) famous Bukit Bintang shopping district, MARISTAR is a brand-new eating and entertainment concept from The Marini Group.
MARISTAR's final evening look is a trendy, inviting one as the place is illuminated by orb lights hanging from the ceiling and the bars. Its 730-square-meter expanse, which can be used for a variety of purposes, is furnished with comfortable lounge sofas and stylish bar tables and chairs.
On the lower floor, there are indoor and outdoor lounging places and a bar; on the middle floor there is a giant video wall that serves as a focal point for fashion; and on the upper floor there are more private areas where visitors can relax and enjoy some quiet time. For those seeking more privacy, the facility offers private dining rooms with sound bars and associated restrooms.
What's on the menu?
Visitors at MARISTAR may expect to sample delicious oysters, rich caviar, seafood towers and platters, as well as Italian cuisine. Catering to all tastes, the restaurant's cuisine has something for everyone. Gallagher, Excellent de Claire, Irish Premium, Tragheanna Bay, Sydney Rock, and Brundy Island oysters are available for those seeking the fine, briny taste of premium oysters. For caviar, MARISTAR serves Beluga Siberian and Osietra caviar from the Marini's Premium Caviar Selection, where the delicate pearls bursting with flavour have been sourced from a renowned Italian brand that produces sustainable caviar on its own fish farms.
In addition to the Seafood Tower, which features a variety of seafood including oysters, ocean trout tartar, prawns, and Carpaccio Hamachi, which can be topped with lobster, MARISTAR also offers a Grilled Seafood Platter that features shrimps, squid, fish fillets, and mussels that have been delicately baked in a house spice blend.
To satisfy your hankering for pasta, try one of MARISTAR's many delectable options, such as the Angel Hair Pasta with Maine lobster tail and bottarga, the Pappardelle pasta with sage butter and sliced black, or the creamy Mezzi Paccheri with blue cheese and radicchio.
Non-seafood mains at MARISTAR include the medium Tomahawk, Wagyu Tenderloin, and Boneless Lamb Shank, all of which come with sautéed veggies and truffle mashed potatoes as accompaniments.
What better way to unwind than sipping some tea with a mix of sweet and savoury treats? For those who want to spend some time with friends, MARISTAR offers a decadent afternoon tea menu that includes excellent pastries, Prosecco, and teas from the Haute Tea set.
In the mood for love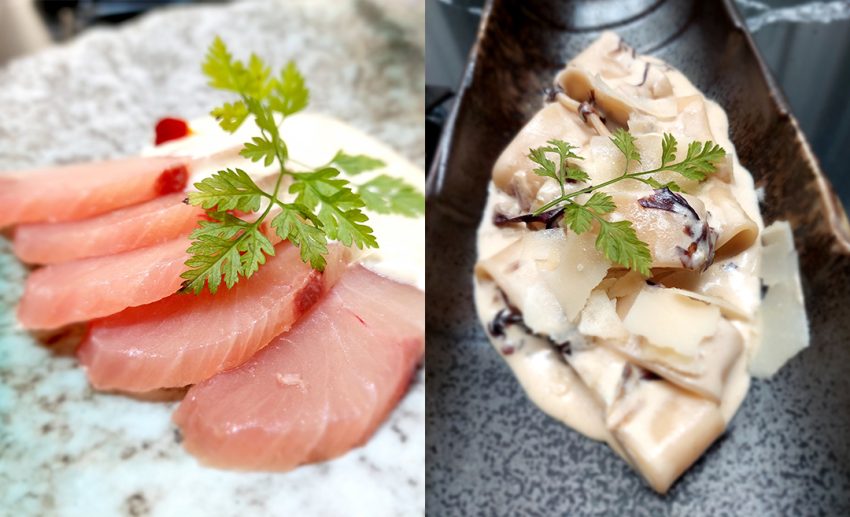 If you'd like to make your first visit to MARISTAR a special one, on 14 February, the restaurant is offering a Valentine's Day Set Dinner Menu at RM1288 per couple.
The meal will begin with a Cold Pasta Truffle pre-starter, followed by a Carpaccio Hamachi appetiser that combines fresh Hamachi slices with a delightful wasabi sauce.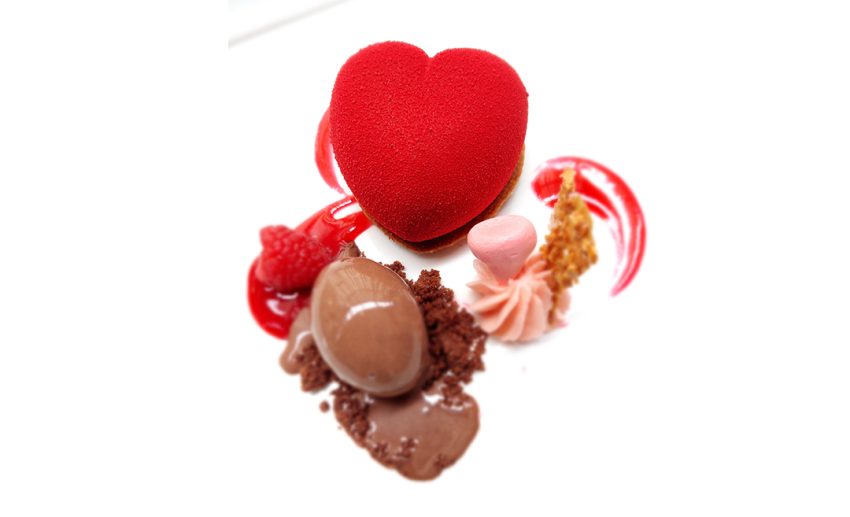 To follow, a decadent house-made fettuccine with truffle and sage butter with black truffle shavings will be presented. For the main course, choose from the Wagyu Tenderloin Score M5 with asparagus and red wine sauce or Baked Slipper Lobster with MARISTAR Special Spices, potato croquette, brinjal purée and saffron tuile . For dessert, guests will be served Milk Chocolate Whipped Ganache Brownies topped with a Chocolate Gelato.
Other opening promotions for MARISTAR include:
• 20% off non-promo seafood item on Fashionistar nights (Tuesdays) but this offer is strictly for the ladies
• 20% off oysters on the menu on OyStars Night (Wednesdays)
• 10% off caviar items on the menu on Bubbly & Caviar nights (Thursdays) with an additional 10% off bottled champagne with each caviar order.
For reservations, contact +603 2386 6030, +60129352533 or visit their website.
More love in the air
Meanwhile, in celebration of Valentine's Day on February 14, the Marini Group is offering special Valentine's Day meals and inviting guests to spend a romantic evening in one of its restaurants.
Marini's on 57
Guests at Marini's on 57 Restaurant can choose between a vegetarian and non-vegetarian menu. Foie Gras Crème Brûlée, Slow-cooked Pink Prawns with Basil Mayo and Caviar, and Sea Bream Ravioli with Saffron Sauce and Caviar are among the delicacies on the menu for the evening .
The Portabello Burger, Risotto with Porcini Mushrooms, and House-made Pappardelle Pasta with morel mushrooms, asparagus, and pecorino Romano cheese are just a few of the dishes on their unique vegetarian menu.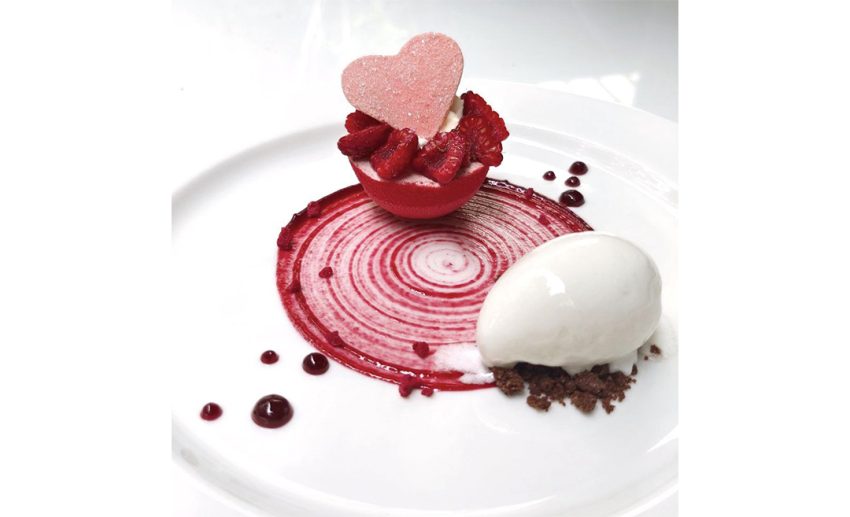 Passion Fruit Cremeux and Mixed Berries Pavlova are included on both menus as a refreshing sweet treat.
The Marini's 57 set dinners go from RM1,488++ to RM1,888++ per couple.
For reservations, contact +603 2386 6030, +6017-688 0167 or email reservations@marinisgroup.com.
Marble 8
Guests at Marble 8 may enjoy a special Valentine's Day menu that includes truffle scrambled eggs, a mini Wagyu burger, and a Maine lobster salad as well as house-made tagliatelle with butter sage and truffle shavings. Dry-Aged Wagyu Sirloin with Potato Croquette or Pan-Seared Sea Bream with Mushroom Confit and Celeriac Puree are two options for the main course.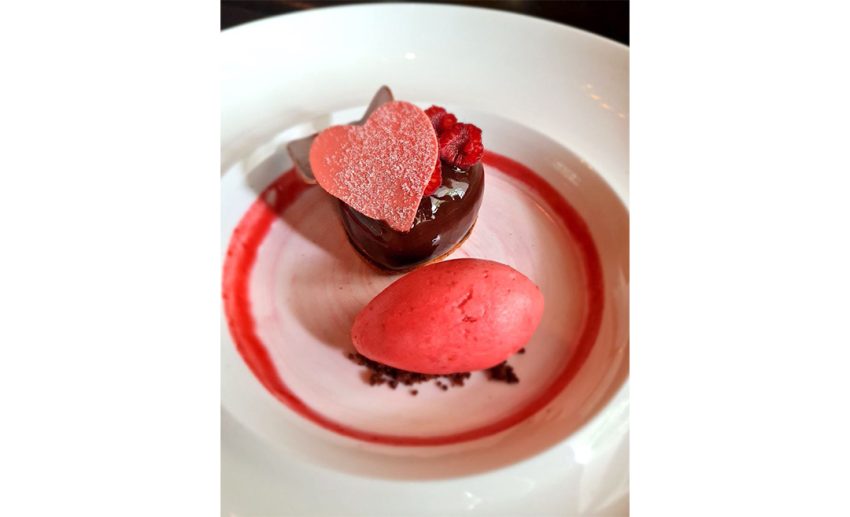 Marble 8's dessert menu includes a delectable Gold White Chocolate Madeleine and Jivara Chocolate Mousse with chocolate fudge and raspberry sorbet.
The Marble 8 set dinner is priced at RM1,399++ and RM1499++ per couple.
For reservations, contact +603 2386 6030, +6017-688 0167 or email reservations@marinisgroup.com.
M Marini Grand Caffè & Terrazza
Another special location, the M Marini Grand Caffè & Terrazza is Malaysia's first champagne and caviar Italian cafe, and they're whipping up something special on the night of love. Their Valentine's Set Dinner starts with a Prawn Cocktail appetiser before moving on to the main course. For the main course, guests can choose between three options: a grilled tenderloin steak served with truffle mashed potatoes and truffle jus, spaghetti aglio olio with lobster tail, or a slow-baked boneless lamb shank served with mashed potatoes and vegetable.
Enjoy a delicious Milk Chocolate Choux with fresh strawberries and vanilla gelato for dessert.
The Valentine's Day Set Dinner at M Marini Caffè & Terrazza costs RM588++ per couple.
For reservations, contact +603 2386 6030, +6017 6880167 or email reservations@marinisgroup.com.
*Images courtesy of Maristar KL unless stated otherwise.